First Impressions: Luca Guadagnino's Call Me By Your Name
On First Love, Nosebleeds, Italian Summers, and The Dynamics of Seduction

Contrary to whatever quick, though not always helpful thinking compels our instincts, it's far better to lean forward than tilt one's head back when trying to stop a nosebleed. It's true, too, that sitting up is preferable to lying down because keeping one's head above the level of one's heart helps to reduce bleeding. Pinch the nose. Wait. How exposing and totally inconveniencing it can be to find yourself caught off guard and made vulnerable by what flows inside of you.
Midway through Luca Guadagnino's (I Am Love, A Bigger Splash) sun-laced and soothingly sun-paced Call Me By Your Name, (adapted from André Aciman's 2007 novel, though pushed back from the original and set in 1983 instead of 1987), Elio Perlman (Timothée Chalamet), the 17-year-old bookish and Bach-playing only child of an American-Italian family summering at their villa in Northern Italy, gets a nosebleed. Startled, he abandons his bowl of ice cream and rushes inside. Soon after, Elio is joined by Oliver (Armie Hammer), the tall, self-assured American graduate student staying with the Perlmans for the summer while assisting Mr. Perlman (Michael Stuhlbarg), a Greco-Roman classics professor.
Quietly secluded in the corner of a room, Elio and Oliver sit side by side on the floor, passing the time long after Elio has recovered from icing his nose—though still recovering from having confessed his feelings to Oliver earlier that day. Their connection is not just felt but acted upon. Oliver rubs Elio's foot. Elio winces, then smiles. They talk and fall silent, and occupy the small space not as if they are trapped, but as if now—sitting low to the ground—they can elaborate on the tendril-like quickening of this new and confusing attraction. Oliver kisses Elio's foot. Their disquiet is somehow demonstrative, cadenced. Caravaggio-lit. Oliver, Elio. Elio, Oliver. The round, continuous sequence of their names, like the sound—were it to have one—of an infinity loop.
"Oliver, Elio. Elio, Oliver. The round, continuous sequence of their names, like the sound—were it to have one—of an infinity loop."
I am reminded of a missive Vita Sackville-West sent Virginia Woolf in 1926, anticipating their reunion. "How pleased I shall be," wrote Sackville-West, "to sit on your floor again." To sit on your floor again. The plainest, most anticipant expression of longing. A wish that requires so little; insisting on nearness without design. Because looking forward to someone's company, unadorned, just so—like with Elio and Oliver, bicycling down gravel roads, or swimming in the river, or getting dumb-drunk, or picking fights, or flirting by way of fighting, or soliciting any sign of reciprocity, or stealing seconds together indoors while the din of lunch continues outdoors—is both private and enormous. Like placing confidence in the peculiar way our hearts sometimes require another pulse, close by—plucking a guitar or merely turning the pages of a book—to corroborate one's own existence. That person. His noise. Elio's footfall on tiled floors. Oliver's poolside languor. Oliver's splash. Oliver's coarseness. How he says, "Later," instead of "Bye." The mysterious and occasionally repellent makeup of a person, and the inexhaustible pleasure we derive from desire's early stages.
These muddling contradictions are central to what Guadagnino delicately achieves over the course of an Italian summer. First love set against the vibrations of a home. The multi-lingual, bourgeois-intellectual Perlmans. Their meals al fresco. Their meals alive with conversation, with talking-over, with wine, coffee, the rare breeze. The local girls. The late-night meet-ups. The mother, Anella, played by Amira Casar with maternal cool, always smoking and attractively unconcerned yet open and devoted in her way. Mafalda (Vanda Capriolo), the housekeeper, whose presence is felt throughout; closing the freezer behind Elio, clearing Oliver's table setting when Oliver fails to show up for dinner. Call Me By Your Name delivers romantic tension as it enters a home. Not feverishly as one might expect, but slowly, as if each image is rising from memory.

Many summers ago, when I was very young and accompanying my father on his weekend errands, we stopped at a coffee shop. As we waited for our orders, my father grabbed a pen from his shirt pocket and began to draw on a paper napkin the mathematical equation for when two strangers lock eyes. He claimed there was a calculable distance that could confirm and even predict such a connection. My father scribbled down some numbers and drew a few diagonals to diagram his logic. I believed him wholeheartedly, succumbing—just as he'd playfully planned—to my interest in math, or reason, or diagrams on paper napkins, so long as it deployed my imagination.
Since seeing Call Me By Your Name for a second time, I've been thinking about my father's equation and the numbers he arbitrarily jotted down. Moreover, I've been thinking about the film's mapped-out distances, especially those that exist between Oliver and Elio, and the way in which Guadagnino's composition on screen and Hammer and Chalamet's dance-like performance, create the quiet impression of witnessing what I can only describe as deleted scenes. Those moments that happen unprompted, in the next room when the mood feels unattended and the light looks lucky.
"Those moments that happen unprompted, in the next room when the mood feels unattended and the light looks lucky."
Elio and Oliver's first handshake, for instance. Or even before that: Elio perched on his windowsill, gazing down at Oliver, assessing the handsome American climbing out of a small car. Or Oliver standing in a door threshold, watching as Elio teasingly plays the piano across the room—his body sloped over the keys. His attitude: teenaged, needling, and delightful. There's the distance, too, between their bedrooms, separated by a shared bathroom. Or the distance between their bodies as they circle the town monument. The hesitant orbit Elio and Oliver form as they close in on each other. The distance created, or rather the roles created, simply by asking someone to carry your things in his backpack. These mini proofs of power and tenderness, both. The distance between two bodies awake at night, sitting opposite each other, regretful they'd waited too long to disclose and dive headlong into their shared pleasure. The distance between two bodies dressed in blue shirts. Two different shades of blue, somehow in concert. The distance of a phone call, confirming how impossibly hard it is to receive the impact of an ending. It takes time. But first, it wipes you out.
I've been thinking about the ways in which we create space in order to safeguard ourselves or similarly but different, create space in order to prolong or appraise the untellable awe of something starting. Guadagnino's Call Me By Your Name is a film preoccupied with what separates us, but more so, what draws us near, and how despite the near-promise of heartbreak, we inch close and hold our breaths.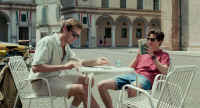 Durga Chew-Bose is a senior editor at SSENSE. Earlier this year, she published her debut collection of essays, Too Much and Not the Mood (Farrar, Straus and Giroux).