Fashion at the Speed of Light with Rob Kulisek and David Lieske
Rob Kulisek and David Lieske Unpack the Psyche of Their Magazine
Interview:

Timo Feldhaus

Images/Photos Courtesy Of:

299 792 458 m/s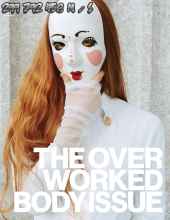 299 792 458 m/s is a 300-page fashion magazine that considers the peculiar impression the 2000s have had on the present day. The first decade of the 21st century yielded an aesthetic inherent of the conveniences afforded by advances in technology, as an acceleration in consumerism generated a trickle-down of luxury products, shrinking the gap between high and low. This ultimately informed the fashion world, perpetuating the need for fast fashion. Designers like Jeremy Scott challenged the legacy of heritage houses, and luxury labels began to collab with household franchises like Target and H&M. It was a period of hybrid subcultural styles remixing former selves—how does one stand out in an oversaturation of mish-mashed aesthetics? Challenging the impulse of individual expression, it pushed on the democratization of a whole cultural genre.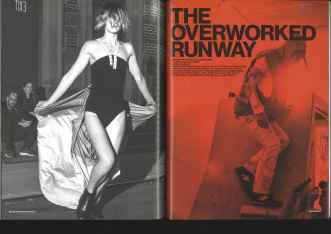 Creators of 299 792 458 m/s—artist and fashion photographer Rob Kulisek, and artist and founder of Mathew Gallery in New York, David Lieske—render a mix of decidedly "unseasonal" fashion, mixing in adverts from the early 2000s to create a sense of timelessness. Founded in 2016, their second issue, "The Overworked Body" was released earlier this year. Wishing to communicate with one collective voice, the duo elaborated to Timo Feldhaus over email the ideology behind their publication.
Timo Feldhaus
Rob Kulisek and David Lieske
Why did you choose to refer to your latest issue as "The Overworked Body"?
Our newest issue serves as a quasi-catalogue for the exhibition "The Overworked Body: An Anthology of 2000s Dress", which was a propositional approach on accessing 2000s fashion through an exhibition curated by Matthew Linde at Matthew Gallery and Ludlow 38 in New York last fall. The issue extends Matthew's exhibition and its documentation of associated events, performances and a theoretical piece he put together through several fashion editorials we produced.
There is one editorial in your latest issue, with Eliza Douglas as model, wearing almost only Jeremy Scott. What inspired this?
We thought it was hilarious to work with Eliza Douglas—being the face of Balenciaga—as Demna was seemingly inspired by Jeremy Scott's early work for his Spring/Summer 2018 Balenciaga collection. Obviously Eliza's look is quite dramatically different from the classic french girl Jeremy would have casted in the early 2000s, which made this experiment even more appealing and in line with our approach of clashing times and looks as much as we possibly can.
We find ourselves today in an almost similar moment—in a social-media-driven luxury industry in which fashion houses depend 100% on image-readiness with branding that is identifiable in the glimpse of an eye, there is not much room for subtlety.
Why did you choose to focus on Jeremy Scott?
His 2000 Spring/Summer ready-to-wear collection is a great critique on branding. Scott, an American, self-taught designer with a working-class background, who debuted in Paris a few seasons before, presented obnoxiously common luggage pieces and examples of what seemed like canonic "Parisian" luxury clothing adorned with his (at the time unknown) name. His collection was making a commentary on the licensing hell that brands like Yves Saint Laurent or other french heritage houses like Pierre Cardin had worked themselves into, falling from a heritage in couture to a stature of an almost regular household brand.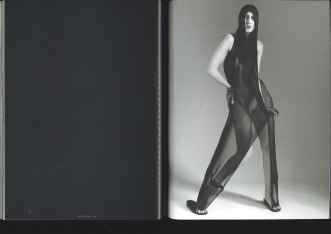 When PPR, Francois Pinault's emerging fashion conglomerate and a precursor to his company Kering, took over Yves Saint Laurent in 1999, it had 167 contracts with licenses for everything from socks to cigarette lighters. Jeremy Scott extended his commentary of the fading Y2K fashion business model with his following collection, as well. Printed backward as if reflected in a mirror was the word "Paris"—he added the branding of the historical cradle of couture to his own name and as a central print on a couple of garments. For Spring/Summer 2001 ready-to-wear he escalated these tensions further by replacing his own name and "Paris" with nothing but endless patterns of dollar bills (adorned with his own portrait instead of American presidents) on luggage, dresses, and shoes.
We find ourselves today in an almost similar moment—in a social-media-driven luxury industry in which fashion houses depend 100% on image-readiness with branding that is identifiable in the glimpse of an eye, there is not much room for subtlety.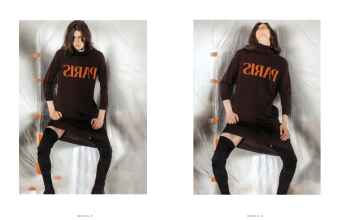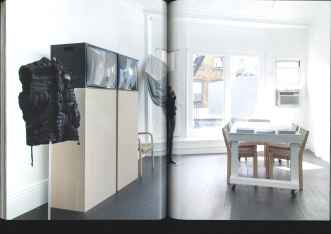 How would you generally describe the fashion from 2000-2010?
We don't think that it is possible to describe 2000s fashion in a homogenic way. The 2000s were probably the first decade in which the attribution of a certain look for the entire decade doesn't really make sense anymore. Too many styles and scenes were happening simultaneously. What was certainly defining for noughties fashion was the increased interest in consumption, as well as accessibility and production of high fashion due to the new media revolution. This lead to obscurities like Rodarte for Target, or Viktor & Rolf for H&M. Now we can experience the full effect of what really happened in the 2000s as designer garments are omnipresent in our everyday reality, and have become more or less standard, as opposed to their function as a nerdy, niche special interest or exclusive resort for the one percent as it was up until the end of the 90s.
The 2000s were probably the first decade in which the attribution of a certain look for the entire decade doesn't really make sense anymore.
How would you describe the early 2000s to a post-millennial?
There is no need to explain it to post-millennials whatsoever—it seems that they are very well-informed and aware. At least that is our impression. You just have to look at the prices that early pieces by Raf Simons or Helmut Lang catch on platforms like Grailed and you can see to what extent relics of this particular generation are in demand. People like David Casavant have built entire careers on the administration of the archives of these new heritage brands, often to the displeasure of their original creators, who by definition of their profession as visionaries have an inevitably ambivalent relationship with their own past. Or in the case of Helmut Lang, have left the field of fashion behind altogether.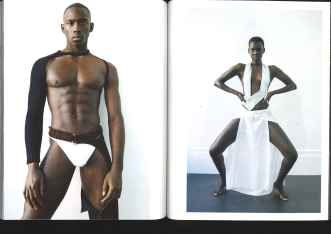 Given the clout of the late 90s fashion scene—the rise of fashion houses like Jeremy Scott, Raf Simons, Viktor & Rolf, Chalayan, BLESS, and McQueen, the opening of the Parisian concept store Colette and new magazines like Purple, Self Service or Bernadette Corporation's Made in USA—is something similar possible in this generation?
Fashion is ever-evolving, ever-changing and ever in motion and that is why we love it. The 2010s have already produced remarkable designers such as Gosha and Demna who have found the right narrative and aesthetic for a contemporary luxury industry that has to produce more for less, for many more people who want to be part of it than ever before.
What I really like is how in the advert section of your magazine, you combine an intriguing mix of historical adverts from the 2000s like Berlin designer Kostas Murkudis, or Wendy & Jim, with today's young, hip brands like Ottolinger, Telfar or GmbH. Where do you see the common thread amongst all of these brands?
The issue was supposed to come across as unplacable in time. One thing that ties any issue of any fashion magazine to a specific time are the collections that are being advertised. The historic advertising, all of which is from the 2000s, is material that was researched for the exhibition and found its logical place in the issue. The contemporary advertising represents a community of practitioners that we believe in and want to support wherever we can. The inclusion of the BLESS lookbook in the end (which is basically advertising of the future) tied it all together and also lead to our lovely collaboration with them for our launch presentation at Westreich Wagner, and a simultaneous exhibition of their furniture pieces at Mathew Gallery.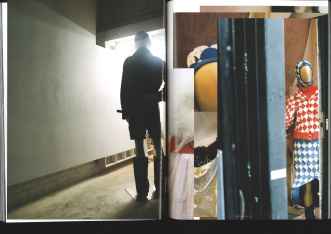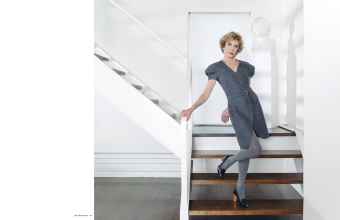 The idea to start our own magazine came from a certain frustration with the distribution mechanisms of traditional artworks that we both set out to produce at some point, individually and collectively. The promise of potential high-value reward for the work that we invested, opposed by the chance of total failure and complete devaluation of our efforts, made us wish to engage in something that did not have this speculative promise attached to it. We found that a periodic print publication is a relatively accessible and autonomous space for visual ideas.
Speaking of visual ideas, do any films inspire your magazine?
We have recently pitched a fashion editorial based on the movie Deadlock (1970) by Roland Klick, which was rejected by the publication we developed it for. It inspired us to dedicate our next issue "The Rejected Issue" to rejected ideas.
The faster we accelerate the less time actually matters.
Finally, why 299 792 458 m/s?
299,792,458 m/s is the speed of light in a vacuum, it is a universal physical constant. Its exact value is 299,792,458 metres per second. According to special relativity, the speed of light is the maximum speed at which all conventional matter, and hence all known forms of information in the universe, can travel. As a universal constant that also represents a limitation and a certain collapse of time, 299 792 458 m/s seemed incredibly attractive to us as a common denominator for our practice, and became the name of our publication.
The faster we accelerate, the less time actually matters. In order for a new in-print fashion publication to make sense it would have to be inter or anti-seasonal, potentially representing all times at once. In a way this is our experience of reality anyhow. Social media does a great job at mediating everything that is happening right now. With our magazine, we are on lightspeed in thought and move through time as we please in a space where its very own relevance is slowly disappearing.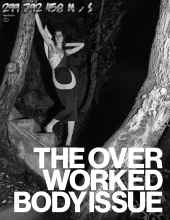 Interview:

Timo Feldhaus

Images/Photos Courtesy Of:

299 792 458 m/s