Face Theory: Make-Up Magic feat. Kevyn Aucoin, Rihanna, and Hung Vanngo
A Brief (and Tender) Study of Beauty's Hold on Us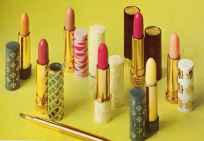 The story of makeup is the story of transformation. You can see it on the models that floated down Prabal Gurung's SS18 runway—faces painted with geometric liner in cyan and purple, foretelling Pantone's Color of the Year for 2018, 18-3838 Ultra Violet. Or by way of the grand dame of catwalk faces, Pat McGrath, whose makeup artistry mirrors the fantasy and craft behind the couture it complements. Hollywood, of course, has always understood makeup as part of the story. Holly Golightly penciling-in her eyebrows and combing her lashes while asking Paul to root under the bed for her black alligator heels. Cher Horowitz in Clueless , whose main thrill in life is a makeover because "it gives her a sense of control in a world full of chaos." Edward Scissorhands learning that the light concealing cream goes on first and then blend, blend, blend.
Beauty work is transformation made up of small rituals. It happens in tiny moments and circular applications of snail mucin (pronounced myoo-sen) that add up to a different—softer—version of you. Ritual is at the heart of this kind of beauty, this taking tender care. Who among us doesn't need that? In the words of Jenny Holzer: IT IS IN YOUR SELF-INTEREST TO FIND A WAY TO BE VERY TENDER.
Consider this some preliminary ideas toward a face theory.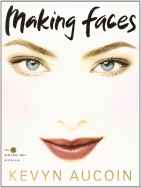 If the beauty work of arched brows, long eyelashes, and cherry lips is a kind of storytelling for the runway and movie screen, then it's also a way for the rest of us to take tired flesh and large pores and manually airbrush a smoother version of ourselves. Makeup and beauty potions can serve as a reliable dupe for healthy living when puffy eyes have been lit too long by a computer's glow. Cool slices of cucumber on the lids really do help you look less like a sentient North Face jacket, and vitamin C serum is a hoodwink for slow-wave sleep.
As a little girl who rubbed perfumed swatches torn from magazines all over her neck and wrists, I know a bit about beauty's rituals. I'd sit with my two girlfriends during recess and recite a slogan we'd read from one of those magazines and also seen on television commercials. "Oil of Olay, twice a day" we would say with solemnity, as you would a spell. While we spoke the incantation we'd touch our forehead, our chin, our left cheek, and then our right as though we were applying the cream foundation right there in the playground—like Catholics crossing themselves before a crucifix. My faith, from an early age, has been in the power of commercial beauty products.


Rihanna's Fenty Beauty line and its full range of foundation—40 shades to be exact—is an industry first. For decades, women whose skin tone hasn't fallen within the limited range of "fair" to "mocha" have had to mix and darken their foundations or source products from outside the U.S. In a recent interview with Vogue Rihanna explained that the first woman she saw apply makeup was a black woman, her mom. Rihanna's foray into makeup is being heralded as a major moment in beauty inclusivity which, in this our year 2017, is well overdue.
For the late Kevyn Aucoin, the man behind the iconic Making Faces and the pioneer of contouring, makeup was always a kind of alchemy. His work was to chase the thrill of transforming a face into something ethereal and freshly angled without losing sight of the real person underneath the primer, the powder, the shadow. With his skill, the face became brighter— its eyes more defined, and its cheekbones unearthed. Like a Snapchat filter before smartphones. Through brushstrokes, Aucoin said he wanted to "dive into people's souls and to interpret that on their face."


In Making Faces, which made the elegant argument that yes of course makeup is an art and women are goddesses on earth, Aucoin took celebrities and made them look like other celebrities. Lisa Marie Presley as Marilyn Monroe. Winona Ryder as Elizabeth Taylor. Ritualized disguise might be another name for beauty, and Aucoin made it seem not merely technical but also pretty fun.
In the fifteen years since his death, many have followed in his footsteps. "I never want to completely transform anyone," says the "no makeup" master Hung Vanngo, who, like Aucoin, is partial to summoning the real woman beneath the products. No matter how rushed he may be to paint the face of Selena Gomez or Kaia Gerber, Vanngo always starts with the skin. Sheet masks—those viscous cutouts that when placed on the face recall The Silence of the Lambs—are a necessary first step. During this skincare ritual, the faces Vanngo works on open up. He says his job as a makeup artist is "like being a therapist," with women sitting in his chair, gossiping, sharing their problems, and vulnerabilities.

This vulnerability is on display in the truly countless number of YouTube makeup tutorials and Instagram stories that grace our bandwidths. Like Gothamista, a fanatical "skinthusiast" from New York City, whose discourses on hyper-pigmentation and the benefits of green tea are so earnest and endearing. Or when Kim was in Toronto and forgot to wash her face before starting her makeup! And while I'm not personally a disciple of contouring, I can watch an impressive number of videos, each of which will teach the perfect blending method (damp sponge) and secret tips (apply highlighter under the arch of your brow).
Watching a person's eyes open a bit wider as her gaze slips off the camera and into her reflection is like watching Narcissus sink gently into his reflection—but this time without any punishment to follow. As they narrow their gaze to focus on the slant of a cheekbone or the cupid's bow of an upper lip, it's as if they fall under their own spell and lose hold of time. What a dream—to get lost in the ritual and mesmerizing work of the beautiful. How tender.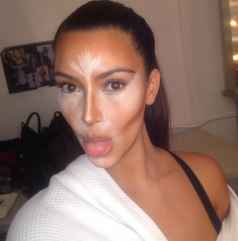 Julia Cooper is a writer living in Toronto.