Chasing Barragán Through Mexico City
A Search for Self in the Work of the Mexican Architect
Text:

Kevin Pires

Photography:

Studio Schramm Berlin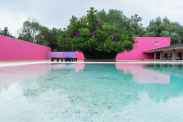 I moved to Los Angeles and painted my bedroom pink. Before I had plane tickets I had color swatches and references like Philip Johnson's Brick House, Donald Judd's Cobb House, Georgia O'Keeffe's Ghost Ranch, and vintage photographs of Luis Barragán's sun-bleached walls. I was determined to start my new life with the perfect pink.
Barragán was an architect who synthesized Mexican tradition, European modernism, and Moorish motifs. He belonged to the Guadalajara School, an architectural movement defined by a fidelity to local customs. Barragán would forever mine himself, the most local site of all, for inspiration. Born in 1902 to a family of Catholic aristocrats, he spent his childhood on horseback on the ranches of his native Jalisco. And while his work slid across the spectrum of these influences—his early homes in Guadalajara, for example, more faithful explorations of regional designs—it would always be imbued with the memories he preserved of those ranches, horses, and churches.
Forgotten for years as the impersonal minimalism of Ikea defined an age afraid of color, Barragán is back. Found again on Tumblr, images of his buildings are splayed across timelines as we seek to shake off that penchant for coldness we thought made us interesting. When Louis Vuitton cast Barragán's Cuadra San Cristóbal alongside Léa Seydoux—and a horse—for their Spring/Summer 2016 campaign, the architect's reemergence was underway.
I wanted to turn 26 atop the Pyramid of the Sun at Teotihuacan like any good Aries and I wanted to see the work of the man who inspires me to sit quietly in bed watching the pink of my walls shift shades under the light that slips through my westward-facing window. I had to go to Mexico.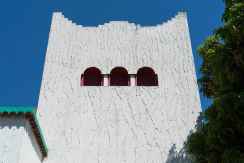 9:15AM
The morning started in a car headed towards the city's sprawling suburbs. Built atop a collection of lakes, the metropolis is receding into its ancient bed. Mexico City is sinking. I commented on this vastness I felt as we made our final descent and noticed that homes not only occupy the valley we were entering but crawl up the side of every hill like well-watered vines. Our driver said simply, "México es muy grande."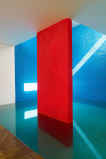 10:08AM
We arrived at a gate manned by two guards who checked a list and made a call. Drive down the road, take a right, take a left, and wait at the Fuente de los Amantes. Alone at the fountain, we headed towards the safety of its only corner and instinctively fell into a hush. You feel Barragán's architecture as you see it, a sensorial overload that leaves you speechless.
The fountain is the centerpiece of Los Clubes, a residential development that Barragán planned in the early 60s for those interested in horseback riding. Two magenta walls define the square, while the fountain itself is made of two smaller walls that were once one—the shorter turned 90 degrees away from the larger like two lovers in a practiced ritual. Walls that from a distance appear to touch reveal upon approach that there's just enough space to squeeze a body in. This was a watering hole for horse and rider, and in those mid-morning hours it was easy to imagine both cooled in wet repose.
Earth's "empty spaces" are not tabula rasa. There is dirt and there are rocks and there are trees and on those trees birds alight to sing their daily songs. Barragán didn't displace those realities but rather integrated them into his spatial arrangements. His was an aesthetic alchemy.
We wandered around this architectural aperitif, lining our bodies up against the walls and taking photos of each other, and of the shadows of trees that surrounded the fountain's small square. This is the architecture that Instagram dreams are made of and my DMs lit up with questions of, "Where are you?" as I made my vision digital.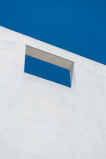 You feel Barragán's architecture as you see it, a sensorial overload that leaves you speechless.
10:20AM
A man on a bike rode up after a few minutes. He waved over and we followed in lockstep behind him. Another man, Sergio, this one wearing a white cowboy hat, emerged from a door tucked into a white wall with mauve trim. He opened the door and stepped aside. The silence that ensued was broken by the first of that day's gasps.
The house is a low-slung white mass clearly intended as a silent partner to the stables it foregrounds. Barragán built Cuadra San Cristóbal in 1968 and many consider it his masterpiece, a claim I won't argue after hearing the sound of the fountain Sergio turned on for just a few minutes. He couldn't leave it on for long, he explained. The mechanism was original from Barragán's time and it had to persist.
He mentioned we had the grounds to ourselves, encouraging us to jump into the pool like a group of architects had the week before, and then said he wanted to show us something. We followed him around the back of the house and into an overgrown thicket that grows out of the garden. Wandering through, he led us to a small clearing where a table and three chairs hewn out of a tree trunk sat shaded by a tree bent low. Barragán had done it himself, wanting to create a space that made you feel small before letting out into the clearing.
10:27AM
Sergio led us out of the garden and disappeared into the stables, occasionally reappearing to comment on the cloudless sky: "Es un día estupendo." He's lived at the house for 27 years and I felt a pang of jealously as he told me, picturing myself wading in the pool under moonlight.
Behind the stables is a small ring with rows of tiered seating to watch the horses train. The ring is lined by jacaranda and bougainvillea and pools of purple and pink petals surround its circumference. I thought about the absent horses trotting, kicking up clouds of color.
In photos I had seen of the stable's pool, horses stood in its shallow depths lapping at the water pouring in from the fountain. Now there was just us. The only traces of the horses that had been there in the morning were hoof marks in the dust. In a few minutes we were barefoot and on our backs at the pool's edge as its waters lapped against our legs. We stopped talking and went our own ways, running barefoot through the saddlery and the stables. And I watched as my friends stripped down and submerged themselves in the pool.
We were drying off in the sun when Sergio returned. A school group of 30 was arriving and he wanted to make sure we were clothed so we wouldn't entice them to jump in. Paradise is reserved for the few.

12:42PM
In the car on the way to Casa Gilardi, my friend said, "Kevin, isn't that what you were looking for?" I turned back to see the window filled with jagged monoliths. We sped by, three heads turned to see the Torres de Satélite disappear into traffic.
Barragán designed the five towers with sculptor Mathias Goeritz for the entrance to the Ciudad Satélite housing development. He had just visited San Gimignano and his own towers recall their Italian counterparts, both ancient and modern at once like 2001: A Space Odyssey's mysterious black plinths. The Torres, on its titled plaza, is a monument made to be seen from the cars that engulf it.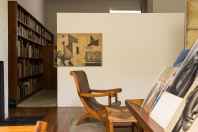 1:25PM
Casa Gilardi is a ten minute walk from Barragán's own home. It's a pink house with a yellow window above the front door. You ring the bell and are asked your name and why you're there. A small woman, Alceria, opened the door asking in English if we spoke Spanish.
The first thing mentioned here was the architect's absolute adherence to recessed and natural light, as if light were the primer to everything we'd experience. From where we stood, his insistence made sense. We looked up as the stairs disappeared into the white glow of the skylight, an Escher illusion that came with beds.
Up a flight in the living room, Alceria showed us photos of Francisco Gilardi and Martín Luque, the two friends who had commissioned this house as their bachelor pad, requesting explicitly that it be built for parties. Barragán obliged, leaving retirement after being twice petitioned to design his final work around the jacaranda tree in the courtyard.
In one of the photos Barragán lovingly holds a woman's face up to his; she's smiling and to her left sits David Hockney. It was Alceria. She married Luque, and after Gilardi died this became their home. In the study that adjoins the living room, we sat with her in the company of marigold light as she remembered raising her three children in that house.
She told us they opened it up to tours to cover the cost of repairs. Our visit coincided with the home's repainting and we watched as two men on ladders put the final magenta coat on an exterior wall—the same shade that graced the walls of the Fuente de los Amantes. A small radio blared Ibiza electronica that seemed oddly at home on the terrace. This was a house built for parties, after all.
Alceria left us alone on the patio and we hitched ourselves over the wall that looked onto the freshly blossoming jacaranda that inspired the home. The afternoon sun traced the sinew of branches across the courtyard. The walls that surround it become a canvas for the sun to sketch an image ever-changing, shadows an essential part of this palette. I watched distractedly as one of the painters edged his brush along a window sill.
The final part of the tour ended where we started. Standing at the bottom of the stairs, Alceria approached a door previously ignored. Like Sergio did before, she opened it and stepped aside to the sound of the day's second gasp.
15 narrow yellow windows line the hallway that leads to the pool room. I had a phase around 12 that preceded a visit to Portugal when I became obsessed with architecture and spent that trip running in and out of churches. Gold pilfered from Brazil was lavished over altars that shone with a celestial glow, its embrace so warm you understood why man might deny himself to win God's favor. The same feeling was waiting behind that door.
I had seen photos of that hallway and the pool room it leads to, the way that blonde light suddenly breaks as it meets the blue beyond. But there's no preparation for what you'll feel as you witness intangible properties become physical substances with weight and dimensions. Barragán made light into bricks and water into walls.
The room assumes the sensuality of its constituent parts: water, light, and color. Barragán wrote that water "has much greater importance in the villa Gilardi, because it offers the possibility of immersion. The conclusive atmosphere of the house is this pool." That submersion is a bookend to the initial immersion we're born from. In the pool, eyes closed and floating, we return to the womb.
We ended in the patio next to the pool where I commented on what a privilege it was to live in that house. "Lo sé," Alceria said with a smile as she led us back to the front door.
On the way out, Martín, the man who asked to live in a house made for parties, was waiting by the door. He said hello as we walked by, complimenting my friend on her gold-colored shoes.

Our driver said simply, "México es muy grande.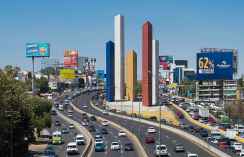 2:56PM
For hours, we had wandered through Barragán's mind alone or accompanied only by those with intimate relationships with his spaces. Arriving at his House and Studio, we became part of a tour group.
The architect's home was a constantly evolving work. Walls were repainted and rooms reconfigured to accommodate life's shifting needs. Our guide mentioned all of this as she led us through a procession of spaces that felt like tripping through someone's psyche.
In the study, we were told that in his childhood home there was a mezzanine he wasn't allowed to visit. In his adult home, he created a mezzanine rendered inaccessible by a precarious staircase covered in books. The living room's only window had curtains on the inside and outside so that Barragán could be invisible to guests while in the garden. And his bedroom had a door with shutters that allowed him to look out without anyone seeing in.
Outside of his bedroom, a statue of his favorite saint, Francis of Assisi, sits below a small, square, yellow-paned skylight. The guide instructed us to close all the doors that led out of that hallway. In the absence of other light, the statue hovered above its pedestal, radiating in perpetual ecstasy. St. Francis, known for renouncing the riches he was born into, is often associated with self-denial. At the threshold, to the room where we are our most intimate, this was a reminder to self.
Barragán's obituary in the The New York Times starts, "Luis Barragán, an intensely private man…" His obsession with privacy is well-documented, it was the guide's most-repeated mention. And it came up for the final time in his bedroom as she showed us those shutters and then pointed to a handmade screen propped up in view of his bed. On alternating folding panels was Iman, striking poses midair in her incomparable version of 80s glamour. It was here at the foot of his bed that someone else on the tour asked if Barragán had ever married. "No," she said, as I instinctively turned to face Iman.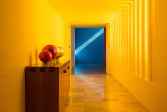 We looked up as the stairs disappeared into the white glow of the skylight, an Escher illusion that came with beds.
He filled the homes he designed with mercury glass orbs reminiscent of giant Christmas tree ornaments. They were his gorgeous instruments of control. He'd place them at thresholds so that those crossing could survey the scene before entering. In his dining room, where he preferred to sit back to door, two were placed at opposite diagonals so that he could always see who was approaching from behind.
We moved from his bedroom to the terrace. This wasn't a public space. Where in other homes patios are for mutual consumption, only Barragán's favored guests made it here. The door to the outside has a yellow panel that floods the stairs with his signature ecclesiastic light.
All I remember the guide saying up there was something about a new building ruining the uninterrupted views of sky, what Barragán called "the fifth facade." After years of staring at photos, researching his work, and now, finally, communing with his colored walls, I was struck in the most ordinary and uncontrollable way by the power of beauty summoned in the service of silence. I walked towards a pink corner and, looking up at the vines that now covered it in the green that Barragán said only nature could paint, I cried.
He once wrote, "Do not ask me what I love and what I believe, do not go into the depths of my soul." On his terrace I knew exactly what that meant. I cried then not only for the man who hid behind high pink walls but for us, the ones left behind to negotiate how we'll hide. I reached for my sunglasses but never put them on. We walked back downstairs and the yellow flowers in my bag brushed against a yellow wall and I felt as if my arm had been grazed by a hand.
This was an architecture of suspended sensation, where the intimation of pleasure could be more gratifying than touch itself. Two bodies approaching each other hold all the potential of happiness without the disillusion of reality. Visiting Barragán is that—love's first motions without any of its pain.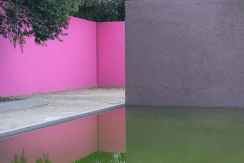 This website and all its contents are protected by copyright laws. Any reproduction or use of any element is prohibited without the prior written authorization of SSENSE and/or copyright owners.
Text:

Kevin Pires

Photography:

Studio Schramm Berlin