Can Streetwear Bring Down Governments?
Logo-flipping and Campaigning in Britain's General Election and Beyond

Long after the polls have closed and the celebratory ticker tape has been swept away, the iconography endures. Shepard Fairey's 2008 'Hope' poster, created in support of Barack Obama, has a continued relevance today, and it's hard to think of last year's U.S. Presidential Election without thinking of Trump's red 'MAGA' cap. Both would go on to spawn a host of further imitations and parodies. So what would be the lasting motif of the recent U.K. election? A familiar red Nike swoosh with an unfamiliar accompanying slogan: CORBYN.
On April 19th, 2017, U.K. Prime Minister Theresa May called a general election—the second since 2015 and the third time Brits had been dragged to the polls in as many years following the recent Brexit referendum. Before the collective groan of a nation had even subsided, political pundits began writing off May's opponent, Labour Party leader Jeremy Corbyn, who trailed her by 20 points in the polls. Few could have predicted what would follow, as Corbyn gradually encroached on May's lead, ultimately pulling off an unlikely upset and depriving his rival of a majority in the House of Commons. He did so largely by inspiring swathes of the U.K.'s young electorate, leading to an unprecedented 72% turnout from 18-24 year-olds.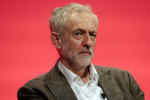 But what was perhaps more interesting was not that Corbyn sought to energize the youth vote—which was perhaps his only option in halting a Conservative majority—but the manner in which the youth responded. Beyond the celebrity endorsements, the visual language of fashion became central to Corbyn's online support. As the campaign rumbled on, not only did Corbyn's rallies see numbers swell, but Instagram feeds too became jammed with pro-Labour motifs. In most cases, they came in the form of the archetypal streetwear logo-flip—the method of taking the iconography of a recognizable brand and manipulating it to convey a different, often subversive, message. Although not official endorsements, the logos of Champion, Palace, Supreme, Reebok, Patagonia, even Louis Vuitton and Chanel, were all cheekily reimagined to read 'Vote Labour' or other pro-Corbyn slogans. The latter two were not without irony, given Corbyn's understated aesthetic and historical penchant for £1.50 vests and sweaters knitted by his mother. In fact, Corbyn is so decidedly uncool that Vogue labelled his look "very Vetements." While it was memes that provided the graphic accompaniment to last year's U.S. Presidential election, Photoshop-proficient "Corbynistas" had taken things one step further, tapping into the idea that, in a digital age, brands inspire more loyalty and reach more people than any political figure or TV news anchor.


Of all these fashion-pastiche graphics, however, it was a simple Nike swoosh, emblazoned with the word 'Corbyn' in the brand's signature italicized font, which proved the most popular. Designed by two friends under the name Bristol Street Wear, on the face of it, it was an incredibly simple, almost lazy design. But whether intended or not, it was hard to ignore its symbolism: a politician whose campaign slogan was "for the many, not the few," being championed via one of the most ubiquitous sportswear labels around, albeit unofficially. "Just Do It," indeed. That un-officialness also felt apt for a candidate very much viewed as a political outlier, both by his own party and by the media—it was a fittingly innocent dose of rebelliousness when you considered the anti-establishment caricature Corbyn was to many.


Ever since streetwear came into being, logo-flipping has become one of the most noticeable aspects of the genre's lingua-franca. And while Stüssy's double-S motif paid homage to the heritage of French fashion house Chanel, there were multiple instances where this method carried similarly political undertones. In 1991, Erik Brunetti released a t-shirt that bore the badge of Ford Motors at first glance, but instead read 'Fuct'—the name of his L.A. based label. For the likes of Brunetti, it wasn't just devilish profanity or mischief-making, but also a rejection of corporate America, the kind that Ford epitomized, in favor of the independent approach of streetwear's earliest provocateurs.
The kind of logo-flipping that we witnessed in support of Corbyn has even deeper political roots. The 1950s saw the emergence of the Letterist International—a radical, left-wing collective of artists and theorists—and with it, the tactic of détournement, which translates to "rerouting" or "hijacking." It was a method that was carried into the following decade by prominent Situationists, who helped inspire many of the subsequent left-wing, European student uprisings in the late 60s. Détournement was a way of subverting the iconography of propaganda and commerce to protest against the status quo. Not only that, but it was a way of doing so with humor, a tool often more devastating than pent-up anger or aggression.



If you really want to hurt those in power, make the people laugh at them. Writing in 1956, the Letterist and Situationist International co-founder Guy Debord, along with a key collaborator Gil J Wolman, posited: "The mutual interference of two worlds of feeling, or the juxtaposition of two independent expressions, supersedes the original elements and produces a synthetic organization of greater efficacy. Anything can be used." And while Debord perhaps didn't foresee this extending to t-shirts, the sight of Nike's instantly-recognised swoosh used to support the U.K.'s National Health Service, as countercultural bootleggers Sports Banger did recently, would no doubt have been met with his approval.


Today, détournement, logo-flipping, call it what you like, has begun to transcend streetwear. It has found its way onto the runways of Paris Fashion Week, thanks to the likes of Gosha Rubchinskiy (who has riffed on the branding of Tommy Hilfiger and previously, Thrasher), fellow eastern Europeans Vetements (that DHL t-shirt), Virgil Abloh, with his label Off-White, not to mention Demna Gvasalia's work at Balenciaga, which saw the campaign logo of Bernie Sanders flipped for its AW17 collection. As many critics have pointed out, this seems to indicate that fashion's traditional hierarchies are crumbling, as street and high-fashion become one. But perhaps that isn't the only sphere where cultural boundaries are being dismantled, as we've seen with streetwear seeping into politics. In an interview with Virgil Abloh last year, he told Dazed that he viewed streetwear as more of "a construct" than a way of dressing. For him, it was about forcing juxtapositions in order to create something that is simultaneously familiar and striking. Streetwear is his trojan horse for ideas, he says. With the recent visual campaign that accompanied the U.K. general election, it would seem that he is not alone, as seemingly innocuous emblems of consumption became palatable vessels for leftwing political statements.
Of course, cultural-kudos alone does not win elections. But in the U.K., during an era where queues outside Supreme or Palace likely dwarf anything outside of a polling station, it probably doesn't hurt.