Airbrushing IRL With Natalie Franz
The Makeup Artist and Entrepreneur on Jet Lag and Transformation
Interview:

Bianca Heuser

Photography:

Karolina Wallace (Natalie Franz Portrait Images)

Photography:

Lado Alexi (Product Images)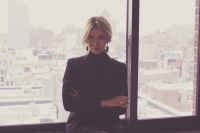 Natalie Franz's fascination with the way a face can transform began early on: growing up in Ukraine, she spent countless hours in her mother's dressing room backstage at a Kiev theater. Her mom was a ballet dancer who embodied different roles on stage each night and laid the foundation for Franz's fixation on fantasy, on enchantment. As a makeup artist, Franz is a professional in the art of the aspirational—transforming the shape of a face by means of lines and shadows.
The makeup industry that has given rise to a talent like Franz sashayed into the mainstream with Kevyn Aucoin's landmark coffee table book Making Faces in 1999, but has since morphed into a tech-enhanced, Facetuned movement for celebrities and normies alike. In a time of high definition television and smartphones ready to take a snap at any moment, a blemish can feel like a failing.
Franz—who has rolled with the industry's tech advancements—has worked in the music and modelling business for over 15 years, beautifying performers like Tokio Hotel and Lady Gaga, and taking notes the whole way, seemingly unruffled by its dramatic changes. She's now launched her own product line, offering tiny silicon strips that enact a sort of airbrushing IRL. No app required. But magic alone won't do it—she knows that good skin comes from good self-care. Hydration remains the best foundation. You can't contour it all away. Bianca Heuser spoke to Franz about her start in the business and the evergreen power of a good old fashioned facial massage.
Bianca Heuser
Natalie Franz
How did you decide to become a makeup artist?
I grew up in Kiev and my mother was a professional ballet dancer. She performed nearly every other day, so I spent a lot of my childhood at the theater watching her and the other actors getting ready, doing their makeup and transforming. Makeup and its transformational power was very present in my childhood already. When I came to Germany at the age of 17, I learned that this was an actual job. Not only at the theater, but for musicians, commercials, or videos. A friend of mine who is an actor introduced me to a makeup artist who hired me to be her assistant. I got my first jobs around 21. And now I'm turning 40. I was one of the first makeup artists, constantly having to explain my job.
Right, the profession itself is so young.
Yes, totally. Eventually, I got into an agency as a junior artist and did a lot of small jobs. My first one was actually quite funny. My agent was a bit older and not really familiar with the music industry. She called me and said: "Congratulations Natalie, you got your first job. Listen, I want you to write this down. This band is coming to Cologne and you have to do their makeup for their concert and interviews. Take this down, R-dot-E-dot-M." And I wrote it down and at first didn't even get it. When I was in my car and listening to the radio I heard: "three million people are expected tomorrow for R.E.M.'s show at Cologne's Domplatte." And I thought, "wait a minute," and pulled the note out of my bag. Sure enough, it said R.E.M. That was my first job.
"I was one of the first makeup artists, constantly having
to explain my job."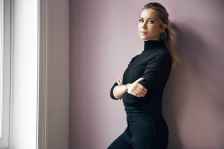 Did you ever work with someone you were a real fan of?
I think the guy Gwen Stefani was with, who cheated on her. What was his name again?
Yes, exactly! Of Bush. I remember thinking he was super hot. That was when I was 24. I did Lady Gaga once too, but I was never that into her. Now I do these jobs once in awhile, when I really like the person. I recently did Jennifer Connelly's makeup, I think she's great. I definitely accept those gigs, because they keep me alive as a makeup artist.
Were you toying with the idea for your own product line for awhile?
The only thought I had was that my son kept getting bigger and that I didn't want to travel as much anymore. When I was in Tokyo with Tokio Hotel on their Japan tour in 2010, I went into a perfumery just to see if I could discover something new. Anyway, I saw the stripes at the perfumery. I've always had this problem of my left eye being a little smaller than the other, a slight asymmetry. This is amplified when I'm tired or jet lagged. So the woman working at the perfumery applied this stripe to my left eyelid and the asymmetry disappeared immediately. I looked completely refreshed and was fascinated. I'd been a makeup artist for 18 years and thought I knew everything. I bought all the stripes they had and used them on all my jobs–with models, politicians or actors. At times, their assistants would run after me: "Miss Franz, where can we find these stripes? They're incredible!" I did some research and found this market didn't really exist. Nobody knew about it. I found that unbelievable, since they're used as commonly as cotton pads in Asia. It took four to five years to get the company off the ground, with licenses, research, dermatological tests and all, but now we're available in 19 countries.
Which developments have you observed in the industry in the past years? How do technological innovations impact your work?
Retina displays and HD television definitely made the industry work harder on formulas that give makeup a finer structure and make it almost invisible—minimizing pores and reducing wrinkles. Of course, I try out all these different products to stay up to date and pick the ones I like to work with.
Are you excited about these trends?
I think a lot of developments sound exciting, for example 3D printing technology. Some companies would already like to use this technique to fabricate beauty products. This could mean that in the near future anybody will be able to print their own makeup at home. People could easily create a highly individualized and unique eyeshadow to match their look.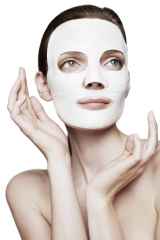 Do you have a special trick you like to share with people?
That depends on who is sitting in my chair. But a facial massage always works great. That will make your face glow and it lifts, contours. Every woman loves that.
You can definitely tell from your appearance when you're feeling bad or are stressed out. Hair gives that away too! But it's good to know a relaxing massage can have a visible effect on your skin.
Absolutely. Lymphs play an important role, too. They run down your face and the side of your neck and by stimulating them, you can get your face to detox quickly and reduce swelling. This has a remarkable power. You don't even have to squeeze your skin much and wear it out, you just have to stimulate the right points.
I think people frequently forget the relation between our physical appearance and our emotional health.
I think so too, but it differs from country to country. I know a lot of Russian women are definitely aware of it. My grandma is 95 now and does a tapping massage on her face every night–she looks amazing. You'd never think she was 95. But she's old school. I think a lot of Asian women also have their tricks they do every morning and evening. And it's true, if you do a few small things, stimulate your skin, apply night cream, and do this every night all your life, it will have a great effect on your skin. You can tell it doesn't get saggy. There are huge cultural differences. In every country women have their secrets.
"I've always had this problem of my left eye being a little smaller than the other, a slight asymmetry."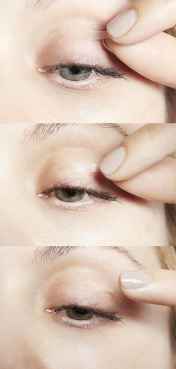 Interview:

Bianca Heuser

Photography:

Karolina Wallace (Natalie Franz Portrait Images)

Photography:

Lado Alexi (Product Images)