The Fairy Godmother of Slime
Examining the Tainted Pleasure of Marilyn Minter's Retrospective at the Brooklyn Museum
Text:

Bianca Heuser

Images/Photos Courtesy Of:

Brooklyn Museum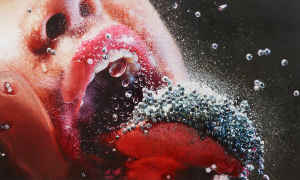 Born and raised in Louisiana, the 68-year-old artist Marilyn Minter knows what bigotry looks like. She has spoken about the racism and homophobia she witnessed as a child in the community she was raised in, and even her parents' home. Her mother suffered a nervous breakdown when Minter was a child and subsequently largely shut herself in at home with a bathrobe, cigarettes, and pills. She became the subject of Minter's Coral Ridge Towers series in 1969, which is currently on view at New York's Brooklyn Museum as part of her Dirty/Pretty retrospective. This early work sets the tone for the practice that was to follow it: a body of work that zooms in on joyful elements of what we call "femininity," that has at times brushed with the world of fashion, such as in Minter's work for Tom Ford. She examines how these elements of pleasure have been tainted, and how to love these tainted parts. Bianca Heuser gives a guided tour through a selection of works from the exhibition.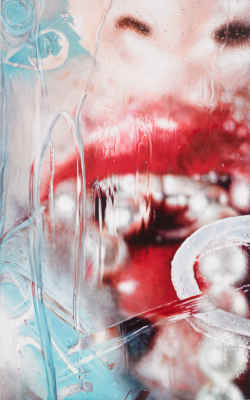 Torrent
The light kiss of a string of pearls is a clichéd fashion image if ever there was one. It exudes glamour and excess. Minter's artwork often plays with gendered ideas of luxury, which led to Tom Ford commissioning her for his label's Fall/Winter 2007 campaign. Her version of extravagance however is not virginal—and therefore not perverted—but instead drenched in a condensate that looks like real life, real sex sweat.
Oh, it's not my oral fetish, it's the world's!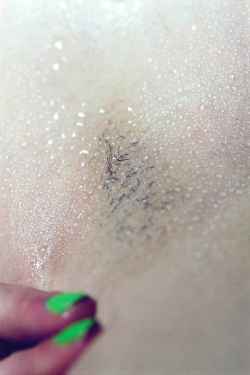 Armpit
Women are not supposed to have body hair or fluids. Snore! Marilyn Minter's work is incessantly wet and hairy. If it grosses you out, we might have a problem. Of course, not being repulsed by sweaty stubble does not negate being part of the problem. The bar is low, but it is not that low.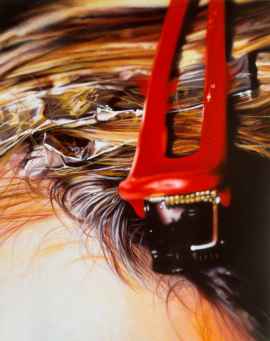 Clip (Cropped)
Analytically speaking, this image has a lot to offer. Do you see a model in hair and makeup? Do you see your high school girlfriends? Or your mother braiding your hair? There is innocence in Clip, the fetishization of purity, submission—you know, girly stuff.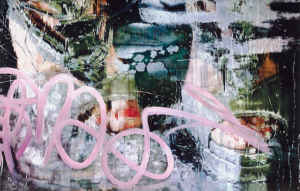 Not In These Shoes
The effect of wearing high heels embodies some of the contradictory expectations placed on women. Simplistic patriarchal ideology suggests: the taller a person, the stronger. The more noise a person makes, the tougher they are. Heels can thus lend their wearer a sense of authority. Yet a lot of them could not outrun a turtle in their heels if they tried. This lack of agility then suggests vulnerability. For something so loaded and impactful, our culture's eye-roll at fashion—the historically most "feminine" art form—is puzzling. Minter told Vogue: "The fact that it's so dismissed is riveting because it gives so many people pleasure." She takes pleasure very seriously.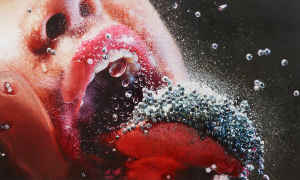 Green Pink Caviar (Still)
Pleasure, after all, is serious business in a culture that weaponizes it. Both heels and food are made to serve as the patriarchy's torture instruments on women. Women stagger down cobblestone roads in an attempt at a seductive strut and under-eat to increase fuckability. But the subversive power of Minter's video work Green Pink Caviar does not lie solely in the gusto of the model licking green slime and metallic pearls off a sheet of glass. It is in the hotness of that enjoyment too.
Orange Crush + Pop Rocks
"Oh, it's not my oral fetish, it's the world's!" Minter tells Art in America, which is true.
Pleasure, after all, is serious business in a culture that weaponizes it.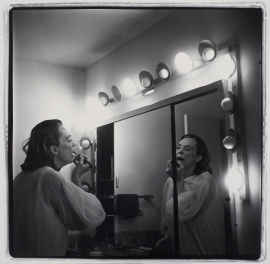 Coral Ridge Towers (Mom Making Up)
Marilyn Minter is one of many artists-who-happen-to-be-women whose careers have been stalled because the sexuality of their work was perceived as exploitative or tasteless. "It's so interesting, because when I did this real hard-core sex series in 1989, I was criticized for them. And in 1995 when I showed the pictures of my mother, I got let back in[to the art world]," Minter told Glenn O'Brien in an interview for Purple Magazine. Do you laugh or cry at the idea that this series of works—and her daughterhood, essentially—became what would redeem the artist?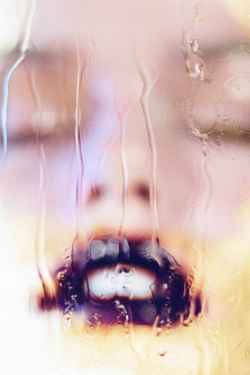 Black Orchid
Let's be real, orchids are basically vulvas. As a symbol for femininity, they are both tender like the white orchids Beyoncé used in the visuals and on merchandise for her Formation World Tour (her husband, by the way, collects Minter's work). They are also bold like the eggplant lip in this work.
Text:

Bianca Heuser

Images/Photos Courtesy Of:

Brooklyn Museum