Versace Jeans Couture Enters Quil Lemons' Universe
The Photographer and His Inner Circle Revitalize the Heritage Label's Streetwear Line
Interview:

Erika Houle

Photography:

Quil Lemons
In a culture that promotes and operates around the procurement of the self—selfies, self-care, self-made careers—Quil Lemons is absorbed by something else entirely: a genuine commitment to the rise of others.
The 21-year-old photographer's universe is buoyant, packed with unbridled positivity—all of which is portrayed through his work. I first met Lemons at a brewpub (though he prefers a whisky cocktail) followed by a trek through a snowstorm for a few games of bowling (where he continued to cheer me on despite losing three rounds in a row). Sportsmanship comes as second nature to him.
Born and raised in Philadelphia, Lemons aims to capture the unprecedented beauty of his subjects by way of vulnerability; shedding light on and honoring the perseverance inherent to a backstory. He captures the essence of his subject's spirit by documenting the magic of a single moment, but also, by creating an aura of lasting comfort: family portraits in his great grandmother's parlor, for instance. Or Kari Faux, one of Lemons' oldest friends, upside down and backwards, tossing up the middle finger for the cover of her EP CRY 4 HELP.
While navigating New York as a full-time student at The New School, having graduated just last month, Lemons has built a disproportionately stacked resume. Working with a roster of collaborators that reflects his own success: Gucci, Junglepussy, and Vogue, to name a few, personal gain has never been the long game for Lemons. Rather than engaging with the void of modern networking, he seeks to uplift and give back to the community he's fostered and flourished in—an eclectic "found family" of creatives from all domains.
Here, for the rebirth of Versace Jeans Couture, a return to the label's foundation to "bring couture into streetwear without traditional rules," Lemons shares anecdotes and stories, as told to SSENSE, featuring seven of his most impactful mentors. Photographed in a historic Brooklyn brownstone near Prospect Park, he commemorates the familiar feeling of home existing not as a place, but as its people. When life gives you Quil Lemons, the lemonade pours itself.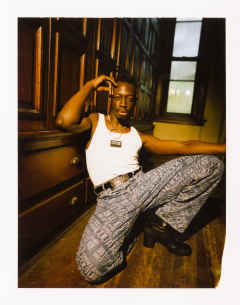 KHALIF DIOUF, Rapper, Producer
I've known of his music for a long time, there are not many black queer rappers. Black and openly gay. I respect that so much, growing up, seeing that. I love rap music, and I love how he was so outspoken with his reviews about Macklemore back in 2014, this indie artist that's putting himself out there to people who might not want to work with him because he feels this way. The whole world tells you that you can't be, one, black, and then, two, gay. It's really hard, so for him to make music in that space is a lot. I met him through Junglepussy actually, they're really good friends. Sitting with them, we were chatting, and all of the sudden we look up and it's 2AM and we're having a "seance"—smoking weed and chatting about the culture. They were asking me and my friend Myles what we think is cool, and we were like, "Y'all!" I remember the days when Tumblr was popping and seeing their work, wanting to be friends, and I'm so happy that's an actualization. His music makes me feel valid. Oftentimes gay musicians get reduced to just being queer, but he can really rap. The incorporations of different sounds in rap is something to commend, especially when his project Riot Boi came out, it was at a time when music wasn't really mixing genres, he was blending electric sounds in with a trap beat. I feel like feminized bodies in rap really push the genre forward. Now these boys are out here mixing with rock sounds, EDM sounds, vocal distortions, and Khalif has been doing this for years. I don't know if he knows it, but for me growing up, I was like, "I can do whatever the fuck I want if Khalif is up here dripping black and queerness."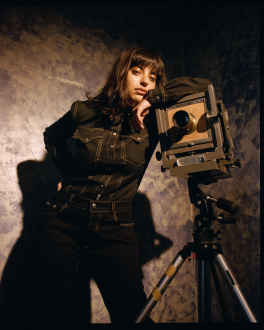 DRIELY CARTER, Photographer
We connected last summer in Brooklyn. I DMed her and I was like, "Hey, we have a bunch of mutual friends, I think your work is really fucking cool, and I would love to learn from you. You can teach me how to shoot in larger formats." She shoots on tintypes and ruby glass ambrotypes, and my favorite shot of hers was her Alexander Wang [Hypebeast] cover, she shot that in one hour. That process is fucking crazy. I love someone that's not really interested in the final outcome, but in the process of it all, and I think that really made the shoot and you can feel it in the energy of what that cover looks like. I've been inspired by so many of her shoots, especially when it comes to a woman shooting menswear. She also called out Girlgaze, and people were pissed and not understanding the nuances of what she started. She was like, "the project always wants to have women shoot with these dreamy lights and it's like, 'I'm a girl and I can shoot anything, it doesn't have to be this ethereal aesthetic all the time.'" A woman behind a camera is a revolutionary act. I was like, "Go off!" because it's true. Especially in early 2018, there was this wave of feminist photography, associated with the Petra Collins gaze, and no shade to Petra, she's dope and I love what she's built, but I think it's also reductive to position other photographers to shoot like her. [Driely's] shot Beyoncé, Pharrell, Kanye. The woman knows what she's doing. We need someone this vocal in this space, that's not afraid.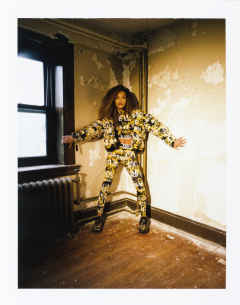 When you think of New York nightlife, you think of Maya Monès. As I was coming to learn about trans identity, Maya was raising money for her facial feminization surgery, and I was coming to understand everything about the transition and the process of that. I've always viewed Maya as a fashion model, and I'm so proud of her journey. Being a trans person of color is not easy, and she does it with flawlessness. Also, people don't understand how important it is to have a good DJ for a party or opening set, setting the vibe and the tone. You can't go from playing Chief Keef to some 70s disco song! You have to transition that, it's a gradual thing. She knows how to play throwbacks from the early 2000s, she'll put on some Cassie—and not "Me & U," she'll play "Long Way 2 Go," it's such a deep cut! Immediately when I saw her I was like, "Oh my god I love you," and in real life she's even more effervescent. She's not magnetic to the point where it becomes intoxicating and envelopes the whole room, she's gracefully magnetic, and if you miss that, it's on you.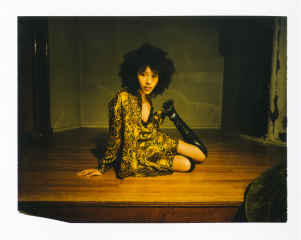 A lot of people that come to Brooklyn now need to understand they're coming into a space that's not their own. Aliyah is so outspoken about that. She's trying to figure out the steps to be an activist in real ways. She might hear a lot of photographers and different agencies telling her not to do that, but I love that she's showing a black woman can give you editorial face but also be out here shouting and being an activist for the community and making sure people are able to live on in this space. Her personality is so fiery, I love her videos and I tell her that on all of them. She was like, "I love everything you do," and I was like, "Girl, I love everything that you are."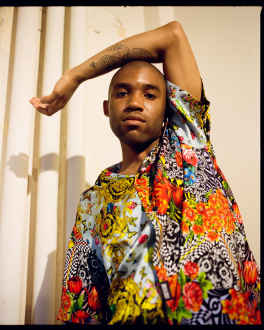 He's one of my best friends, we were roommates! People tell you not to live with your friends, but we are so similar, it's actually really creepy to the point where my dad recently came to visit me and Chad walked out of the room, and my dad had to do a double take. He was like, "That was trippy." Chad's a little more reserved than me, and I also love that. He's more disciplined and in some ways I wish I could be like that. Even when I'm at a point where I haven't booked anything lately, he'll be like, "but you're fine. You're going to be fine." He just made his third short film, and he's always like, "It's the personal stuff that everyone can relate to," and that's so true. I've been taking that on in my work, like, "How can this be so, so vulnerable that I'm scared to put it out?" That's a place I always want to be with my art. He's pushed me to be there. His movie was about an instance with his father where he was wearing a blouse and his dad was like, "You can't wear that shirt," but it's about so much more than just the shirt. He's one of my favorite people I've met in New York City and will be a lifelong friend.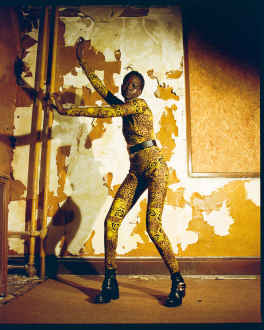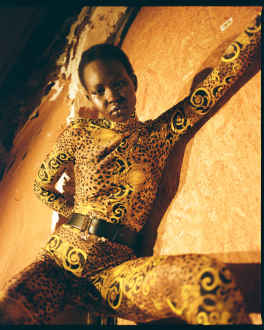 AWENG CHUOL, Model, Activist
Aweng and I met when I was doing the Glitterboy series, and this was before Aweng was even signed. I was 19, and I was like, "Oh, this face!" It's so striking and distinct. She's another person with a personality that's so joyous and infectious to be around. We support each other in so many ways, especially when we're at our lowest, reminding each other we're killing it. When you can't see the light at the end of the tunnel, being like, "Bitch it's right there you just gotta squeeze a little harder. Keep going." She stands her ground and she wants to support other black creatives, she's like, "I want to go to the Met wearing a black designer. Designers want to dress me, but I'm not going until I'm ready and it's on my own terms." She's also getting a law degree, and she's like, "I know in 2020 when I'm out of school and I have things together that when I arrive at that Met Gala, it's going to be a moment." She's not a mannequin, she does way more, she gives back so much to her community, working with charities including Love Uganda, Stand4education, and Pro-Girls Foundation. I'm so excited for her ascendance into being an iconic black model.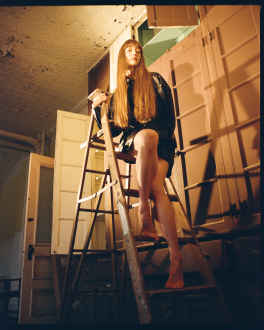 LAURA REGENSDORF, Vanity Fair Beauty Director, Vogue Contributing Editor
I met Laura when she interviewed me for Vogue. It was my first Vogue feature, and I was like, "How did this woman find me?" For someone of her stature working for a huge institution, to trust me to go and shoot Pride, a diary for them, I'm so thankful that she did that. She made me feel special and I want to do the same for her. I meet a lot of people in this industry, and writers feel like they have to be behind the lens and not in the spotlight, and I think that's really cool to be in the game for so long and not burnout and also not wanting to give up writing. I felt that even just as a journalism student, so for her to be cranking this out for her livelihood is amazing. I don't think people realize the little things go so far for people, and I'm so thankful she saw something in me from the images I was taking.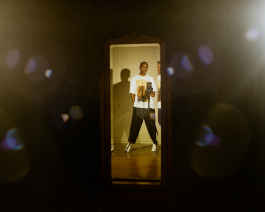 QUIL LEMONS, Photographer
I find the internet age to be really disingenuous, and I've been in instances where people only want to be around you when you're up and doing things, and it's like, "No, I want friends that are there when I'm crying and struggling to figure things out." These things that are so fickle and can go away in any second, I think it really shows people that numbers mean nothing in real life. I've only been a professional photographer for two and a half years, and the amount of hardship you go through in that work time, those years, it's crazy. I personally respect someone who had to do all this stuff without social media, or the blue verification check, all this shit. Going out and meeting people and having people know you because you were actually doing something really well, your talent was your credibility. With brands, they allot money based on numbers, who is going to get the most shares, and that can all be robots! For me, building a sense of community has always been really important. That's what sustains a brand, a person, whatever you do.
Interview:

Erika Houle

Photography:

Quil Lemons

Photography Assistant:

Bryan Anton, Rahim Fortune

Styling:

Savannah White

Hair and Makeup:

Sage White

Production:

Alexandra Zbikowski

Models:

Driely Carter, Aweng Chuol, Khalif Diouf, Maya Monès, Aliyah Monet, Chad Murdock, Laura Regensdorf

Location:

Andrew Samaha