The Tight-Knit Sisterhood of Missoni
On High-Drama Runways, Sportswear Heritage, and Female Friendship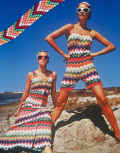 The first Missoni runway show was at Pitti fair in Florence, in 1967. Underneath what would become the brand's signature knit, the models wore...nothing. The white bras originally planned had been obtrusive under the see-through Lurex fabric, so the brand matriarch, Rosita Missoni, asked the models to remove them. This scandalized the audience and press alike—Missoni was not invited back to Pitti the following year. But that didn't stop the brand from becoming a household name.
Missoni was founded in 1953 by Ottavio (Tai) and Rosita, an Italian couple that settled in Sumirago. A sportsman at heart, Tai originally designed activewear, including the tracksuits for the Italian Olympic Team. Tai and Rosita, in fact, met during the 1948 Olympic games in London where Tai was competing as a sprinter. When new knitting machines became available, Rosita suggested expanding the business, and they began making designs in what is now their hallmark: unmistakable colorful crochet in zigzagging chevrons.
Perhaps the faux pas of the brand's first runway show is the reason that Missoni feels so sensual and feminine, unapologetically linked to female sexuality. Rosita hit on a core truth: knits belong against the skin. The mélange of bright colors and patterns can only be worn by a woman that doesn't care what anyone thinks, a woman that possesses a certain kind of intimate self-knowledge. A woman that will spend all summer at the beach, or tanning in the backyard, gossiping with friends, shocking the neighbors. Rihanna on the beach in Barbados in Missoni knit pants, Rihanna on a yacht in St. Tropez in a Missoni romper, in a revolving assortment of Missoni bikinis, perhaps cross-legged on a jet ski. The knitted prints are as flexible as their sportswear heritage would imply, both in construction and design. When out of the house from sunrise to sunset, one must be prepared. It's never just a Missoni dress or top, but also: relaxed pants, a cardigan loosely draped, hoop earrings, a headband.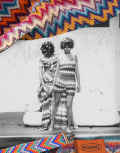 The colorful chevrons of Missoni designs resemble the friendship bracelets of childhood. When I look at their knit designs, I think of the navigation of girlhood: summer camp, hair braiding, secrets, swapping clothes. The weaving of friendship bracelets represents a pact, not only to friends made but to a certain youthful recklessness. The bracelets, secured tight on the wrist, are bound to fade by the end of summer, bleached by sun and water, a representation of time well spent. Missoni becomes a Proust's madeleine of female friendship.
The feminine mythology of Missoni is furthered by the brand's history, evident in family photo shoots: Missoni has been handed down through generations of matriarchs, who are often photographed together, staggered at different heights. In a 2010 Guardian profile of the three women of Missoni—founder Rosita, her daughter, Angela, and her daughter, Margherita—the writer provides insight into the ease with which the women move. Margherita flops on her grandmother's sofa, Rosita adjusts Angela's top, Margherita brushes away her mother's hand when she tries to do the same.
"It's not just a company to me, there is something that has to do with the notion of belonging to a clan, a tribe..." Margherita said. In a way, the clothes embody clanship: the aesthetics of tightly-knitted bonds at the brand's core.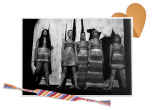 "The early Missoni runways established a leniency for the unexpected and affinity for trouble."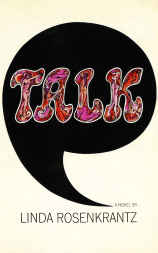 The second Missoni runway show took place in a swimming pool in Milan. "They had inflatable chairs going from one side to the other one—the husband of Emmanuelle was a designer, and he designed the first inflatable chair, and he also designed an inflatable house that was in the middle of the swimming pool," said Angela Missoni to Vogue. "All of a sudden the house collapsed. It was a happening—all the girls were in the water and it became a big party!" The early Missoni runways established a leniency for the unexpected and affinity for trouble. The Missoni woman isn't precious about anything.
The scandal surrounding Missoni's early runway shows is not unlike the buzz around Linda Rosenkrantz's book, Talk, when it was published in 1968. The book is compiled of recordings of friends from the Summer of 1965 in East Hampton and is heavy on sex, parties, and leisure. Most of it takes place at the beach, or at least it feels that way—dialogue, honesty, and gossip between girlfriends. It's compulsively readable. Women talking is a form of intimacy that's only a step away from physical.
Rosenkrantz writes:
MARSHA: I love your gestures of kindness.
EMILY: You do? Isn't that the sweetest thing?
MARSHA: It's one of my great loves.
EMILY: Do I make gestures of kindness?
MARSHA: Of course, you're very kind to me.
They go onto list the things they love: certain people being disliked, being tan and thin, their bodies, themselves, talking in public places, laughing, the end of a dinner out, being alone, Venice, Sicily, New York (Marsha interjects that she hates New York), Emily loves her sister.
There's a confessional tone, unselfconsciously loving each other and themselves. As I visualize the exchange, in my mind, they are wearing Missoni.
Tatum Dooley is a writer based in Toronto. Her work has appeared in Artforum, Bordercrossings, Garage Magazine, Lapham's Quarterly, The Walrus and more. She is a contributing editor at The Site Magazine.
Text:

Tatum Dooley

Date:

July 10, 2019