Dancecore Fashion Because We're Bored, Sad, & Disembodied
Dressing for Spectacle and the Hope of Transcendence
Why has 2019 been a virtual flashmob of dance reference in fashion? In film, learning to dance is often a metaphor for finding yourself, just as a makeover montage punctuates a character's process of self-actualization. As dance provides an opportunity for the body to break out of its familiar motions, fashion allows for the recoding of a body beyond its basic assemblage.

For Issey Miyake's Homme Plissé SS20 menswear show, models went for a walk in the park, lunging and dancing down a garden path. Thom Browne one-upped most other dance references with pointe shoes, cod-pieces, and tutus. The Face described Fashion East's dance-heavy SS20 presentation as "the rave we all needed." Previews of Rihanna's anticipated LVMH-partnered Fenty line teased long jackets with XL shoulder-pads and wide, pegged trousers reminiscent of jazzy 1930s zoot suits, the roomy fit best for dancing. Similarly exaggerated styles were seen at Gucci FW19, along with a very Gene Kelly medley of loafers, argyle, double-breasted cardigans, and high-waisted three-piece suits. Molly Goddard's theatrical empire-waisted tulle ballet dresses persist to well-sustained fandom, while Simone Rocha is and always has been The Red Shoes.
This year's Met Gala theme—the painfully misconstrued "Camp"— settled upon by a panel of fashion industry insiders, owes everything to (the queer world of) dance. The notion of camp was born out of drag ball culture, birthed by club promoters like Leigh Bowery (how did every celebrity miss the opportunity to recreate one of his looks?), and the nightlife-devoted New York party people who brought the term "Club Kid" to life. After much debate surrounding Sontag and who coined the term, the theme left us with one certainty: camp was invented for the club, for a place where dance and fashion can be harnessed for total transcendence. And evidently, we crave that transcendence.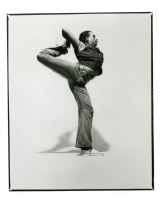 Last month, Jennie Livingston's 1991 controversial & acclaimed documentary Paris is Burning was rereleased in theatres. The film spotlighted a subculture that used fashion and performance to upstage the limitations imposed by the dominant culture. To quote Dorian Corey, one of the film's stars: "In a ballroom," says Corey, "you can be anything you want. You're not really an executive, but you're looking like an executive." Ballroom legend and choreographer Willi Ninja is featured heavily in the film, an innovator of voguing, so named after its emphasis on posing and adoration of the glamour of fashion models like those on the covers of Vogue. In 2019, there is no doubt of the enormous influence the ball subculture has had on culture, both pop and underground, and of course, on fashion. Enormously popular shows like Ru Paul's Drag Race and Pose owe a lot to the film (as acknowledged by Pose writer/director Janet Mock: "To me, Paris is Burning is such a gift in the sense that it introduced me to a world and to people who were very much like me."), their own cast members now regularly appearing on red carpets and in magazines, as on Elle's June cover, in which Indya Moore became the publication's first transgender cover star.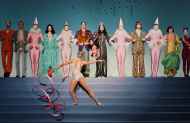 Gucci's SS19 Showtime campaign was an homage to Old Hollywood productions like Singing in the Rain, a satire of show business during a radical transition in the way media was consumed. It feels apposite that the aesthetics would be revived now, as online streaming replaces the IRL experience, and the quality of TV increasingly supersedes film.
After Gene Kelly came Bob Fosse, the eminent choreographer and director of musicals like All That Jazz, Cabaret, and Chicago, the Liza-Minnelli-brand high-drama and woozy glitter of which are continuously felt in Gucci's ongoing creative direction. Not surprisingly, Fosse was pulled into focus again this year, with an FX series about his life featuring Sam Rockwell and Michelle Williams (as wife and collaborator Gwen Verdon). Bob Fosse was known for a dance style so unique and unpinnable it became known as the Fosse Amoeba. Perhaps we can remember this period of Gucci as the Alessandro Amoeba. Backstage at Rodarte FW19, makeup artist James Kaliardos announced the "extra-ness" of the final beauty look to be of Fosse proportions: "He was all about creating these expressive, hyper-individual characters. And always with this extra-ness in the hair and makeup that communicated glamour. That showbiz feeling, you know?"
At the end of May, a documentary on legendary American designer Halston was released, the designer most associated to the fashion of the Studio 54 era. Halston dressed many iconic 80s figures, his designs seen in now-canonical images of la crème celebrities, like Grace Jones elegant at a dinner table, a shimmering scarf wrapped around her head, draping. Pat Cleveland and Grace Jones' involvement at SS19's disco-themed Tommy Hilfiger x Zendaya runway show further points to the resurrection of the nightclub-variety abandon of the 70s and 80s, and a desperate nostalgia for good-old-fashioned spectacle post Netflix-and-chill.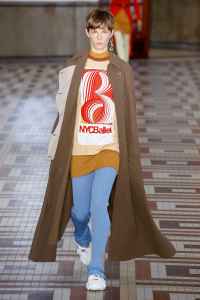 Halston did costumes for Martha Graham, the daughter of modern dance, who discovered a 20-year-old Merce Cunningham and primped him into the avant-garde choreographer we remember in 2019, on the 20th anniversary of his death. Cunningham's relationship to fashion was perhaps truly solidified in 1997, when Rei Kawakubo leant her infamous Lumps and Bumps collection of that year to costume his performance, "Scenario." Cunningham became the inspiration for Acne's SS19 collection, t-shirt silk-screened with programs from his shows and images of his dancers condensed onto patches. Acne also hired Ukrainian ballet dancer Sonya Mohova for their SS19 campaign, and had her conjuring different seasonal moods in a series of self-shot iPhone videos.
Ballet and fashion share a storied history, of course, with many of the world's most famous designers having done costumes for ballet companies including (but not limited to) Chanel, Yves Saint Laurent, Alexander McQueen, Christian Lacroix, Prada, and Dries Van Noten. Leotards and leggings are now so integrated into the way we dress it's hardly worth mentioning their barre origins. Ditto leg-warmers, wrap skirts, and dancer's layering. Mesh long-sleeves, rolled sweatpants over bodysuits, no-show sockettes. Soft-footed shoes were big for spring, and New York newcomer Bode (who showed in Paris–fittingly romantic) had their models in leather ballet flats in black and prima pink for SS20 menswear. Alongside his pointe shoes and cod pieces, Thom Browne included a show-stealing 15-minute performance from American Ballet Theatre's principal dancer, James Whiteside.

SS19 also saw the relaunch of avant-garde 60s designer Rudi Gernreich's brand. A former dancer and costume designer for the Lester Horton Modern Dance Company, Gernreich's designs (then, as now) accentuated the human form through intensely sculptural designs, while allowing for the total freedom of movement necessary for dance. Throughout his career, Gernreich contributed costumes to Horton and other dance companies and productions, while shocking with his belief that the body should be free, fluid, accepted in its nude and natural form. An activist (he was onto #freethenipple about 50 years before the rest of you), he confronted rigid ideas of gender, sexuality, and the body throughout his career, famously saying, "You are what you decide you want to be." For Gernreich, being came primarily through freedom of movement and dress.
At a cultural juncture where identity politics are at the fore, and any authentic (unbranded) release of inhibition feels rare, dance and fashion are called upon as the essential arts of fluidity and freedom. Channeling Cabaret has enormous appeal when you don't remember the last time you really moved, the last time something moved you. Like so, fashion mines every cultural realm—it has to, because it can't really produce meaning on its own. And what does have meaning, in the sense of a claim to depth beyond aesthetics, is real life. That is, identity, community, and experience. As choreographer Alvin Ailey famously said, "Dance is for everybody. I believe that the dance came from the people and that it should always be delivered back to the people." Where fashion and dance may be the most embodied art forms, dance is more fun, because it's free.
Olivia Whittick is an editor at SSENSE. She is also Managing Editor at Editorial Magazine.
Text:

Olivia Whittick

Date:

July 9, 2019