Must-Haves of the Moment from The SSENSE Editorial Team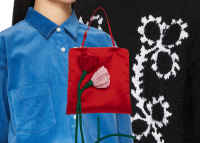 When someone works at a bookstore, you ask them about their favorite books. When someone works at BestBuy, you ask about the best bluetooth speakers. You ask the server the daily specials, to recommend a good wine pairing. Following the same logic, you might ask SSENSE Editors what pieces they are yearning for this season. Take advantage of the product knowledge garnered from professional proximity—here are five items the Editors have their eye on.

One of my favorite pictures of all time is by photographer Jamil GS of Ziggy, Cedella, Sharon, and Stephen Marley in Jamaica in 1995. Cedella is wearing a Jean Paul Gaultier cyber dots dress from his legendary FW95 collection, and Sharon is leaning next to her casually, in a crochet bucket hat that looks just like this one. In my dreams, I'd complete every look with it.
As much as I'm disinterested in the connotations of the word "tank," when you need shoes for multiple situations as soon as winter hits, these seem versatile. The square toe and platform sole are also pretty cute, to boot (hehe).

Most of my "home clothes" will (for good reason) never meet the public eye. As an exception to this rule, I imagine Judy Turner's Black Topanga Sweater as somewhat of a wearable blanket—as enticing to throw on at the end of a long day as it would be motivation to get me out of the door in the first place.

I can talk myself out of buying almost anything, but novelty really gets me. If it's impractical, I want it. I'm drawn to things that are silly or absurd or anthropomorphized or more like a toy than something an adult needs. Miuccia Prada understands.

I only ever want to buy clothes that look like stuff I already own. My closet is slowly becoming a corduroy nest egg and this Comme shirt (in a perfectly "thrifted" shade of blue) is on my wish list.