Feat. Kwaidan Editions, Ashley Williams, and Marc Jacobs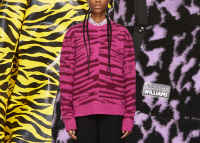 This FW19, the fashion landscape is teeming with leopard spots, tiger stripes, and slithering with reptilian scales. SSENSE has traversed the season's terrain to bring you the finest specimens. Look no further, the wild things are here:

Fact: no two tigers have the same stripe pattern. Like fingerprints or snowflakes, each is completely unique. Make like a tiger and show your stripes—that is to say, your sartorial individuality—in Kwaidan Editions' zingy yellow car coat.

Here we see Ashley Williams' pullover in its natural habitat: a dense, fleecy coat keeping you warm even in the coldest of climates.

Did you know that a tiger's roar can be heard from up to two miles away? Marc Jacobs seems to have channeled the big cat's loudness into the palette of his FW19 collection. Rendered in a boisterous pink, this striped wool sweater is guaranteed to never go unnoticed.

Leopards, by nature, are solitary creatures. Luckily, this Wacko Maria tote prefers to travel in pairs, making it the perfect companion for your next city excursion.

Leave it to Raf Simons, whose designs frequently draw upon esoteric subcultural references, to give us the most obscure entry in our menagerie. The sleek, striated spot pattern of these cashmere-blend gloves mimics the coat of a Serval. The more you know.

The saying goes: a pair of Marni trousers never changes its spots⁠—and when they look this good, why would we want them to?