Zoom Zoom: Fast, Furious Fashion
Designs from the Driver's Seat ft. Bottega Veneta, C.P. Company, and Pirelli Collabs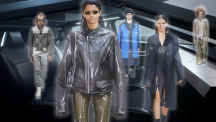 Slamming the door, twisting the ignition, popping the clutch, yanking the gearshift, hot-stepping the gas and the brake. Sun through the windshield, rain on the hood, ice in the grill, dust jumping out the calipers and into the springs and the undercarriage. Many of us spend hours of our weeks, days of our lives in them, repeating these motions and braving these elements. The natural question, then, what do we wear when we do it? And why?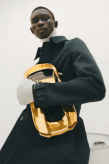 "You have every sensation of being hurled through space," pioneering racer Barney Oldfield told reporters, on piloting the fastest car in America through the mile-a-minute barrier in 1903. "The machine is throbbing under you with its cylinders beating a drummer's tattoo, and the air tears past you in a gale. In its maddening dash through the swirling dust, the machine takes on the attributes of a sentient thing." We surely can't go naked into such endeavors, thus: leathers, goggles, gloves. Cars, scarcely invented, were difficult beasts, and they required a hardy kit to pilot. Daniel Lee's Bottega Veneta vision certainly leans on such a legacy of speed—his square-toed sandals look like gas pedals; his Tyrone Lebon-shot FW19 lookbook dangles a gold Lamborghini next to its models, using gravity to invoke the specter of grave speed.
Not too long into the car's existence, the wealthy figured out how to domesticate the car and make it plush, posh. This is when fashion was really able to introduce itself. In her 1909 automotive guide, "The Woman and the Car," the racer Dorothy Levitt was already cautioning that newfangled closed-coach cars meant "any kind of attire is permissible as the conditions are precisely the same as being driven in a carriage," and that "for motoring under ordinary conditions there is no reason why one should wear" goggles or other kinds of high-speed necessities. In fact, she wrote, it was generally fine to "dress for the season of the year exactly as you would if you were not going motoring." She did, however, recommend a back-fastening artist's overall, "butcher-blue or brown linen," pending grease, as well as a small pistol, pending trouble.

This isn't to say that the function of driving or riding in a car hasn't influenced fashion in more than a century, there are too many silken scarves billowing around sunglasses in a convertible's breeze for that. It is to say that the car's domestication has greatly diminished its functional influence. (Kerby Jean-Raymond told the New York Times that his AW17 Pyer Moss collection, dedicated to his father, served as "an ode to the cars that he drove, the excessive amount of jewelry he wore" and held few explicitly automotive details.) It's no wonder that motorcycles, which have managed to retain more of their danger, have so much fashion purchase. Double riders, Belstaffs, big Frye boots, etc. Motoring's drifts back out to its risky margins—driving gloves to maintain the 10-and-2 under duress, rubber-studded moccasins to effect proper pedal work—are where it's able to make an impact. Massimo Osti's cult Italian sportswear imprint C.P. Company named and designed its Mille Miglia jacket for the Italian endurance race, with a driver's goggles sewn right into the hood. Tim Coppens once told Esquire that he took 1970s Formula 1 fire suits as inspiration for one of his collections because things were more "glamorous" then: "the sport was still risky and drivers were grateful to get out of their cars alive." Junya Watanabe's FW20 collection, an ode to Italian menswear, saw car coats spliced with racing jackets, in collaboration with racing-adjacent brands like Pirelli (tires), Campagnolo (wheels), and Brembo (brakes), and linking the history of car clothes both on and off the track.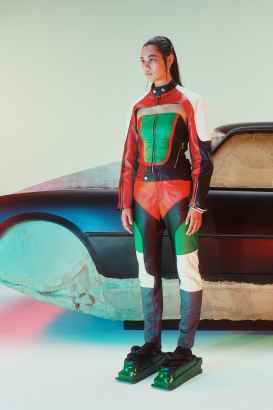 In 1910, writing to the "Motor Girl," Vogue suggested fashions not for the passengers, but for the drivers: "Since the novelty of the motor car has worn off, people have not gone to the extremes of distinctive attire that seemed to be regarded as essential to style in its earlier days," the editors wrote. The magazine offered suggestions for the livery of chauffeurs, sturdy tweeds and dark colors and furs of all sorts, on the body, on the head, on the hands, fleece-lined calf boots, everything they needed to transport their employers, tactfully. Most of the ads for "motoring clothes" featured the men who would be sitting out front. A telling ad for Rogers & Thompson pitched the society ladies featured in that issue, the ones sitting in the back of their cars, on its delicate silk fabrics: "You may step from your motor into any assemblage of smartly gowned women with a feeling that you are dressed in perfect taste." The hem of the car coat has been creeping up our legs ever since. Ambush, in its last two seasons, has playfully alluded to the influence of the driver's wardrobe. For SS20, models wore leathers, and boiler suits, posing in front of a cement-filled car shell. For FW20, a model wears a car coat—in a checkered-flag pattern no less—next to a Mercedes with its driver's seat buried in the ground.
What better representation of greed than the car? An object that satisfies our combined longings for privacy and speed, one of the biggest polluters on the planet, abetting our impatience to grab the horizon by the collar. In an essay from the February 1953 issue of Vogue, another one dedicated to the automobile, the writer takes a moment to give thanks to the settlers who hopped off the Mayflower to follow a footpath by the river, to beat a wagon trail through the wilderness, to pave the way for highways and civilization, all with the help of, taking liberties, "friendly tribes." The trucker jacket didn't start with truckers, it started in westernwear surplus bins.
"1953 Americana Number," the issue's cover reads, and the era lent fashion a certain dreaminess, a certain soaring. General Motors came out of World War Two having secured a bedrock economic foundation for itself as a major military contractor, and when postwar GI money came flowing into the American economy, GM introduced a hastened cycle of planned obsolescence to spur the car-buying public's amnesia. Around the time that Christian Dior was snatching waists, the automotive designer Harley Earl did his part by making cars lower and longer, with more chrome and rakishness. Inspired by fighter jets from the war years, his Cadillacs' tail fins broke off from the body and took flight; he'd tell his assistants that a car's line needed "to have a little hook in it, then do a rashoom or a zong."
Earl's cars went gangbusters at the dealerships, and groups of friends would pool their money to avoid missing out on whatever was left on the lot. When Earl was forced to retire at 65, and his successors had less of his verve, the fins subsided. A forward-thinking, commercially successful vision too bold to outlive its auteur—why wouldn't that capture the eye of a fashion designer? Thierry Mugler, who once told Suzy Menkes that he loved to "find the human" in objects like cars and motorcycles, created the so-called "Cadillac Corset" in his FW90 "Buick" collection, a snarling nest of metal gripping the waist and leery tail lights staring out from the chest. Mugler's recent revival (via Beyonce, Kim Kardashian, Bella Hadid, and Cardi B) seems to ensure Earl's exaggerated chrome sensibilities will persist. Prada's famed hot rod stilettos from SS12 channeled Earl's rear assemblies, with tiny fins and tail lights flitting from the heels like lit cigarettes, as did some SS16 gowns from Jeremy Scott's Moschino, on which they protruded like cigars—Scott's dedication to excess does not mind careening into camp.
In the post-Earl 1970s, though, Detroit's cars were bloating or shrinking or otherwise drifting from the visual center. American Motor Company, long an also-ran behind the GM, Ford, and Chrysler's Big Three, enlisted a slew of fashion companies to help spruce up some of its oblong wares and drum up traffic for showrooms. Pierre Cardin drew stripes all over and through the Javelin. Gucci lent its colors and its crest to the Sportabout. Oleg Cassini draped his debonair all over the Matador. AMC was hoping for the thing fashion does so well: the development and extension of an image across an entire world, the reassurance of a designer's aesthetic. The legacy of the designer car continues—Versace's Murcielago, Victoria Beckham's Range Rover, the Hermès Bugatti—but it didn't rescue AMC, which didn't survive the eighties.
NASCAR vehicles, like all race cars, are more natural vessels for spectacle. But because their shapes (and almost all their aspects, that might convey some sort of advantage) are so highly regulated by the sport's governing body, the vehicles present a sameness that eliminates what used to be the sport's more eccentric differences, like the sky-high rear wing of the stock car racing-spec Plymouth Superbird. Even the vehicles themselves require fashion to stave off their own alienation: Corporate sponsors slap their logos on vinyl skins that function like uniforms. This combination of color and commerce, a capitalist rainbow blurring the track, provides entree for new sorts of projection. The NASCAR jacket, styled after crew uniforms and driver's jumpsuits, caught on with a subset of the fashion imagination that didn't care about stock-car racing at all; Trick Daddy told CNN that he dug them not because he was a fan of whichever team he was advertising, but because people liked the way they looked with his pants. When he was walking around.
Melvin Backman is a writer based in Brooklyn, New York. His writing has appeared at The New Yorker, Garage, GQ, and Spook.
Text:

Melvin Backman

Date:

February 13