Color Story:
Worry Yellow
The Palette of Charlotte Knowles, Quick Cures, and Uncut Gems
Text:

Kristen Yoonsoo Kim

Date:

October 17, 2019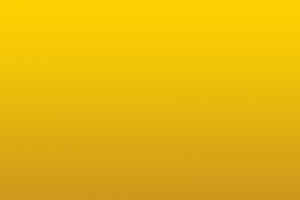 Perhaps because I've been more proactive about wearing sunscreen, I've become noticeably paler in the last few months. My usual shade of Ivory foundation tuned down to an almost anemic hue—Alabaster—last month. My complexion, I think, is fair—that is until my arm is intertwined with my Caucasian boyfriend's, whose whiteness out-pales me, with an underlying pigment of pink. That's when I see my skin color for what it is: yellow. As an Asian person, it's a color and label I've long resisted because it feels derogatory, even when self-ascribed. No one ever says, "I'm yellow," though we all know what it means when someone has "yellow fever."
If "Alabaster" made me feel sickly, it at least evoked Nicole Kidman's elegant demise from her etiolating tuberculosis in Moulin Rouge. "Yellow" sounds diseased in a non-glamorous way, as if it tried to tan, but instead became something undercooked and unappetizing. Like the fat of raw chicken, or vinaigrette dressing when it spoils. It is the mark of jaundice, the pus of a popped blister, the late stages of a bruise. It is the filter of Steven Soderbergh's Contagion poster, a panicked Gwyneth Paltrow gasping her dying breath. It is anti-Goop. It is Worry Yellow.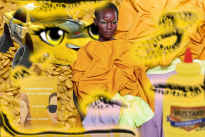 If Burnout Orange is the color of notifications, Worry Yellow is the anxiety our phones induce. Low-battery mode, Worry Yellow mode. Two landmark books about the millennial state of mind are this yellow: Sally Rooney's Conversations With Friends and Jia Tolentino's Trick Mirror. In Celine Sciamma's upcoming French lesbian drama Portrait of a Lady on Fire, this yellow is the color of the canvas before being painted over: the yellow of uncertainty and repression of forbidden feelings. Even Adam Sandler, full of machismo as a gambling jewelry store owner with debts to pay, wears this hue under a leather jacket in the Safdie Brothers' Uncut Gems, teetering, it seems, between panic and excitement.

Worry Yellow pendulates between illness and wellness. Worry Yellow feels like the prevailing shade of modern malaise: of getting sick under a shitty healthcare system, of your phone draining from checking one depressing news story after another, a constant reminder of everything reaching its expiration date: the earth, the body, whatever's in the fridge.
In literature, this yellow has been best immortalized by Charlotte Perkins Gilman, in her feminist short story The Yellow Wallpaper, a metaphor about the trappings of womanhood. The wallpaper is described in detail by the protagonist: "The color is repellant, almost revolting; a smouldering unclean yellow, strangely faded by the slow-turning sunlight. It is a dull yet lurid orange in some places, a sickly sulphur tint in others." The paranoia and confinement of femininity and domestic life—this yellow evokes suffocation. The protagonist later goes on to refer to this yellow as "hideous," "unreliable," "infuriating." She suspects the room was a nursery, but in my research, I've learned that babies tend to cry more in rooms painted yellow, because its overuse verges on disturbing.
It's the brassy veneer of antique furniture, somewhat back in vogue, though its pretense of sophistication can easily become gauche.
Two items of clothing hang in my room, waiting for their day in the sun: one, a mid-century, golden-yellow dress by the couturier George Halley, who had designed for Lauren Bacall and Julie Andrews; two, a suede Etro hat of a similar shade that I've promised to wear every fall for ten years but which continues to hang anywhere but on my head. Both are classic, even timeless, pieces, yet I struggle to wear them out—is it because they swallow me up, camouflaging me in my own flesh tone? Am I—dare I say—too yellow-bellied for such sartorial choices? Yet this yellow does not have the same muting effect on everyone. I remember it as the centerpiece color of Valentino's Fall 2019 couture presentation. Even the duller variation used in Chanel that same season stood out as the sensible outcast in a show that flaunted flashier tones. I've seen it more in Fall collections than in Spring, but Charlotte Knowles understands the season-less state of Worry Yellow: padded in the fall, lurid for spring. This yellow can have a shape-shifting effect, swinging up and down on the mood spectrum. Even Gilman's infamous wallpaper was apparently unrecognizable at different hours of the day.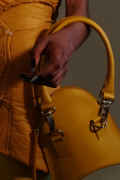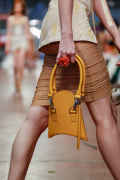 If optimistic Gen Z Yellow was the color of 2017, Worry Yellow is its sickly offspring. Gen Z yellow was the filter to Petra Collins' bubblegum oeuvre—a color that has graduated to Worry Yellow, something more sickly and ochre, lending itself to her latest interest in masks and dismembered prosthetic body parts. A yellow preoccupied with the body, worrying about illness as much as it does wellness. It is the yellow of the smoke that chokes the existentially fraught protagonist of T.S. Eliot's The Love Song of J. Alfred Prufrock, reflecting on his life as an aging dandy, the splendour of youth and vitality fading. Harvest-gold yellow is the discontinued color of shag carpet ads from the 60s and 70s, which, no matter what happy-go-lucky label you put on them ("Sun King"), evokes housewife malaise and a faint smell of piss. It's the brassy veneer of antique furniture, somewhat back in vogue, though its pretense of sophistication can easily become gauche.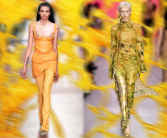 I wanted to call this hue Minnelli Yellow, after Vincente, which sounds like manila yellow, the latter perhaps better at containing its emotions behind the formality of an envelope. Deborah Kerr and Elizabeth Taylor wear this shade in different Minnelli films. In his Van Gogh biopic Lust for Life, this yellow informs the painter's famous sunflowers and the hay of farming landscapes. A color that can feel so unnatural is found in spades in nature. Yet as Kirk Douglas's Van Gogh falls ill, he clutches a tube of paint, squeezing out his signature color—it's Worry Yellow. A couple weeks after having watched Lust for Life, I took myself to the Met and visited my favorite chambers, where the Impressionist paintings hang. Cezanne and Monet loved this yellow, too. Outside the Met, you see this mustard yellow all over New York—on its cabs, which, if you get up close, are more mustard than pure yellow. Then, of course, there's mustard on hot dogs, the New Yorker condiment of choice, whereas ketchup is for fakes (guilty). In my second year in the city, someone had told me that toasting your bagels was like putting ketchup on your steak—or, for that matter, your hot dog.
Did you know the yellow of what we know as "mustard yellow" comes from turmeric, and not mustard seed itself? In food, this pigmentation indicates health, not illness. Turmeric is great for treating inflammation. Its main property, curcumin, is thought to prevent cancer. Chamomile glows with the same wellness yellow, and while I first and foremost associate it with sleepytime beverage, the plant has a number of benefits, including diabetes treatment and menstrual pain relief. Honey shares this same chroma, glistening with healing property. Worry Yellow is malleable, subjective—in how it invites or repels anxiety. It is the color that worries about warding off illness as much as it's concerned with attaining wellness—the symptom of our modern times.
Kristen Yoonsoo Kim is a South Korea-born, New York-based journalist who writes about film and fashion. Her work has appeared in GQ, Man Repeller, and the Village Voice, among others.
Text:

Kristen Yoonsoo Kim

Date:

October 17, 2019