You Guessed It—Nobody Cares About Your Boring Puffer
Burberry, Saks Potts, Paria Farzaneh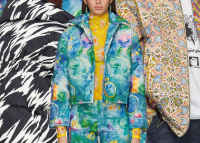 'Tis the season for wool, fleece and down, but instead of grays, beiges and charcoals, we're going full spectrum. From painterly splashes of color with Collina Strada, to Undercover's A Clockwork Orange cameos, this season the puffer plays a patterned role. Why? Because keeping toasty doesn't have to be boring.
With a whiff of Chagall and a breath of Monet, this Collina Strada Wave Puffer is an artful option. From aquamarine, to lavender, to cadmium yellow—be the refreshing splash of vibrancy on the gray days ahead. Do as the Impressionists and leave an impression.

We can't promise that this is Stanley Kubrick-approved, but if you approve of Stanley Kubrick, this might be the puffer for you. Featuring a culminating moment in cinema for everybody's favorite troublemaker, who is forced into aversion therapy, this puffer crystallizes it forever. It's the least we can do for actor Malcolm McDowell, who actually sliced his cornea while filming this scene. At least that's keeping somebody warm.

A slightly less puffy puffer per se, the Iran Print Puffer offers warmth by way of a traditional Iranian motif. Constructed in cotton, its soft-touch feel and pastel palette suggest that winter isn't just about feeling warm, it's about feeling light.

Camouflage is typically meant for blending in, but this sophisticated monogram camo-homage does anything but. In tones of grays and greens, this puffer is subtle enough for covert operations, without risking potentially going unnoticed.

Leopard-print is a classic in any closet, so bonus points if you can rock the look without having to opt for fur. This half-zip puffer wears just as easily for sporty-casual as it does for after-dinner-date. Purrfectly versatile.

Is that a zebra or a shooting star? Saks Potts merges bestial with celestial in this White Down Star Puffer. For those not quite satisfied with a typical animal print, go the avant garde route and rock this starry spritz of stripes.