"What're You Gonna Wear?"
The Movies with the Most Iconic Going Out Looks, as Envisioned by the Artist Anna Bak-Kvapil
Text:

Sarah Nicole Prickett, Molly Lambert, Ross Scarano, Durga Chew-Bose, Doreen St. Felix

Illustration:

Anna Bak-Kvapil
Stop it. Campaigning for canceling plans and staying in is—well—getting boring. We propose another ritual. The one where you arrive at your friend's place and she isn't ready...not even close. She's sitting on her bedroom floor, facing her full-length mirror, applying mascara, blush, smudging her eyeliner, painting her nails between sips and texts. She's deliberating on shoes: the red ones, the boots, the square-toe heeled sandals. Clothes everywhere, music playing. Hours still until it's time, but isn't that part of the fun?
We asked a few writers and the artist Anna Bak-Kvapil to consider which films deliver on this ritual, capturing the pure pleasure of what we wear when we go out. From James Gray's crime-drama epic We Own the Night to, simply put, the "wrongness" of Julia Stiles' character in Save the Last Dance. Bak-Kvapil reimagines these beloved movies with updated looks. Consider Whit Stillman's heroines in Marine Serre. Or Keira Knightley in Off-White. Imagine Dirk Diggler in Jacquemus and Maison Margiela. See it? We promise it'll soon be impossible to unsee it.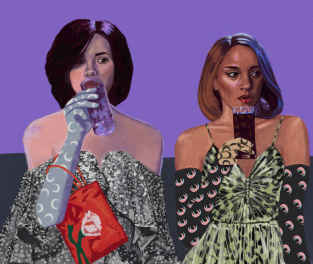 Sarah Nicole Prickett on The Last Days of Disco
The length and eventlessness of nearly every refulgent clubbing sequence in The Last Days of Disco make it clear that our heroines—Alice (Chloe Sevigny) and Charlotte (Kate Beckinsale)—could have taken more time to get ready. Charlotte especially. Brunette and conceited, she debuts at the nightclub in the kind of clothing that passes for an "outfit" because it's all black: ankle boots, boot-cut jeans, a corduroy button-down jacket to be removed before dancing, a skimpy "going-out top" of the timeless collegiate variety to be revealed. With a face like hers, she only needs shoulders. Beckinsale, an underrated comic, seems so organically haughty that it is possible to believe her character's lame ensembles are the on-screen result of having alienated, personally, the entire wardrobe department. But even Sevigny—in the biggest stretch of her career, playing a girl who worries about "getting in"—appears at first like a hopeful extra who wrote down the wrong address for the Studio 54 set. Alice's dress is a Halston knock-off in gunmetal Lurex, something she must have bought at Filene's Basement, cut to the knee; her shoes are strappy, de rigeur; her incongruous coat, a dun-coloured cotton topper from Brooks Brothers, is folded over an arm. Charming, but hardly spotlight lure. It's the titular discotheque, unnamed like the protagonist of an acclaimed new work of autofiction or the addressee in a ballad, that is not only the subject but the star of Whit Stillman's 1998 opus, getting more screen time than the soi-disant leads, who are, anyway, each in their own movies, their own adaptations of mental novels.
Alice is a Henry James girl, spiritually pure but not that innocent. Charlotte is an Edith Wharton girl. "You must have noticed that I wear no ornaments but earrings" is, for instance, a phrase from Wharton that hangs in the air whenever Beckinsale appears undercostumed. Both our heroines tend to accessorize for evening by taking off a wristwatch, but Alice favours more co-ordination, often wearing, from the office to the club, an Elsa Peretti silver heart necklace with a pair of Elsa Peretti silver disc clip-ons. She fastens her brushed blonde curls with silver barrettes and does her eyes, depending on her look, in shades of lilac or iced-grape green. I can see her using Yardley's palettes, advertised with the tagline: "You've got to be young to get away with it." But we don't see it, because we never see the girls getting ready. A near-exception, the kiss Stillman blows to what's missing, is that scintillating seven-second shot where Alice stands in the tiny bathroom, dressed for the night in a rainbow sequin "boob tube" and basic black slacks, glancing at the mirror as she re-clips an earring and fretting to Charlotte, who is still in blue jeans, about the cooking time of shrimp in a saucepan. The doorbell buzzes, a boy is here. Cut to: Charlotte, ready. She is wearing a pair of nephrite-jade doorknockers that clash amusingly with her dark blunt bob, unstyled, and her glittery halter-neck dress. (That the dress in fact belongs to Alice is unmentioned but obvious a few scenes later, when we see Alice wearing it.) What—or if—she was thinking when she chose the earrings will remain forever unknown.
The shortest scene set at the club occurs in the powder room. Alice looks suddenly adult, lighting up the notion of 'understatement' in a simple midnight-blue velour tank top with Elsa Peretti mesh earrings. Her rivalrous friend, demonstrating a reversal of both efforts and fortunes, has on a cold-shouldered black velvet sheath with a sawtooth neckline and, in her ears, a pair of Elsa Peretti diamante starfish. Charlotte has never looked more beautiful, so of course she is pregnant. "Isn't that what you wanted?" says Alice into the mirror, unmoved. "What do you mean?" says Charlotte. Wanted—the verb is always in the past tense in this lucid, perfect movie, unless of course it's negated. The girls just wanted to get in. They don't want to go home. There's nothing to do there.
Sarah Nicole Prickett is a writer from Canada.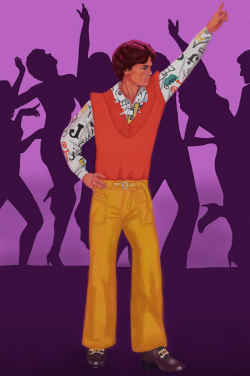 Molly Lambert on Boogie Nights
It's hard to imagine now, but there was a time when people wore suits to dance. The disco boom blissfully coincided with a rise in new stretch fabric technology. Clothing made from futuristic blends of polyester, rayon, and lycra allowed movement in formerly restrictive gear. The leisure suit was, naturally, born on the West Coast. They sprang forth from the country-western suits designed by Nuta Kotlyarenko, stage name Nudie Cohn, known as "Nudie Suits" and frequently embellished with rhinestones and embroidery. Gram Parsons' iconic white Nudie Suit, emblazoned with marijuana leaves and a cross, is a leisure suit. Elvis's rhinestoned white jumpsuit is also a leisure suit, made onesie, in the country & western tradition of the Nudie suits. As the decade wore on and funk burbled into disco, a similar leap in tech was made with synthesizers, allowing grooves to take on the shiny elasticity of contemporary fabrics and fashion. These fabrics swang, they swooshed, they bent with your knees and elbows instead of the old stiff fabrics that rustled uncomfortably against the whims of the human body. The country and western leisure suits that had allowed young Elvis to swing his hips in a light garment that outlined his body's tight curves became the disco suits of the seventies, allowing men a freedom of movement that split the difference between denim and trousers. The seventies leisure suit could be draped on men's bodies the way wrap dresses sat on women's. In the eighties the leisure suit would morph into the power suit, with its large shoulder-pads, in variations worn by both women and men.
The seventies leisure suit is remembered as the white suit John Travolta wears as Tony Manero in Saturday Night Fever. Mark Wahlberg as Dirk Diggler also wears a leisure suit in Boogie Nights, when he returns triumphantly to valley disco club Hot Traxx not as a busboy but as a star. Both Saturday Night Fever and Boogie Nights are about working class dreamers in the outskirts of big cities. Dirk and Tony's dreams for themselves are appropriately achievable. These are not the rock stars and models at Studio 54, or the movers and shakers at the Chateau Marmont. Tony and Dirk are both strictly and very affectionately bridge and tunnel (which in LA means the San Fernando Valley, where I also grew up). And it is there, not the big city nextdoor, that they aim to succeed. The leisure suit, like a party dress, functions as a magical item that allows the wearer to transcend his or her daytime self. It is not that costume designer Mark Bridges modeled Dirk Diggler's leisure suit after Manero's, but that both reflect the high point of the trend for men's leisure suits—when they hit the suburbs. In 1977, Elvis died. So did the leisure suit. But it reappeared in the 80s in the form of the designer casual Armani suits of the Miami Vice era and Dirk Diggler's eighties period. It's easy to look at Dirk Diggler's red suit as a color inversion of the Manero suit. Dirk's Los Angeles doesn't conjure anything from New York so much as directly recall LA's 1940s Zoot suit culture. The wide lapels and slightly baggy pants favored by Mexican-American, Black, and Filipino-American young people were deemed unpatriotic by racists, because they used a lot of fabric and there was a war on. But that was just the reasoning racists used in 1943 to beat up groups of Zoot suit wearers during a week known as the Zoot Suit Riots. Dressing flamboyantly was a gesture against an oppressive culture. By the seventies, the look was depoliticized and came back in the mainstream, the wide lapels reveling in the decadence of using all that fabric as other forties trends like platform shoes popped back up in fashion. And it is there—at the junction of Zoot suits, Nudie suits, and leisure suits, we find Dirk.
Molly Lambert is a writer from and in Los Angeles.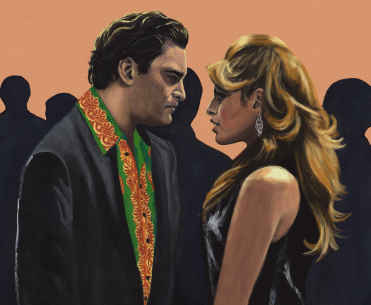 Ross Scarano on We Own the Night
The New York Times, fall 1988: "In the frenetic world of New York discotheques and nightclubs, to be hot is to be new." James Gray, recreating Brooklyn, fall 1988: "In the frenetic world of Russian mob-run nightclubs and stash houses, to be hot is to be Joaquin Phoenix." Something like that, anyway.
Phoenix was nearly 33 when he played club-manager Bobby Green in We Own the Night, Gray's grand riff on Henry IV, released in October 2007. As the outcast son of a cop family, Phoenix carries himself with a devil-may-care cockiness—a diamond stud in his left ear, a silk shirt his uniform of choice when navigating the seedy and slick underworld, like Prince Hal slumming it in taverns with Falstaff.
After the black-and-white credits roll, the opening minutes of We Own the Night whisk us inside Blondie's "Heart of Glass." A smash cut to Bobby in a red silk shirt timed to the cymbal crash, bass line and guitar riff. In a dimly lit room, he can see clearly. His girlfriend, Amada, played by Eva Mendes is supine on a gold couch—her dress riding up, touching herself. Bobby is in love. He goes to her. The power of the ruby shirt, an act of defiance against the mournful credits—we're not in Kansas anymore.
There's an undercurrent of sex everytime we get dressed up to go out, even if it's only about feeling confident and sexual to yourself. Amada probably knew she was going to fuck Bobby that night, but you can bet that she looked hot enough to turn herself on before she left her apartment. (Think of Kristen Stewart's character Maureen in Personal Shopper, masturbating after trying on a client's outfit. Think of John Travolta's Tony in Saturday Night Fever slowly zipping up the long fly on his pink polyester pants, hips switching, before heading to 2001 Odyssey. Think of the very first shot of Eyes Wide Shut, when Nicole Kidman's Alice lets down the black dress she's thinking of wearing to the elegant holiday party where she'll spend time away from her husband, flirting.)
Even when the fit is snug, silk hangs loose. It moves different, less dependent, as if animated by an outside chance—the bodily energy of what's possible. Look at how the fabric puckers and shifts along Bobby's back, below the deltoid, which connects to his shoulder, which takes your eye down the length of his arm to his hand, which is moving between Amada's thighs. The place where the fabric of her stockings goes from translucent to dark. The way the silk shirt flexes and bunches has the impropriety of flesh. To leave the room and head out into the evening, he puts on a topcoat and loose polka dot scarf—he conceals the sensuality of the shirt when he leaves her, like the shirt was actually a kind of nudity.
Silk is sleazy. Silk is Hugh Hefner's pajamas, no underwear beneath. Silk is Richard Gere in Armani in American Gigolo, unknotting his green dotted silk tie and taking off his gray silk shirt, no undershirt. Silk is the sound of undoing. Silk is Al Pacino in Scarface, his lapel spread and top buttons undone to show off two gold chains. Silk is largesse. Draping your arms across the top of the corner booth in the club—you're in charge. You're setting the example for a good time, sweating and dancing. There should be a spotlight on you.
In We Own the Night, Bobby inhabits his silk shirt more comfortably than the hoodies and heavy jackets he wears later, when everything goes bad; lives in it more fully than the constrictive policeman's uniform that burdens him by the film's end. Gray once explained that the film's tragedy is Bobby's rejection of pleasure. "Everything in this guy's life is so sensate, so rich and vibrant," he said in an interview, sounding like a Scorsese narrator while describing the fall charted between the opening and closing scenes. "This guy has something great… and [his family] fucking ruined it. And they ruined it for adherence to some banal, moral principle." He gets to live the rest of his life as a narc.
Ross Scarano is a writer and editor based in Brooklyn.
Durga Chew-Bose on Bend It Like Beckham
Jules and Jess, played by Keira Knightley and Parminder Nagra. They were the best friend duo of Gurinder Chadha's Bend It Like Beckham, the upbeat coming-of-age cult favorite, nearly two-decades old. More specifically, Jules and Jess were fast new friends. That funny phenomenon where closeness is an accelerated, sometimes reckless, giddy-thing. The newness feels adhesive. You share clothes. You lie to your parents. You experience jokes as a duet. You come home smelling like cigarettes even if you didn't smoke cigarettes. You establish a shorthand. You develop a crush on the same guy—in this case, Joe, the coach of your local women's football team, played by Johnathan Rhys Meyers. Jules and Jess represented what it looks like to suddenly grow into yourself as a result of meeting that person who sees you and who cheers you on, and whose whiteness seems impressive, electric, and even free because she's from another family (not yours, not immigrants, not Punjabi Sikhs living in Hounslow, London). Even Jules' backyard is different; she has a proper football net, while Jess lobs the ball between clothes drying on the line. Still, while so much of Bend It Like Beckham is built on comparison, what's further underscored are currents of sameness.
But with any fast new friendship, light levels of cupidity form. One night, following a tournament match in Hamburg, the football team goes clubbing with their coach. Jess, who is unprepared and likely never goes out, hasn't packed anything appropriate for clubbing. The girls rally and when Jess joins the rest of her team (and Joe) in the hotel lobby, she's transformed. Hair down, form-fitting clothes, blue eyeshadow. Joe takes notice and bites the inside of his cheek. Soon after that same night, Jules catches Jess and Joe nearly kissing. Betrayal! Everything is ruined. The fast new friendship is over (for now). What sticks about Chadha's film is the entirety of that hotel lobby moment. How some gestures that christen or celebrate friendships, like loaning "going out" clothes, are just clues for what might later cause pain. The new girl who saw you, might not actually see you. The duet, the duel. Like in Bend It Like Beckham, all is revealed on the dance floor.
Durga Chew-Bose is the Managing Editor of SSENSE.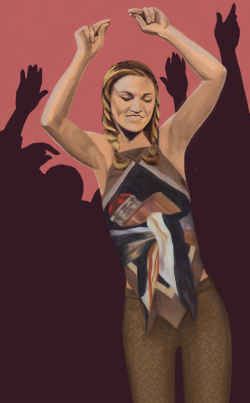 Doreen St. Felix on Save the Last Dance
Julia Stiles is so wrong in Save the Last Dance. Curiously wrong. Stiles is water, and the race camp of the MTV morality tale is oil. As Sara Johnson, the motherless white ballerina struggling to assimilate at her new black high school, Stiles is severe, stiff, resistant. She is clueless and lonely, and very nervous. Per the irresistibly crass spirit of the teen dance movie, it's not just her whiteness that causes offense. Her clothes. Her cropped sweaters and oversized pants. While another white girl, Diggy, fits in just fine—the fact is that Sara can't dress. Sweater sets, oval eyeglasses pitched down her nose, misguided bubble coats, virgin eyebrows. She is impervious to style. The last white girl on earth to have not been affected by the new tide in pop culture.
Kerry Washington, as Chenille—like the fabric—is the fashionista older sister of Derek, Stiles' object of affection. Chenille cannot stomach Sara's look, and the makeover scene between the two is absurdly maternal. The night they go to the dance club, STEPPS, an exasperated Chenille stuffs a worried Sara into the backseat of a friend's car. "You need to take off that fifth-rate, dance looking top." "It's from the GAP," Sara protests. "It's country and you look country in it." Chenille gives her hoop earrings, and twists her cardigan around her head, giving her a chignon. The makeover works on Derek. We know because he looks her up and down and squints and teaches her how to two-step to Method Man.
Save the Last Dance is such a delicious early 2000s movie, for its trashy racial politics, its off-color neck-rolling, its glossy music video rhythm. It is a montage, really, of Sara's social blackening, as ignited by her hip-hop dance lessons with Derek. A sartorial awakening accompanies the quickening of her steps. She starts to show up at STEPPS in handkerchief-hem camisoles. At dance practice, she dresses like Derek, in sweats and cool sneakers. She gathers her hair in butterfly clips, and starts wearing her idea of braids, upstaging, the film would have you believe, the black women around her.
And then there's that wrongness again. It's similar to the sentimental wrongness of Jessica Alba in Honey. The quicksilver editing of the cumulative dance scene can't make you believe in the pale angel's hip-hop transformation. Because the girl you are stuck on isn't the Sara, but the Nikki, Derek's jilted ex, played by Bianca Lawson. The movie hates this black girl. Glowering at Sara at STEPPS, Nikki purses her lips, which are perfectly lined, and crooks her eyebrow, which is perfectly arched. Who does she think she is? Nikki is right to think that way. She is a fever dream of the turn-of-the-century vixen, bringing to mind the slick nonchalance of Aaliyah, specifically in the "Try Again" music video, from 2000. How, on the dance floor, she body rolls in her latex pants, and, how, annoyed on the ratty club couch, she cranes her neck, adorned with a choker—she wears the teen villain trope well. Say her name and hear acrylic nails clicking. Say Sara, and you hear polite clapping. She is after all the heroine of Save the Last Dance. Nikki is the girl who didn't need a makeover in the first place.
Doreen St. Félix is a writer from Brooklyn.
Text:

Sarah Nicole Prickett, Molly Lambert, Ross Scarano, Durga Chew-Bose, Doreen St. Felix

Illustration:

Anna Bak-Kvapil

Date:

December 18, 2019