Discover BEFORE and AFTER: a collaboration between SSENSE and Off-White featuring a film by Pierre Debusschere, an exclusive unisex capsule collection, and an interview with creative director Virgil Abloh.
BEFORE and AFTER
---
An Exclusive Unisex Capsule Collection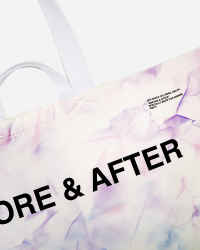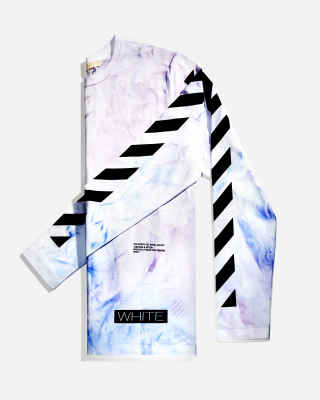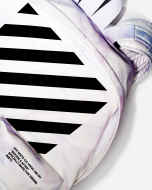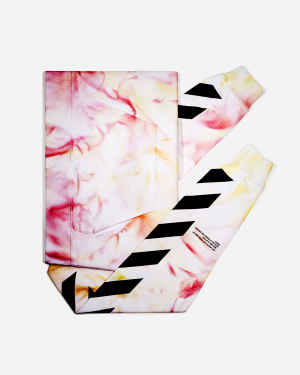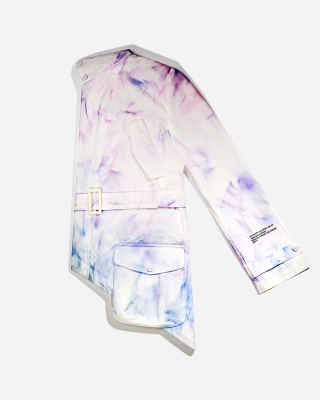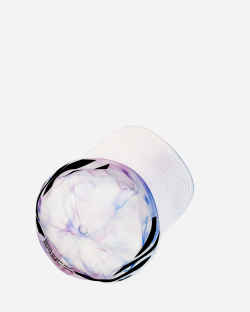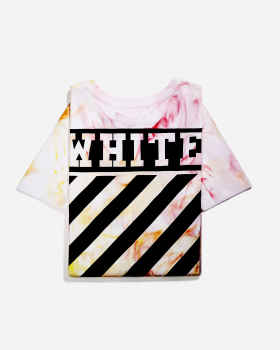 AN IDEA THAT RESONATES
---
Virgil Abloh Lifts the Creative Curtain

Close your eyes and say the words "creative director," and the first thing you'll picture is Virgil Abloh. The former architect, world-touring DJ, and creator of rising streetwear line Off-White likes the title precisely because, he reveals, "it's a catch-all to sort of do everything." So it's fitting that Before and After, the exclusive capsule collection he designed for SSENSE, was conceived not just as a clothing concept, but also a multilevel media experience. Watch the Pierre Debusschere-lensed film and you'll understand.
Speaking over the phone from Coachella, Abloh opened up about inspirations, ideas, the zeitgeist's shifting boundaries, and the power of youth. In short, everything.
Let's start from square one. Tell me about the genesis of this collection.
The beginning, for me, started as a place to do something new. Working with SSENSE all started with an email. It was just like, what about creating a special capsule collection? I could have approached it as a more robotic thing. But I thought it was a unique opportunity to put me and Pierre Debusschere together under the SSENSE umbrella. I'm such a fan of Pierre's work. I had been admiring of his aesthetic for a long time. So I wanted to put that on display instead of simply doing clothes and making a video about it.
I wanted it to be intertwined, so that it's a collaboration between him and I as much as it is specially for SSENSE. The clothing was created at a 50% capacity, and only after we did the film would the 100% identity of the clothing be finished. And that's the concept not only of the film, but of the clothes. I work on the silhouettes, fabrics, and details, and then, through the process of making the film, the color gets applied. There's multiple layers of inspiration behind that, but the surface one being that through the process, you get this effect of color. And when you watch the film it completes the reason of why.
What I liked was that the clothes and film both capture a moment of transformation. That could be a metaphor for a lot of different things.
Yeah. The idea of freezing an energy. But also, as an overriding premise in my work, I like to remove the mystique behind design a bit. All with an effort to inspire kids and other generations, younger or older. I've always been a fan of a documentary versus just watching the finished film, or a fan of the director's cut. Cause it allows you to dream even more once you know a little more of behind the scenes. That's what I love about this project: the title "Before and After" and the whole energy of, you can see into the creative process and you're looking at the final result at the same time.
It all started with something that could have been very surface level. And I'm proud of the fact that we were able, through conversation and talent and patience, to come up with something richer.
The clothing was created at a 50% capacity, and only after we did the film would the 100% identity of the clothing be finished.
Bringing this extra effort really ties in to the rapid rise that Off-White has seen. Just four seasons in, you're a finalist for the LVMH Young Fashion Designer prize. Something about your point of view is really resonating.
Things like that are just affirmation. I'm just one of amongst a million kids that wants to be a designer. I don't even know exactly what that means! I just know that I'm trying to showcase what goes on in my head in a very succinct and credible way. I'm trying to prove to myself that I'm a designer. To me, that was such a holy word that never seemed attainable. So I'm always wary of resting on any laurels, or even acknowledging that it's the goal to achieve any sort of… anything. I like to think of an idea that resonates. So that it resonates, and it has a space within culture, is encouraging to me. Whether it's successful or not in the near future, I'll still be doing some version of all these ideas.
You've said that your mission for Off-White is to occupy the space between streetwear and high fashion. It's such a relevant space right now.
I just think that's where culture is. Through the history of fashion and ready-to-wear and what people actually wear, there's this new space. What people like to wear to brunch, I often cite. [Laughs] Brunch or shopping. Whatever people wear to go shopping, to go buy more clothes, or wear at brunch with their friends is sort of the most poignant moment of culture now. There's also the age of street style, and how outside fashion shows becoming just as relevant as the clothes being shown has given people a sense of pride in styling themselves. I'm awfully inspired by that. And I just so happen to be a kid that grew up during the advent of streetwear: early skateboarding graphic tees, early Japanese streetwear culture, early New York, Lower East Side. So that being my generation, and me also being a fan of other genres of fashion design, it's only right for that to be my pedestal to stand on.
While it's your aim to bring streetwear into a luxury context, luxury at the same time seems like it's taking a lot of cues from streetwear. You've got collections where the branded graphic t-shirt is the signature piece, and the schedule of collaborations and one-offs has that same limited-edition mentality.
It's the current ways. It's how people wear clothes, it's what people buy. I admire it. That gave me added motivation to insert my brand at this time and do it at the pace that I am: because I want a young representation among all those brands. I'm honored at retail, especially at SSENSE, to just be amongst that designer list, and let consumers come across what I'm doing, and have it sit next to what I believe are the most credible brands and designers in the market that are exactly what you're saying, sort of tapped into this culture. Just the past three or four years is when this shift hit full swing. Anyone that's living and breathing and looking out of an Uber can feel that this is the current culture. It's the zeitgeist forming into a new set of boundaries.


Do you find that the connection people have to skate and streetwear brands is more authentic than the one they have to luxury labels?
I feel like they might be the same, they just tap into a different side of the brain. We're seeing a convergence of people who love to mix both, and that expresses more about their personality than wearing head to toe one brand. Whatever you put on yourself speaks for you as a person and says "Hey, I adopt these certain principles if I wear X brand." And you mix them together and you get a different sort of cocktail, if you will, of who you are. The identity that I'm defining for Off-White is already a cocktail. It's a bit more random, but it's definitely now. Men's and women's and furniture. A young lifestyle that has a certain degree of appreciation for things.
This collection in particular has the feeling of a uniform, but a personalized uniform. It's utilitarian pieces with the diagonal stripes and branding, and then the one-of-a-kind color treatments.
I'm constantly inspired by workers – blue-collar workers. If you go to an industrial plant or a mechanic or something, how they've all got the same thing on, but they're all distressed slightly differently. It has a larger context to it as well: we're all the same people, in a way. However we're distressed makes us look like we're different, but we're actually still the same. Men's and women's, too: the collection is unisex by nature. By design, as rather I would say.
Anyone that's living and breathing and looking out of an Uber can feel that this is the current culture.
I can also see the utilitarian, workwear aspect as a redefinition of luxury. Like an undercover luxury.
I think the word "luxury" has a different meaning now than it did ten years ago. You say that word and it means one thing. And you see that now, not only is there like, some tech kid that starts Instagram and is worth whatever, but I just think there's less social barrier on the word "luxury." My favorite type of luxury is like a distressed, worn in luxury. It doesn't necessarily mean that it's brand new and pristine and rich and all those sorts of things that are considered luxury. There's different types.
Another part of it is that people dress for functionality now. They don't have that ritual of changing clothes five times a day.
Yeah, it's not like we're all going to these black tie events anymore. It's brunch. [Laughs] Black tie brunch. Casual luxury.
Is that what we can expect for Spring 16?
Yeah, that's a good idea! Maybe that's the second SSENSE capsule.
Even in your Fall collections, I can see an evolution towards more of a focus on cut and fabric and construction, and categories like tailoring and footwear, and less of an emphasis on graphic branding.
That's the natural evolution that I always had planned. From my earlier work, I always wanted to run away from being put in a box. And I would have put myself in a box, had I seen the earlier stuff. It's like, a bandwidth to actually have an opinion on silhouette, fit, fabric, and concept might get trapped in graphic t-shirts, graphic sweatshirts, and shorts with print on the crotch.
The plan for Off-White, this is like a ten-year thing, and right now you can only see one and a half years into the whole timeline. So as I hope to grow and develop and take on other challenges within putting out a collection and building a brand and proving to myself that I can steer an idea that I once had, there's always going to be some sort of departure that's happening. Or reverting back. I look at that as freedom, design freedom: to evolve, but then give myself an option to go back to what has been expected.
This freedom to evolve seems very tied to your credo for Off-White: "the youth will always win." Can you explain that a bit more?
Just that rebellious spirit of the generation right behind you. Or your assistant, you know? [Laughs] Or the intern that gets hired. They're not getting hired just to be your assistant, necessarily, for forever. For me, the brand is a way to stay young. On the treadmill, always thinking and getting inspired. I believe in it – that's why it's my brand. In all the projects we do, we foster young talent and bring them in, because in a way I'm the same as the hundred-year brands before me: I'm trying to offer a different option. But that only happens if someone young gets in the mix.
I've heard a theory about how trends come up, and it's that designers are essentially designing for the kids five or six years older who they thought were cool when they were younger. Your older brother's friends, your hot babysitter, whoever. And when they come of age and they're in control of the conversation, they bring back a trend like 90s grunge in the 2000s because that's what cool looks like to them. But it seems like you're taking the opposite approach: looking to the people younger than you.
Yeah, maybe that's why I'm here! [Laughs] Lately my catchphrase has been, "I've just been trying to revert to the 17-year-old version of myself."
I was wearing baggy jeans – which I am today. I was interested in skateboarding. My friends, we were all interested in graffiti, we were drawing on our backpacks, we were listening to Nirvana, we were listening to rap music. I'm a sponge for things that are happening, but my upbringing and childhood was just as steeped in culture as it is now. Like, if you were a part of skateboarding, skateboarding was illegal! Now it's obviously not, but at the time, it was a niche culture that bridged kids from California to New York together.
So as you get older, you can kind of forget the things you were into. I'm not really a part of the theory of looking to five years older. That might work for other people. But the way I see it is, this is all post- "the internet." Kids that are five years younger are now more mature than people who are five years older in this new context.


They're more open-minded, they've traveled more. It's like, compare your Facebook with your Twitter. Your Facebook is full of people that are older and live a different lifestyle. And Twitter's full of a bunch of young kids, and they're expressing themselves in a more current way. 2015 is a different time than any time before it, as lofty and as corny as that sounds. When people look back on our time and the internet and things, they should look like something special.
That's really the goal of so many fashion collections and works of art: capturing a moment in the zeitgeist.
My whole premise, the reason why I picked the name Off-White, is because it's the color of canvas. You can paint a canvas any color, but the color of it is off-white. Which puts it under the guise that everything that I'm doing with the brand has some level of an artistic statement. Just the medium is fashion.
What are your plans for extending Off-White? What other media do you want to bring in?
Right now I'm interested in focusing and doing less. I'm focused a lot on the furniture, I'm focused a lot on the image-making surrounding the stuff. The main thing I'm focusing on is print: I'm starting a publishing arm. I'm putting out different works that I'm creating in between and around the collections, just so there's some sort of physical copy – a representation of all these thoughts. Cause what I'm learning is that the process of making clothes, showing them to buyers, showing them to editors, and then it goes, and then it's gone, isn't as lasting as I would hope. Some of my first collections, I'm still on those ideas, but they only exist in my head! So I'm working on a few books around a few poignant projects, so that I don't have to go so fast.
So this film is another one of those projects, documenting the process of creating these clothes.
And after all the hits on the film are gone, it's still gonna be there on Vimeo or Youtube. That's interesting to me. That it can live longer than the actual clothes.
You've got the digital and the physical copy.