New York Fashion Week Fall/Winter 2018 Women's Trend Report
Charting The Trends From New York Fashion Week
and Following Them to London and Beyond

When Helmut Lang made the choice to move his Spring/Summer presentation from Paris to New York in 1998—ahead of the shows in Europe—he re-wrote the entire fashion week calendar. Today, New York Fashion Week is facing another schedule switch up, seeing a wave of big brands decamp to Paris or move their shows to coincide with the pre-collections. Much has already been written about NYFW's current identity crisis, but even though it's having a moment of vulnerability that doesn't mean its influence has diminished for good. Below, SSENSE takes a look at some of the trends that emerged from the remaining collections holding NYFW down. We're five days into London Fashion Week, let's see how much of the New York influence carries over.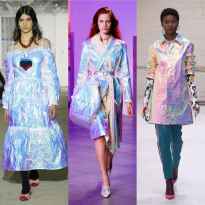 3-M striping on high-fashion workwear doesn't seem to be going anywhere, but if you're looking for an alternative reflector you could consider going fully pearlescent. Dive into a techno rainbow of soft white, pink, and purple. Perhaps mermaid prom chic will be a more original way to stand out in 2018.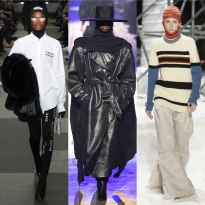 Keeping things under the sea, take a vacation and then resurrect yourself as a powerful 80s business woman who stole some style inspiration from her scuba diving lessons in Belize. We saw neoprene headgear at Alexander Wang, tight scarves draped under hats at Marc Jacobs, and chunky knitted hoods at Calvin Klein 205W39NYC. Whatever the fabric of choice, now's the time to protect your neck.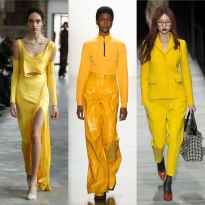 Widely considered to be a challenging shade to pull off, we noticed designers ignoring this so called "rule" and punctuating their collections with the brightest hues of yellow they could find. Gone are the times of "what not to wear" in fashion, so if you feel this trend, we say go. Pantone's color of the year was purple, but yellow looks like it might be runner up.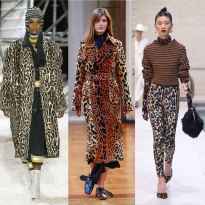 We called these spots in our SSENSE Spring/Summer 2018 trend report, and they'll be sticking around to keep you warm when temperatures start to drop again come September. Mix and match them with some red tartan and you've got a perfectly punk look.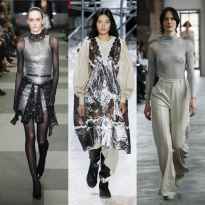 Past seasons saw us focusing on the high-shine nature of many of the standout looks on the runway. We saw a continuation of this during the Fall/Winter 2018 collections, but slightly more slick. Think cryptocurrency instead of crystals, and then sit back to watch your stocks rise.