Market Research: Givenchy's "Black 4G Buttons Skirt"
Dayna Tortorici And The Body Politics Of The Pencil Skirt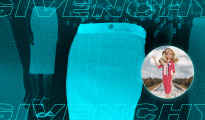 Do her legs bend?
An Amazon customer wants to know. The legs belong to "I Can Be USA President Barbie (2012)," wearing a fuchsia pencil skirt and a cropped, collarless jacket. But the question—do her legs bend?—could apply to any woman wearing a pencil skirt.
(Answer: It does not appear that her legs would bend.)
The skirt is nipped at the waist, broad and tight over the hips. It's pegged at the knee, so that the fabric tapers along the thigh. Like all pencil skirts, President Barbie's has a retro, lady-Conservative vibe. Margaret Thatcher wore pencil skirts from time to time, with matching suit jackets in emerald or Tory blue. Sarah Palin wore them with red blazers and pumps, or with tucked-in white button-downs and knee-high, pointy boots. Theresa May, though fond of pants, seems to have a pencil skirt in every shade. In a photo from the 2015 National Black Police Association Conference in Birmingham, England, May wears a black pencil skirt with a brass zipper that runs from waist to hem. She has just called for hiring more women guards—literally!—but it's the skirt that people notice, with its faulty closure splitting up the back.
The message of this skirt is not subtle. The politician who wears it will be irrational and constricted in her dress so that she may be sensible and deregulatory in her work. Pants on women is for communists and technocrats; pencil skirts are for open markets and closed borders, unbounded trade and bounded legs. It's as sexy as things get on the Hill, where bare arms are still forbidden in the Capitol, even in summer. I suspect that a pencil skirt also reminds a woman who walks the halls of power not to get too comfortable, as a de rigueur garment that makes walking a challenge.

Pencil skirts are more common on First Ladies, where their politics are presumably neutral; their chief purpose is to distinguish the Lady from the President. As First Lady in the 1990s, Hillary Clinton wore pencil skirts in checked fuchsia, sunflower yellow, burgundy hound's tooth. In one photo she stands in a navy pencil skirt beside Princess Diana, who is wearing a white pencil skirt. These images look retconned, befores planted to emphasize the pantsuit's after. Nancy Reagan looks tiny and tragic in her red pencil skirts (anorexia is sad on everyone), and Melania's are high comedy against her miserable deadpan expression—especially the bleach-white pencil skirt she wore with a belted trench and a matching bolero hat, looking like a cartoon villain. Michelle Obama's pencil skirts have an aura of benevolent authority: wholesome and casual, J. Crew at the height of its powers. On everyone else the skirt looks generic—everyone except Jacqueline Kennedy, who was the first First Lady to wear one. Jackie made pencil skirts popular even before her pink boucle suit made them an icon of American myth and conspiracy. From Jackie on, all First Ladies would continue to wear pencil skirts, as if abiding a curse.
Hitchcock made the pencil skirt feel haunted, too. In Vertigo, Kim Novak transforms from Judy Barton in a green pencil skirt to the ghost of Madeleine Elster in a gray one, driven by the crazed insistence of a grief-stricken Jimmy Stewart. Grace Kelly wears a pea-green pencil skirt in Rear Window, and Tippi Hedren wears a black one in The Birds. The suggestion is interchangeability—any woman will work, as long as the skirt fits—which is spooky enough without the added horror of an outfit that prohibits running. It feels relevant that the Kelly Girls, the first white, middle-class, female temp workers in the United States—one epitome of female interchangeability—also wore pencil skirts as they waved from the postwar magazine ads. Don't let vacations upset office production . . . the ads say. Call for Kelly Girls! Typists, stenographers, clerks, PBX operators: these ladies came with "no unemployment compensation, severance pay, or dismissal paperwork" to worry about. From this angle, the pencil skirt augurs another grim outcome, at least for the future of labor.
"From Jackie on, all First Ladies would continue to wear pencil skirts, as if abiding a curse."



If it's not clear yet, I'm not sure about pencil skirts. They put me in mind of failures in vintage shopping (tiny zippers, that mothball smell) and the impending rollback of Roe v. Wade. Certain airlines still require flight attendants to wear them, which in 2019 is criminal. "Exercises for Men," a 1971 cartoon circulated by the Liberation News Service, reveals the absurd self-consciousness such garments engender: "Sit comfortably on the floor. Imagine you are wearing a dress and that everyone in the room wants to see your underwear. Arrange your legs so that no one can see. Sit like this for a long time without changing your position." Pencil skirts make the same demands through cut and shape, forcing the wearer to be body-conscious, like the fabric.
A wool pencil skirt will meet you where you are if it's tailored, but then it will hold you there, encased. This can feel good, like being swaddled in infancy. But it makes for a complicated outfit at work, where pencil skirts are most commonly found. You shuffle in tiny steps, sit like a mermaid riding side-saddle, show the world the whole curve of ass. If your body changes, the pencil skirt will be the first to let you know. Kick pleats and vents are meant to help, but like fake pockets on trousers, they gesture toward a practical feature they ultimately withhold. The pencil skirt is unforgiving like that.
I therefore approach my skirt—a Givenchy mid-length "4G Buttons Skirt" in black—with skepticism. When I try it on, I feel less like a Kelly Girl and more like Kim K. It's too long and too nice to be mistaken for tube top repurposed as a bottom, but it's not totally dissimilar in feeling or fit. The waist falls just below my navel, where Givenchy-logo buttons fasten two symmetrical epaulettes. The hip fit is comfortable, not baggy or bunchy, and the hem stops three-quarters of the way down my shin—not flattering, but I'm short, so this is "midi" on me. A generous slit runs dead-center up the back, stopping mid-thigh, where a miniskirt would end. In it I feel not like a pencil but a suitcase: the texture is thick and satiny, with wide knit ribs set off by thin purl stitches leaving a pattern of delicate vertical lines. I think of compression bandages sewn together and dipped in ink, only beautiful. The skirt hangs heavy like a cloak.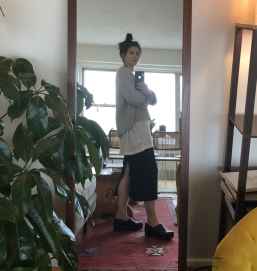 "Each stride is a stiff little kick."

In the poster for Breakfast At Tiffany's, Audrey Hepburn wears a black Givenchy dress with a long slit that reminds me of this one. In the film itself, a different dress appears. The lower half was redone by the costume designer Edith Head, who was also responsible for many of Hitchcock's pencil skirts. The reason for the swap is unknown; some fans suspect the slit was too racy for Paramount. Instead, Audrey as the runaway farm girl turned party girl Holly Golightly, walks down Fifth Avenue in something closer to a hobble skirt, the 1910s precursor to the pencil. Each stride is a stiff little kick.
By contrast, walking in this Givenchy skirt is no problem, which is bad for my theories but good for my life. Can this count as a pencil skirt? I'm still not sure. The slit is a cheat. I test out its range of motion around the house—sweep the apartment, vacuum under the couch, do laundry, take out the garbage, write—then check the tag. It says 84% viscose, 15% polyamide (a.k.a. nylon), and 1% elastane (a.k.a. spandex). It's a significantly more generous blend than the pencil skirt that lives in my closet, which is 96% wool, 4% "other fibers." As a point of comparison, my favorite pair of bike shorts is 80% non-stretch, 20% stretch—not far from the ratio in this skirt.
When Clare Waight Keller, now artistic director at Givenchy, was creative director at Chloé in 2012, she was described by The New York Times as the type of woman who "can make leather pants . . . look as comfortable as pajamas." Chloé's founding mandate was to make feminine clothes that were less formal and restrictive than what postwar couture had on offer, and Keller—an "ideal image of the Chloé customer"—was considered a return to form. It follows that she would go on to make a pencil skirt as comfortable as bike shorts.
Recent attempts to disrupt the pencil skirt have been loud and effortful, from Marni's scrapbook-print skirt to Thom Brown's Nantucket clown skirts, with their bright starburst and fruit-bowl patterns. By comparison, Keller's reinterpretation of the pencil skirt for Givenchy doesn't look like much: another clean silhouette with a novel tweak or two. But that's only because the real intervention is taking place on another plane—the mostly invisible plane of fabric and feel. Its subtlety makes the skirt's rebellion smarter and funnier, at least to me. It says: here is the freelancer's uniform of stretch pants passing as peak midcentury secretary garb. Maybe the joke is on us—once a female permalancer in a pencil skirt, always a female permalancer in a pencil skirt! But at least there's enough waist stretch to laugh.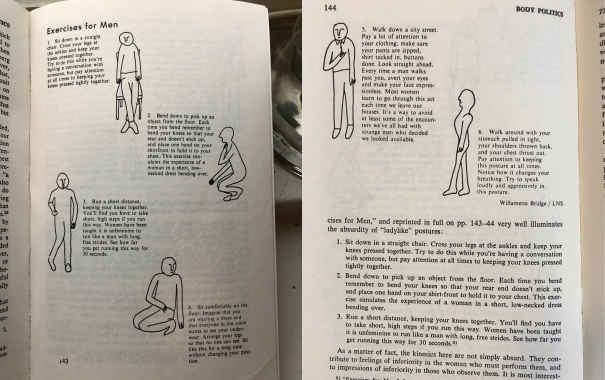 Dayna Tortorici is a writer and coeditor of n+1.