Market Research: Eckhaus Latta x UGG
Devan Diaz Returns Home and Debunks the Age-Old Debate Between New York and L.A.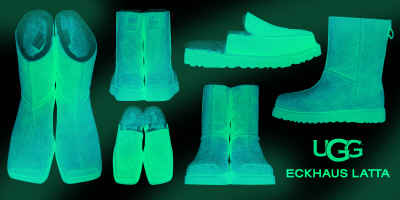 Election day. A Tuesday morning in New York. I'm escorting my mother to her assigned voting center because ever since childhood I've acted as her translator, having learned English from the necessity to translate our mail and American cable TV. In line, I receive a DHL alert on my phone: my new Uggs are on their way, to be delivered to my doorstep at any moment. My mother casts her vote. We leave her polling station. I rush home to receive the shoes, a collaboration with the community-driven fashion label Eckhaus Latta.
They arrive in a package the size of a boulder. Inside, two powder blue parcels contain what began as the ubiquitous, sand-colored slipper-slash-boot made for subzero temperatures but not quite for snow, now with significant alterations. The first pair features a square toe, lopping off the formerly doughy-shaped enclosure. The second pair are unisex black slides, lined with a shock of mint shearling, perfect for loafing. I slip on the boots and instantly roll down the tops, forming a donut of sheepskin around my ankles—I'm Sienna Miller at Glastonbury in 2004. I pair them with a vintage fur coat, a see-through Rachel Comey midi dress, and a crocheted bag with wooden handles. My wallet, shoulders, and toes are protected. And yet, I feel bohemian.
These boots, like Mike Eckhaus and Zoe Latta, are distinctly bicoastal—like a sartorial compromise to the tired New York vs. L.A. debate. Their sheepskin suede exterior is equally suited for strolling down the boardwalk and dodging piles of garbage in lower Manhattan. World War 1 pilots wore a similar style to ward off frostbite, and in the 70s, surfers in Byron Bay relied on their fleecy warmth for chilly days spent beachside. One of those surfers, Shane Stedman, quietly trademarked "ugh-boot" and, later, "ugh."—short for ugly, which I find to be a fair assessment. Towards the end of the 90s, Uggs became an Orange County staple. By the new millennium, they were an it girl staple; the choice footwear for high-speed TMZ chases and DUIs, or sipping frappuccinos in slow motion.
The 7 train, for the majority of its loop, runs above ground. I am floating above rows of houses with hardly any space between them and front entrances without garages. This is Queens, the largest borough of New York. If you were born here, it's likely your parents were not. I was born across the street from the Queens Center Mall. Before shopping bags became shipping boxes, nothing stirred envy like a display of Macy's red packaging. The mall was where we convened to explore our separate interests. While my sister waited in endless fitting room lines, I lingered in Hot Topic. I ruined my jeans with scissors; hers were pre-distressed. White boys were exotic, and to catch their eye, I had to be more Avril than J.Lo. My sister, on the other hand, had to have a pair of Uggs.
When Macy's started carrying Uggs, heiress comfort was in high demand. At home we kept our Us Weekly's in a neat pile, where my sister circled each Ugg sighting in ink. She had no plans to travel to Paris, but she could learn to dress like a Hilton. Every visit to the mall concluded with her trying on what must've been the same pair of Uggs, brought out by the same sales associates. Observing herself in the mirror, her mind travelled elsewhere. Maybe she was driving away, exiting the Chateau Marmont and being swarmed by the flash of cameras. When the visit was over, she'd ask the price, a number I knew she had memorized.
Sparked by her obsession, the mall, once a sanctuary, was now her employer. When she'd put in enough hours to bring the boots home, she carried her prize through the living room, slow enough for everyone to notice. A space had been cleared for them in her closet, alongside her esteemed Wilsons leather jacket and one pair of Diesel jeans. When she wasn't wearing them, they were stored in their box, tissue paper folded carefully. Even now, wearing Uggs feels like I've borrowed hers without asking.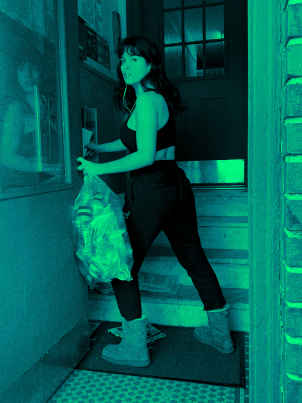 I'm in the Lower East Side to meet a friend for lunch: halal cart food on-the-go. We journey from East to West, through Dimes Square and a busy West 4th. All around us at shoe-level: leather, rubber, and lucite. No sheepskin. Like most of New York, Uggs are still vying for their downtown moment. They've recruited Sonic Youth's Kim Gordon, a poster girl for SoCal chill and downtown cool, as the new face of the brand. But not even the power of Rihanna has been able to make them truly stick, whether spotted at the airport or backstage at Coachella in Y/Project's stacked, knee-high interpretation. Perhaps they're just too normal to be normcore, too familiar to be vintage.
Since Ugg's fashion cred has waned, their partnership with Eckaus Latta attempts a reinvention (Jeremy Scott, Luka Sabbat, and London label Preen have also put their own spin on the boot). Best known for their baby tees and genderless denim, Eckhaus offers Manhattan (most of Brooklyn, too) and the fashion world at large with a uniform designed for all. If whatever they say goes, it's only a matter of time until Uggs reach Tabi status.
I wear my Uggs with sweatpants, on days where I am only capable of staying within five blocks of my apartment. Standing in line at the grocery store with an armful of produce and diet coke, I'm surrounded by three more pairs: sequined, velvet, purple with bows along the side. The slides are useful for shorter tasks, like checking the mail or taking out the recycling. My boyfriend borrows them to buy kitty litter.
My boyfriend borrows them to buy kitty litter.
For a reading at a bookstore on Prince Street, I've hidden my Uggs under the flair of a vintage pair of Wranglers. The stares of my peers combined with the shop's fluorescent lighting increases the temperature significantly, and my once comfortable boots quickly become suffocating. I only wear socks if the temperature is below freezing, and the perspiration collecting in my boots is making wish otherwise. A few days later, I experience a similar feeling during a wet walk home. Wincing with every droplet, the fresh suede reveals itself: rough, with a bumpy texture. It reminds me of my sister's boots, crumpled and shapeless, after braving too many salty sidewalks.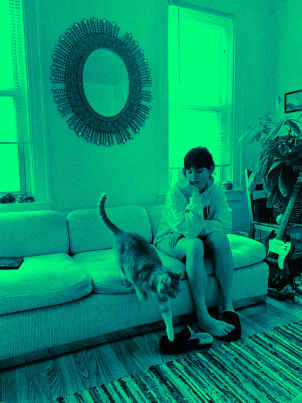 Back in Queens, three packed buses drive past me. I forgot my gloves in a cab. I smoke a cigarette to decompress while I wait, and an emptier bus arrives before it's halfway finished. Wrestling my way onboard, I scuff my Uggs on another person's Uggs...ugh. Stopping by my mother's apartment, I pick up a batch of food she's cooked and frozen for me. Leftovers are her method of overcoming the language barrier with my boyfriend. Back on the bus, I'm dropped off two blocks away from my building. Juggling groceries and packages on my back, I deny my neighbor's help up the stairs. Finally entering our foyer, I can hear uninterrupted typing, knowing his headphones are on. The cat brushes against me; it's almost dinner time. I slip off my Uggs. I'm home.
Text:

Devan Diaz

Illustration:

Camille Leblanc-Murray

Date:

January 7, 2020