Market Research:
Dries Van Noten's "Casal Shirt" And "Nebular Sweater"
Rachel Tashjian—GQ Writer and Style Prophet—Dresses for Her Mood Zones!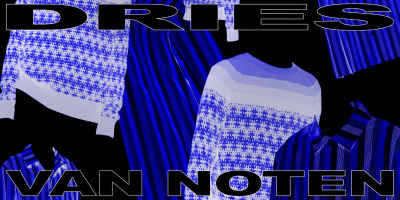 I would like to say something both radical and totally anodyne, which is: there isn't...really...men and women's clothing anymore. A lot of designers are making menswear and womenswear collections, sure, but the best dressers in the world are pulling from all sides of the rack, interested more in fabrics and cuts and vibes, than silhouettes that confirm or deny some fixed identity.
Menswear and womenswear collections are more like moods. Take Dries Van Noten, for example, whose womenswear I've been loyal to for many years now, not simply because I find the clothing beautiful but because I buy into the mood: a thirty or forty-something woman (at least!) who travels frequently, she can cook a seafood stew and reassess Yoko Ono's early performance art with her dinner guests at the same time. She loves velvet and jacquard, and dressing like a thoughtful assemblage of Old Hollywood by way of a Japanese thrift store.
But I am not she. I'm barely 30, and I take too many selfies to be mysterious at a European level, and my opinions on Yoko Ono's "Cut Piece" are tragically underdeveloped. Still, I feel, in the deepest mood zones of my heart and spirit, that I am a Dries Van Noten Woman.
So how does this mood swing for the Dries Van Noten Man? Is he artier than his female counterpart? Does he use the word "artier?"
---
1—He's a spry guy who loves his sneakers and his poplin suits for art fairs.
---
2—He combines patterns, but he never clashes. Like a Zen Rorschach palette in which every interpretation is ahhh.
---
3—He doesn't just own plants—any ol' hipster guy can spray a few ferns now and then. No: the Dries Van Noten Man loves flowers.
---
4—Colors are groovy. He says, "colors are groovy."
---
5—He stops to get an espresso daily at 3 PM, and he sips it standing up, loose but still, in la sigaretta figura.
---
6—He does not have his phone in a phone case—the iPhone is a finely designed machine, after all! His background image is a photo of flowers—by Japanese botanical sculptor, Makoto Azuma—in space. Florals? For space?(Actually groundbreaking.)
Speaking of, the Dries Van Noten Man loves his design bona fides: for Spring 2019, Dries Van Noten did an unprecedented artist collaboration, working with the estate of far-out Danish interior design Verner Panton, whose suave wave patterns and molded plastic shapes are familiar to you (they're certainly lingua franca to the Dries Van Noten Man). Undulating tubes of big-time color pulse across pants and shirts, and knits and sandals and cardigans. The collection's other elements—subtle prints and low-key funky—float in and out of those pieces like sailboats in an Italian vacation town: reliable but always a little unexpected.I began my journey in the sky blue and white-striped shirt whose attentively roomy sleeves give pajama posture without that "I'm too rich to get dressed" sadness. It was huge on me but diaphanous in its own sweet way. I wore it with giant sateen blush cargo pants from a few Dries womenswear collections ago. (The joy of Dries: everything, from any season, goes with everything else. It's what people want from a wardrobe in a box without even realizing it.) I stuffed half the shirt into the pants to give it a little shape, and wore it with tiny Edwardian Chanel boots, because the Dries Van Noten Man knows that small gestures of luxury are the most gracious. I felt finely swaddled.
Out in the world, my swaddles were well-received. I stopped for a 3 PM espresso and actually did work afterwards. I bought flowers—freak orange tulips—for myself. (Is the Dries Man a Woolf Woman?) I dined alone by candlelight while listening to Air. (Is the Dries Man A Sofia Coppola Woman?) I was filled with bourgeois contentment.
Next was a Panton-inspired sweater, whose neck is runged with arcs of blue that grow darker and finally black. The body of the sweater is a jacquard pattern, almost like houndstooth, in brown linen and navy cotton. Its subtle, smart pattern makes it what I might call a Basel-off-duty knit. (Switzerland, not Miami—but I don't need to tell the Dries Van Noten Man that.)
Thing is, I didn't want to be too cliché. The Dries Van Noten Man enjoys being himself, but he is aware that habit is just a fancy word for laziness. So, naturally, I wore it with crazy bright blue bell-bottoms hand-painted with gold birds and vines. I couldn't wait for someone to tell me I looked like "Gram Parsons but at peace with his rich-boy upbringing." Unfortunately, as the end of the day drew near, the compliment never arrived, so I asked my boyfriend if, "I look like Gram Parsons but at peace with his rich-boy upbringing."
He said "sure."

On my third outing as the Dries Van Noten Man, I decided to do something truly advanced, something that is like riding a bike for the Dries Van Noten Man, something that is as easy as counting in German even though your native language is French.
And that is tying the sweater around my neck.
This drape-style has largely fallen out of favor as too country-clubby, too uptight. Cooler to tie the sleeves around your waist or in what I call the Skater Bow: across your chest. (Sacai has even minted a whole microcosm of garments riffing on this eccentric way of arranging fabric.) But the Dries Van Noten Man just wants that sweater on his shoulders! The jacquard looked nubby and adult against the pajama stripes. The blue made me look like I know how to have fun with mysterious liquors: I had that "grappa collection" look, that Turkish coffee fluency, that interior designer skepticism, that socks-with-sandals confidence! It was the biggest mood I've ever felt: ease.

Rachel Tashjian is a writer at GQ.