Market Research: Burberry's "Multicolor Scarf Print Shirt"
Jason Parham On The Dignity Of Small Gestures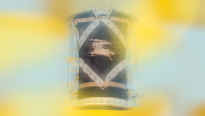 It's Thursday in San Francisco and the Queen of Soul is dead. Decades before in 1971, on a cool March night at the Fillmore West, Aretha Franklin cast a spell over the city. Those in attendance can testify to Franklin's particular power that evening: a live performance in which she forcefully reached past the human possible into the human impossible, bathing the audience in grace, beauty, love.
In late September, I wander across Union Square's sweep in search of that same grace, listening for notes. I track the perimeter: all around, luxury retailers choke the park's outer edge. Sak Fifth Avenue. Tiffany. YSL. Valentino. Dolce & Gabbana. Hermès with its horse-drawn carriage crest. A modest plaza of palm trees and concrete, homeless San Franciscans dot the park in large swathes. A young blonde couple kisses in the distance. A giddy group of tourists speaking German extend a selfie stick into the air, faces twisting into shapes, unphased. Workers strike outside the Westin St. Francis Hotel at the west end of the park, their signs ornamented with the message: "One Job Should Be Enough." I wonder what it means to be enough, the totality of the statement. Who is enough? Are any of us ever truly enough? I understand it as a question of survival, of what it takes to brace oneself against the myth of the American Dream. Here, life uncoils in murmurs and thunderclaps, unevenly, unceasingly.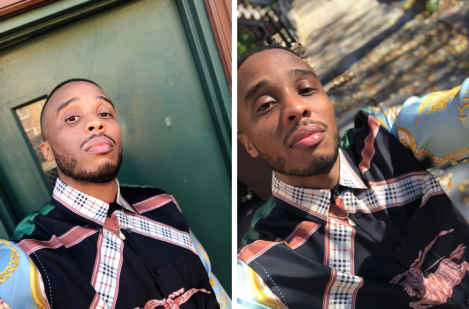 I never much cared for fairy tales as a child. Instead I found wonder in the mythology of the Greeks: Poseidon, Athena, Apollo. Stories of family and betrayal and blood and war. A favorite of mine was the winged goddess Nike, who symbolized "victory" (the deity from which the mammoth sportswear retailer draws its identity). It was a concept that seemed harmless and normal, but one I've questioned with increasing reservation as I've aged into adulthood. Victory, triumph, conquest; these are not tidy undertakings, not as I have come to understand them—black, male, unsteadily middle-class. To experience them. To live in consequence of them. Victory instills one with power, but it just as easily plunders those it leaves behind.
I leer up at the park's marquee monument, placed directly at its center: a memorial to Admiral George Dewey. At the top of the 85-foot stone column stands a sea-green marble statue of Nike holding a trident and wreath. She is in celebration. What does victory rob? I wonder. Who does it leave behind?
Until Burberry's Multicolor Scarf Print Shirt arrived, the most expensive garment I owned was a $750 Calvin Klein tux. I blessedly ended up getting the suit for $200 in a transaction that I can only describe as an act of undue generosity from a Macy's employee named Leon. Still, I've never had much of a keen sartorial eye. I often tell people "Clothes are hard." But what I'm actually trying to tell them is: "I wish I had a personal stylist or spouse who would just tell me what to wear." In contrast to my other creative pursuits—writing, visual art, music—I repeatedly lean toward neutrals, density. A navy blue t-shirt. Coal black jeans. A gray polo. I purposefully labor to not stand out. Safety is my endgame.
The thing about the Burberry multicolor scarf shirt is how it instantly refutes my instinct toward refuge. The shirt's keynote is a commitment to scale—imposing, uncontainable, all at once. It's a loud thing—shamelessly, obnoxiously, extravagant in every possible way: aesthetics, comfort, price ($1,000). A brain child of Christopher Bailey with a maximalist narrative, it's a garment that deliberately flares the senses. Bailey has since left the top creative post at Burberry—which was assumed by former Givenchy craftsman Riccardo Tisci this year—but his mark on the heritage brand is unwaveringly his: across more than 65 runway collections he alone defined the cool of sleek, British sophistication. Coded into every part of the brand's aesthetic DNA was its signature Burberry plaid, a patchwork of silver, black, candy-apple red, and golden brown. Trench coats. Scarves. Belts. Socks. Slacks. His was a skillful middle ground: refined conventionality for the working woman or man. "It's this tension," Cathy Horyn wrote in 2006, "between the purely eccentric and the resolutely practical, that keeps Bailey separate from other luxury-goods designers."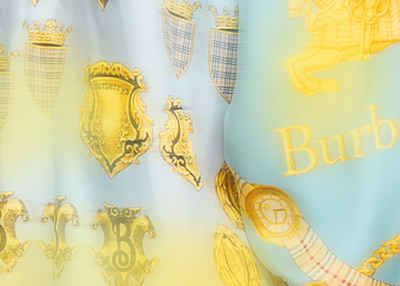 "It's almost songlike in presentation, more Migos than Miles Davis."
That is one of the more surprising feats of the scarf print shirt—how it seems to stand in stark contrast to Bailey's overall fingerprint. Visually, as I've come to see it, the shirt represents an anti-manifesto of the brand's sartorial legacy: a gaudy composite of many pieces. A collage of moods, histories, myths. The shirt is a baroque fantasia: expertly tailored with alternate patterns, made of Italian silk, cluttered with an assortment of branding—strips of signature plaid, gold crests, timepieces, a bronze knight. It's almost songlike in presentation, more Migos than Miles Davis.
Early the next morning, just before 9am, I decide to wear the shirt down Geary Street. I walk east, looking good as fuck and feeling utterly ridiculous. The marble statue hovers somewhere overhead as I pass the park. It isn't that the shirt require I be beautiful, but it does demand a certain confidence. I am the show. It's the touch of pure silk on my skin. I feel important. I think: I am my own myth, something outside myself, large and without end.
When the moment passes, and I return to my hotel room, I splay the shirt across my hotel bed. I gaze at it. I think of Betye Saar, the Los Angeles mixed-media artist whose work I've long admired. Saar had a stubborn eye for cohesion. "I am intrigued with combining the remnant of memories, fragments of relics and ordinary objects, with the components of technology," she once said. "It's a way of delving into the past and reaching into the future simultaneously." I think about how wearing the shirt conjures the same sentiment. How its very construction parallels Saar's mission. It's Bailey looking back and also ahead.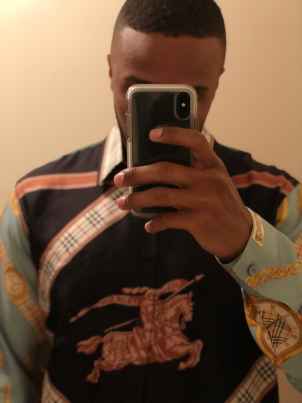 "The world flattens black life, and Lawson pushes against it. She creates a grand gateway into the interior."
I am reminded of photographer Deana Lawson, too, and her stunning portraiture that I peered into months before, last spring, at Sikkema Jenkins & Co in Chelsea. Her photographs chronicle the black ordinary—really, the everyday as extraordinary—moments of peace and repose among sisters, elders, children, fathers. Like the work of Saar, the work of Lawson is a piecing together, an amalgam of small gestures: a tangle of fingers in temperate embrace; a palm fastened onto the glacier of a woman's hip; knees bent as four men squat in regal unison. The work is stitched, harmonious, whole. The silk of the shirt—its light and richness; the sheen of its performance; the way its buttery texture grazes, then hugs the skin—brings to mind the heavenliness of Lawson's portraits, too. The world flattens black life, and Lawson pushes against it. She creates a grand gateway into the interior: full of light, richness, knowing. I think of home. Of family. Of what it means to survive. Of what it means to live in consequence of victory—to live at a loss but continue on. It is a dignity of small gestures.
The more I examine its clashing patterns, the more I realize this is what the shirt represents for me: histories, myths, and symbols as singular entities but also as a unified one. A new regality. It is more than allegory, though. The shirt, at its most understood, at its most annoyingly puffed up, is about making the small large.
---
The day before I depart San Francisco, I return to Union Square one last time. Predictably, the area is in a state of overflow: locals, tourists, and homeless swarm the park. I've packed the Burberry shirt away, uncertain if I'll ever wear it again. The sea-green statue hovers high in the air, ceremonially perched above a tide of visitors. What does victory rob? Who does it leave behind?
Because I cannot divorce my blackness from this very un-black space, or the scarcity with which black people inhabit the city, I instantly notice three black teens entering the park from across the street. One has a crisp fade and is shielded in a red sweatshirt. The other wears an indigo track jacket. The final boy has adorned himself in a gray hoodie, his dreads spilling from under a Giants fitted. They stand at the corner, just south of Powell, reveling in the company of one another. When the light turns green to cross, they wait, discussing, I imagine, all the things young black men with no assurance of tomorrow discuss on a Saturday afternoon. Bodies course around them. It's unclear, really, why they have decided to hold their position. It's not until the light is nearly red that the three boys enter the crosswalk. They saunter without hurry or fear. I think about how remarkable a sight it is. The precision, and serene melody, in their movements, of their steps. Slow. Deliberate. Theirs. It is the small being made large. There is dignity to it all. A long procession of cars idle with nowhere to go. The world waits. I tell myself: Maybe here, in this moment, in this small aperture of history, they've come out victorious.
Jason Parham is the founder of Spook and a senior culture writer at Wired.