Jerry Lorenzo Is In A League Of His Own
In the City of Angels, The Fear of God Designer Finds His Beach and Focuses on Family
Interview:

Erika Houle

Photography:

Piotr Niepsuj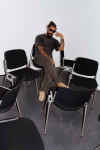 The pinnacle of a baseball player's career is measured in stats—batting average, runs scored, stolen bases. Wins, strikeouts, and saves. For Jerry Lorenzo, the founder of luxury streetwear brand Fear of God and its recent offshoot, Essentials, numbers serve no purpose. The 43-year-old designer and Nike collaborator isn't interested in sales, trend charts, or the business side of the fashion industry. His mass-appeal brand is seasonless: short-sleeve plaids, Moc sneakers, canvas work vests, and everyday hoodies. Grunge meets Rodeo Drive.
The mantra behind his method mirrors the 2003 Topps collector's card of his father, a MLB player-turned-manager (with whom he shares the same name). It reads: "Jerry has a philosophical air about him that makes him a sage influence and respected leader on his teams." Lorenzo, who established Fear of God 10 years later, views each of his collections as an opportunity to spread his belief system, where sweatpants enter the mainstream and fashion forms community. Through his all-American, sportswear-influenced designs—worn by the likes of LeBron James, The Biebers, and our other SSENSE cover star, Big Sean—Lorenzo's building something bigger than the next hot brand.
Positioning himself in an industry with an endlessly depreciating attention span, Lorenzo's master plan is already molding the future. Fear of God has been likened to the fantastical world of Spike Jonze's 2013 Her, (according to his friend and fellow streetwear head, John Mayer), and Lorenzo's meticulously distressed denim formed Kanye's most memorable Met Gala look (accessorized with crystal blue contacts for the 2016 theme, "Manus x Machina: Fashion in an Age of Technology"). It was working with Kanye on his first Yeezy Season that launched Lorenzo's career, followed by a collaboration with stylist Karla Welch on Justin Beiber's Purpose tour. But it's his own personal resolve that has sustained him. The transition from his role as a self-taught stylist to the man behind one of the most covetable new American brands came with several obstacles—and without the aid of any investors—but Lorenzo's vision to achieve long-haul longevity is taking shape. Just as Ralph Lauren made his start as a tie-salesman, steadily becoming one of the biggest names in fashion by offering the essentials of everyday menswear, Jerry Lorenzo hopes to turn all of this hype into his heritage.
As he finalizes Fear of God's upcoming seventh collection, here, the designer opens up about generating his best ideas in nature, coaching his son's baseball team, and living up to his family name.
When you decided to start your own brand, you went to L.A.'s downtown fashion district to teach yourself how to make clothing. Do you remember the first garment you made?
Yeah. [Laughs] First thing I made was a long t-shirt. It took me five months just to find the fabric and to get the drape where I wanted [it]. All of the things that now look like roadblocks, back in the day, I didn't even see them as roadblocks. I knew that what I was proposing was missing in the market.
Were there people that were influential in helping you throughout those learnings?
If I'm honest, a lot of the early people that helped me were a little shady. I'm better because of it. It took me about three years to find the product manager that I have today. I just hired my first ever director of design. Through my past six collections, I've designed every piece, and designed every shoe. Just really trying to grow slowly. And the last thing I want to do is to be a hot brand. I've said it before, similar to Jay Z, I'm playing for forever. I'm trying to strategize this thing to be the next Ralph Lauren, not the number one brand of 2019 on Hypebeast. I have no investors, I have no partners. Every year, every dollar goes back into the business.
How does the culture in Los Angeles contribute to your productivity?
The great thing about L.A. is the landscape and the terrain, the weather and the mountains. The way it smells. And the ocean is so beautiful...Los Angeles is this beautiful setting that's created by God—it's constantly inspiring. It provides me with the opportunity to make luxury level garments without having to live overseas. I'm really involved in everything in my family's lives, coaching my son's baseball team and being around for my girls' dance lessons and recitals.
Do you spend a lot of time by the ocean?
I've been super stressed with work, and one Sunday, randomly, we were supposed to go to church and I was like, "Let's just go spend the day by the beach." Just looking at the water and watching my kids play, all the things that I was stressed about at work, started solving themselves. It was like, "Oh, that's what I'm going to do with the collection. And that's how I'm going to present it." It's funny when you find yourself at peace, away from the chaos, a lot of the answers and solutions come.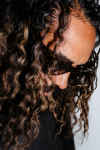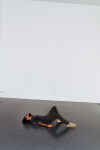 Working in the nightlife scene years ago, you mentioned that you were unfulfilled by the idea of creating spaces where people were eager to be "seen." Given that the fashion world fosters the same exclusive environments, how do you navigate that now?
I never wanted to be the person to pressure anyone to come out, even though I had parties five nights a week. I just wanted to make sure it was a party where people wanted to be at. I approach clothing the same way. I don't want to beg anyone to wear anything that I'm making.
How do you define the key differences between Fear of God and Essentials?
When Essentials first started, it was, "Hey, the kid in high school that's now following me on Instagram and has access to me, doesn't necessarily have the dollars to access my brand. And I could create a diffusion brand of similar pieces at a lower price point and provide him with an aesthetic that's similar to what our main line is. I'm really just trying to make the best basics at the lowest accessible price point. Basics that you would wear with our main line pieces. Basics that you would wear with Loro Piana, the top or whatever that may be.
What are some of the pain points of trying to work at a slower pace, given that everything today operates so quickly?
I can easily look to the marketplace and understand what's missing. But I'm also trying to build the machine that allows me to create and make those solutions. I've been playing CEO for the past year, and I'm excited to get back in my creative zone, finally working on the seventh collection.
Does playing CEO come naturally to you?
My dad was a baseball manager—he was Manager of the Year in 2000, managing the White Sox. And I get a lot of my instincts from him. He never studied statistics, and he never looked at his stat sheet. He managed from his gut, he managed from his experience and from being in baseball for over 30 years. And I think that's similar to how I approach clothing. I'm not reading Business of Fashion, and I could care less if we're selling through in men's right now. What's driving me is an understanding of what's not there.
How do you find that translating to your workspace?
I listen to T. D. Jakes, a lot of Myles Munroe. The late Myles Munroe has a great message about a car. A car has thousands of pieces. And who is the leader in that car? And the answer is: everyone and no one. You could argue that it's the driver, you could argue the steering wheel, you could argue the engine. But if that $3 spark plug doesn't start the pattern in the engine, the car's not going anywhere. We're all necessary.
Some of your early influences were people like Allen Iverson, Kurt Cobain, and The Breakfast Club's John Bender. What's the common thread?
There's an effortlessness and confidence about all of them. That's what we're trying to be. We're trying to step into any room in the world and be appropriate.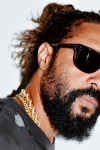 How do you create a balance between work and family life?
If I answer this question for you now, 10 years from now I probably still wouldn't have figured it out. There's nothing in the world that I love more than going to my son's or my daughters' games and spending time with my family.
Do you find it important to set time aside for yourself everyday, to unwind?
I try and get up early and get a workout in. I'll try to listen to a message and have some quiet time before my family wakes up. Those hours in the morning from 5am to 7am are super sacred to me.
How has your dad's success shaped your approach to parenting?
I remember this one time, when he was managing the White Sox, and one of his best players hit a ground ball for short, and kind of jogged to first base. The news was there, and the reporters were all over my dad. He just said very calmly, "I'm not worried about him not running the ball out, I'm worried about why he didn't run the ball out." It's not always the action that's the issue—I'm trying to get to what's causing that action. I'll look to certain things within my office, or I'll look at things working in the industry, and just from watching my dad, I know to look at it in a different way. Every book that I ever watched my dad read growing up—he'd be reading Gandhi, Martin Luther King, Malcolm X. Like, I can't think of a time that I saw him reading something about baseball. And that's just very similar to me. I'm just not that fashion dude. I'm not in it in that way.
Do you have any other dream jobs outside of the fashion industry?
I got a chance to coach my son's baseball game and it was the most rewarding thing that I got to do. At the end of the day, I'm a sports guy. A lot of my fashion cues come from Andre Agassi and Michael Jordan.
Do you ever make tweaks to your son's uniform? Is he excited by fashion as well?
I used to do that, when he was in T-ball, but it's all him now.
How does he change it up?
He's only eight years old but he's all about how he looks on the field. My dad used to joke, like, in your uniform, you can look the best, but you can't play a look, you know? My son is kind of the opposite. His uniform is super fresh, and he's so into the nuances and details. He's got that knack.
Years ago, you shortened your name to avoid confusion between your work and your dad's legacy. Since changing career paths, and passing the name along to your son, have you considered going back?
At that time I was still in parties in L.A., drunk and staying on couches five nights a week. And the last thing I wanted someone to do was Google "Jerry Manuel Junior." There'd be a picture of my dad and then his son, holding a Grey Goose bottle with his shirt off in the club. I was really trying to honor him and separate what I was doing at the time. The name just kind of stuck and apparently he likes it, because it is my grandfather's first name, Lorenzo. He passed away, and I like the fact that I'm able to honor him by going by Jerry Lorenzo. But at the end of the day, I'm Jerry Lorenzo Manuel. My son is Jerry Lorenzo Manuel III. That's who we are, and I'm not shying away from that. Hopefully, I'm living a life that makes my parents proud and the things that I was worried about years ago are no longer there.
What kind of footprint do you hope to leave?
You can only leave what you give away, for real. I think that's one of the things about Nipsey that—as sad as I ever got, his passing—I knew that his impact in his life was so much more than what he could comprehend. I feel like I'm kind of in that place. The reality is, it's just not about me. I think Meek Mill once said, "Fear of God on me, I got nothing but faith." I was like, "Yes, that's exactly what this is."
Erika Houle is an editor at SSENSE in Montreal.
Interview:

Erika Houle

Photography:

Piotr Niepsuj

Date:

November 8, 2019