Fresh Air and Screen Time: How Do You Define the Great Outdoors?
Start Here, A Guide to the Best Things on Earth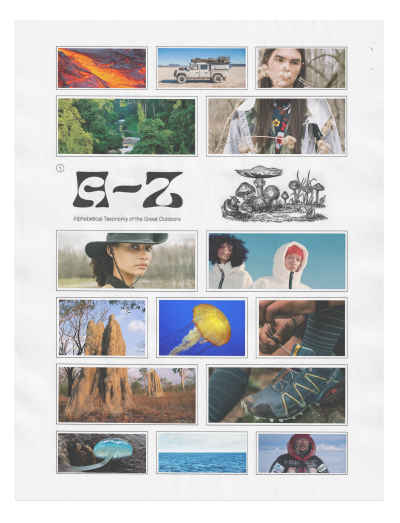 The following piece is part of the Great Outdoors, a week of stories dedicated to the ways we interact with the "outside" world.
There's no time like the present—and frankly, there never has been—to reconceive the ways we experience and acknowledge the natural world. As we close out the decade that brought us flower crowns and duck faces, and super moons, not to mention Esports or virtual reality, our methods of exploring traditional "outdoor" environments take on new meaning. Here, the SSENSE editors break it down: from birdwatching to Harry Styles' Suicokes, the ABCs of the great outdoors.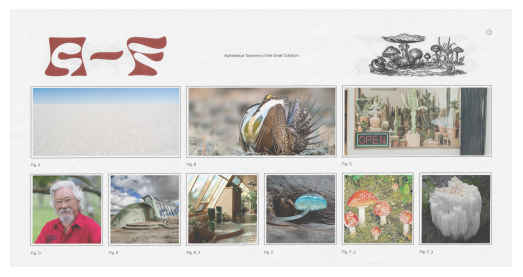 Want to truly go off the grid? We suggest Antarctica, home to the South Pole, approximately 20 million penguins, and zero permanently-dwelling humans. Make sure to pack a brightly colored parka (red is usually the color of choice), some knee-high waterproof boots, a smart selection of base layers, and warm socks—lots.
It seems that birdwatching, in the traditional sense, has come to bear the stigmatization of being exclusively enjoyed by affluent, middle-aged men, cloying for a hobby with their utility vests, zoom lenses, and Tilley hats. Jenny O'Dell subverts this connotation through her practice of living in the moment, which she unpacks in her book How to Do Nothing. It makes a case for refocusing our attention on our natural surroundings for the sake of living a more rich and meaningful life, leveraging her practice of "bird noticing" to facilitate this. For most of us, the birds with whom we share urban space, we tend to view as rather unremarkable—chickadees, starlings, pigeons, crows, seagulls—or fail to notice at all. To refocus one's attention on a bird, to notice and acknowledge it, cultivates a deeper understanding and subsequent empathy for the beings that share our context. What was once an insignificant, fluttering blip in our landscape becomes an incredibly rich world with its own rhythm and connections, which changes the way we perceive our outdoor realities. This helps us to question our own neural makeup, our own socialization patterns, how we adapt to our surroundings. Instead of passively observing or listening, we can engage in the complexities of birdsong, be present in the moment rather than distracted by our devices. Birdwatching, or noticing, functions then as a complete shift in how we engage in our own realities.
A couple years ago, Echo Park's beloved one-stop succulent shop, The Cactus Store, went bi-coastal. Now you can discover the most impressively curated and hand-selected collection of cactuses in both Los Angeles and New York. The vibe is very clubhouse but welcoming, cactuses with character, story, weird sculptural qualities—not the gimmicky, cute kind you can toss into your cart at IKEA.
Best known for his work as an environmental activist, David Suzuki is also a science broadcaster and Canadian academic—he taught in the genetics department at the University of British Columbia for nearly 40 years.
In the early 1970s, American architect Michael Reynolds designed his first home made from recycled materials (including beer cans repurposed as bricks), launching an entire career dedicated to solar paneling, geothermal cooling, and anaerobic digestion. Over 30 years later, Reynolds' innovative designs continue to transform alternative housing solutions into art—glass bottle walls that resemble gemstones and winterized leafy green rooms. The official Earthship IG bio reads: "Self sufficiency is real FREEDOM." More than that, it's a decision to disregard the planet-destroying standards of living that have persisted for decades and pursue a more sustainable lifestyle. Today, the appeal of going off-grid has reached peak—where wood fires warm the room and wifi is irrelevant is where we want to be.
Yeasts, molds, and mushrooms—"fun guys" or fungus—are nearly always among us. On our bodies, in the air, on the surfaces we touch, on the things we consume. Many varieties of fungi are microscopic, namely the ones responsible for fermenting our food—for better or for worse. Learn more about the myriad ways fungi help us on a constitutional level here.
Everything you need to know about camping-themed hype sneakers, Patagonia lore, and aspirational outdoorsiness, not to mention "gorpcore," Merrell mocs, the fundamental problem with fleece and white hiking boots (to boot), Zoe Schlanger's essay on Anthropocene and aesthetics (among other urgencies) is not just a must-read, but a must-return-to and re-read.
While an age-old competition invented by humans conjures more performance than it does the wilderness, its operation is dependant on Mother nature's floor: dirt. The makeup of the track's surface requires precise proportions of layered limestone, sand, and soil.
The growing popularity of outdoor brands isn't linked to the growing popularity of actually being outdoors—if anything, the opposite is true. What these brands offer insular urbanites is an extension of normcore: the perceived mystique of being utterly plain, so aloof as to not be aware of what is or isn't in style, instead virtuously opting for pure practicality. It's a trend of faux-obliviousness. Well, Ukranian brand lenki lenki isn't falling for it—with their avant-garde approach to climate dressing, they believe that expensive things should remain at least moderately impractical.
There are over 2,000 (known) species of jellyfish in the world. They're often referred to as "aliens of the sea," since scientists believe there are hundreds of thousands still yet to be discovered. For his SS20 "Eco-Sexual" collection, Christopher Kane introduced us to a few dozen more: models floated down the runway wearing ultra-squishy rubber sneakers, ruffled sleeves channeling tentacles, and translucent bags and jewelry lined with technicolored gel. While we may never match the jellyfish's ability to light up from within—all without a heart, brain, or bones—our outfits can always get a little brighter.
As the creative director of both his eponymous label (where he's collaborated with performance brands like Asics and Camper) and U.K. heritage label Mackintosh (renowned for their waterproof rubberized outerwear), Kiko Kostadinov knows a thing or two about dressing for adventures outdoors. Read our full interview with the designer here.
Electric orange when molten, gorgeously metallic as it cools. It's no surprise the majestic natural wonder spurred such commercial successes as the Lava Lamp and Fenty Beauty's Body Lava luminizer.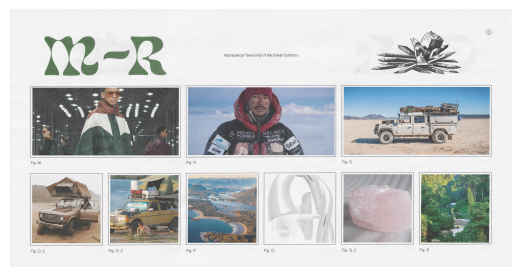 Founded in 1952, Moncler is an Italian legacy brand that's managed to uphold its title of reigning luxury outerwear giant to this day. A longstanding staple in the closet of every Aspen & Alps frequenting snowbird, the brand experienced a surge in popularity with the new-gen in 2015 when Drake wore a red Moncler parka in his uber-memed music video for the hit "Hotline Bling." 2019 saw the brand reinvigorate things once more with a perfectly executed, "Genius" collaboration initiative, with everyone from Richard Quinn to Simone Rocha to Craig Green putting their spin on the brand.
When you think of an influencer, you probably think of Fila Disruptors, Facetune, and fillers. But in 2019, we have all breeds of influencers—like Nepal's Nirmal Purja, the record-breaking mountaineer. With the abs of an underwear model (or former soldier...), he's making extreme outdoorsing—like climbing 14 of the world's highest mountains in less than a year—look pretty appealing.
Overlanding—the practice of transforming a truck (Toyota, preferably) into a portable home—once a super niche trend for the ultra-rich tech-junkie and explorer, is now making its rounds in outdoor-newbie circles as an aspirational way to get outside. Images of immaculately restored Land Cruisers with $2,500 rooftop tents and interiors filled with Snow Peak's entire Japanese aluminum camping equipment catalog are proliferating on Instagram. Think van-life, for the discerning fashion fan. A steep barrier to entry will keep many from hitting the road, but this won't stop Overlanding from catching wind as the fantasy insta-escape for a generation desperate to unplug.
The Pacific Northwest refers to a region of the Northern United States and Southern Canada, flanked to the east by the Rocky Mountains, and the Pacific Ocean in the West. It is also referred to as Cascadia, the name of the subduction zone beneath it, which is anticipated to shift and cause an immense earthquake—regarded by locals as "The Big One"—imminently.
A common belief about quartz is that it is the most healing of all crystals, with the power to deter negative energy from the mind. In that case, the quartz-embellished ear art by German jewelry designer Anne Manns (who's inspired by nature and sculptural art) hits two birds with one (beautiful) stone—manifesting good vibes and dressing the part.
Annual rainfall is the metric by which we characterize a rainforest—and rainforests get a lot of rain. Tropical rainforests have been referred to as "the world's largest pharmacy," given the plethora of natural medicines discovered there, while the air quality of some Boreal rainforests in northwestern Canada has been some of the cleanest on earth. Rainforests are cumulatively responsible for 28% of the entire Earth's oxygen turnover. While clearcutting is unsustainable in terms of forest longevity, the recent upsurge in forest fires more immediately threatens to destroy this immeasurable natural resource.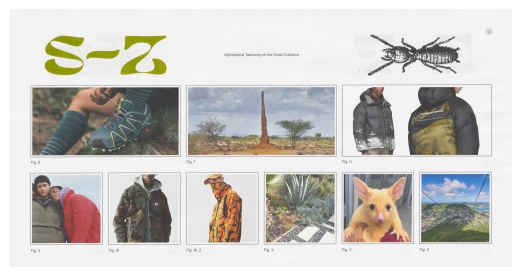 S. Salomon, Stutterheim, Suicoke, Stone Island
Fashion darling, Harry Styles, wore a pair of Suicoke moto sandals (among other sartorially note-perfect choices) while hosting SNL last month. While the sandal certainly had its summer moment (performance gear for these Apocalypse times), Styles' late-fall co-sign only extended the Tokyo-based footwear brand's reign of all things cozy, colorful, and orthopaedic-chic. But there's more. Fashion has a long history of co-opting gear, not for trail-running but for city-dwelling. There's Salomon, of course, the most beloved outdoors shoe that fashion has turned into an office staple. And what about Stone Island's compass logo? Seen everywhere on tourists navigating...Soho. Finally there's Stutterheim: rainwear for urban downpour, well-crafted…for hopping into cabs.
Among the most successful groups of insects on Earth, termites have managed to colonize nearly every continent but Antarctica. As detritivores, termites feed on decaying plant matter and cellulose, earning them a pesky reputation for making meals of human-made structures. Some species of termites are entirely female and reproduce asexually—termite queens have the longest lifespan of any insect, living up to 50 years.
Thanks to Jun Takahashi, with jackets that match our favorite movie references—from 2001: A Space Odyssey to 70s cult classic A Clockwork Orange—the long months of winter seem instantly less dreary.
A young outerwear brand with a heart of gold, The Very Warm aims at providing the feeling of warm hug in every puffer and parka. Hailing from NY, they know a thing or two about battling the elements without compromising style, and have managed to synthesize this into a covetable collection of neutral, yet unique, jackets for all seasons. All at an accessible price point. In the colder seasons when skin-to-skin contact is rare, find the next best thing by wrapping yourself in The Very Warm.
If you're looking for gear that looks even better when dirty, then Carhartt is, without a doubt, the brand for you. Nothing beats its quality-to-price ratio. A longstanding staple for anyone who works an active, outside-centric job, this clothing was made to work and live in, no matter the profession. There's also WIP—the more fashion-focused sibling of the brand—if you're looking for a little tailoring.
As the world is well aware, millennials love houseplants, so why not take those endearing, easy-care succulents and turn the whole home into one massive terrarium? Subbing boring grassy lawns for a more strategized landscape of stones, mulch, cacti and lavender can conserve around 120 gallons of water every day—time to break some gardening ground!
When fisherman's coats were first invented, they were made of canvas, waterproofed using linseed oil which, overtime, would stain the cloth yellow. Then Mr. Macintosh appeared with his vulcanized rubber technique, and oil-slick coats faded from fashion. But the yellow color stayed—seen contemporarily on Greta Thurnberg and literally anyone else braving the elements—on account of the visibility it provides those at sea. Not to be mistaken as a mere byproduct of human intervention, yellow is rampant in the animal kingdom as well—the yellow warbler, the albino python, and the (recently famous) Pikachu possum.
Zip-lines might make you think of college bros trying to brush the boundary of mortality while on vacation—but they are actually totally pre-modern. The first recorded use of a zip-line as a recreational activity was in the 1700s, likely an entrepreneurial idea spawned by the Tyrolean traverses of early mountaineers.
Text:

SSENSE Editors

Date:

December 9, 2019