Forbidden Fruit:
Leather Pants Are The Tacky Upgrade
Kaitlin Phillips on Jim Morrison, Jane Fonda, Pyer Moss, Cowboys, Mowalola, Adam and Eve, and Virgil and Horses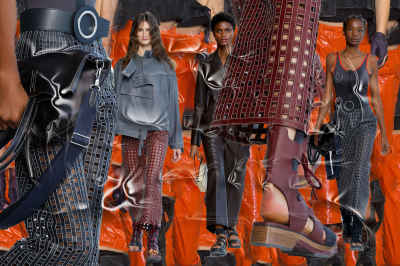 Leather people. That's what Tom Wolfe called them in Bonfire of the Vanities, which—if read at all—is best appreciated as a taxonomy of city dwellers. A tableau of leather people: The "man wore a trench coat made of some dull, dusty, grainy hide, elephant perhaps, with shoulders cut so wide he seemed gigantic. The woman wore a black leather jacket, also cut very large, black leather pants, and black boots that folded down below the knee like a pirate's. All three of them were squinting…They kept sliding forward and then twitching and squirming back up, and their leather clothes rustled and squeaked." We don't learn anything more about them. The point is that Leather People cannot be ignored by any protagonist. (Not even in a bloated novel with a thousand people dressed in character.)
Like a zaftig fur coat, leather pants are a classic investment piece that draws attention to you. You are free to choose the era and quality per your taste, but it remains the same that wearing either, but especially a pair of leather pants—whether they balloon like jodhpurs or lace up at the thigh, or fringe out—will draw looks at a wedding, job interview, or dive bar. They're particularly hard to pull off, and especially antagonistic a fit for middle-aged men and class enemies like Melania Trump. "Think of your closest male friend. Now, imagine if he wore leather pants," writes Chuck Klosterman succinctly.
Leather pants erect a theatre in the round for your public to admire you, which is why they so often appear in popular culture as professional uniforms for entertainers enacting public ritual with an audience in mind: Jim Morrison, other rock stars, executioners, doms, waiters at leather bars. ("He smelled like leather and alcohol and nightclubs but he looked blind like a marble statue," wrote Eve Babitz, who was Morrison's lover before he got fat.)
As with good sex, there's a faint whiff of studied fastidiousness and practiced spontaneity to wearing condom-tight leather pants. You have to have done this before to do it well. Andy Warhol personally found leather "dirty," but coolly admired the performative zeal with which the material could be wielded as a fetish object: "These leather guys, they get dressed up in leather and go to those bars and it's all show business—they tie them up and that takes an hour. They say a few dirty words and that takes an hour. They take out a whip and that takes an hour—it's a performance."
"Giorgio Armani correctly called leather pants 'the narcissist's trouser' of the '80s."

Now that we can corral an audience from the bedroom, it makes sense that leather pants would come back. The titillating tedium of the drawn-out performance at the leather bar is akin to watching Sarah Snyder—model, shoplifter, girlfriend of Thrasher's Skater of the Year—slowly reveal her body in different poses online, one part at a time. Giorgio Armani correctly called leather pants "the narcissist's trouser" of the '80s.
When writer Molly Young met Donatella Versace, she noted the matriarch's leather pants were "tighter than the skin on an apple." Once you think about it, it's easy to remember that nestled inside the story of the forbidden fruit, like a worm, is the history of leather pants. For God found a postlapsarian Adam and Eve, the first Narcissists, cowering in a corner of the garden, sheepishly clutching their privates in DIY fig leaf aprons. Needless to say, he was unimpressed; a few dinky plants are insufficient to cover original sin. God—the first stylist—shed the blood of animals and outfitted them in "coats of skin." Adam and Eve: Proto Leather People squirming in the eyes of the lord. It was a look.
That God kicks them out of the garden, arming them only with these garments of sin, is a mark of their itineracy to come. Leather, forever more, was wed to being on the road. "You don't look like the type to stay anywhere too long," says a diner waitress to Willem Dafoe in Kathryn Bigelow's motorcycle gang movie, The Loveless(1981). You can tell he isn't wearing a leather suit because he fears road rash or muffler burn. (Death is beat into the language: brain-tanned leather.) "This blacktop is my sweet eternity," he brags, of a life so monotonous it sounds a lot like limbo, or the monotony of hell.
The thick, bootleg-cut leather that provide a kind of ugly comfort to motorcycle gangs showed up on the runway this year, for both men and women. There was nothing tarty about the fit. They were difficult to pinpoint on the color wheel, difficult to guess whether or not their wearer has stretch marks. "They're the color of CGI salsa," says my boyfriend when I send him a screenshot of the bootcut orange lambskin pants at Gucci. "They're the color of red oxide automotive primer."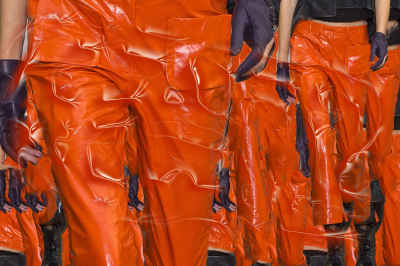 Rejected here are what Donald Barthelme called "the tight tempting how-the-West-was-won trousers," with superfluous fringe and references appropriated without thought. Mowalola Ogunlesi sent Nigerian cowboys down the runway in ten gallon black hats and red and orange leather pants that reflect the "heavy materials of a roadside Lagos gas station," to quote 032c. The colors of the Shell corporation bleed together in streaks that mimic a mechanic wiping his hands on the back of his pants.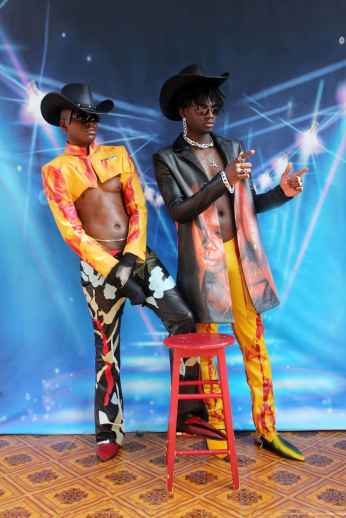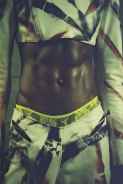 That Virgil Abloh told any reporter that would listen he bought a horse made me think he might actually be a genius. Off-White styled a pair of "Black Croc Leather Wide Pants" with a sequin embellished top like armor crafted out of a disco ball, the silver flash of a gun replaced with gunmetal hardware and other embellishments.
Pyer Moss also sent a meditation of the black cowboy down the runway, a welcome reminder that, among other things, "John Wayne was a racist draft dodger with military awards," as Ayesha A. Siddiqi writes. They were trying to answer a simple question: "What does mundane black life look like?" (Cool.) Crowned the CFDA winner, the designer himself really cowboyed up this year, flipping onto the international stage with a mantra: If you're just hearing about Pyer Moss, we forgive you. Kerby wore the super smooth boxy leather suit from the collection to several awards dinners. The leather pants were black, thick, and boot cut, styled with sneakers, and a single gold chain. The jacket was deliciously cropped, with baby-blue colored pockets and racing stripes down the side (in egg-yolk yellow). The color scheme reflects an era where even those drawing modern superheroes have recognized that primary colors are too much a vestige of the American flag.
Black Panther was awash in deep sea purple. Deadpool, a disenfranchised American hero with an overripe sense of irony, wore a suit in a shade of red closest to Alizarin Crimson. The color is named after a red dye extracted from the madder species of plant. Hermès—where nothing is ever too tight—sent dark blue, white, and orange lambskin pants down a runway gravel dyed and lined with this same shade of crimson for their Fall 2018 Ready To Wear collection. Gravel the color of the bruise on a blood moon. It's hard not to look at it now and not think about a stock market crash—all the blood in the streets! At least the bankers aren't allowed to pull off leather pants.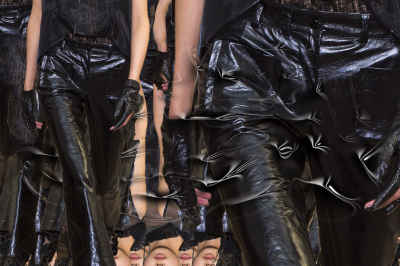 Bankers' wives and party girls used to wear leather pants, although they were called hot pants, the democratic phenomenon spawned by workout tapes (the trashiest and sexiest of leather pants). Hot pants was a word fashion journalists were using to describe the wares at Bloomingdales's Harley-Davidson "boutique" (what we would now call a pop-up), which sold leather goods to be worn riding in the back of cabs. They were often worn with body shirts. This was 1992, an auspicious year for leather pants black and red, like playing cards. Karl Lagerfeld ended his 1992 Fall/Winter Ready To Wear collection in a devilish sea of crisp apple red leather. High-waisted red leather pants, dusty red suede gloves on the hips, C-cup breasts pumped up in red leather halter tops, the whole ensemble augmented by a long red leather duster coat.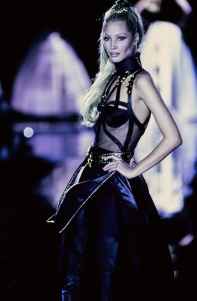 That same season, Gianni Versace sent Christie Turlington down the runway in midnight black, thick leather pants, with pearls lining the seams, and a sleeveless leather vest tiered with fringe. Versace titled the show "Miss S&M." (The gays by now had wrestled leather away from musicians, who were moving to spandex and lycra and pleather, wholly problematic democratizers that put statement pants in the mall.)
1992 was the year Prince Charles and Diana separated. The year the Mall of America opened in Minnesota. The recession had only just ended, which perhaps explains why sybaritic holdovers from the 80s—wine silk shirt, gold chain belts, Vampire Playboys—suddenly got a second wind. People were hungering for tacky upgrades. What's worth fighting in 2019 is these Veblenesque connotations of leather pants that hark back to necropants, an Icelandic myth where wearing another man's skin, from the waist down, will result in an endless money supply. It's nice to see ugly bootcut leather pants that resist pairing with tweed and gold belts à la Lagerfeld, or New Jerseyian separates like silk and waffle cashmere. In other words: Fewer wives, more cowgirls.
It's like this, recounted fashion illustrator, Gayle Kabaker, detailing her love of style. "I once pulled up to the toll booth on the Golden Gate Bridge in thousand-dollar leather pants and not enough money for the toll." Which isn't to say that it's about being poor. It's Jane Fonda wearing black leather pants to her ex-husband Roger Vadim's funeral in Paris. How else to honor the man who wrote a book about how great it was to marry her? (In fact, how like a cowboy, to only show up for a very public goodbye.)
Kaitlin Phillips is a writer living in Manhattan, and a contributing editor at SSENSE.
Text:

Kaitlin Phillips

Artwork:

Jesse Katabarwa