For the Love of the Game:
Fashion and Fandom
Max Lakin on Uniforms, Loyalty, and the NBA's Catwalk
Text:

Max Lakin

Illustration:

Florian Petigny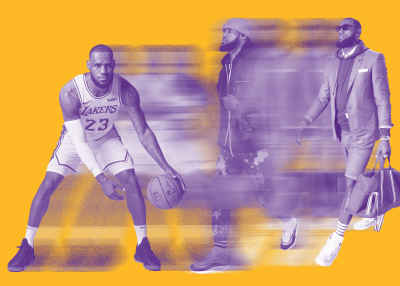 In the NBA, every night is a chance to remake your own mythology. There's a moment before every game that has codified into a ritualized runway show, turning the concrete warren of an arena's unspectacular underbelly into a flashbulb-lit catwalk, and players into so many Gigi Hadids. The walk itself involves a precise calculus, a loping blend of blithe insouciance and hardened froideur. This is paired with a slightly disaffected gaze, preferably into the middle distance, as if to say this—this brief movement from garage to locker room, made under the probing eyes of millions and committed to dedicated social media accounts—is the most natural and banal thing in the world.
Whether the cultural primacy of the NBA player is predicated or augmented by his embrace of fashion, the transference travels both ways. When LeBron James and his Cleveland Cavaliers teammates appeared in custom Thom Browne last year, it was a double-duty wink at the idea of uniform, both in its function in organized sport, and in classist designations of labor (the latter of which seems to consume Browne's waking life). At the shows in New York in February, Coach rendered basketball shorts in billowy leather and wool tartan, a luxe acknowledgement of the sport's relevance in our cultural moment. Russell Westbrook, one of the league's most emotive players, routinely experiments with advanced formulations, sidling down the tunnel in drippy Rick Owens and moping through post-game conferences in the exaggerated, safety-orange sleeves of a Vetements t-shirt.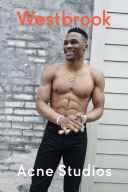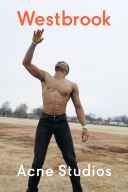 The sneaker industry has long trafficked in the pull of the NBA player's celebrity, but in February, Westbrook moved beyond that paradigm, appearing in images for Acne Studios' SS19 campaign, shot by Juergen Teller. Acne happened to show some sporting-inflected pieces for spring, including a sleeveless, half-zip Lurex shirt that sourced its yellow-brown chevron pattern from Arsenal's early 90s "bruised banana" jersey, but that didn't figure here. Rather, Westbrook appears giddy in alternating light and dark washes of jeans and jean jackets, a style as far removed from the hardwood as possible, suggesting Westbrook's celebrity had transcended the confines of his sport's signifiers.
FW19's rash of sports nostalgia may seem peculiar, but it shouldn't. Sports uniforms trade individualism for cohesion, the self for the unit. This idea is both anathema to the basest conceit of fashion expressionism, and completely in line with it. When choosing to wear a maximalist Gucci track jacket fringed in racer stripes, there is the temptation of doing something so sui generis as to be completely, radically individual, even if it's really more akin to glomming on to the roster of a perennially popular team.
Gucci's strange Yankees logo pieces come to mind, an unholy union of the brand's late peccadillo for applique kitsch and the team's instantly recognizable interlocking brand identity. Fused to houndstooth car coats and iridescent track pants but also slippers, wallets, caps and sneakers, these pieces seem to have something vaguely to do with soft power, a major fashion house aligning itself awkwardly with the cultural cache of our best known professional sport franchise. The Yankees logo is now a universal symbol. You needn't know your WAR from your wOBA to locate it as an enduring shorthand for New York City, which is itself shorthand for a hundred years of cultural supremacy. Even the most shallow reading of the Yankees cap understands it as a declaration of desire to stand near the city's glow.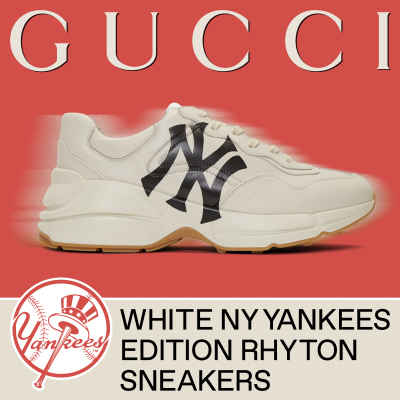 The inverse of this relationship could be found on Willy Chavarria's runway last season, in which he remixed archival Hummel soccer kits with his sense of blown-out proportion and gave the results to players involved with RIFA, a non-profit that organizes mentorship and league play in Brooklyn and Queens for documented and undocumented refugees, asylum seekers, and immigrant middle and high schoolers. It was an expression of the glut of superficial interest in football culture and an overheated collaboration market, oriented to the benefit of refugee kids in the city's outer boroughs, a detail that feels pointed (even though the Yankees play in the Bronx, their brand is readily conflated with the bright lights of Manhattan; you'll notice Gucci did not have the same lusty embrace for the Mets, the city's underclass team). These kids may not have previously been familiar with Chavarria; certainly Gucci is the household name. But it was Chavarria speaking to their need of belonging and the reality of place and displacement. This need is especially articulated in soccer, where teams are so vividly tethered to place, and triumph is a matter of personal and national identity.
Sport signifiers suggest a recognition of the virtue of team-based competition and community connection. They speak to those for whom athleisure's relationship to community is too passive, too paper-thin. Sports nostalgia is rooted in a firm, calculable history, the register of battles waged and won, a collective esprit de corps that yokes entire geographies, clan identities, tradition systems, and moral politics. What's a spin class to the buying power of a major league fan base?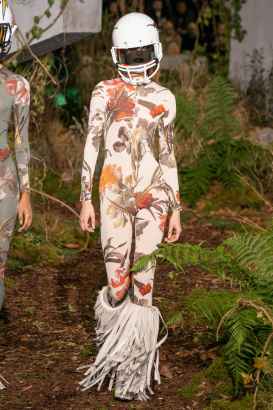 Fashion's absorption of sport feels instinctive on a devotional level, if not a material one. Both are predicated on a kind of fervid tribalism that, in their upper reaches, can tip from blind loyalty into rabidity. Wearing a replica Knicks jersey is more akin to wearing a Versace all-over logo print than each party would care to recognize. Yet the overlap in lifestyle between fashion adherents and, say, Manchester diehards is closer to a light graze. When Versace and Y/Project produce knit intarsia scarves that ape those seen for generations on the terraces at Camp Nou and Old Trafford, they engage in the high fashion pastime of mining working class culture and repackaging it as something exotic and camp. Perhaps that was the appeal for Vetements when producing their own version, as a brand rooted in a strain of weaponized irony that can seem engineered specifically for people who Tweet things like "Go Sports!"
Not all trips into the mine are fruitful. A brand's desire to conjure emotion through sports references can easily feel like a headlong dive into a wading pool. At Off-White FW19, models wearing floral leotards and pom pom boots were styled in football helmets with opaque visors, obscuring their faces. The effect was a clumsy, anonymizing menace. For his womenswear show a few weeks later, Virgil abandoned both the gridiron and the pep rally for the race track, with Neoprene jumpsuits, checkered flag gowns, and abstract send-ups of the logo-heavy, flame-retardant jackets worn by stock car teams—handsome shapes signifying nothing. A letterman jacket underlined a Breakfast Club affect at Hedi Slimane's Celine, suggesting a homogeneous class body where the sartorial cues of the jock, the bookworm, and the bad boy flow harmoniously, unrealistically between each other. Emotional investment in sport asks for a lot, but the simplest part is choosing a side. Fair-weather fans are sussed out quickly and maligned with extreme prejudice. Fandom, unlike fashion, makes room for everyone but the disingenuous.
Then there are the deathless shapes. For their man, Loewe FW19 suggested the rugby shirt, that dependable workhorse, proffering reinterpretations in drippy proportions (elongated to the knee so that it resembled a thawb), and in chromatic stripes or color blocking that alluded to unknown clubs. Likewise Burberry, their rugby layered with cycling shorts or worn as a tunic with the sleeves whipping vacant, but here the coloring was sour—toxic spill-green and a nervous red, crashing into each other schizophrenically as if to say something garbled about disjointed identity and youthful unrest in the face of Britain's political schism—political ideologies as sporting clubs. There were rugbys, too, in Alexander Wang's FW19, off-season: vertical stripes and horizontal frequencies running across plush sweaters that called to Ralph Lauren's vision of moneyed leisure.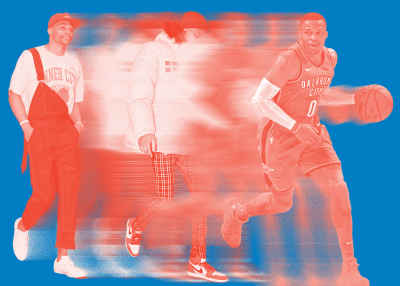 "Sportswear" used to connote an unspecific but more or less understandable category, a catchall for everything that wasn't tailoring, whether or not it was fit for use in actual sport. That idea has since been usurped by streetwear as the de facto mode of casual dressing, just as sports have filled the space in daily life once occupied by religion. The NBA guard becomes our pastor, the tunnel his pulpit, the outfit his sermon. "Sportswear" is made useful again, an idea charged with very specific feelings of personal history, belonging, and pride of place, which also turn out to be the things that make up fandom. To pull for a team is really to pull for the version of yourself you hold in your head, which is, of course, like getting dressed.
Max Lakin is a journalist in New York City. His writing has also appeared in T: The New York Times Style Magazine, GARAGE, The New Yorker, and more.
Text:

Max Lakin

Illustration:

Florian Petigny