BORN TO RUN:
KEIZO SHIMIZU +
DAIKI SUZUKI'S
AMERICANA DREAM
How The Japanese Designers Behind Needles, Engineered Garments, and NEPENTHES Made it in the U.S.A.
Interview:

Mamiko Izutsu

Photography:

Christian Werner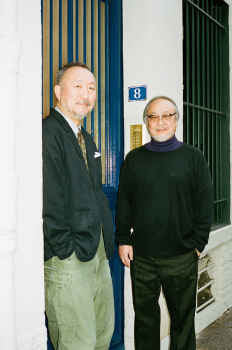 Since its inception in 1988, cult fashion company NEPENTHES has been elevating Americana. Through considered Japanese craftsmanship, their vision has quietly, consistently raised the bar on what it means to be made in the U.S.A. In a genre of fashion so foundational, their brand of Japan-icana is now entirely unmistakable amidst the American glut of oxfords, chinos, and denim—no small feat. 30 years on, the brand continues to charm with its unique way of seeing the world. GQ hailed the NYC NEPENTHES store as "New York's Last Great Independent Boutique," while a whole faction of menswear fans discuss the in-house NEPENTHES brands online—most notably Engineered Garments—sharing original memes and coveting the newest cargo pants via the "Engineered Garments Twitter community."
Crucial to understanding the culture of NEPENTHES are its founders, Needles designer Keizo Shimizu and his close friend Daiki Suzuki, designer of Engineered Garments. At NEPENTHES, classic American workwear and menswear staples—from suiting and oxford shirts to utility vests—come in the same subdued shades of navy, grey, black, olive, and khaki, season after season. Under Shimizu and Suzuki, these core components remain exciting, seductive in their simplicity. A pocket out of place, an additional, thoughtful seam, an unexpected print or texture—a clean visual language that sets NEPENTHES apart. Not limited to pumping out products that invariably command high acclaim, they also run a host of other original lines, like SOUTH2 WEST8 and AïE, under the NEPENTHES umbrella (an aspirational and hard to replicate retail model), and are by far some of the most productive designers in the industry.
Shimizu and Suzuki met in 1982, as a result of Suzuki joining the imported footwear wholesaler that Shimizu was working at. Shimizu, sensing that Suzuki's taste for fashion was extremely close to his own, sent Suzuki to the United States as a buyer when he established NEPENTHES in 1988. They began by importing American products, but as they gradually increased their lineup of collaborations and special order items, they set themselves apart from the industry with a style of their own—a style further refined with the launch of Needles. Suzuki, still living in the United States, released Engineered Garments' first full collection in 2002. With its first showing at the Italian trade show, Pitti Uomo, praise quickly rolled in from overseas. Since then, Shimizu and Suzuki's designs, immediately popular with stylists and buyers, have caught on with celebrity figures including the Kardashians and A$AP Rocky. I caught up with Shimizu and Suzuki at their Paris showroom, surrounded by two floors worth of Needles, Engineered Garments, and other original NEPENTHES brands. Speaking about their past and future, and how they continue to design clothing that surpasses genre and generation, the source of Shimizu and Suzuki's boundless vitality was summed up, in passing, by a single utterance: "We love clothing."
Mamiko Izutsu
Keizo Shimizu and Daiki Suzuki
The two of you met in 1982, and have worked together continuously ever since. How does the nature of your work in the 90s, and the environment in which you worked, compare to now?
DS: In those days, the structure of our business was completely different. We operated an import store, and the majority of the products were from the United States. We only had the one location, so wholesale was our bread and butter.
All of that importing meant you spent a lot of time in the States, right?
DS: I moved there in 89, and Keizo would visit a few times per year, for two to three weeks at a time.
KS: We'd go hunting for untapped brands and factories. We'd buy a road atlas, and navigate towards some final destination. Whenever we arrived at a town, we'd buy a more detailed map, and do some research by flipping through the local yellow pages.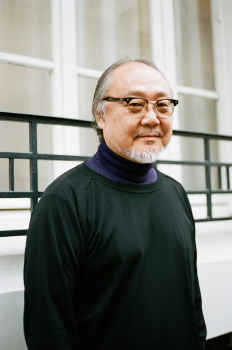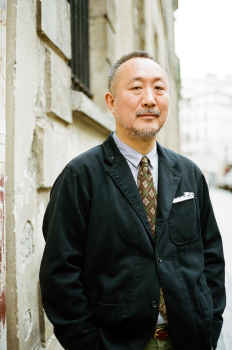 But it's not like the yellow pages had a section labeled "Stuff We Want."
KS: No, but just like in Japan, there are regional specialties. For example, if you're looking for moccasins, you go to New England. I'd picked up some of this kind of info at the company that I'd previously worked at, and based on that, I'd be like, "Let's go check out that area"—totally on the fly, without any appointments.
DS: This was a time when you couldn't even expect to get in touch by phone.KS: No cellphones, either.
DS: Most of the time, when we'd visit a factory unannounced, they'd think we were looking for work. "Sorry, we're not hiring right now."
Compared to now, is there anything that was particularly good about that period?
KS: No one else was doing what we were doing, so being able to consistently come through with new stuff was great. This was an era where even just searching for stuff required a certain fundamental level of knowledge about the United States. We wouldn't touch what others were already offering.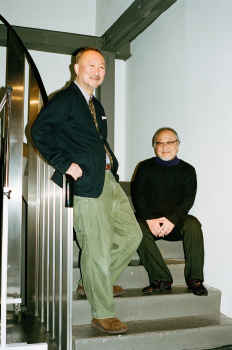 Could you tell me about what prompted the creation of Needles, and what the source of creative inspiration was?
KS: We were already doing some original designs, but I wanted things that we couldn't get through import; something that could be made in Japan based on items we'd seen—simple but with a little twist. With respect to materials, even though we do some louder stuff now, the first collection was done in tropical wool, in charcoal and dark brown, with only six styles produced. The Miles jacket, a tailored jacket based on one that Miles Davis had been wearing at one point in time, the tailored raglan, the fishing shirt jacket, and so on. We were making something that didn't really exist otherwise, something suited to a more mature clientele.
There wasn't anything else like that on the market at the time?
DS: No, there really wasn't. There was lots of casualwear available through other wholesale import shops, but we had the sense that Needles was the first to offer something more grown-up, more mature.
And how did Engineered Garments get started?
DS: I'd been doing the import thing for a while, and with the Internet coming into play, the competition was starting to get fiercer. It was devolving into a cat-and-mouse game of looking things up on the net. That, and American manufacturing was gradually disappearing. It seemed like we were on the verge of going out of business, so I figured we had to do something. I thought, why not just make our own products? Things I'd wanted as a buyer, that I'd wished existed. There'd be no competition.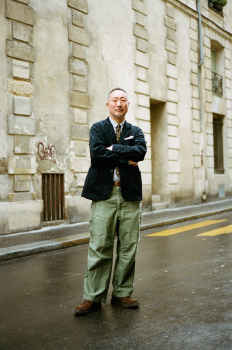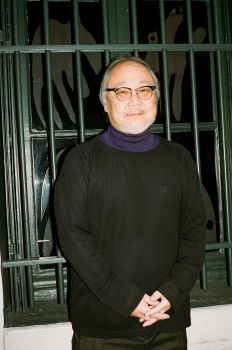 How much influence does American fashion have over your designs?
KS: Nearly complete.
DS: About 90%?
What is it about American fashion? Is it nostalgia?
DS: In my case, there was a sudden burst of American products entering Japan when I was a kid. 1976 was the year of the United States Bicentennial, and for the two or three years before that, stuff from the West Coast had been flooding in. Magazines like Made in USA Catalog and POPEYE had just been launched, and they were showcasing things I'd never seen before. It was all so incredibly fresh and new, and I was immediately taken by it. And I was being influenced by American films as well. Back then, for lack of any sources of information, existing fashion magazines weren't very influential. America was everything.
KS: I guess it was '75? I thought, I've seen the real fashion of the American youth! Up until then, I thought that the "Ivy look" used in VAN was real American fashion, but the reality was that the vast majority of Americans didn't dress that way. In 1975, people involved in fashion actually went over to the States, saw the real thing, and so Made in USA catalog and POPEYE were born. The clout that these particular magazines had was truly incredible. That's all there was at the time.
To what extent does the need to engage with the outdoors affect your respective design sensibilities?
KS: I've been stream fishing since I was a kid, though I stopped for a while after I moved to Tokyo. Two or three years after we started NEPENTHES, an older friend invited me out and I fell right back into it. I don't think that it's the kind of thing that you can force yourself to enjoy, but I personally love being out among the mountains and streams. All this to say that, in practice, it doesn't really come up in my designs. When I'm fishing, I'm not thinking about anything else. But it is refreshing, and being able to go fishing itself is a source of motivation.
DS: Back when Keizo first visited the US, he was keen on doing some fishing there, so I went to a lot of trouble to get things ready, but I couldn't catch anything, even when we went deep sea fishing. Much later on, an acquaintance invited me to go fly fishing but, to be honest, I'm more interested in camping. I'd go mountain climbing when I was in high school. Basically, I was into anything that POPEYE was pushing. Frisbee, skateboarding, tennis—I did it all.
KS: The confessions of a country bumpkin. [Laughs]
DS: I couldn't do any surfing though—I didn't have a car, and the ocean was too far away. I always regretted not being able to surf, so later, as an adult, when I was invited along and I finally got to try it out, I got super into it. I just wish I'd started at least 10 years earlier. I suppose I'm something of a surfing fanatic, so it's definitely influenced a few of my t-shirt designs
So your daily lives do have some influence on your work?
DS: What I do and see now does have some influence, but the fundamental inspiration comes from what I saw, touched, wanted, and possessed as a young man—things I've been chasing after ever since then. Every time, it's like "I've already got some of this, now I'll try to take it from over there," or trying to combine the outermost edge with dead center, or trying to pull something out of the reservoir of things I've seen.
KS: I'm the same. I see some classic designs, and think, "This part of this pocket is neat, but this newer design is even more interesting." And then I give it a go.
DS: Back in the day there wasn't a lot of information, so the things I saw, and the feeling of the things I touched, is heavily ingrained in my memory. Especially memories from my 20s, which is the period in which I was most interested in fashion. Of course, I still like it now, but back then I had a fresh fit for every day. It was crazy. I wouldn't eat, I'd borrow money from people, all for clothes. I wouldn't spend money on anything else.
KS: Everyone who worked in the fashion industry was like that back then. We'd borrow a bunch of cash and drop it all on clothes at Marui or wherever.
NEPENTHES has maintained its popularity for over 30 years. Why do you think that is?
DS: We're so fortunate. Of course, we're all fully devoted to our work, but if you have luck on your side it's a different story. I think I was lucky. But with respect to the company itself, we don't like normal stuff, and our existence is oriented around doing things no one else is doing, or looking at things no one else is seeing, and I guess that's why we've been successful.
KS: We're of the opinion that the stuff we're doing isn't such a big deal, though, unlike some major brands.
DS: We were a very modestly-sized enterprise, so we could quickly put our ideas into practice.
KS: Modest in size, but high-impact in vision.
You must have felt some moments of stress, having produced collections for three consecutive decades?
DS: I haven't felt stressed once. Quite the opposite—I feel very grateful.
KS: I love it. Other than that...my physical condition. I can't see all that well anymore, and then there's my ability to recall things…
DS: I always think of this Japanese fairy tale, Tsuru no Ongaeshi, in which the crane tears out its own feathers so that she can weave fabric for the man who saved her life. In much the same way, before I knew it, all of my feathers had disappeared.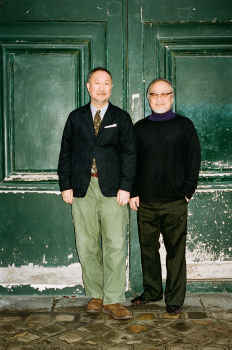 In the age of social media-driven culture, many designers are striving to have influencers wear their brands. What is your relationship to social media?
DS: It's nice to see and hear about famous people wearing our garments, but I'm just as happy when I encounter people wearing them on the train.
There's the BEATNIK sandal, your Reebok x Needles x BEAMS collaboration, and the Engineered Garments x Uniqlo fleece, along with numerous other projects that have become sold out, cult items sought after on resale websites. Surely, as designers, you are sensitive to trends?
DS: Not at all. We understand when something is in vogue, but I don't think we adopt things flat out like that. I guess we play with size and proportion. We make clothing that makes us look good when we try it on.
Speaking of looking forward, what are your current plans or goals?
DS: I need to pay more attention to my health. I'd like to hit the gym once a week. I've been a member for 10 years, but I've only gone about 20 times in total. Just having the membership makes you feel healthier [Laughs]. But, you know, if I want to keep on like I am, I have to take my health seriously.
KS: My personal goal is to reel in a 61 cm fish. I'm 61 this year, so I'd like to catch a fish as long as I am old.
Mamiko Izutsu is an editor and writer living in Paris.
Interview:

Mamiko Izutsu

Photography:

Christian Werner

Translation:

Vincent Malik

Date:

March 9, 2020