The Wonderful World of Beverly Glenn-Copeland
One Musician's Divine Revival
Interview:

Fiona Duncan

Photography:

Heather Sten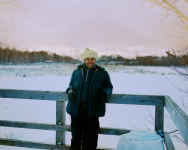 On a Sunday afternoon, late last year, Beverly Glenn-Copeland and his band played to a sold out audience at MoMA PS1 in Long Island, New York. It was the musician's first visit to the United States, "my cradle country," as he calls it, since 2000. Now 76, Glenn, who was born in Philadelphia and embraced Canada as his home at 18, doesn't, "expect to ever see the United States again—" for political reasons he'll explain. While it was a goodbye for him, the MoMA show was an introduction for much of the audience, who, invited by friends in the know, left the exalted performance as enthusiasts, which is how Glenn's fanbase (including artists Dev Hynes, Robyn, Courtney Barnett, Devendra Banhart, Four Tet) has been growing: by word-of-mouth, with the music speaking for itself.

Keyboard Fantasies, the 1986 electronic album that catalyzed Glenn's current success after a Japanese rare-record collector re-circulated it circa 2015, sounds fresh and punctual, like rain dropping on pert leaves or a friend nuzzling you awake after a guiltless sleep. Made with an early Atari computer by a then-rural-Ontario-residing Glenn—whose father moonlit as a classical pianist (a school principal by day), and whose mother played for him while in utero, Keyboard Fantasies is both minimal and monumental, with hopeful heartbeat drum taps, electronic twangs on orchestral assemblies, and a soothing, spacious voice enunciating lyrics that, by anyone else, would fall flat as a self-help meme. "Let it go, Let it go now," he sings on the record's last track, "It's Okay."
Glenn's 1970 self-titled debut sounds of its time, folky jazz, fire-crackling to Joni Mitchell's cool Blue, while his most recent re-press, Primal Prayer (first released under the moniker Phynix in 2004, ten years after Glenn found the language, from a book on a beach in Cape Cod, for his trans identity) is operatic and worldly as his roots—West African, Celtic, and First Nations. Partnering gospel, choral hymns, and chant with drumming, techno, and pop, the music is as hot at times as a Zion (Matrix) cave rave and joyful with belief. A celestial higher power is evoked in cautiously institution-free lyrics. When G-o-d turns up it's in the Latin form, Deo, sounding in infectious repetition like Day-oh, Day-oh, Day-oh, Day-oh.
There's a New Age and divine revival within the music industry and at large, a craving for holistic spiritual nourishment in a time of divisive identity politics, rampant mental illness, and environmental angst. The popularization of Alice Coltrane's 1982-1995 Ashram Tapes, Kanye West's Sunday Service Choir, Chani Nicholas-brand astrology, and "blessed" as a trending term are part of this movement, as is the growing fame of Beverly Glenn-Copeland, a Soka Gakkai Buddhist who grew up in a Quaker community.
The month after Beverly Glenn-Copeland's Goodbye America show (which also featured a screening of this documentary on his life), we connected with him back home in small-town New Brunswick. Wrapped in thick Fair Isle sweaters, the artist discussed his need for nature, intergenerational compassion, healing, and his role as a queer mentor. At the end of our conversation, Glenn requested that we include a note of gratitude to his wife Elizabeth Glenn-Copeland, "who prayed for years that the songs coming to me would find a global audience before I died. I want the world to know that none of this can happen without this type of support, and for me that was from my wife, who is also an artist with a capital A."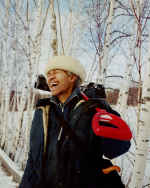 Fiona Duncan
Beverly Glenn-Copeland
You've suggested that Mother Earth makes remixes, that humans, in our complex genetic material, "are re-combinations of what already is." Could you expand on this idea of Mother Earth as a remix artist?
From what I understand, the matter that was created is the matter that is. Everything is a recombination of what is. The Universe, and Mother Earth within it, is constantly doing this. I've never used that specific term, but I guess she is the ultimate remix artist.
Does this understanding of nature relate to your music practice, which is multi-genre and remix-infused?
I don't think in terms of remixes like younger generations do. In Keyboard Fantasies, every sound was created from scratch on a very small drum machine. I used a 1983-84 model Atari computer which provided me with a palette that was like real orchestral instruments. If you squint your ears, you can almost pretend it's a violin. It also gave me access to sounds traditional instruments couldn't make. Not on Keyboard Fantasies, but I have used recordings of a loon.As I've said many times before, I don't consider anything that comes from me as really coming from small "me." I really feel like it's being piped in. I'm part of that process.
During your PS1 performance, you introduced a song that you said came to you in partial transmissions over the course of 40 years.
Yes. In 1970, this 8-bar phrase came to me on guitar, and it was so haunting. I tried to come up with something for it, and I couldn't. I revisited it three more times, and nothing. Then about eight years ago, the whole thing came through—within an hour, a song was written, and it's a very deep thing. Some things you're not ready to receive. The song is called Prince Caspian's Dream.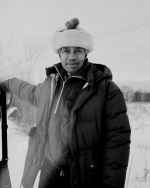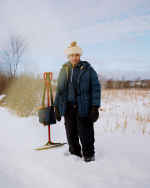 Your recent trip to New York, you said, "was a goodbye to my cradle country." Why don't you expect to come back to the United States?
I'm transgender and the current administration is heteronormative to the extreme. Even if you have, as I do, American and Canadian citizenship, depending on what border guard you have, crossing into the United States can become hair-raising. I don't perform alone and I don't want to expose my crew, who vary in what they look like, to any of that. In general, the current policies of the United States, as headed by the current administration, are opposite to my views on life. They are fear-based. It's not like the U.S. is alone in this, but it's such a powerful country, and trendsetting for many other countries, as a result of economics. They're leading the charge for fear. I would love to play and exchange energy with audiences in the United States, and I might get to again, if things change.
Could you tell us about the environment you live in now?
My wife Elizabeth and I are people who need to live in as much wildness as possible. We chose our property because it has thirteen mature trees on it, huge glorious pines, evergreens, and other deciduous trees. I'm enamored of evergreens. They are very ancient. I need to be close to the Earth. For me, buildings don't do it. I need to see the night's sky, the stars. I need plants and trees. My wife is a gardener, so she created incredible gardens on our property that are wild as well as intentional.
No one of us can have all the skills
Many of my peers talk about wanting to move out of the major cities to somewhere more rural. What keeps them in the city, despite life being increasingly unaffordable, is a combination of community needs and work/survival needs. "How will I make money?" is a worry. And, with my friends, many of whom are queer: "Will I be safe, will I find 'my people'?" What advice would you give a young person who has a yearning for a more rural life, but is also afraid?
Questions like this apply to almost all of us who realize that one paradigm is ending and something very new will have to evolve. Hold the hope as a positive intention, hold the faith that it can happen, and network with as many people around it as possible. No one of us can have all the skills. This is the important part. One of the weird things about the way we've been living is it expects us to be islands unto ourselves and expects us to have all the skill sets. It's just not real, it's not who we are as humans.
There's a lot of intergenerational antagonism out there right now. Do you have a sense of how different generations can foster more compassion for one another?
Parents, their instinct by and large is for their children to survive, to thrive. How could that happen in a society that was based off of profit and money and profit and more money? Parents, out of necessity, have said, "You gotta make money." It's coming from a practical take on reality, but also from extreme fear. My own mother and father had those fears, more so in terms of my being transgender or non-heteronormative. That drove my mom insane, because how was I going to survive?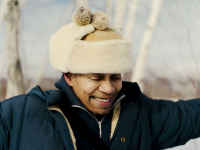 What experiences of intergenerational conflict and reconciliation have you had in your lifetime?
I went through that primarily with my family of origin. Because I insisted I had to be who I was, in so much as I could understand myself, bit by bit, my folks began to research. At first their research was clouded by what was available, which was all about someone like me being sick. But then, my parents, especially my mom, because my father died when I was young, 27 or 28, she kept listening to me, and eventually she started finding articles and people who were saying to her, Oh, oh my dear, no. She went from being very tortured by my non-heteronormative status to being one of my most profound supporters. I had twenty years of her being an incredible support to me.
I've heard you repeat that you believe your purpose in life is to encourage today's youth about "the fact" that we are here to change and save the world. What skills and knowledge do you perceive in youth that could empower us to change?
It just so happens that I'm old, and the music that's been coming through me for forty years seems to have a message about the fact that we are, in our basic nature, incredible beings. If we look at our society, we are told that we are okay if. We are okay when. There is always some conditionality. You are okay if you look like this. You are okay if you wear clothes like this. You are okay when you are employed and you make this amount of money or more. The music that's coming through right now is saying, you're more than okay, you're absolutely gorgeous, you're absolutely wonderful, you're absolutely phenomenal! The most difficult thing is to be able to truly know that. That's what I'm working on, that's what my wife is working on, and she's in her sixties. It's a lifetime to work on. But something about your generation—it's as though you came in knowing, wait a minute, wait a minute, something isn't right. There is this coming together in huge force all over the world of those who are basing their lives on hope, on compassion, and on sisterhood, brotherhood, otherhood, as a human family. Not on fear. The only thing I'm doing, is going, "Yup, that's right, keep going in that direction." The compassion camp is the future, the fear camp is the past—it has no future.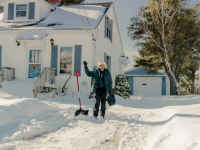 Fiona Alison Duncan is a Canadian-American writer, artist, and organizer. She is the author of Exquisite Mariposa (Soft Skull, 2019) and the organizing host of Hard to Read, a literary social practice.
Interview:

Fiona Duncan

Photography:

Heather Sten

Date:

March 2, 2020