The Wild, Winning Combination Of Victory Journal
A Sports Biannual With a Cult Following Does Storytelling, Not Stats
Interview:

Durga Chew-Bose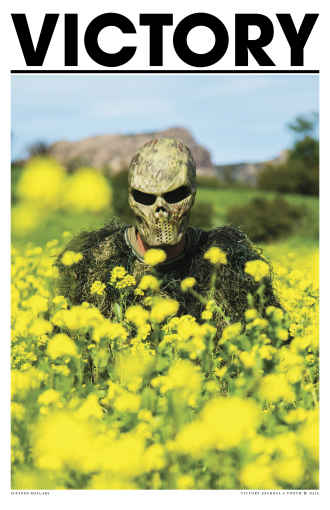 SSENSE and Victory Journal team up on five stories related to style in sport.
Sport Oddity. That's one way of describing Victory Journal, the biannual born out of creative agency Doubleday & Cartwright. Founded in 2010, Victory prints large—roughly 11x17—and has carved out a space for sports storytelling that is both sanctuary-like and strange. Pure enthusiasm collides with obsessive curiosity, recasting statistical sports narratives into something more confiding: a scene, a portrait, a totally miraculous 12-page document of underwater hockey. Did you know that was a sport? Did you know it was originally called "Octopush"? Have you ever marveled at 12 pages devoted to stick technique and the color blue? Open Victory, and each time: awe.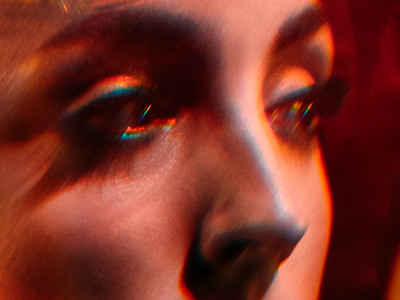 There's a kindness to its design. The images are not just beautiful, but unlikely. There is an element of surprise: the stadium and the sweat, (and the mountain range that frames the stadium, too). There's pageantry in the pages—a feature on Mexico's century-old Lucha Libre, honoring the high-flying theatrics and costumes essential to its tradition. A feature on the New York City Ballet, photographed primastically by Antonio Santos and bringing to mind the chromatic, moody glory of Powell and Pressburger. There's the magazine's sequence. How a ballet feature is immediately followed by the Florida Everglades (and a fanged, cottonmouth snake, up-close and absolutely spooky).
Published by Stephen Benedek, and edited by Kate Perkins and Nathaniel Friedman, with photo editor, Shane Lee Lyons, Victory's cult following is due in large part to its commitment to "caring," as creative director Aaron Amaro tells me over the phone. Theirs is a wholly uncynical process, built on taking time to put out what feels like velocity on the page (even if what you're looking at is a chess match or a photograph of Liz Cambage, focused, statuary, strong).
As an introduction to this week of stories, co-produced with Victory Journal, we speak to Amaro, and Editor, Christopher Isenberg
Durga Chew-Bose
Aaron Amaro, Christopher Isenberg
Let's start with a simple, uncomplicated question. How do you make a magazine? What's that first meeting for every issue look like?
Aaron: I wish it was more like a galactic explosion. We meet every week to discuss a variety of things. We have a hard schedule for when we start ideating on the new issue. Typically it's after the hangover of the launch party. Whether that's like a day or a week or whatever it takes to get our heads back into it. And then it really begins with our editorial people throwing out ideas. It starts really loose.
Chris: We've done it both ways. There have been times where we've had a really clear theme that we were kicking off, and we were looking for things against that theme, or maybe having a couple stories bagged against that theme. We've done it where we're just gathering material that we feel is up to snuff to go in the magazine, and then looking for a theme later.
Your readers and audience, who are they? Feverish sports fans with encyclopedic knowledge? Or something else?
Chris: From the start, one of the things that was different was to be passionate at a certain level, and knowledgeable at a certain level, but not necessarily have that barrier to entry that maybe a single sport magazine for people who are obsessed with that sport is going to have.
As an editorial team, what was Victory's original purpose? Were you simply stats averse? Did you want to showcase more long-form storytelling?
Aaron: We had this very small studio on the roof of a building near the Flatiron—a Winnebago in the sky, essentially. We wanted to create the very, very best thing. We wanted to give it away for free, or have it be a quarter. Sports was in this rut. It was being represented in this weird, statistic style of like, you know Sports Illustrated, ESPN. I mean, they do what they do well, but that's not what we do. It wasn't that cinematic or well-shot.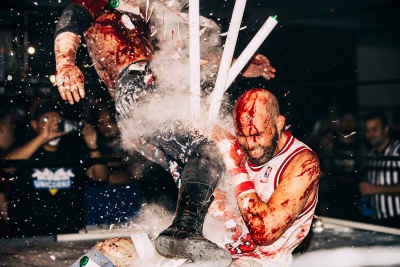 Do you find it hard to communicate what makes Victory, so Victory? I remember when we first spoke, Aaron, you talked about how instinct-based your process is—
Aaron: I don't think I need to see in the night. I just kind of walk towards the heat. We all kind of have a little bit of our different processes. I mean, Chris, where do you sit here? We don't really talk about this stuff back and forth all that much.
Chris: Some of it goes back to "the why." We were doing something aesthetically that no one else was doing. We were using photographers that other people would not have used. The format was completely different. And those aren't things that I personally would have arrived at on my own. My journey was more, like, coming up in magazines and coming up appreciating them, coming up working for them. And finding it increasingly difficult in my early career to tell the kind of stories that I wanted to tell, which were a little bit more obscure international human interest sports stories that had a certain edge to them, or a certain narrative bar to them.
Do you feel as though you've found a successful formula? How do you challenge yourselves and the team to keep each issue feeling new while preserving Victory's DNA?
Chris: Maybe two and a half years ago, people started to send us PDFs of their own work, already laid out "Victory style." And sometimes it was pretty good. I think the photography side of it has been more quantifiably a thing that we feel proprietarily—not that we invented photography—but we developed this thing that's being imitated. We didn't copy it from someone else; there's always further to go. But that moment when other people are almost trying to encapsulate your formula and show you your formula is weird. And you definitely have to consider like, Hey, do we need to change something here?
Aaron: I think we both have slightly different opinions. I mean, I kind of thought it was cool, you know? I felt like when people started using Victory as an adjective for the way that they shot, I was like, We're an adjective! This is amazing.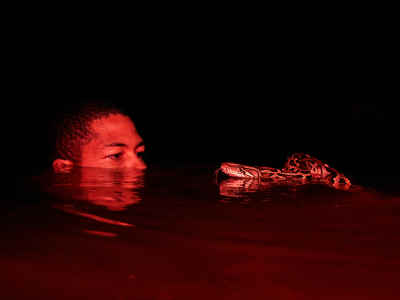 How does fandom inform the Victory storytelling voice?
Chris: I don't know that it's particular to sport fans, or really what portion of the Victory readership really are the kind of sports fans who would be cultishly into new baseball metrics or something like that. I think it's just about loving something. Like loving something very specific, and going down the rabbit hole.
Aaron: The idea of cult classic, not best-seller. We were never really interested in the 85%. We were just looking for that 15% of people who shared the playground with us, that would like this. We used to have boxes and boxes of old stuff. Chris has boxes of things, little things, like sports things, things about growing up when he was a kid. It's like this obsessive collection of things, but it was inspiring in some ways. We wanted to make something that would maybe—if the childhood version of us found it in a back room or in your favorite uncle's attic—and you looked through this box, you'd be like, "Oh my God! This is amazing! I love this." Victory has some funny filters. The stories have this level of living outside of time, but trying to be relevant. You know what I mean?
Chris: I did a story for Victory about a regional cross-country championship, which was about an hour and a half upstate. Even though there was a cross-country team at my high school, I never went to one of their races. It was the Northeast Regional to advance Oregon for the final. It snowed. It was freezing. These kids were in those singlets. They did the lineup at the start of the race, which was 300 people wide, and this race was one of the most intense sporting events I've ever been to in my life. I saw someone lose a shoe and finish a race, and their foot was just a mass of blood. I saw multiple people have to go out in an ambulance—they pushed themselves so hard to finish. This thing that was sitting near me, that I never even saw, is one of the most exciting things that I've ever seen. To your point, I think it's about this enthusiasm and discovery. You're not getting jaded. We're intentionally trying to engineer experiences for ourselves, for our contributors, for someone where it's like, "Okay, Amos [Barshad], you're going to go to Kosovo, to cover a gymnastics team that may never be in the Olympics." Doing unexpected things and having these first-hand encounters, and dropping below the radar of what's regularly covered, or moving sideways along it, I think leads to encounters that restore the original enthusiasm that we had to do the project in the first place.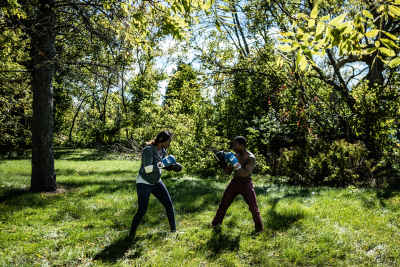 How do you preserve your sense of wonder?
Aaron: That's a really good, hard question. I'm inspired by many things. I was blessed with this heavily fortified version of wonder, where I can wake up in the morning and be personally driven to explore the nuance of things. I also feel like I'm almost pathological. I relate to dudes like Jiro Ono, and I feel like I could probably do the same thing every day, and be interested in it every day.
Chris: I need first-hand experience to do it. I went to Wimbledon this year, and I didn't cover it for Victory, but I saw Coco Gauff come from behind and win the 3rd round match. It was wondrous. The game was wondrous, the way the crowd reacted was wondrous, discovering that rosé tastes good with ice was wondrous. It opened me up.
What about style—the writing, the tone, the imagery. I'm thinking especially about those stories that don't immediately conjure "sports," like your feature on the Westminster Dog Show.
Aaron: Those stories provide variety. We shot the Championships of Checkers, and there's this picture that I love. This person had a custom ring. A giant gold ring with a diamond and onyx checkerboard on it. It was awesome. There's this heavy category of fashion, style, culture, and things that represent people through that lens of sports and storytelling, and so on and so forth. Seeing what people are wearing in different areas and different cultures. What's basketball fashion in the Philippines versus what does it look like in Paris?
Chris: I want to mention the writing style because that's something that's really evolving, and with Nathaniel Friedman and Kate Perkins—our deputy editors—it's something that they've really brought to the table in the last few years. We've wanted to elevate the long-form pieces so that they're cinematic. We're getting to a place of really well-observed, well-paced, interesting narratives that can be sustained, at 4,000, 5,000, and 8,000 words.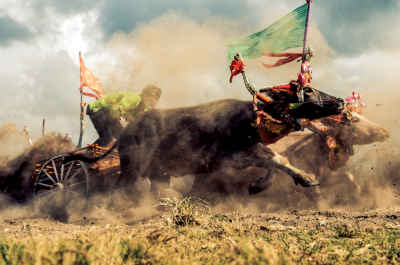 Let's talk about size. The magazine—it's big.
Aaron: The size is hard. There are a lot of little things that come up when you're creating something, and one of the things was: what happens when everything gets digitized? What happens when productivity takes the number one slot? What happens when there is no more rationale for doing things like this? I still feel like there needs to be a few people with their foot in the door, not letting the door slam. I feel really strongly that we're just holding that space for somebody else to want to get down with making their shit weird, because it's awesome, and it should be made.
Durga Chew-Bose is the Managing Editor at SSENSE.
Interview:

Durga Chew-Bose

Collaborator:

Victory Journal / Aaron Amaro, Chris Isenberg, Kate Perkins, Nathaniel Friedman, Shane Lyons, Tim Young

Date:

November 11, 2019