The Luxury of Emptiness: Meet Indonesian Architecture Firm DUA
On Space, Tradition, and Building a Revolution Out of Paper
Interview:

Adriano Sack

Images/Photos Courtesy Of:

DUA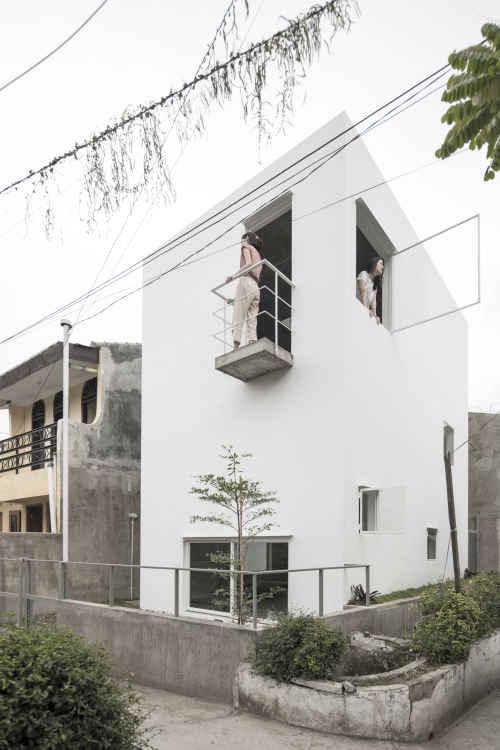 "Incredibly sensitive and elegant," is how Berlin-based architect Roger Bundschuh describes the work of DUA, the Indonesian architecture firm Ardy Hartono and Dimas Satria founded in Jakarta in 2015. Bundschuh teaches architecture in Dessau, a stone's throw from the iconic Bauhaus building Walter Gropius designed in 1926, and it was while teaching that he met Hartono and Satria, who completed their master's studies under his guidance. Shortly after graduating and starting their own firm, the duo were appointed part of the team to conceptualize the Indonesian pavilion for the 2018 Venice Biennale. The newcomers avoided the temptation to create a showy piece to impress the international crowd, and instead did...almost nothing.
Gigantic strips of white paper hung in an elegant curve in one of the rustic halls of the Arsenale. They called their concept "Poetics of Emptiness" and wrote something of a manifesto to accompany it: "This paper pavilion embraces the site and the gravity as the determining forces to construct the form and the space, as opposed to the common authoritative constructional elements such as column, wall, and roof." Their gentle-handed intervention turned out to be one of the most quietly magnetic attractions of the whole event. Theirs is an architecture that does not hammer its grandiosity into the viewer. What DUA does is humble, seemingly old-fashioned, and yet almost revolutionary in the era of "starchitects." "The era of icon is over, over, over," says Bundschuh, a tough teacher, not one to sing praises unless he considers them 100% deserved, "And DUA are spearheading the new era."
Another of their few finished projects (in the world of architecture, clocks tick at a glacial pace) is a tiny house in Bandung that seems, on first glance, almost like a joke. The windows are proportioned so that people standing on a tiny balcony or looking out of a window appear too big, somehow off. The architects removed all walls and vertical separation between spaces and left just one high room, with different zones on different levels. Entitled 4x6x6, the building is a hyper-elegant, deadpan answer to the challenge of building in high density areas (which is, obviously, the future of building everywhere). It shows the rational, poetic approach of DUA—their dry sense of humor and dedication to pushing boundaries. The photos of the house are vaguely reminiscent of the famous images of the Bauhaus building in Dessau, where young students dreamt of building a new and better world. A collection of DUA's ongoing projects is called: "Currently Still Questioning." It is clear: if you want to quietly change the world, questions are the answer.
I spoke with Ardy Hartono & Dimas Satria about the Venice Biennale, office food, and the beauty of cross-ventilation.
Adriano Sack
Ardy Hartono, Dimas Satria
You called your project for Venice "Poetics of Emptiness." Why poetics?
We found that emptiness has a lot of intangible qualities, where everyone can have their own perception and impression about a certain spatial character. These qualities can evoke emotions and play. Just like poetry.
Why not "Politics of Emptiness"?
Interesting, that would also be a very intriguing study. But a different one.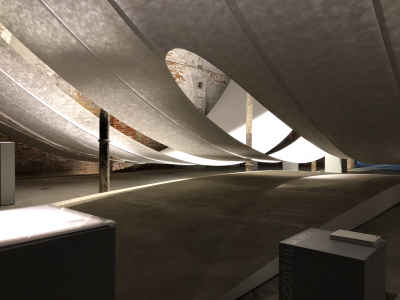 The pavilion at the Venice biennial referred to traditional Indonesian building practices. Is paper a traditional Indonesian building material?
Of course not. The tagline of the Indonesian pavilion was, "What if architecture has no form and no shape, maybe it will be freed." We wanted the project to be about the essentials of Indonesian architecture, and we wanted to show these qualities in a simple and subtle way.
It is all about the poetics, the qualities, values of emptiness. We feel it has a deep meaning in the study process, and we found that qualities from various precedents. We thought about it and came up with the idea to show the abstraction of emptiness. So we divided the existing Arsenale area into solid and void, into a dark and a bright space. We wanted this division between dark and bright to be very subtle, thin, and delicate. As subtle as a piece of paper.
You call your introduction to the pavillon a manifesto. A manifesto is normally written to break with a certain practice and start something new. Are you revolutionaries?
At that time, the idea was to start a discourse. Perhaps it also has a connection with our practice. We are thinking about something fresh, but not that loud.
What is the architectural status quo that you want to overcome?
Ardy: If only architecture could really connect! People with people, and people with nature, through program, design, or spatial atmosphere. We believe that art, music, song, performance, and film can transmit a message, emotion, or story. What if architecture also has potential to do that?
I think emptiness works like a pause in music. It can be soothing or dramatic.

Why do you think emptiness is needed?
Ardy: I think emptiness works like a pause in music. It can be soothing or dramatic. Emptiness in architecture can be an active space to rest, to cherish, to enjoy, and to contemplate.
Emptiness is usually found in museums or modern churches—emptiness is perceived as a luxury. How can it work for everyday architecture?
We want everyday architecture to offer this luxury. During our study about the quality of emptiness, we interviewed users from various types of buildings, and everyone had a different association. A lady in a traditional market says that the void helps the air to circulate, and that space is bright. The owner of Galeri Nasirun in Yogyakarta loves the void inside their house-gallery, it is the place where they gather with relatives and friends. The actor and humanist Mas Butet Kartaredjasa loves the empty space inside his "Joglo," where he spends his daily life.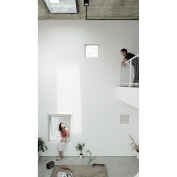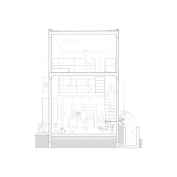 How do your "poetics of emptiness" work in relation to the tiny 4x6x6 house in Bandung?
The house is located in a densely populated area. Our initial idea was to create a spacious house even if the lot is very small, only 56 square meters. We divide the public and private space only through height. The house is basically an empty space, without a physical divider or partition. It is fluid, floating. The user can flexibly activate the space, moving from one level to another. In that extremely dense area, void is a rare thing. People usually maximize the space usage, leaving no empty area. So this house is an exception. And yes, perhaps it is a luxury to have this emptiness.
You studied in Dessau, right next to the Bauhaus building. What impact did that have on you?
It changed the way we think. And we were excited to see the Bauhaus building directly, because you can capture the details and the proportions much better than in books.
Did you see any recent building in Berlin that you consider beautiful or important?
Ardy: I like the Berlin Philharmonic by Hans Scharoun. The Holocaust memorial by Eisenman brought atmosphere, depth and thought that I had never experienced before. And the Jacob-und-Wilhelm-Grimm-Zentrum (the library of Humboldt University in Berlin) by Max Dudler is special for me.
Why did you decide to open your office in Jakarta?
Jakarta is somehow extreme. Fast, maybe unpredictable. Every day brings a surprise, and most importantly: the architecture and art scene is vivid and growing.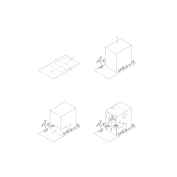 Dimas: I was born and grew up in Jakarta and had a typical childhood: reading manga and playing soccer. Each year my parents took me to a small town in the middle of Java, Yogyakarta, where my grandparents lived. For me, a memorable place—I would play hide and seek in an old traditional house, or stroll around on the streets.
Ardy: I grew up in Bandung, a city surrounded by mountains. My childhood house was in a busy and dense neighborhood, but people knew each other. Before I moved to Dessau, I had never been far from home.
What were the most important aesthetic influences in your youth?
Ardy: My older sister is an artist. She introduced me to drawing books, Japanese manga, and other comics. The first one was by Hergés. That was the beginning.
Who or what made you want to become an architect?
Dimas: To be an architect is not the final goal. I would prefer to describe it as a journey, which keeps growing since I studied architecture.
Ardy: It started with my love of drawing. And my childhood house in Bandung is very small and each time it rained it would leak. So my primary motivation was to build a solid house for my family.
Who is doing what at DUA?
We prefer teamwork: brainstorming, exploring design, drawing, feedback rounds. Sometimes Ardy cooks, Dimas brings homemade cakes from his wife, and our colleague Wilusty is a great patissier. We are still trying to find a perfect schedule for us to do sports together. Sometimes we do "liwetan," which means eating together at a long table or on the floor—food covered with banana leafs.
The past might help to rethink our relation to nature, and befriend it again.
Modernism ended in the so-called International Style, assuming, the building could and should be similar all over the world. You stress the role of building traditions. What are the Indonesian building traditions?
In terms of tradition and nature Indonesia is very diverse. It consists of more than 17 thousand islands. People who live by the coast and work as fisherman build their houses in the shape of a ship. On the other hand, people who live in the mountain put their houses on stilts, to protect themselves from beasts and floods. But all of them use local material, something that they can easily find nearby. Not all ancient traditions and rituals can be applied today, but there is a lot to learn. The clearest example is about climate. Our ancestors have already found that cross ventilation and blinds to provide shade are crucial. Other traditional elements—a terrace in front of and sometimes surrounding the building, a sharply inclined pitched roof to help rainwater down quickly, a large overhang that provides shade and protect from heavy rain—are very important. The past might help to rethink our relation to nature, and befriend it again.
How can local architecture have a global impact?
We believe that diversity is good, so we can learn something different from each other. In architecture, every typology reflects a different local context, culture, tradition, etc. We can learn from the other parts of the world, especially now, that information is very fast and easy to collect.
Interview:

Adriano Sack

Images/Photos Courtesy Of:

DUA

Date:

November 21, 2019