NASCAR's BIG STAR: Brehanna Daniels is Having a Good Year
The Crew Member On A History-Making Course, Taking No Pit-Stops
Text:

Michael Venutolo-Mantovani

Photography:

Geoffrey Knott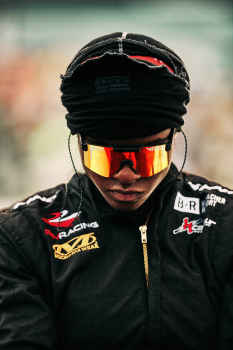 SSENSE and Victory Journal team up on five stories related to style in sport.
The tire changer is perched atop the short concrete wall, knees bent, ready to spring into action once the battle-scarred race car pulls into the pit. They give the impact gun's trigger a few pulls, eliciting a series of the zip-cracks synonymous with stock car racing. Perhaps this is a way of shaking some kind of race gunk out of the gun. Perhaps it's just force of habit, passed down through generations from the moonshine-running outlaws who invented the sport.
Thirty-nine race cars rumble down pit road, their 358-cubic-inch small blocks shaking the very ground beneath them as 47,000 fans rise to their feet. They have packed into Darlington Raceway's grandstand on a sweltering late-August South Carolina night for The Southern 500, one of NASCAR's crown jewel races, and are all angling for a better view of one of stock car racing's most exciting moments: the pit stop.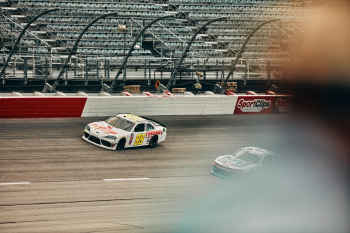 Thirty-nine pit crews spring into action as their drivers pilot their cars into the designated pit stalls, where each car will get four brand-new Goodyear tires slapped onto their race-worn hubs, have a full tank of Sunoco fuel dumped into the tank, and undergo the track- and sway-bar adjustments necessary to hug the banked curves of Darlington's famously brutal track, a track so violent and unforgiving that it's referred to as "Too Tough To Tame."
When the car comes to a screeching halt, the pit crew leaps over the wall as brake dust billows out of the used-up wheels. The crew—one front tire changer, one rear, two tire carriers, a jack-man, and a fuelman—work their choreographed routine, dancing around each other with a preternatural sense of the exact location of their teammates.
The tire changer sprints toward the car's far side, staying as tight to the bumper as possible. As the jackman slides his massive steel carjack beneath the car, hoisting the 3,500-pound race car's right side off the ground, the tire changer slides to their knees on well-worn knee pads and hits each of the rear right tire's five lugs.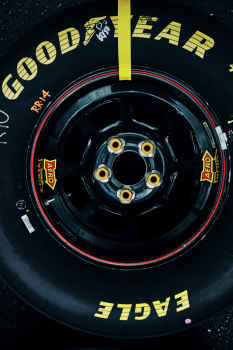 The tire carrier pulls the melted tire from the car and rolls it aside for another crew member to handle. A fresh wheel wrapped in brand new Goodyear rubber is lifted onto the car's hub. The tire changer smashes the little button on their impact gun, changing its setting immediately from loosen to tighten.
The five lugs fasten the wheel safely to the car, the jackman frees the tension on the jack, the car thuds to the ground, and the pit crew sprints to do the exact same to the car's left side. The jackman again lets out his jack and the car slams into the asphalt.
"Go go go go go!" the crew chief tells his driver via radio the instant the car hits pavement. The wheels spin as the driver smashes the gas pedal into the floor, coaxing the 800 or so horses beneath his hood back to life. Four fresh tires, a full tank of fuel, and precise race adjustments—all in under 15 seconds.
The pit crew climbs back over the wall and remove their helmets to reveal heads covered in fire-retardant head sleeves. Most of these men are large-to-enormous in stature. Many are former major-college football players. Tossing tires, massive car jacks, and fuel tanks around like this requires raw strength and plenty of athletic ability.
As they climb back over the wall and congregate behind their team's pit box, and the helmets and head sleeves come off, it becomes apparent that the tire changer isn't exactly like the rest of her team. The tire changer is Brehanna Daniels, the first African-American female tire changer in NASCAR history.
Mooresville, North Carolina is the center of the American stock car racing universe. The governing body of NASCAR is headquartered 30 miles down Route 77 in a gleaming high rise in uptown Charlotte. But here in Mooresville, every gravel parking lot finds at least one race car hauler and an in-process chassis build can be seen through almost every open garage door. It is here that the rubber tracks of a million burnouts dot every country byway, and discarded tires pile up beside home carports where stock car racing lives.
It seems like every car on Mooresville's winding country roads is a hot rod, with road-rumbling exhaust pipes and asphalt-grabbing, low-profile tires that can push these American-bred street machines down a quarter-mile race strip in sub-14 seconds. Nearly every truck is lifted, sitting high on 33s or 34s at minimum, each of their pitch-black rear windows adorned with a sticker denoting the number of the modified or street stock that their owner races every Saturday night at local tracks throughout the Southeast.
A light rain falls as Daniels pulls into the parking lot of Mooresville's Xcalibur Pit School in her bone stock Jeep Wrangler, an outlier in this lot full of those Mooresville hot rods and those Mooresville trucks. She apologizes for being late. Daniels doesn't have a full-time job with a race team, so she has to work nights at a Charlotte-area Top Golf driving range to help with her expenses.
She heads into the no-frills facility where she trains every day and waits for the weekly call that tells her which race, and with which team, she'll be working that weekend. NASCAR's underfunded teams can't afford to carry fulltime crews on the payroll and use outfits like Xcalibur as a sort of weekly pit crew staffing agency. Daniels has no way of knowing where her next race will be.
Xcalibur is a converted garage that hosts a simulated pit stall. Tires, perhaps a hundred of them, are piled behind a 20-foot-long, two-foot-high concrete wall, and there are buckets everywhere filled with thousands of tiny yellow lug nuts. Every few minutes, a stock car rumbles to life just outside the garage's rolled-up door and pulls into the fake stall for a practice stop. A team of crew hopefuls will change this car's tires and mimic a tank refill dozens of times over the course of the afternoon.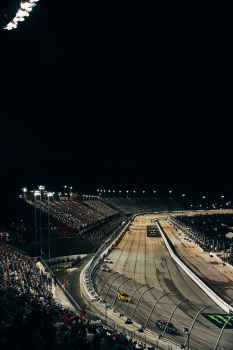 Daniels was a scholarship basketball player at Norfolk State, a historically black college in coastal Virginia, when she was recruited by NASCAR's Drive For Diversity, a program aimed at bringing more women and people of color into the sport's ranks. Around four years ago, the program began hosting football-style combines at HBCUs around the country. The goal was to identify athletes who didn't have a professional future in their chosen sport but still wanted to compete—even if they didn't know the first thing about racing.
"I had heard of NASCAR," Daniels says. "I had no idea what it entailed. But I knew I didn't want my athletic career to be over."
Tiffany Sykes, then Norfolk State's basketball announcer, convinced Daniels to attend Norfolk State's combine in May of 2016 by showing her a YouTube video of a NASCAR pit stop. Daniels was amazed at the speed and athleticism of the pit crew and decided to attend the combine, where she performed well enough to be invited to the national combine, which landed her at a spot at NASCAR's pit school training program at Concord, North Carolina-based Rev Racing.
At Rev, Daniels spent the next six months working under the tutelage of veteran crew chief Phil Horton, learning the intricacies of a pit stop. She watched films of tire changers snaking around one another, massive tires tucked beneath their arms. She learned the rules and regulations of a pit stop, how many members of the crew were allowed over the wall, and the danger and threat of penalty of letting a loose tire roll away from your reach. She learned that "being tight" meant the car had too much grip and not enough speed and, conversely, that "being loose" meant the car had good speed but little control. She learned how tire pressure might affect these issues. She learned how to use an impact gun.
Daniels's body hurt and her brain was exhausted. She iced her hands, which were sore from using the impact gun and tugging steel wheels off of race cars. It reminded her of her early days as a college basketball player.
"I knew it wasn't going to be easy but I don't know if I expected it to be that hard," she says.
After six months of training, Daniels landed with Xcalibur. Shortly thereafter, she made history. At the 2017 spring race at Delaware's Dover International Speedway, Daniels became the first African-American woman to pit in a NASCAR racing series.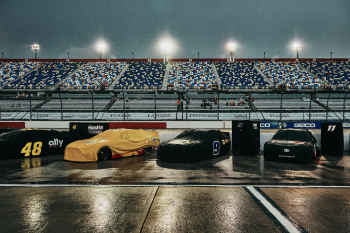 It's late in Darlington, almost midnight. The front end of Hurricane Dorian delayed the Southern 500's 6PM start by nearly four hours and the race is barely a quarter finished. But the cars roar on and no one has gone home.
Brehanna Daniels and her pit crew are huddled near the back end of pit road, milling around after a recent pit stop. They're working with Rick Ware Racing's 54 car, driven this night by young wheelman Garrett Smithley. It's Smithley's first Southern 500 and little is expected of him and the 54 team. It rarely ever is of these also-ran teams known as "lappers," a pejorative derived from these cars' inability to stay on the lead lap. For a lapper, simply finishing a race is a small victory.
On lap 67, the 54 car gets loose and spins across the asphalt. Smithley corrects before hitting the wall or any other cars, and the yellow flag waves as massive amber lights flash all around the track, letting the drivers know that the race is under caution. The pace car, a bright red Chevrolet Camaro, pulls off pit road and the 39 race cars file in behind it on the track.
Smithley's crew rushes to gear up for a coming pit. As the cars turn one very slow lap around Darlington's angry track, edging closer to turn four, closer to the entry of pit road, the crews tighten up.
Bumper to bumper, the cars exit turn four and make a hard left, rumbling down pit road, their bright paint schemes blending in to one giant brushstroke of racing greens, impact reds, and high-octane yellows. Garrett Smithley's team await as nearly all the cars breeze by ahead of him. The 54 car inches closer to its pit stall, and the crew members' stances tense as they take their places atop the low pit wall. Jacks and fuel cans are heaved on massive shoulders. Brehanna Daniels grips her trusted impact gun and coils her body tight, ready for the dance she's practiced a million times before.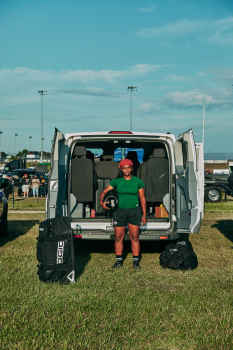 Text:

Michael Venutolo-Mantovani

Photography:

Geoffrey Knott

Collaborator:

Victory Journal / Aaron Amaro, Chris Isenberg, Kate Perkins, Nathaniel Friedman, Shane Lyons, Tim Young

Date:

November 12, 2019