How Box Logos and the Blockchain Reveal Our Anxieties About An Uncertain Future
Jeff Ihaza Explains the Surging Interest in Streetwear and Cryptocurrency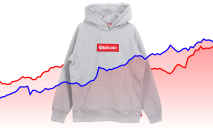 Current price of a Supreme Heather Grey Box Logo Hoodie: $1200 USD
Current price of Bitcoin: $10,590 USD
Last June, a strange billboard appeared across from Supreme's Lafayette Street location. Paid for by a millennial-focused investment platform called Wealthsimple, it was there to promote a report the company had produced explaining how one could turn streetwear into a long-term investment scheme—"The Supreme Retirement Plan: How to Become a Millionaire by Flipping Streetwear." A few months later, Supreme would itself accept a $500 million dollar investment from venture capital firm The Carlyle Group, giving the company a $1 billion valuation. (Also a pretty good retirement plan, if you're Supreme founder James Jebbia.)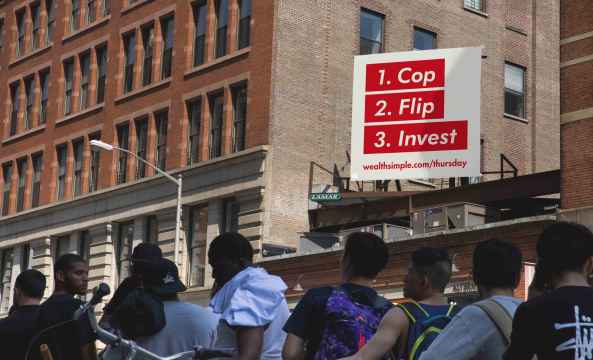 These were just two of many indications that 2017 was the year that streetwear took over high fashion. Under Demna Gvasalia and Alessandro Michele, Balenciaga and Gucci continued to dominate the conversation with artist collaborations, coveted sneakers, and t-shirts, hoodies, and accessories branded with logo flips—items and techniques that have typified streetwear from its earliest incarnations. Virgil Abloh's Off-White continued its meteoric rise on the back of limited-edition drops and exclusive collaborations. Burberry worked with Gosha Rubchinksiy. And, of course, there was Supreme's Fall/Winter 2017 collaboration with Louis Vuitton.
Faced with a generation of consumers who are both the most well-informed and fiscally precarious in modern history, luxury labels are searching for ways to remain relevant—and therefore profitable. Streetwear fills that void. The multimillion dollar aftermarket for rare sneakers and apparel represents a shift in consumer desire, where a hoodie that costs $148 at retail can be worth 10 times as much on an online resale platform like Grailed or StockX. Naturally, the entire industry wants a piece of this action.
This dynamic chimes with the rise of cryptocurrencies like Bitcoin and Ethereum—virtual money that relies on decentralized network technology to handle transactions. As investment in cryptocurrencies surged throughout 2017, their value skyrocketed, turning some early investors into millionaires literally overnight and fuelling a rapacious growth cycle that may or may not be a bubble waiting to burst. It became impossible to avoid discussion of cryptocurrency in the latter half of 2017, and in December, Bitcoin futures began trading on the Chicago Mercantile Exchange, the world's largest futures exchange, encouraging investment from the biggest financial institutions.

Both streetwear and cryptocurrency seem to offer alternatives to established systems that have adapted poorly to cultural shifts. The fact that the old guards of finance and fashion are beginning to take note speaks to looming anxieties about an uncertain future.
Cryptocurrency was dreamt up in the 1980s by cypherpunks who were looking to create a decentralized economic system. Bitcoin, which was released in 2009 by the anonymous programmer—or team of programmers—known as Satoshi Nakamoto, makes this possible with the blockchain, technology that keeps a ledger of transactions on an anonymous, cryptographically-secured network of computers. Interest in cryptocurrency was initially ideological. It attracted users from across the political spectrum who were excited by the potential of a truly free market unencumbered by the agendas of big banks and dominant investment institutions. This was particularly appealing in the wake of the 2008 financial crisis.
Then people realized they could get rich.
Like a limited-edition sneaker, the fixed number of Bitcoin—an estimated 21 million—contributes to its skyrocketing value. Bitcoin are "mined" by solving increasingly complex mathematical problems, which means that they are becoming more troublesome and expensive to produce as the supply dwindles. The price of a single Bitcoin increased from $830 at the beginning of last year to a high of around $19,500 in December. Today, it's valued at over $10,000 apiece. Ethereum, another popular cryptocurrency, started in 2017 with a value of just under $10, and today, costs more than $1,000. ICOs—initial coin offerings—which raise money for new cryptocurrency businesses, have facilitated a bevy of opportunistic entrants like Cream Capital, a firm co-founded by Wu-Tang Clan's Ghostface Killah, that is currently looking to raise $30 million in a digital sale of "C.R.E.A.M" coins. Owning cryptocurrency is now seen as a hedge against another financial meltdown, and has replaced gold as the investment of choice for doomsday preppers. And the blockchain technology that drives all cryptocurrencies is being explored by Goldman Sachs, one of the architects of the 2008 collapse.

Streetwear's allure comes from a different sort of currency: perceived authenticity. Dick Hebdige points out in his 1979 book Subculture: The Meaning of Style that, "humble objects can be magically appropriated; 'stolen' by subcultural groups and made to carry 'secret' meanings which express, in code, a form of resistance." The language of streetwear is rooted in these subcultural movements, where mundane garments like t-shirts or oversized jeans take on meaning that exceeds their monetary value and communicates membership to a particular group. There's a sort of alchemy to the way these brands forge deep connections with individuals that turn them into devoted customers. It makes sense that the fashion establishment is turning to a cohort of creative directors who intrinsically understand streetwear's codes.
And while streetwear-savvy designers begin to fill the ranks of legacy houses, private equity is circling the space, too. Around the same time as Supreme's $500 million investment, the skateboard apparel company Huf sold a 90% stake to the Japanese investment firm TSI Holdings for $63 million. In December, Business of Fashion published a story outlining 10 potential targets for acquisition.
For streetwear and cryptocurrency, mainstream actors have generated a frenzy around once-subversive niches in an effort to retain power. Which raises the defining question for both going forward: what does it mean when the biggest brands in the world are suddenly crashing the party?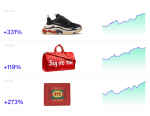 Streetwear's integration into the fashion establishment is irreversible, representing luxury conglomerates' adaptation to the habits and desires of younger consumers. The industry lives off of the energy generated by subcultures, consuming them whole in order to render them palatable at scale. One could argue that this shift has reduced streetwear, once a countercultural emblem, to nothing more than a luxurious signifier of "cool." When the underground is surfaced by market forces, it tends to retain the aesthetics of subversion, but not the intent.
But perhaps fashion could actually learn something from streetwear. It has long been a platform for marginalized communities to create distinct sartorial movements—think of the prescient looks of Fubu or Mecca in the early aughts—but only recently has the fashion establishment begun to recognize its talents. Gucci will soon open its first store in Harlem in collaboration with Dapper Dan, the neighborhood icon known for his unique, luxury-riffing designs made for rappers, hustlers, and "street people" in the 1980s. Dan himself called this "a sign of the times." It might signify the beginning of a more inclusive era in fashion.
The increased mainstream interest in cryptocurrencies and the blockchain could have positive outcomes, too. Bail Bloc, for instance, is an app that uses a small amount of your computer's processing power to mine a cryptocurrency called Monero, which is converted into US dollars at the end of each month and "used by the Bronx Freedom Fund to post bail for low-income people detained in New York effective immediately." And as cyberattacks increase in severity and scale, there are endless potential applications for a digitized database that is, theoretically, completely secure and anonymous.
This is, of course, an optimist's view. It's equally possible that, rather than moving towards the ideological center of both streetwear and cryptocurrency, the machines of fashion and finance will simply extract all the value they can from each before moving onto the next thing. Perhaps the reason everyone is looking for a get-rich-quick scheme is because it feels like time is running out.
Jeff Ihaza is a freelance writer and producer in New York. His work has appeared in GQ, The Fader, The Outline, and more.