From Airpods and the Telfar Tote to Hailey Bieber's Off-White Wedding Dress: A 2019 Garment Retrospective
The SSENSE Editors on the Fashion That Defined The Year
Text:

SSENSE Editors

Illustration:

Sally Thurer

For our year-end retrospective, the editors compiled a list of 10 of 2019's most memorable garments. Who wore it, why, and what does it tell us about how we lived then—and where things might be heading.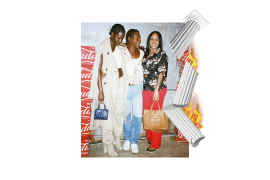 In an interview in Dazed in 2014, designer Telfar Clemens announced his hope for everywhereness—for brand infinity. "I want to be mass-marketed in a way that's scary. It's like a Michael Kors bag. Everybody has one of those. But it's even dumber than that. I want to be Michael Kors, but on purpose." Six years later and the iconic Telfar Shopping Bag is the in-demand and affordable, word-of-mouth must-have non-leather tote that has recast the idea of fashion influence. Essence named it the millennial's Birkin. The Wall Street Journal described as the simple, boxy vegan bag as the "it-bag that broke fashion's rules" and Kelela characterized her dependence on it (and the bag's softness) as "a comfort thing." At its price point, as writer Michael Cuby noted this fall, "The Telfar Shopping Bag posits that anyone can be an in-the-know fashionista, regardless of what's in their bank account." It's irrefutable: the Telfar Shopping Bag was the bag—and potentially the accessory—of the year. In a time where words like "inclusive" are thrown around recklessly and plenty of work is required to undo the damage of platitudes over true action, especially in an industry like luxury fashion that is reductive, self-interested, Telfar's presence in the fashion world and beyond, is a reminder of what matters most: the power of community, art, and means of entry.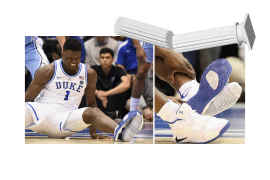 Zion Williamson's Busted Nike
Ballislife.com, the de-facto YouTube channel for tracking highschool basketball prodigies, has nearly 2.36M subscribers on its main channel—and they've all been watching Zion Williamson since he was in highschool. Now only 19 years old, at 6'6" and 284 lbs, Williamson is a powerhouse—dunking is as uncomplicated a facility for him as putting a bag of chips on top of the fridge is for the rest of us. But the same wild velocity that propels his body effortlessly through the air has the potential to cause some serious damage if somehow misdirected, which is what happened during a game in February earlier this year. 36 seconds in, everybody's favorite rookie pivoted and blew through his Nike PG 2.5 shoe, spraining his knee. Nike's stock plummeted 1.1 billion dollars overnight, while fans and industry stakeholders alike pleaded for Williamson, a top NBA draft prospect, to stop playing at a college level. While Nike has recovered from its fall, even designing reinforced shoes for Williamson, the player (who has since been drafted by the New Orleans Pelicans) is still in and out of recovery from various injuries, but set to be back on the court before the end of 2019. Named after a mountain, Williamson is defining his very own Zion mythology—any 180 pivot is only as successful as its foundation is strong, so you'd better have good shoes. As Zion says, "Let's dance."
Trump's Louis Vuitton NeoNoe
Louis Vuitton had a big year: The brand dressed some of the brightest stars of 2019 (see Indya Moore at the Met Gala); their resale value skyrocketed as Rihanna and Kylie continually debuted vintage oddities; they opened a massive retrospective of 160 years in iconic artist collaborations in Beverly Hills; and they invited Donald Trump, the least cool celebrity in America, to the opening of their new factory in Alvarado, Texas. The ribbon-cutting at Rochambeau Ranch, a facility promising to bring to over 1500 American jobs over the course of five years, saw The President and LVMH Chairman Bernard Arnault shoulder-to-shoulder, smiling and handshaking. Trump held a Neonoé bag like a hot potato and mispronounced the most famous luxury brand on Earth: "Looo-whee Voo-tahn," he chirped. The online response to this media event was a tepid disappointment indicative of a public now too inundated with absurdity to continue to care. Some people called for a boycott of Louis Vuitton (as if people who buy luxury goods aren't among the most politically apathetic), like the similarly Trump-fuelled Equinox boycott. While we now accept politicians as branded entities, we still expect them to stay relatively disengaged from what's fashionable. And while luxury brands are motivated by money, we still want them to uphold at least the illusion of principle. As Robin Givhan wrote for The Washington Post: "The ribbon-cutting was jarring in its utter nonchalance, in its unflinching fealty to corporate normalcy during these most abnormal times. Can there be neutral ground when the players are a president who has made women in general, along with immigrants and members of the LGBT community, feel as though they are under siege, and a billionaire mogul who reaps tremendous profits from those very people?" Another weird thing: Trump's daughter Tiffany is named after the jewelry brand Tiffany & Co. which, coincidentally (...?), LVMH acquired this year. 2019 was the year people went full-on flagrant with their insidious ties.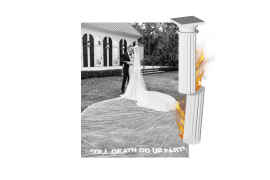 Hailey Bieber's Off-White Wedding Dress
Today, Virgil Abloh's ALL CAPS are as ubiquitous and bootlegged as a fast food chain logo. Perhaps one of the only markets unturned was bridal couture, until this year, when Hailey Bieber wore a custom Off-White wedding dress, embroidered with the brand's logos and finished off with a veil stamped "'TILL DEATH DO US PART." Not only did she successfully clout-seed her wedding look, but the veil alone inspired, of all things, a passionate spelling debate. This dress synthesizes our ever-intensifying race towards the hyper-commercialization and meme-ification of life and its most sentimental milestones. This was the ultimate streetwear co-brand for the influencer generation, the era of the cool Christian mega-church and Kanye's Sunday Service. Consumerism, but make it Christ-like. With Instagram as popular as ever, and "likes" still governing the choices we make on and offline, we're left asking ourselves, will this moment sum up only 2019, or is this just life now?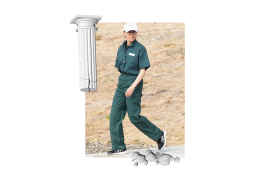 Felicity Huffman's Jail Outfit
Although reminiscent of an influencer #OOTD consisting of matching Dickies, ironic mall sneakers, and a dad hat, this is in fact actor Felicity Huffman in jail during her 14-day sentence at the California Federal Correctional Institute this past October. Convicted in the wide-reaching college admissions scandal that saw wealthy parents ousted for bribing their children's way into post-secondary school, Huffman was one of the first in a list of 33 parents to actually serve time. Her moment behind bars, although minuscule, was a rare show of consequence for an elite, a group who so often evade actual repercussions. This case—aptly dubbed "Operation Varsity Blues"—further proves that the world is not a meritocracy as many legacy establishments would have us believe. In the last decade we've seen scammers aplenty, and despite this big-bust, it's likely that elites will continue to evade lasting penalties. Cash still rules everything around us—even infamous ex-convict entertainer Martha Stewart had something to say.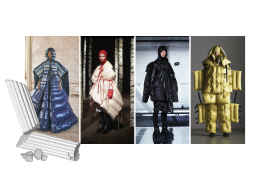 This year's roll out of Moncler Genius collaborations turned pre-parka-season dread into an artful obsession with puffer potential. Since the project's first presentation in February—including offerings from Simone Rocha, Matthew Williams, and Valentino's Pierpaolo Piccioli, each incorporating their idiosyncratic signatures into the luxury Italian outerwear label's staples—it's quickly garnered a cult following amid a fashion world with an ever-decreasing attention span (via celebs on social media and a business model that caters to the millennial need for what's new). As the brand's CEO Remo Ruffini said in an interview with Business of Fashion, "You cannot talk to your customer every six months; you need to talk every day." With appearances in fashion editorials, on the red carpet, and, of course, all over Instagram, the company has successfully surpassed its seasonal-based counterparts with innovative formal attire and deconstructed Craig Green jackets that look more like wearable (though perhaps dysfunctional) sleeping bags. Last month, for the cover of GQ's "New Masculinity" issue, Pharrell Williams wore a yellow Moncler Genius x Pierpaolo Piccioli puffer gown, pairing perfectly with the magazine's headline: "An Exploration of Identity, Culture, and Style in 2019."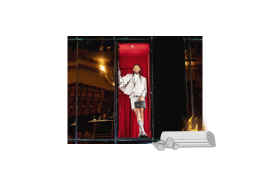 Jeremy O'Harris' Thom Browne Skirt Suit
As the year comes to a close, one name continues to climb the charts: Jeremy O. Harris. The playwright, screenwriter, Gucci muse, actor, and according to Out magazine, "the queer black saviour the theatre world needs," is, well, everywhere: gracing magazine covers like Garage (shot by Roe Ethridge) and M le mag (shot by Petra Collins), in bylines (having interviewed both Rihanna and Megan Thee Stallion), spending BFF time with Mel Ottenberg and Hari Nef (who starred in Harris' off Broadway drama, Daddy), on Twitter @ing everyone from Natasha Lyonne, to critics, to audience members desperate for last-minute tickets to Slave Play, his Broadway sensation. But Harris is more than just a theatre world superstar—his brilliance is tethered to his deep sense of style (beyond fashion: style as in how magnetic Harris is, but also style as in how his work resounds with audiences who might not have ever felt seen or invited to partake in Broadway's spectacle). Harris has altered Broadway forever. But let's talk fashion too. Because one cannot celebrate Harris' impact and truly wondrous appeal without declaring him this year's unwavering and completely inspiring fashion darling. What designer hasn't he worn head-to-toe? Gucci. Telfar. Bode. Givenchy. And of course, Thom Browne. Harris' catalogue of Thom Browne suiting warrants its own coffee table book or cool zine we could totally imagine the brand handing out at their next show. But nothing synthesizes the whole Harris/Browne 2019 whirlwind like that one image of the theatre luminary tech-ing his own Broadway show wearing a full Thom Browne: a skirt suit straight off the runway. This moment, and his accompanying tweet: "teching the feminization of the black male ur preacher warned u abt" is the only energy we hope to carry into a new, likely equally doomed (with moments of pure mirth, sure) decade. In conclusion: there is no one whose rise is more splashy, historic, stylish, beautiful, ubiquitous than Jeremy O. Harris (keep an eye out for Zola, the heavily hyped movie he co-wrote with director Janicza Bravo premiering in competition at Sundance). As Christopher Glazek prophesied in Artforum's December 2019 issue, Harris is "unquestionably destined, as some in the industry have joked, to sign the first billion-dollar Netflix deal."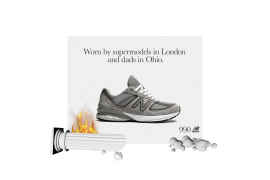 It's not every day—or year, for that matter—that a sneaker drop influences both the international runways and Facebook feeds of boomers in suburbia. It's arguably even less likely that the same style of shoe would gain traction via the likes of Meek Mill, Lil Yachty, Kawhi Leonard, and....Jennifer Garner. The New Balance 990, though, originally released in 1982, makes pre-existing boundaries in footwear demographics seem totally irrelevant. A fresh departure from the debauchery of "dad" sneakers we've seen over the last few seasons—an endless and exhaustive array of king-size silhouettes in blinding fluorescent hues—the success of the shoe (in its fifth iteration) relies on its simplicity. Unassuming in shape, fabric, and primarily gray colorways, 2019's 990v5 embodied its hyper-localized campaigns, featuring slogans like "A cut above the competition," and "The best kept secret in sneakers." It's footwear fit for a moment where the overlap has increased in the Venn of demographics, where the new business model is all about anticipating irony and virality, going completely off-track (or in this case, running laps around it).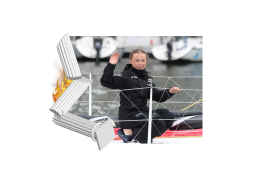 Greta Thunberg's Tactical Atlantic Voyage Outfit
Analogous to the ever-solidifying impression of imminent apocalypse this year was a rise in people dressing like doomsday preppers. Utilitarian in harnesses, clips, belt bags, pockets, straps, thick Vibram-soled shoes and Goretex everything. Hats with chin straps, goggle-like glasses—it wouldn't be a surprise to see Balenciaga emergency flares, or a Dior camper stove for boiling contaminated water. To trace how the surge of tactical fashion maps onto helpless anxiety, picture Greta Thunberg in 2018 in her sunshine yellow raincoat, filled with hope for the future and the belief that she can change the world with her scribbled sign. And then picture Greta Thunberg in 2019, in an all-black tactical look grimacing into the wind aboard a solar-panelled racing yacht that says UNITE BEHIND THE SCIENCE all over it on her 15-day, carbon-neutral journey to America. Fashion trends do not lie: The increase in tactical fashion falls somewhere between fronting, flexing, and slow, careful preparation. Regardless of our ability to digest it, 2019 is the year the climate emergency got real.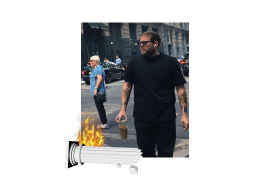 You may be thinking: Hold up a minute—wasn't Jonah Hill in last year's edition of Year in Garments? And you're not wrong to do a double-take. It's the same, pervasive feeling of deja-vu we got this year from the Airpods hype. While they might seem almost synonymous with 2019, they've actually been around a lot longer than that, first hitting shelves in 2017. At over 200$ a pair, the price tag on these wireless buds connotes comic affluence, a conspicuous degree of tech-savviness, and taste. Let's take Jonah as a case study, pictured here on a morning stroll through SoHo. The Equinox in the background emits plumes of eucalyptus and geranium, while he ambles by blissfully, cig and coffee in hand, Airpods in. The simplicity and convenience of Airpods paint an idyllic picture. But this pretty facade obscures an insidious truth: Airpods slowly become unusable after 18 months or so, their lithium ion batteries gradually holding less and less of a charge. And because they're glued together, it's impossible to replace or remove the batteries to properly dispose of them. Airpods, with a shelf life of less than two years, will remain on Earth for twice as long as your body does—the peak of planned obsolescence. The illusion of luxury is at times blemished with impermanence—be it Airpods, or Jonah's tranquil morning, soon to be doomed by the frailty of his single-use coffee cup. While dirty secrets are very 2019, a blatant disregard for the environment is not.
Text:

SSENSE Editors

Illustration:

Sally Thurer

Date:

December 30 2019