Free And Easy Listening With NTS Radio's Femi Adeyemi
The Cult Station's Founder Talks RBMA, Boiler Room, and Growing Up in the London Club Scene
Photography:

Ollie Adegboye

Interview:

Vivien Lee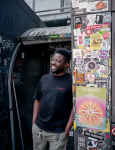 Femi Adeyemi is a pioneer for independent radio, and despite shaping the front-facing culture of modern DJs through NTS Radio (not to mention his hand in the formation of Boiler Room), he keeps a modest profile. Femi has retired from DJing himself, and is hesitant to call himself a "curator," although it would certainly be a well-earned title. Femi founded NTS in Hackney in 2011, and it now has well over 150 shows, with live stations in Manchester, London, Shanghai, and L.A., broadcasting from over 130 locations worldwide. Over the last eight years it has grown from a small shack in Dalston to what it is now: a global hub for underground cultural exchange.
Last fall, I moved to Los Angeles, not really knowing anyone. When the Woolsey Fire and news of tension at the Tijuana border broke out, I spent a lot of nights in listening to NTS to avoid the literal smoke and mirrors of the city. Soon after, I befriended my neighbor Susan, who coincidentally had a monthly show on the same online radio that had been so helpful in making me feel less alone. Susan took me to an open mic event referred to as "Tha Juice Joint" at The Study in Hollywood, where every Monday night Sade cover artists, jazz musicians, R&B lovers, and rap battles filled the room. The venue was dim and unbranded, the audience eclectic and honest. I knew I was surrounded by music purists. Among the crowd was a stylish man with a peaceful disposition, waiting for his friend to go on stage and take the mic. This man was Femi Adeyemi.
Femi has built an empire, and a whole new alternative culture through NTS for nearly a decade, but you won't find any sort of pretentiousness when it comes to his personal taste nor his professional dealings. In all that Femi does, ego is replaced by pure love, by genuine appreciation. "Prince or anything adjacent," Femi dishes, when I ask about his playlist staples. "Ornette Coleman, Meshell Ndegeocello, Ryuichi Sakamoto, [and] Schoolboy Q are my favorite lifetime artists too. Favorite DJ, hands down, is Josey Rebelle." Unassuming as he might seem, the man knows his stuff. Celebrating NTS' 8 year anniversary in-situ the constantly changing landscape reigned by image, internet, and information—Femi sat down to talk to me about his roots in London and what's next for both NTS and independent online radio as a medium.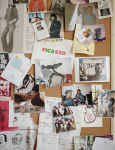 Where in London are you now?
I grew up in Tufnell Park in North London and currently live in Haggerston. It's a weird no man's land between Shoreditch and Dalston.
I can see how you'd end up in no man's land. You always seem to stray from what's trendy. I mean, that's how you've built such an eclectic program with NTS.
It's more of a subconscious thing. I've always been interested in the alternative and exploring things that I'm into a little deeper.
Do you ever feel dissatisfied or disinterested in exploring?
Never. I'm constantly exploring and learning. Sometimes, I honestly feel like I'm just starting, which allows me to be open to new things. I have a somewhat unique experience working with so many talented and original thinkers, that not a day goes by where something new isn't unearthed. I don't believe you can ever feel dissatisfied with something you feel passionate about. For me, that's music.
What galvanized your interest in radio? Was there an inciting incident?
I have to be honest, MTV2 played a big part. Growing up in inner city London in the 90's and early 2000's you was either a jungle, garage, or rap kid. I was all that when I was out of the house and at school or parties, but when I was home I was caught up watching MTV listening to The Cure and Prince and watching Headbangers Ball, just obsessed. I never told my friends in school though. Those two worlds didn't mix. To them, I was just a jungle and rap kid.
I think what locked in my love for music was the days when I started raving in my early 20's, when I started going to Plastic People, which was probably the most important place in music in London for 10 years. To me it was more important than any record shop or anything I saw on TV. My passion for radio came from my passion for music. We have a rich pirate radio culture in London and that fed my thirst to find new music. I'm not really a nostalgic person and I like to look forward, but I can't talk about a pivotal part of life in music without talking about Plastic.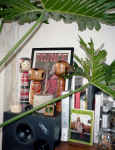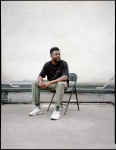 How do you feel about Red Bull Music Academy and Radio shuttering?
I think the Academy closing is a huge loss. I know quite a few people who worked there and they are passionate music people, too. [They] were using all that resource to try to do good things for artists where normally there wasn't an opportunity to bring their ideas to life. But platforms like ourselves and Boiler Room have been offering these opportunities to DJ's and musicians too and continue to do so. We might not have the same deep pockets as RBMA did, but we offer similar platforms for them to get out to a wider audience.
The great thing about NTS is that you're not burdened or restrained by commercial demands. But in that same regard, how do you generate profit to keep it going?
We generate some revenue through the odd brand partnership deal. We have a small commercial team that handles those deals like the collaboration with adidas, the European tour with Carhartt, and the monthly at the Tate with Uniqlo, [which] all help to pay the bills. We also do quite a bit of merch and events. It's not easy or cheap managing four studios around the world, as well as licensing and streaming costs, but we keep pushing. It's all part of the fun.
What are your thoughts on the current evolution of radio DJing?
Radio as a whole is changing. I think the whole idea of radio has changed since the birth of the internet. Funny, when we first started NTS our whole approach was to take the traditional free form format of UK pirate radio and American college radio but use the benefits of the internet to get it out to a wider audience, as well as give listeners the opportunity to communicate instantly with the DJs. I'm not one of those people that says radio is dead. Far from it. But platforms like ourselves have taken the old format and modified it for a different kind of audience, so much so that the traditional stations are now taking cues from us.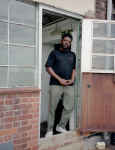 You also helped start Boiler Room and the editorial livestream format we see a lot today. It's been brought to Amsterdam, New York...before you, I don't think many people even knew what radio DJs looked like.
I was part of Boiler Room at the start for about 5-6 months, and was hosting alongside the founder, Blaise. It was definitely revolutionary. I remember Blaise telling me about it and thinking it was a crazy idea, but knowing he'd probably pull it off. It was a crazy experience, and having been there—seeing it start from that tiny room with just the five of us to what it is now—is pretty special.
How did you celebrate NTS' 8 year anniversary?
This year was chill, normally we have some massive 2 to 3 room party at a club in London that takes us months to organize. This year we just did a big free outdoor party in Gillett Square, where our original London studio is based.
You hosted an event at the Rockefeller Center a few months ago with Kelsey Lu and Ian Isiah, and you did another one in July with the NYC based Lesbian/QTPOC party Gush. Is this a new residency event you're doing? What are some other things you're looking forward to?
I can't talk about the other events we got for the rest of the year just yet, but the Rockefeller partnership/residency is super exciting. My partner Sean likes to throw out this stat: 23% of music lovers around the world love alternative and underground music. We want to be the number 1 music platform for that 23%. Music discovery is at our core and we want to continue to make that our focus for deep music lovers, or for people who want something new.
Vivien Lee is a writer and DJ based in NYC and Seoul. Her writings have appeared in New York Magazine, Document Journal, Observer, and elsewhere.
Photography:

Ollie Adegboye

Interview:

Vivien Lee

Date:

August 13, 2019