Astrologer Chani Nicholas Has Stars in Her Eyes
On Healing, Astronomy, and the Apocalypse
Interview:

Sanam Sindhi

Photography:

Angella Choe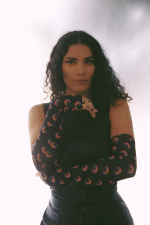 The following piece is part of the Great Outdoors, a week of stories dedicated to the ways we interact with the "outside" world.
When I had my first reading with her in 2017, astrologer Chani Nicholas was still a secret held near and dear to a community of queer astrology nerds who devoured her sermons on social justice and self-care in conjunction with planetary movements. That need to be of service to others is her most urgent calling—the foundation on which she has built her life and work. Chani doesn't like to talk about herself. It's not that it takes careful, calculated excavation to open her up. It's more that Chani is the kind of person you could listen to for hours, leave full and in a daze, only later realizing that you still don't know much about her at all. When we speak, I find that I've asked her a question only to end up receiving profound answers to my own various existential crises. She isn't shy or reserved or even private. In fact, she indulges in vulnerability in a way that many of us couldn't, even with our therapists. But as she tells me, "Ask me anything, but it's not about me. It's really about you. I want to talk about you. That's what I need."
While astrology within the context of healing isn't exactly new, Chani's ability to leverage her platform and communicate in a way that resonates with an audience has facilitated her immeasurable reach. A secret no more, Chani's teachings have spread rapidly. In the last couple of years, her career has evolved tremendously. Her deeply personal, accessible, and intersectional interpretations of the stars—which bring over a million monthly readers to her website—have secured her a long-term partnership with Spotify, worldwide speaking engagements, a monthly feature in Oprah's magazine, and a deal with Harper Collins, who will publish her forthcoming book You Were Born For This: Astrology For Radical Self-Acceptance in January 2020. "Because I'm me and I don't want to talk about myself," she says of her upcoming book tour, "I'm interviewing somebody in each city and I'm going to talk about their chart and their work—and astrologically, why it's significant."
Her West L.A. home, which she shares with wife and business partner, Sonya Passi, is the headquarters of her booming business, as well as Sonya's nonprofit, Freefrom, which works at the nexus of gender-based violence and economic justice. With walls made entirely of glass, and encased by a lush tropical garden, the house feels open and secluded, inside and outside all at once—much like Chani herself. Here in her space, she speaks candidly about how astrology heals, and how the death of a decade is crucial for embracing the next one to come.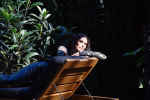 Sanam Sindhi
Chani Nicholas
I feel like there are places in the world that have this tangible, intense, buzzing energy. It's hard to articulate, but it's powerful. L.A. feels special in that way. Has moving here changed your life?
Totally. 1000%. L.A. has given me so much. I felt like when I moved here, I was literally moving from the dark, cold winters of Toronto into the sun. I had my Saturn return here and I felt like L.A. was a pivotal part of my life's remake. I also feel the isolation here and I have to work at building community, but that's okay. There is no roof here, creatively speaking. There's no ceiling. You want to do it? Go ahead. People may or may not help you but, if it goes big, it'll ripple across the world.
What was your first year here like?
So chaotic. I had no idea how to drive on the highway. I was working five different restaurant jobs. I was taking acting classes. I was volunteering to do Reiki at a cancer center in the valley—that kept me grounded because this city will just eat you up. I was in all of the scenes, partying and doing all that. The entertainment industry just really turned me off very quickly. So I started looking for something more meaningful, I literally sat down and prayed for help. I heard, "Go be a yoga teacher." I was like, "Are you fucking kidding me? Why would I do that?" I needed to learn about systems of healing again, so I did it and it was a great blessing. Yoga has always been part of the backbone of my healing practice and introduced me to my wife—so I owe it everything.
How did astrology become the end result of doing a million different things to survive?
Throughout my life, no matter the despair or depths of my depression, astrology​ always turned my brain on. I was like "I have ideas. I want to think." I wanted to write about what was happening in the world. It wasn't something that was premeditated, I was just like, "I have an interest in humans, the systems we live in, why, and how, and I need to talk about injustice, justice, and what it might look like, and healing." It also helped me contextualize my own depression and helped me see why I suffered so much. And that was interesting for me to know because I was like, "Why do I feel like this and other people don't? Why do they appear so strong? How do people live life?" Astrology sort of helped me to see how.
What is the process of writing horoscopes? What information are you looking at?
I'm looking at the rhythm. I'm looking at the charts for the month. I'm just looking at what the planets are doing for that time period.
It is astronomy, but you make meaning out of it. Astrology and astronomy used to be the same thing. Everything was in the same system. There's no community in the history of humanity that didn't rely on the sun to tell time, or that didn't notice the cycles of the moon and make meaning out of it. From that, we learned how to understand seasons and, from that, we learned how to eat, when to eat, and where to go. From the fixed stars that don't move, we knew where to walk and how to get—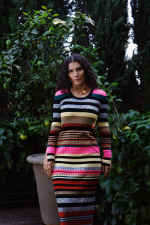 Yeah, and how to come back. When we were nomadic, we followed the pattern in the sky to understand where to go and how to move around. We learned how to count because there was this many days every time in between moons. Bodies that menstruate do the same thing. The first carvings were usually of a figure with a big belly and wide hips, a moon, and 28 or 29 marks on it. You find that everywhere. We were always looking and making meaning out of what the sky was doing, and were dependent on it. We come from different places but traditions that celebrate things around the new moon and full moon, around harvest seasons and sun cycles, those are everywhere. Those are now part of our rituals. That's how you bring people together, that's how you build culture.
It's interesting because you've also talked so much about how you never wanted to be an astrologer.
I grew up in the Pacific Northwest, in a community far away from other places, inside of a culture that was so counter-culture, in a very small town that had no rules, and no one really had a profession. From my perspective, no one was trying to serve the world in any kind of meaningful way. I didn't know what normal life was. I romanticized an office job. I wanted rules, I wanted structure, and I wanted to be a productive member of society but I also didn't know how to do that. I had studied astrology since I was 12 but it just felt like a weird career choice so I was like, "I'll become a therapist, and that has credentials."
You sort of did become a therapist, in a way.
I'm not a therapist, but we do therapeutic work together and I have that code of confidentiality. It's an honor to see somebody's chart. I'm always so moved when people sit and share their charts with me.
And you remember literally everyone's chart.
Yeah, I know you by your chart. Once I read it, it's all there, mentally catalogued, an imprint on our relationship.
Your book is coming out in January. Can you tell me what it's about?
It's about how to read your chart so you can understand your life's purpose. It's a very easy-to-understand book that's written in a choose your own adventure style. You're going to be able to pull your chart up on my website and it'll give you a list of pages to read, sections to read all about you. It walks you through how I look at your chart from a very basic level. Where to put your focus.
How was the process of writing it over the last two years?
It was so overwhelming and such a fucking nightmare. You want to talk about self-doubt? You want to talk about hating yourself? But it's so normal to have every negative feeling you've ever had about yourself come up in the process of creating something so important to you personally. I am a totally different person than when I started it and I am incredibly grateful for the process.
What about the rest of us? Do we have some hope next year? What's the astrological forecast for 2020?
We're coming to this very important moment. It's the end of an era in a sense, and how we begin the other says everything about how things will unfold.
I think all astrologers are looking at 2020 like, "How are we going to talk about this in a way that motivates people?" because it should motivate us. It shouldn't depress us. It should be like, "Oh all this fucked up shit is ending. It has to end, otherwise we'll never get to a beginning."
How is that going to happen?
We don't have to know how—we just have to decide that it is. It's pattern setting. How the year unfolds will tell us what we're in for a little while. We want to set the best tone. With the decade ending there's also a major planetary cycle ending and beginning.
What planetary cycle is that?
Saturn is shifting from Capricorn to Aquarius and meeting up with Jupiter there at the end of the year. That's the big news because it speaks to life-cycles that the planet goes through. There's a Mars retrograde, which tends to bring up a lot of anger to the surface, tends to shine a light on violence or repressed masculinity. There's a Venus retrograde, which tends to bring up relationship issues as well as issues that women and gender nonconforming folks face. At the beginning of the year, there's a Saturn-Pluto conjunction, which I'd love to say is the death of patriarchy.
It does look like a very intense year. I'm not saying it doesn't have incredible outcomes, I'm just saying it feels like the stakes are high, but you don't need astrology to tell you that. Shit is real. Probably the most it's ever been in human history.
Does it feel very apocalyptic to you?
I think this current iteration of the world is ending, but a new one can and should begin and if we choose apocalypse, I think we are negating our responsibility for being part of the rebirth. So if it feels apocalyptic then it's because the old systems that we have struggled in, but also relied upon to survive, are showing us they're not sustainable. We need deep healing and reparations.
But what you're saying is that there are ways to change the systems and make them sustainable.
If we're living in fear and disaster and hate and all of these things that we're inundated with, we're not going to get there. So we have to have joy and connection. We need to be connected to each other—without that, no one feels a responsibility to each other. Community is one of our most important paths to finding solutions. You show up with integrity and bearing in mind your responsibility to yourself and to the work that you've set out to do, and you do the best fucking job you can. And then you have as much joy as you can possibly squeeze out of every moment. You never forget the joy. Never lose sight of the joy. If we don't keep the joy, we're fucked.
Interview:

Sanam Sindhi

Photography:

Angella Choe

Hair and Makeup:

Sydney Costley

Date:

December 12, 2019