A Brief History of Style in Sport
Five Writers on the Best In-Game Fashion Moments From Mike Tyson to Billie Jean King
Text:

Nathaniel Friedman, Calum Gordon, Christopher Isenberg, Molly Lambert, Kate Perkins

Illustration:

Camille Leblanc-Murray
SSENSE and Victory Journal team up on five stories related to style in sport.
Sometimes, it is the most incidental cultural moments that have the most influence. The kind of unexpected plays that you mentally posterize, that sneak into your mind in places and ways you can't anticipate, years later. Michael Jordan's game-winning basket so famous it's still simply called "The Shot," and that red Bulls jersey that forever fused his name to the number 23. The black socks/baggy shorts rebellion put forward by The Fab Five in the 90s is now fully integrated into both the culture and the sport. FloJo, the fastest woman in the world, is equally exalted for her one-legged tracksuits and her long lacquered nails—the look Beyonce emulated for Halloween last year—than her record-breaking 100m time. Throughout the history of sport, many moments have lodged themselves into the cultural imagination, and often, in the most unforeseen ways, informed the way we dress, the way we act, the way we want to be. Here, five writers share moments of style in sport that moved them.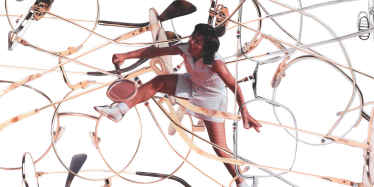 Billie Jean King's Glasses
In sports history, there is a canonical shortlist of athletes that have brought otherness to bear on the supposedly equal playing field, and Billie Jean King's legendary "Battle of the Sexes" match against Bobby whoever-he-was still puts her at the top of that elite list. What she wore to play in that match was the subject of then-unprecedented speculation, secrecy, intrigue, and import. London designer Ted Tinling flew to New York with two dresses for her to try. The first, sequined and spectacular and ready for showtime, was inadequate to the athlete's physical requirements. She refused to wear a garment made from fabric she couldn't ignore on the court, so Tinling was forced to hastily render the more functional backup option sufficiently glitzy for the occasion.
Despite the commotion over her dress, if you ask people what King wore at the decisive moment for her career and for her sport, most won't be able to recall. What even the most casual fan would likely remember, or at the very least, guess, was that she was wearing her glasses.
Tennis is distinct among professional sports in that it's always allowed for a genteel approach to accessorizing. The "tennis bracelet," a classic genre that transcends the sport, is marked by the delicacy of its golden chain or diamond strand. Both male and female tennis pros have long worn fine necklaces, wrist bling, earrings precious or statement. Things that glitter, dangle, swing, bounce or slide around as a player careens across the court or wallops a shot at an impossible angle are standard in the sport.
Tennis retains a connection to a leisure class that its players' accessories, from the refined to the flamboyant, intentionally or not, recall. It's accessorizing that links tennis back to its country-club class origins, even as dress codes—and social codes—have evolved beyond them. To this day, there's nothing comparable in other professional leagues. The action of most sports, contact or not, makes these articles a hazard to players. A chain that breaks and falls onto the court could spell a fateful slip in basketball. An earring, bracelet or watch caught on a stick, a net, a jersey could mean disaster. And glasses—are glass. They make rec specs for that reason.
Of all the things that weren't typical about Billie Jean King's presence on the court, from her gender to her unprecedentedly lavish custom garment, it's funny to think that her glasses, fragile, wire-framed and round, were the least notable thing about her extraordinary victory that day. They've since become her signature, the mark of an icon in the sport and in American history. King's eyewear reframed the perspective on sport more than a dress ever could. They announced the arrival of someone historic on the sporting scene. There they were, in delicate balance, on display, for the world to see. Humble, practical, smart—and focused. The player herself.
They remain a hallmark of the athlete, too, because of what they aren't. They aren't what you'd expect to see in sport. They aren't "gear." They're what she needed to play the game, the way she saw it, the way she actually was. They represent an otherness that wanted not merely to be accepted because it was permissible, but respected because it was proven.
To make a sports audience see the world through your eyes is historic only in retrospect. In the moment, it's visionary.
Kate Perkins is Deputy Editor of Victory Journal.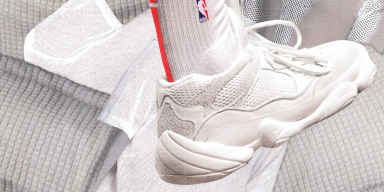 A die-hard sneakerhead, PJ Tucker regularly laces up rare, valuable, and eye-catching kicks that are meant to be noticed, to be coveted. While at this point Tucker is something of a tastemaker, he is for the most part a connoisseur—and for those who share his hobby, a peer. Tucker enthusiastically participates in sneaker culture like he's just another collector, albeit one for whom money is no object, and who benefits from the special access afforded to celebrities.
In July of 2017, 34-year-old forward Tucker signed a four-year contract for $32 million with the Houston Rockets. The deal, while modest by NBA standards, was the big payday that had thus far eluded Tucker, who had clawed his way back to the NBA after spending spend five years in overseas purgatory. Knowing how to make yourself useful is a valuable commodity, and Tucker—a bullish defender and adequate shooter who also snags his fair share of rebounds at 6'5"—was able to cash in because of this quality.
There was little fanfare when Tucker hit the open market after the 2016-17 season, as players like him are generally both unremarkable and undervalued. But this season, Tucker has entered another kind of free agency and is garnering more than his fair share of attention for it. As of this writing, he was a sneaker-free agent, meaning that he had no endorsement deal or standing relationship with any of the major brands. While almost all NBA players have some form of allegiance in this department, the status of a workaday player like Tucker is hardly newsworthy. Except in the cultural ecosystem of the league, what PJ Tucker has on his feet is kind of a big deal.
There's nothing unusual about a player wanting their sneakers to make an impression. Every year, Nike dutifully cranks out dozens of colorways for its principle silhouettes, and a LeBron James or Kevin Durant is often directly involved in developing different looks for their signature lines. But Tucker's eagerness to stunt is almost an end in itself, to the point where he'll sometimes don antiquated models like the Air Jordan 1, which might as well be from the Stone Age. One of his signature moments was debuting Travis Scott's "Cactus Jack" Jordan IV in 2018, another shoe that does him no favors from a performance standpoint.
Tucker's free agency opens up even more options for him; during the preseason, he's sported deep, deep cuts like the Gerald Green PE Reebok Pumps, and most intriguingly, a pair of adidas Yeezy 500s—a lifestyle shoe. He had worn Air Yeezys in the past, so this wasn't exactly unprecedented. But tacitly asserting that aesthetics can sometimes completely trump technology is a bold move, one that's rife with possibilities for Tucker. Here's hoping he continues to take risks.
Nathaniel Friedman is a deputy editor at Victory. He is the author of two books and lives in Portland, OR.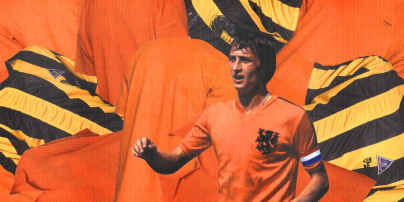 Johan Cruyff's Custom World Cup Jersey
In soccer, 0-0 draws are rarely enjoyable. Often characterized by attritional tactical battles of two well-matched opponents, they're typically forgettable affairs, spectacle turned to damp squib. For the 53,700 spectators who filled the Westfalenstadion arena in the German city of Dortmund, to see Holland play out a 0-0 draw against Sweden in the 1974 World Cup, it should have been another unmemorable event—were it not for one player.
In the 24th minute, a pass was lofted out to the Dutch left flank towards their number 14, the mercurial Johan Cruyff. Jan Olsson, a Swedish defender, shuffled out to face up the Dutch captain, who seemed to have uncharacteristically miscontrolled the pass, forcing him to turn his back on the defender to shield the ball. By the time he's looked back Cruyff has swiveled, chopping the ball behind his standing leg and scampering off. It was a moment of sport in its most elegant, most thrilling, creating what's to this day still known as "the Cruyff turn."
Cruyff won the award for player of the tournament, while also going on to be voted Europe's premier player that season. His ability and flair were matched only by his own insouciance. He smoked 20 cigarettes a day, often lighting up in the changing rooms at half time. When he jinked by defenders, they must have heard the jangle of the two chains he wore—one thin gold one and another heavier, thicker one—as they clinked together. Many managers would likely have reprimanded their players for this, but exceptions were made for Cruyff. It wasn't just that he was one of the best players on the planet, he was also one of the most effortless, a rare kind of aesthete.
Nothing better encapsulates the fact that Cruyff was worth making allowances for than this tournament, with the Dutchman taking to the field wearing a kit different from the rest of his team-mates. The oranje tops and shorts of the ten other Dutch players were each emblazoned a three perfect stripes down each side—"die drei steifen" of adidas. Cruyff's, however, had only two, after he asked for special dispensation, citing loyalty to his sponsors, Puma.
Family arguments rarely play out on a world stage. But at this World Cup, a sibling feud that had rumbled on for five decades in the sleepy German town of Herzogenaurach set the scene for Cruyff to debut his custom uniform. In 1924 two brothers, Adolf and Rudolf, had founded the Dassler Brothers Shoe Factory, making spiked-soled shoes for runners. An acrimonious split in 1948 led to Rudi founding a competing sportswear brand, Puma, while his brother renamed their original business adidas—a combination of his nickname, Adi, and his family name. A fierce and lingering rivalry was born, which saw the brothers being buried on opposite sides of the same graveyard.
In an attempt to mark the iconic two-stripe kit's anniversary in 2014, Cruyff's eponymous brand released its replica, prompting adidas lawyers to swiftly issue a cease and desist. The Dutchman refused to back down. Addressing it in his column for the Dutch newspaper De Telegraaf, he delivered a typically defiant response: "Those two stripes belong to me."
Calum Gordon is a Berlin-based fashion writer and co-author of Contemporary Menswear. His work has also appeared in Dazed, 032c, and Kaleidoscope.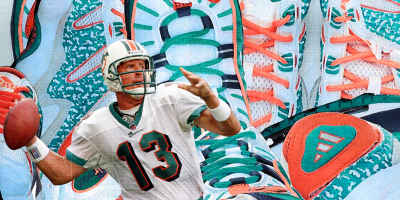 Dan Marino's Miami Dolphins Jersey
I have never really been a sports fan, let alone a football fan (and I am generally suspicious of almost all uniforms), but I have a favorite football jersey: Dan Marino's Miami Dolphins jersey.
From romantic comedies, I got the idea that when you sleep over, a guy might give you his jersey to wear to bed, although this has never happened to me in real life. I fell for the color scheme of the Dolphins jersey because it's so Miami: pastel aqua and coral orange, like the ocean framed by a sunset. Most team colors are staid or too primary. I hate nothing more than a tasteful maroon or gray. My awareness of the Dolphins' jersey most likely came from guys wearing Dan Marino jerseys at the height of his popularity. The color scheme feels a little more femme than most teams, to imagine a world where sports colors might be baby pink or mint green instead of military brown and orange or fascist bright red and black.
I always wanted to wear a jersey. The texture of the fabric seemed so shiny and plush, the aerated mesh fabric fascinating. I was thrilled when one of the main characters in Michael Bay's Pain & Gain wore a Marino jersey throughout the movie, set in in '90s Miami. While I never took the plunge on wearing a Marino jersey, and lost the desire to represent any sports team, I did buy a pair of Nike Air Maxs recently because their neon pastel color scheme reminded me of The Dolphins. I bought a boys' size 5. The swoosh is more of a pinkish coral and the aqua more greened out than blue, but there is no doubting the inspiration.
Molly Lambert is a writer from and in Los Angeles.
Mike Tyson's Boxing Shorts
What a fighter and his cornermen wear sits somewhere between the theatrics of a wrestler's costume and the authority of a team uniform. With the notable exception of the gloves—whose brand, style and weight are typically specified by contract, the choices are unlimited—even if budgets are not. Expressions of sartorial taste may be displayed in the robe, the cornermen's shirts (satin or otherwise), the mouthpiece, shoes, socks, and most importantly, the shorts. After the introductions and removal of robe or shirt, a fighter is alone—existentially and stylistically. Shorts signal to the live and broadcast audience, the opponent, and most importantly, the fighter himself; they communicate an unlikely combination of peacocky flair and bad intentions.
No one signaled more clearly than Mike Tyson. 20 years old and fighting Trevor Berbick for his first heavyweight title, he walked to the ring in a makeshift poncho, head poking through a slit in a white towel. Skin fade with a short part line clipped in on the left, a scruff of goatee and moustache. His haste communicated intense confidence, a lack of fear or a fear so extreme it required immediate resolution. When the towel came off, his presence was clean: mid-top black leather shoes, no socks, black Everlast shorts with two flag patches—a triangular "Go America" patch on the left, an oblong USA crest on the right. From Apollo Creed to Don Frye, boxing to wrestling to MMA, repping the flag is a time-honored way to establish good guy credentials. But, the small pops of red, white, and blue on the black field of Tyson's shorts were doing the opposite of begging for acceptance.
His silhouette revealed the sophistication of his influences. His shorts and shoes were modeled after fighters he studied obsessively on the reel-to-reels he screened at his trainer Cus D'Amato's house—Jack Dempsey, Battling Nelson, Sugar Ray Robinson, Panama Al Brown. The shorts broke mid-calf, as tight-fitting as reasonably possible while accommodating a cup, and featured a split-seam hem on either side to allow Tyson's massive thighs freedom of movement. As he and the taller Berbick stood toe-to-toe, Tyson's shorter shorts had the effect of elongating his legs, as well as revealing the source of the punching power that would soon leave Berbick performing a macabre, twitching dance.
Tyson wore the same design against Holmes, a silenced and swollen Ali in the crowd to provide lineal connection to the past Tyson worshipped. He dropped Holmes 4 times in the fourth. He wore them for the 1988 unification in Atlantic City. With Madonna and Sean Penn, Trump and Marla Maples famously in attendance, he came out to a terrifying soundtrack of industrial noise and floored a quivering Michael Spinks in 88 seconds. Those same shorts were in Japan when 42-1 underdog Buster Douglas shocked Tyson, whose corner was so unprepared they tried using a condom filled with cold water to bring down the swelling under his eye. He wore them for both losses to Holyfield including the one where Tyson bit the top of his opponent's ear off. With every one of these fights and all that happened out of the ring, the meaning of Tyson changed—from "the baddest man in the planet," to a champion who had gotten too comfortable, to monster to madman, to a shot fighter who could sell pay-per-views to the end. Despite that ubiquity, this garment maintains an unbroken connection to what Mike Tyson represented at the beginning—power, invincibility, and ruthlessly bad intentions.
Christopher Isenberg is the co-founder of Victory and the creative studio Doubleday & Cartwright. He is a writer, filmmaker and entrepreneur.
Text:

Nathaniel Friedman, Calum Gordon, Christopher Isenberg, Molly Lambert, Kate Perkins

Illustration:

Camille Leblanc-Murray

Collaborators:

Victory Journal / Aaron Amaro, Chris Isenberg, Kate Perkins, Nathaniel Friedman Shane Lyons, Tim Young

Date:

November 13, 2019