Nico Hiraga Loves Long Division, Hates Wearing A Shirt
The Booksmart Star and San Francisco Skate Prodigy Has Been Working On Mathematics and His Golden Boy Glow
Text:

Erika Houle

Photography:

Sam Muller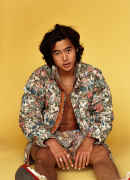 Lounging poolside in swim trunks, sipping iced tea from a tiki mug, Ferris Bueller declared that he was "taking the day off." Over three decades later, cinema's most lovable high school troublemaker—a master slacker committed to cutting class and pursuing his own romantic agenda—has a charming new contender. For Nico Hiraga, the 21-year-old skater, model, and rising actor, landing a Bueller-esque leading role as a "stoney bologna surfer guy" is a fantasy so blurred with his reality he's yet to realize it's already happening.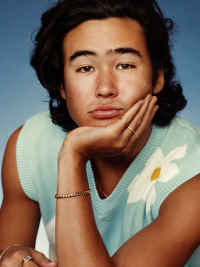 On a Monday morning in Los Angeles, Hiraga arrives on set looking radiant and camera-ready: puppy dog eyes wide, locks loose and shining, and a quintessential California glow (he was born and raised in San Francisco) that amplifies his six-pack. "I've become known for never wearing shirts," he tells me. "I love a good cropped top. Johnny Depp in Nightmare on Elm Street, that fool looked sick. I love tank tops. Button-ups, but with no buttons on them. People think, 'Oh, he's just trying to show off his body,' or, 'This mother fucker is tanned, alright, we get it.' But no, I hate shirts!"
Hiraga speaks openly about his distaste for fashion at large—"The way people dress for social media these days, it's like camouflage with a crazy hairdo"—but the contents of his duffle bag for a short stay in L.A. suggest otherwise. He scavenges through a heaping assortment of gear, including a suede newsboy cap, a baby blue Golf le Fleur* sweater vest, and his self-designed Lakai Newport x Nico cherry blossom sneakers, in search of today's perfect look. Alternating outfits, Hiraga gravitates toward the camera offering a full range of theatrics, one minute pantomiming boredom with his face in his hands and a matching pout, the next flapping open his Hawaiian print button-down like curtains to an oceanfront view. He's a natural performer, and his energy booms into the studio through contagious laughter and quirky dance moves. His vocabulary is as packed with terms like "flames" and "steezy" as it is with "shouting out the homies" and gratuitous acknowledgments for all of his accomplishments.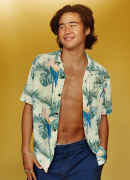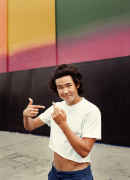 Since he was a kid, Hiraga's created spaces where he can manifest his dreams. His childhood bedroom was crowded with Bruce Lee and Justice League posters, a large Japanese flag, polaroid photos, and a wall dedicated to all his favorite old boards. He tells me he hopes to hang a pro board there someday, and to put his home city on the map in a big way. Growing up in San Francisco, it was feeling like a misfit that nudged him to quit soccer and pick up skating, and he's since found a sweet spot where he can employ the sport as both a "stress reliever" and a path to going pro. "I was always kind of the odd one out," Hiraga says. "I went to a super bougie, preppy school. I always sagged my pants. Parents didn't like me. My mom would get pissed! So I was like, 'Alright fuck, I'm going to start skating.'" He met a crowd that he melded with, taking pride in self-identifying as a "dirty skate rat." Hiraga says he feels most like himself when he's drenched in sweat, covered with fresh scars on his elbows, which becomes evident as we depart from the studio to capture him nailing a few tricks alongside a group of close friends.
"People think, 'Oh, he's just trying to show off his body,' or, 'This mother fucker is tanned, alright, we get it.' But no, I hate shirts!"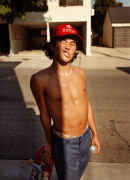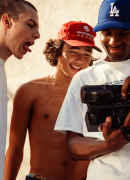 Hiraga's groomed to take ownership of this new golden boy status—between securing sponsorship from the Nike-owned surf corporation, Hurley (where his design experience will expand into swimwear), and landing auditions for Amy Poehler's latest and undisclosed Netflix project, he's surrounded himself with industry buffs like Tyler, the Creator and L.A.-based entrepreneur Mikey Alfred for years. In fact, Hiraga just finished filming his third film, Alfred's forthcoming directorial debut, North Hollywood. He says his role in the movie presented some challenges: "There's a couple scenes where I had to be super serious, kind of angry and stern, and that's not something I am." But with Alfred's encouragement and Hiraga's own unique approach to getting into character, he feels excited about entering a new realm of acting. I ask him how he prepared, to which he quickly retorts, "I got pissed! I was like, 'I have to think about if my homie was ditching me for a girl, I'm going to press homie about it, for sure.'" Hiraga hopes his next big screen endeavor will explore another, more personal side of himself. "A dream role would be a super romantic and sensitive dude who gets his heart broken, some sappy shit," he says. "I'd love to cry for the camera, are you kidding me?"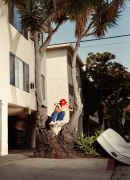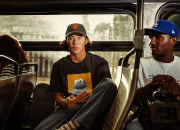 Hiraga, who tells me he was never an exemplary student (but rather, a class clown), still practices long division. Solving math problems has become an essential method for deflecting the frenzied antics of his lifestyle and nurturing his mind while working on the road. He's been hotel hopping a lot lately, touring with skate collective Illegal Civilization and making hit coming-of-age movies (Skate Kitchen, Booksmart) under the direction of Crystal Moselle and Olivia Wilde, respectively. While he's yet to conquer the numbers—he says he gets "smoked" by most equations—if there was a crash course on becoming a Hollywood heartthrob, Hiraga wouldn't need an answer key. He could write the textbook in his sleep.
After several attempts under the blazing late-afternoon sun, Hiraga lands an ollie through a narrow tree fork on the sidewalk. His relentless work ethic could be credited to his parents. Speaking about his father, Hiraga says, "He always told me this growing up: Nanakorobi yaoki. It means fall down seven times, stand up eight." He gestures to the Japanese phrase he has tattooed on his tricep. Hiraga also calls himself a "Mama's boy, 100%," and elaborates on their relationship with an anecdote about a conversation they once had that offered him a stronger sense of purpose. "I went through a little hard spot of being like, 'I don't know what I'm doing. I'm living with my parents and I'm 20 years old. I feel like i should move out already because I don't want to cause them stress.' I talked to my mom about it for a while, and she told me, 'You're always going to continue to grow. Don't stop, ever.' We were on a staircase when she was telling me all of this, so I wrote it down in my phone—reminder: staircase talk. I put the sun emojis because she said she pictures me as a glowing sun. I'm going to put that in my everyday life and I'm gonna be that glowing sun."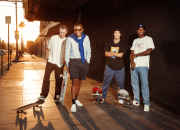 Erika Houle is an editor at SSENSE in Montreal.
Text:

Erika Houle

Photography:

Sam Muller

Special Thanks To:

Davonté Jolly, Ryder Lee Mclaughlin, Mikey Alfred

Date:

October 28, 2019