The Hottest Drops Happening Now!
From T-Shirts to Stove-Tops, Six Collaborations You Don't Want to Miss
Product collaborations are exciting. There is NOTHING we LOVE more than PRODUCT! Outdoor gear, indoor gear, t-shirts and stained glass, this week is filled with THINGS YOU CAN BUY! On offer are new objects from Prada, Stone Island, and Off-White, as brands continue to come together and give birth to new forms. Be inspired by the array of things you can NOW OWN. With something for everyone, this week's collaborations are guaranteed to satisfy even the thirstiest shopper!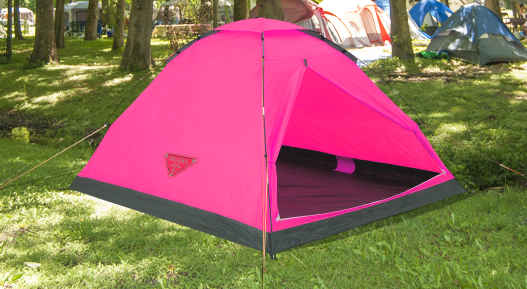 Glamping started in 1520, when King Henry VIII of England and King Francis I of France held an outdoor summit to bond their nations, known as The Field of the Cloth of Gold. With each king trying to upstage the other, Henry VIII erected a 10,000 square meter temporary palace, complete with 10-meter-high canvas walls painted to look like a castle. He also brought along two living gold-leafed monkeys gifted to him by the Ottoman Sultan Selim I, two outdoor fountains dispensing red wine, and 2800 tents for visitors. Today camping is a scalable experience; Some choose to go out into the woods with nothing but a piece of flint and a Swiss army knife, others venture to destination sites in air-conditioned motorhomes. For those looking for an on-trend yet timeless experience, the Prada x REI nylon camping tent offers the solution, allowing you to stand out from your peers and simultaneously pay homage to a proud tradition of outdoor luxury.

Enfants Riches Déprimés x The Anarchist Cookbook
The Anarchist Cookbook was written in 1971 by a teenager named William Powell, who shared it as a tool for dissent during the Vietnam War. Powell later found God and tried to have the book pulled from circulation, but by then it had already become an iconic publication. Described by the FBI as "one of the crudest, low-brow, paranoiac writing efforts ever attempted," The Anarchist Cookbook comes with instructions for things like buying LSD, making pipe bombs, and defending yourself in a knife fight. Not dissimilar from other radical publications like Abbie Hoffman's Steal This Book, The Anarchist Cookbook was a symbol of the countercultural war that was ultimately lost to corporate America. Enfants Riches Déprimés embodies and commemorates this loss in a collection of distressed t-shirts with graphics pulled from the seminal text.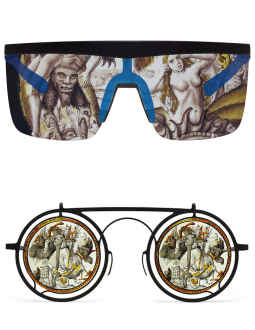 The Cloisters is one of Manhattan's most special places. Constructed of buildings sourced from French monasteries and abbeys by George Grey Barnard, the museum contains some 5000 works of medieval art collected under the supervision of John D. Rockefeller and J.P. Morgan. The campus is centered around four separate buildings dismantled in France and reassembled in the US over a five-year period in the late 1930s. The Cloisters is particularly famous for its large collection of stained glass. Primarily sourced from France and Germany, this collection of approximately three hundred 13th- to 16th-century works is recognized worldwide as one of the most iconic of its kind. And now this ancient work is converted into a collection of coveted Mylar sunglasses by Mykita.
Remember being a teenager and wanting nice things? Remember your first apartment filled with cardboard boxes and mice? Remember not knowing how to make dinner and the sandwiches you ate instead? How do you get someone who doesn't care about anything to invest in home cooking? To begin the cycle of self-care?
OFF-WHITE ONE POT "CHICKEN SOUP"
SERVES 4
INGREDIENTS:
1 tablespoon extra-virgin olive oil
1 yellow onion, chopped
2 garlic cloves, minced
2 carrots, chopped
2 celery ribs, chopped
4 fresh thyme sprigs
1 bay leaf
2 quarts chicken stock
1 cup water
1 cup rice
2 cups cooked chicken
Salt and pepper
DIRECTIONS:
-In a medium pot, add olive oil, onion, garlic, carrots, celery and your herbs. Cook until vegetables are soft
-Add chicken broth and water and bring to boil
-Add rice
-Season
-Cook on low for about 30 minutes
-When the rice is tender remove from heat
*Note—for the chicken you may use whatever poultry is available to you—a cutlet from the bodega, leftover turkey etc. Alternatively, you may boil raw chicken until cooked through and use this for your soup—should take about ten minutes in a rolling boil. However, if you're going this route you should really boil the chicken along with the veg, lowering the heat once boiling so that the surface of the liquid is barely moving. Cook the chicken 1-1.5 hours, then remove and reduce the broth as you desire. Once ready, both the chicken and broth should be refrigerated for 8+ hours, allowing you to solidify and remove the fat from your soup (this can be added back in as you desire while reheating your broth and cooking the noodles/rice.) This will make a much better soup.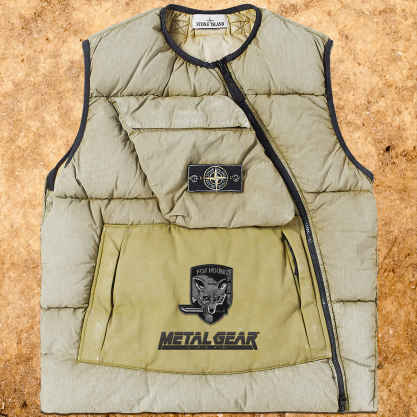 Stone Island x Metal Gear Solid
Metal Gear Solid was made for the Sony PlayStation, released in 1998 on two discs by Konami Computer Entertainment Japan. It looked better, was more cinematic, and was harder to play than any other game except for Final Fantasy VII—but where that game was a turn-based RPG, Metal Gear took place in real time. Different from other 3rd-person games, you couldn't beat MGS by brute force, shooting all your enemies and blazing through levels. Instead, you had to sneak and strategize to survive. Classified as an "Action Adventure Stealth Game," Metal Gear placed you in the shoes of Solid Snake, a former Green Beret working to disarm the fictional special forces unit FOXHOUND. Made by character designer and illustrator Yoji Shinkawa, Snake came with a body modelled after Jean-Claude Van Damme and a face based on a young Christopher Walken, which, in addition to his tactical look and flowing headband, made him an early digital fashion symbol. Twenty years later, this influential game is commemorated with a series of military-inspired clothes and accessories by Stone Island Shadow Project, the performance driven sub-brand of Stone Island and Acronym.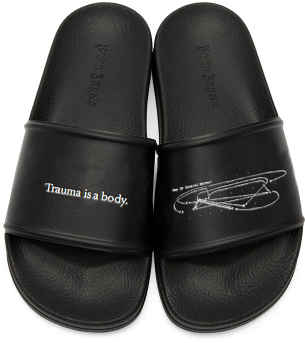 "Perhaps there will always be a fashionable anti-capitalism, but each will become unfashionable, while capitalism—becoming ever more tightly identified with its own self-surpassing—will always, inevitably, be the latest thing." - Nick Land
Nick Land, influential British author and philosopher, is best known for introducing accelerationism into the mainstream. A divisive political philosophy, accelerationism essentially states that the prevailing institutional critiques of capitalism create a negative feedback circuit that is ultimately stabilizing, and that in order to upset the prevailing power structure, a positive feedback circuit should instead be formed between commercialization and industrialization, thereby accelerating capitalism's growth to the point of destruction. As Land states in a 2017 essay for Jacobite Mag, "There is no distinction to be made between the destruction of capitalism and its intensification. The auto-destruction of capitalism is what capitalism is." Palm Angels celebrates this radical train of logic with a new line of house shoes inspired by the father of accelerationism. Before it was a fashion brand, Palm Angels was a coffee table book. Today, it just might be the most radical brand in the world. If genuine punk rock (as a countercultural movement) is in fact less effective than its commercialized, luxury-bound counterpart, then the brand's latest take on LA skate/punk culture may be our fastest route towards revolution.
Lucas Mascatello is an artist and brand strategist based in New York City.
Please note: The products in this article are fake and are not available for purchase.
Text:

 Lucas Mascatello

Images/Photos Courtesy Of:

Lucas Mascatello