The Chaotic Neutral
of Fumito Ganryu
The Cult Japanese Brand's FW19 Collection is Brought to Life Through Dance
Interview:

Kanako Noda

Photography:

Monika Mogi

Date:

September 30, 2019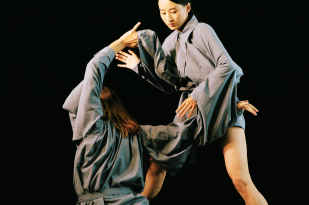 To celebrate the launch of Fumito Ganryu on SSENSE Women's, this interview is accompanied by an editorial featuring dancers Émily He, Julia Bergua, and Maude Sabourin, from Les Grands Ballets Canadiens de Montréal.
"If the clothes are neutral," says Fumito Ganryu, "they also become suitable for all occasions." As a key representative of Japanese luxury fashion, Fumito is working on creating a true neutral. Instead of unisex, it's clothing without gender. His work is sharp, pure, and formal, brimming with audacity and intensity. There's a word for this in Japanese: rin. Fumito Ganryu's clothes are rin.
Futuristic and urban, yet hardly cyberpunk. Natural themes indicate an awareness of sustainability, yet there is no inclination to the organic. For as much as the clothes are formally replete with rin, a cool, detached nobility, they also carry a less-than-subtle hint of sensuality. Where do these clothes come from? The designer, with his eyes on the bleeding edge of luxury streetwear, declares his intention to "attain zero" and "achieve complete negation."
This August, I found myself in Fukuoka for the first time in years. Known as Japan's fourth city—after Tokyo, Osaka, and Nagoya—Fukuoka is located on the island of Kyushu, and is the southernmost metropolis in a continuous industrialized region referred to as the Pacific Belt. It's not as crowded or polished as the "big city," Tokyo; nor does it have the brassy liveliness of Osaka. It's a comfortable city to live in, where the food is consistently delicious, and the inhabitants consistently chic. Fumito Ganryu is known for being a native to this city. To meet him, I boarded a bullet train at Kitakyushu, bound for Tokyo.
At his atelier, I was startled by Fumito's first few words. At the edges of his standard Japanese, shaped by twenty years spent in Tokyo, were the faintest remnants of a Kyushu accent. Had I not just spent a few weeks in Kyushu, I might have missed it. But mild as it was, notes of Fukuoka still drifted through his words.
Seeing as your brand is intended as conceptual wear for the 21st century, what's your view on the 21st century itself, now that we're 20 years in?
For the most part it hasn't diverged too much from how I assumed it would go, but even then, areas in which I had expected to see progress haven't really progressed all too much. Particularly in the fashion world.
Slower-than-expected technological progress, and also a lack of progress in terms of mentality. The cyclical revival of culture and silhouettes is still ongoing.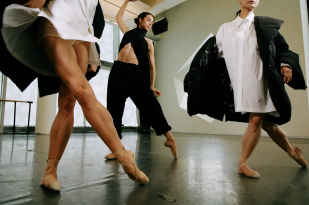 The luxury fashion world has recently been dominated by streetwear. Over ten years ago, you were already producing luxury streetwear. At the time this was a niche, but now it's quite widespread. Is this something you expected to happen?
At the time, promoting the brand as "creative streetwear" seemed like the right move. But I'm already looking elsewhere. Even now, what I'm doing is still considered niche in a contemporary context, but I firmly believe that a broad frontier lies just ahead, and every day I consider how important it is to be persistent in driving the evolution of this frontier.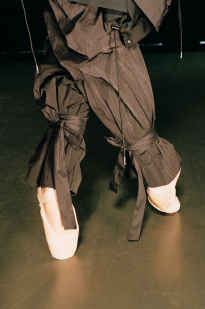 What comes after "creative streetwear"?
If I were to put a name to it, given how freely people leech onto things these days… I think I'd rather convey it through my collections.
You spent your impressionable years in Kyushu. What effect did that have on you?
The Fukuoka that I grew up in was a fantastic town, with a healthy balance of city and nature. It's one of Japan's leading cities.
You must have spent a lot of time hanging out around Tenjin.
I did go to the Tenjin area quite often. Back then, while it was very metropolitan and avant-garde, you could also call it seedy, so everyone was overflowing with a kind of devil-may-care energy. [Laughs] This is where my rebel spirit was developed. Right now, there's a global decrease in what might be called deviancy, the kind that informed my youth, which makes me feel a bit lonely, but I have to accept it as a fact of the times. Obviously, it's better from a day-to-day life perspective to have improved law and order. I don't know if I can accurately convey this, but what worries me is that overly academic things lack sexiness, and therefore cannot be seen as cool or fashionable.
When you say overly academic, you mean something like fashion derived from theory?
Like something that's too smart for its own good. I think that cool brands all have a note of deviancy, a sultriness that's characteristic to deviancy. So if things continue as they are, everyone will become nice and well-behaved, and those qualities will be lost. I consider preserving that note to be my next task.
Aside from streetwear, there is also a trend surrounding sustainability. The theme of your latest collection was "Landscape"—considering the past collections as well, you seem interested in how to co-exist with nature, though not necessarily through upcycling or sustainable materials. How do you see sustainability?
My mentality is to consider the world as a whole, rather than just the environment. I've had thoughts about this for quite some time, and I think it'll be reflected in my coming work.
Do you partake in any outdoor activities?
I'm a complete novice compared to people who take it seriously, but I love going out into nature.
I don't know if I can accurately convey this, but what worries me is that overly academic things lack sexiness.
Are Fumito Ganryu garments made with the premise of being worn in nature?
Yes, that's right. Like a hybrid car that runs on both gasoline and electricity, one set of clothing that should be worn in both the city and in nature. Like an SUV—at once fashionable and capable of treading into the wild. Which kind of environments the clothing can be worn in might change according to the collection's theme. Wearing clothing that offers this sense of hybridity suits me well.
It's not about doing something to counter nature, but rather, how to get along well with nature…
Because city and nature are both of the same earth.
Getting along with the seasons and with nature has always been part of the Japanese way of living and way of being. I think that this forms an important point of distinction between Fumito Ganryu and other brands.
That kind of approach is certainly characteristic of Japan. In particular, drawing a connection to the spiritual aspect of sustainability is very Japanese. Like the idea of rin, a sort of cool, detached nobility. Or even nouryou, when at the peak of summer, you feel that refreshing hint of coolness—which can certainly be achieved through air conditioning—but in Japan, even just the sound of wind chimes stirring in the breeze is thought to trigger that same sensation. Actually, we used an unairconditioned space for this year's Spring/Summer show, and before showing the collection, we played wind chime recordings. I consider delivering this sort of Japanese sensibility as another of my roles.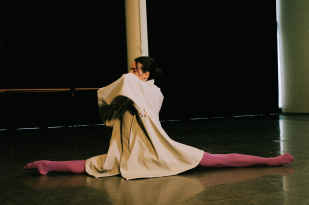 Do you feel that you've been able to convey this Japanese sensibility to the outside world when you express it through fashion?
Sometimes I do, sometimes I don't.
Does the way in which your work is perceived differ from your expectations?
Since this is an era in which the look of something is immediately imitated—especially if it's purely superficial—it's only the superficial aspects of my work that receive a relatively large amount of attention, despite my intention to express a deeper, more intrinsic aspect. This levity is a part of fashion too, I suppose. But as a creator, I want people to look all the way to the essential component of my work. To that end, I have to innovate and endeavour to find some method to convey it. So now the vibe is "more easily comprehensible, yet deeper still."
What are some concrete differences between Japan and the West?
Too many to touch on. Through my work I often travel overseas, and having been to many countries, I really can't perceive any meaning in cities. The more urban it gets, the more it looks the same. That said, I try to get out into the countryside, the reason being that it's exactly there that some semblance of a country's idiosyncrasies remain. The trees, the sky, and the clouds differ in every country. The homes in the countryside are particularly unique. I think paying attention to such distinctions is the future of luxury.
Hence "Landscape" as the theme of your current collection.
In an interview with Esquire, you talk about distinguishing genderless clothing from "unisex". Where did this idea come from?
Some ten-odd years ago, when I started a unisex brand at the company I was working for at the time, there were hardly any unisex brands around. Now, they're all over the place. However, what's more prevalent now is not unisex as I understood it at the time.
Which is where the word "genderless" comes in.
Rather than implicitly acknowledge gender-based distinctions, what I wanted to do at the time was make clothes that were free of such distinctions in the first place, so I discarded "unisex" as a label, adopted "genderless," and attempted to challenge my original conception of "unisex." I initially trained as a womenswear patternmaker; as a student, I designed womenswear; now, as I'm a menswear designer, I have accumulated some experience doing both. The current conception of "unisex" unites the best qualities of mens and womenswear, but it's because I have experience in designing for both that has me firmly believing that I can neutralize their respective elemental qualities. This approach is exactly opposite to the current direction of unisex design.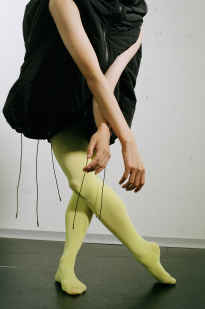 Their approach is additive, yours is subtractive.
Yes. How to express zero. So as per the the brand's aesthetic, I'm extremely conscious of neutrality in form. If the clothes are neutral, they also become suitable for all occasions.
This is somewhat evident in the large silhouettes that appear throughout the collection, which seem to reference parkour.
Yes, that's right. High-rise, yet elegant. I got into fashion through skate culture, and at that time skaters wore very wide pants. Maybe I just simply like wide pants. [Laughs] And I find the visual effect of the undulating fabric to be rather cutting-edge. Such silhouettes are neutral in the sense that they hardly change when worn by either men or women.
What's your creative process for making clothes?
I like to play around with words. Putting together all sorts of impossible combinations of words can offer a link to that same spark.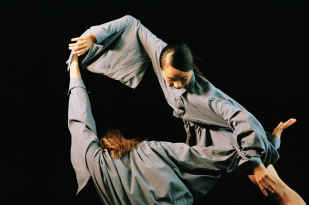 Clothing formed from words?
Yes. That, and I visit places like drapers and sewing factories, where I soak everything up. While I'm there, I'm thinking while I'm looking. I'll ask, "Can this be done?" and the answer informs my creative process. However, the most important thing is to keep the output on-brand, irrespective of approach.
Do you have a standard by which you decide if something is "Fumito Ganryu"?
In the end, do I feel it to be truly neutral? Despite being conceptual, can it be worn casually as everyday clothing? When I say conceptual, I mean it in the sense of taking an intellectual approach toward the elements of high fashion. In terms of the brand's output, pieces that are high fashion for the sake of high fashion represent an aesthetic failure. At the same time, I'm happy to leave making clothes that are unchallenging or nothing more than cool to others. To give the sense of a robust solution, to be visually clean—these are extremely important aspects of the brand.
By "clean," you mean a pared-back silhouette?
Not exactly. More like the impression of neatness, because I don't find visual clutter to be particularly appealing, even if, on occasion, there should happen to be an element of visual chaos in my own work.
This editorial was made possible by Les Grand Ballets de Montreal, and dancers Émily He, Julia Bergua, and Maude Sabourin.
Kanako Noda is the lead editor of Japanese Content at SSENSE. She is also a writer, translator and a visual artist.
Interview:

Kanako Noda

Photography:

Monika Mogi

Dancers:

Émily He, Julia Bergua and Maude Sabourin at Les Grands Ballets Canadiens de Montréal

Styling:

Samuel Fournier / Teamm Management

Hair and Makeup:

Carole Methot

Production:

Jordan R. Bruneau

Translation:

Vincent Malik

Photography Assistant:

Raymond Adriano

Styling Assistant:

Keegan Lathe-Leblanc

Hair and Makeup Assistant:

Juliette Morgane

Production Assistant:

Yza Nouiga

Date:

September 30, 2019