Anime used to be a niche subculture outside its native Japan, something nerdy, even a bit illicit, that thrived via fansubbed files circulating through BitTorrent and the venerable discourse of message boards and chat rooms. But as lines between on and offline have become indistinguishable, and culture perhaps less authentically tethered to its origin, everything from fashion to national politics begins to mirror the surreal spectacles and chaos magic of internet-native subcultures.
Pepe the Frog memes or conspiracies such as pizzagate in the U.S. descended from online squats like 4chan—a locus of anime-fetishizing weeabo culture. Kim K is out here citing Zero Two from Darling in the Franxx as inspiration for her pink hair, while Kanye has paid tribute to Akira as his single biggest inspiration. Speculation has arisen about whether Rihanna is taking cues from anime in the life-affirming mashup that characterizes her personal style. Hatsune Miku, the creative commons license digital idol (who looks like an anime girl and is correspondingly merchandised like one), has been touring North America with a stranger and more moving live show than many of us overworked, debatably living humans are able to mount. One man even married her. As anime progresses towards world domination, could its heroines become the ultimate influencers, à la Lil Miquela, able to represent and disappear with greater fluidity than any real girl?
The pejorative connotations of anime have long been that it's for super online wastrels, or that it's a dopey side hustle in the culture arena. One Republican party consultant memorably described Trump supporters, at the beginning of 2016, as "childless single men who masturbate to anime." And yet, anime is now—to shout out a classic Genmay and 4chan meme—serious business, topping 2 trillion yen in 2017 for the first time, and seeing most of its growth in overseas markets (according to industry reports). That a homegrown animation industry pouring out of the capital of a very small country has the power to be a global influence over the citizenry of diverse nations is nothing to sneer at. We should not underestimate anime girls as a potential cultural and political force. Whether she be a giggling preteen moe magnet, a steadfast sorcerer, hearty trainer of monsters, or an infuriating tsundere, there is more to an anime girl than meets the eye. They, like real women, contain multitudes, and so we pay tribute to a few iconic looks while honoring their indomitable spirits. Perhaps one day we can shop their looks at the same time as diplomats shop their platforms as geopolitical policy.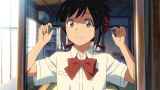 Director Makoto Shinkai's films, like 2016's Your Name, tend to sweep in with a tornado of acclaim. The main girl in that box office smash was a high schooler named Mitsuha, which means, like most if not all Japanese highschool girls, that she wore the uniform that typically comprises a pleated skirt (probably in mini proportions), a plain white shirt, and knee-high socks with loafers. Embellishments are allowed via bag charms and hair accessories, and Mitsuha worked a winsome red hair tie into her outfit. It's almost a joke how much of anime is set in high school, but Shinkai's oeuvre leans into the cliché and piles on the pathos, even going back to his first effort Voices of a Distant Star from 2002, which, though it did not directly seek to answer the question of "how to dress when your boyfriend is literally light years away," nevertheless served up a classical example of schoolgirl style, perfect for weeping over your text messages. A full-grown woman with a still-tender heart might wish to take a cue from this look, and Gucci's blue poplin bow shirt and ribbon banded mini-skirt are ideal for signalling that you have your (adorable) business in order. Now affix a bunny charm to your scholarly satchel (updated as a Comme des Garçons Comme des Garçons duffle), and throw on some mid-calf socks stitched with "Sisyphus" and some tough-soled Dr. Martens—a tribute to the dreamy teen of infinite longing and embattled fortitude who lies tucked away, ready to leap out and push her way up the hills of space and time.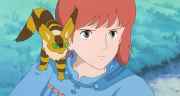 Studio Ghibli's leading ladies are an insuperable bunch, with its most well-known director Hayao Miyazaki commandeering films that handily pass the Bechdel-Wallace test and showcase strong fits to match his female characters' clear-eyed determination and pure-hearted ideals. In Miyazaki's first film for what became the mighty Ghibli, Nausicaä of the Valley of the Wind's titular heroine dons, for most of the run time, a straightforwardly tactical look as she fights off a hostile takeover of her tribe's land in an ecologically devastated future, but the distinctive pale blue color of her utility suit, complemented by delicate earrings, hint at her royal status. As we know, fashion has an ongoing affair with tactical and dystopian silhouettes, so if defensive operations (or even mounting offensive ones) are your bag, then forego whatever a "purse" is and sling on a solid Heron Preston tool bag or one of those A-Cold-Wall* holsters in blue and pale canvas to show that you're carrying more than a balm stain (though I'm sure one can fit that in the box or pockets along with other essential vials, timers, and fuses). Anchor the ensemble via Juun.J's navy bomber and a NikeLab perforated body suit, then add little silver drops from Lemaire to your ears and a ribbon brooch to your breast for honor. Don't forget the Heron Preston packing tape, just in case.

Allow me to direct your attention to my dearest Revolutionary Girl Utena. Utena, in addition to having stunning pink hair and azure eyes, wears a DIY amalgamation of the boys' and girls' uniforms native to the absurdly sinister boarding school where all thirty-nine episodes of this universe take place. The institution is more or less run by a fantastically power-hungry student council (and possibly Lucifer himself) who have an amusing after school activity of staging duels in a forest for the hand of the Rose Bride, a.k.a. fellow student Anthy Himemiya, the only brown girl in the school. Utena, having pledged since childhood to become a prince herself, naturally sees a great opportunity to rescue the girl from these strange games, all while consistently repping tiny bike shorts (an undying, major trend) and structured outerwear with bold socks as the garments of choice for strident lasses unencumbered by gendered expectations. In attempting to translate her je ne sais quoi to the streets of our world (no less dominated by stratospheric egos and depraved upperclassmen), try combining the following: a double-breasted virgin wool blazer from Balmain over a sleek cropped tank top and bike shorts from alexanderwang.t. To mix up the message, incorporate over-the-knee hosiery, this Wolford belt will work well with their sheer individual 10 stockings. End your legs with Prada Cloudbust sneakers. You're ready to show the world just who is here to save the day.
Neon Genesis Evangelion's Asuka Langley Sohryu is best girl (sorry Rei fans)! As an exceedingly competent fourteen-year-old pilot of a monstrous looking fighting robot (which possesses the soul of her dead mother, for motivational purposes), Asuka is unsurprisingly a rather intense personage. She identifies with her job (fighting off invading angels that descend to Earth) and her performance to such an extent that any of her peers' accomplishments are perceived as a direct threat to her own glory. She also has fabulous red hair, a winning personality to hide her chasm of personal insecurity, and a wall in her heart. A Sagittarius icon! To work a look true to her spirit we might turn to a rigorously distinctive designer like Rick Owens, whose thigh-high black stocking sneakers are probably a real bitch to get on and off, which is all the better for an Asuka-like creature: the kind of bitch who never rests but prefers to be prepared for launch anytime, anywhere. She has nothing besides her work, so there's no way to pay a proper fashion tribute to Asuka without a literal reference to her job. Feel free to add some Simone Rocha hair clips too, to dazzle the peons while maintaining your focused gaze! Go forth into the never-ending culture wars with these girls in mind, and you too, as a flesh and blood human, might be able to win some hearts and minds.
Paige Katherine Bradley is an artist and writer from Los Angeles. She has mostly written for Artforum and GARAGE.
Text:

Paige Katherine Bradley

Artwork:

Nathan Levasseur