How the Menswear Staple Solves All Your Problems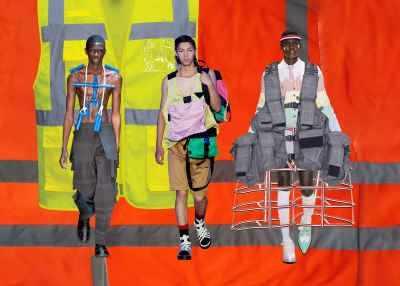 The final look of Louis Vuitton's SS20 menswear presentation offered what could generously be described as a "vest." It looked almost as if the model had been dipped in some high-strength adhesive and swung by his ankles around a Louis Vuitton showroom, accumulating tobacco-hewn, monogrammed bags and furniture as he went. While this might be hard to picture, it also called to mind the work of UK designer Craig Green, known for attaching maximalist structures to models. Some ten days prior, in London, Green had unveiled his own innovation of a vest, fashioned from string, rope, and the kind of aluminium tubing you'd typically find on a bicycle. Neither were in any way practical, and almost deliberately jarred the concept of a vest's purpose—perhaps a hangover from fashion fixation with irony in recent years. Traditionally, the vest has been a response to a problem. A garment of pure functionality. Not merely a jacket with the sleeves lopped off, vests have typically been meant to function in tandem with the other elements of an outfit, providing what it lacks: from storage, to warmth, to high-visibility.
In January, five months prior to Abloh and Green unveiling their avant-garde vests, a more modest iteration became, briefly, associated with Paris Fashion week. The populist Gilet Jaunes movement, geared up for their tenth consecutive Saturday of protest. First started on November 17th, 2018, in response to rising fuel prices, the movement had quickly become an embittered faction, taking in both far-left and far-right activists, whose gripes with the French government were both concrete and existential—from the high cost of living and economic anxiety, to a lack of public services. Some commentators drew parallels between these protestors and those of 1968, noting the 50th anniversary of the student-led protests that brought Paris to a standstill and almost ushered in a sixth French republic. "Beneath the paving stones lies the beach," their protest graffiti had read, but the 2019 incarnation bore little resemblance. Despondent and angry, rather than hopeful for the future, the Gilet Jaunes uniform of yellow safety vests—which, according to French law, must be carried in every vehicle—had an almost comic irony. Here they were, donning a uniform of health and safety regulations, to congregate en-masse to smash shit up, throw punches, and maybe torch the odd car.
Anticipating that the unveiling of for Kim Jones' Fall 19 collection could potentially become a lightning rod for anti-bourgeois sentiment, Dior quietly moved its show from 6pm on the Saturday, the traditional protest day in previous weeks, to 5pm on the Friday. Thom Browne followed, shifting its showtime, which had originally been planned for 2pm. In Browne's reworking of the three-piece suit—something that has come to define his brand—there was a subtle sartorial link with those on the streets of Paris that day.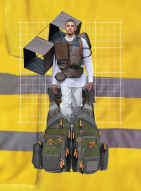 The waistcoat, created on this occasion by Browne in a shaggy gray wool, was arguably the original vest. In 1666, inspired by the Persian court of Shah Abbas the Great, Charles II of England declared his "resolution of setting a fashion for clothes which he will never alter," according to diarist Samuel Pepys. In his declaration, he demanded the wearing of waistcoats among his court, said to be a response to the dominance of French fashion at that time.
In recent seasons, Raf Simons at Calvin Klein and Heron Preston have both employed fluorescent, reflective motifs, similar to those of the Gilet Jaunes—a more modern, vibrant take on the trope of a fashion designer reworking workwear, perhaps. But more broadly within menswear, vests have become somewhat of a staple. Often, these have been variations on understated workwear pieces, like those by Carhartt WIP. Or, alternatively, reworked hunting and fishing gear, by the likes of Stussy and Supreme. (Although, Carhartt WIP's parent brand may lay claim to this style too, having first introduced a range of hunting gear, including a vest with a grouse pocket, in 1930).
Other brands have sought to subvert or exaggerate the typically functional nature of the vest. In his first collection for Louis Vuitton, Virgil Abloh took the idea of utilitarian, tactical vests and, somewhat absurdly, recreated them in LV-monogrammed leather, with a retail price of approximately $8,000. It was a piece that was archetypally Abloh in its inherent contradiction. The aesthetic suggested functionality but the reality was closer to frivolity. Artist Sterling Ruby meanwhile, took the notion of a paint-splattered vest, like that which a painter and decorator might wear, and married it with his own bleach-splotched handwriting. There's a certain charm to Ruby's vest—his outerwear iterations may suggest bold peacocking, but when applied to a midlayer, which a viewer may only catch a momentary flash of, it feels like an assured, lowkey flourish.
They're useless for fly-fishing, presumably—unless you want to become the lure.
Some recent vests barely resemble traditional vests at all. Created from a mixture of strapping, leather, and chains, such as this season's Versace Black Medussa Ribbon Harness, these harness-like pieces are more akin to the kind of club-wear you'd find in Berlin's techno-stroke-sex club Berghain. They're useless for fly-fishing, presumably—unless you want to become the lure.
But the influence of the vest has also extended beyond fetishists of both menswear and the traditional kind. "The Midtown Uniform," an Instagram account which pokes fun at the finance-bro ensemble of "button down [shirts], vest, slacks," has amassed 146,000 followers to date. Perhaps as a rebuke of the wanton excess of New York finance firms, but more likely as a result of not wanting to become a meme itself, the go-to makes of fleece vests for NYC financiers, Patagonia, stated it would no longer be providing co-branded merchandise to financial firms earlier this year. "While they have co-branded here in the past, the brand is really focused right now on only co-branding with a small collection of like-minded and brand aligned areas," a Patagonia representative wrote in response to the decision, adding, "[Patagonia is] reluctant to co-brand with oil, drilling, dam construction, etc. companies that they view to be ecologically damaging."
The vest is a symbol of functionality. Its lack of sleeves precludes it from really being considered outerwear. Instead, it's something you add to an outfit, traditionally to serve a purpose, or to account for what a jacket or shirt might lack.
Dressing like we're equipped and ready to spring into action—pockets, high-vis detailing and all—is possibly a subconscious response. The current existential threat of late capitalism is that soon, many of our jobs will be replaced by automated systems. And with that, comes a fear of purposelessness, perhaps why we have chosen to start dressing as hyper-utilitarian forms of ourselves, as fishermen, hunters, laborers—or raving garbage collectors.
A similar anxiety underpins the protests of the Gilet Jaunes, and has since spread beyond France, with smaller movements springing up in countries such as such as Belgium, the UK, Iraq, Italy, and Taiwan. While each protest has had its own particular nuances, they have largely been united by their anti-establishment undercurrents, and uniformly characterized by demonstrators wearing yellow vests en-masse. The vest remains a garment for those seeking a solution to a problem.
Calum Gordon is a Berlin-based fashion writer and co-author of Contemporary Menswear. His work has also appeared in Dazed, 032c, and Kaleidoscope.
Text:

Calum Gordon

Date:

September 17, 2019