Runway To The Circus:
Come One, Come All!
Fashion's Love Affair with Big Top Dressing feat. Bode, Y/Project, Schiaparelli
Text:

Maxwell Neely-Cohen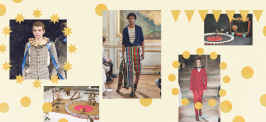 Fashion loves going to the circus. And then going back to the circus. Over and over. You can find fashion spreads extolling the virtues of sad clowns, acrobats, and showrunners in every decade since the fashion magazine was invented.
It's not hard to imagine why designers might feel a kinship with circus performers and showmen, with grifters, and freaks with a gift. The hustle, the ring, the desperation, the practice, the precision. The runway as some styled version of Big Top antics. There's also, of course, the tension between elite acceptance and mass consumer appeal. The circus is tumultuous. Even if P.T. Barnum never said "there's a sucker born every minute"—and by all accounts he did not—the sentiment still applies.
For instance, the scene of Daniel Roseberry's debut as creative director of Schiaparelli's Fall 2019 haute couture show included suiting worthy of a ringleader, cut long and bright with alternating tones and fabrics—perfect for an audience that surrounds on all sides. Y/Project's show, staged at the Oratoire du Louvre, included a dress with colorful, vertical striped lines, flanking down like a big top tent that can be seen from miles away. Belgium genius and the brand's creative director, Glenn Martens, has a knack for twisty-humour tailoring (tight leggings and sheer, form-fitting silhouettes that bring to mind carnival-type characters). His stuff is fun. It focuses your attention. It's both serious and un-serious.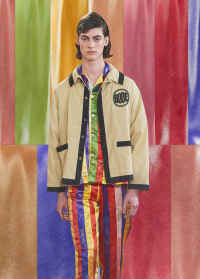 Dior's Spring 2019 Haute Couture collection was literally held in a circus tent. Live acrobats bordered the runway, forming shifting towers of torsos for the models to walk under and around. The head-to-toe striped ensemble Cara Delevingne wore to this year's "Camp" themed MET Gala hails from this collection. Meanwhile, menswear label Bode's SS 2020 collection was centered around designer Emily Bode's family history as wagonmakers for the Barnum & Bailey and Ringling Brothers circus. (The designer spent time researching her collection at the Ringling Museum of Art in Sarasota, Florida.) These fabrics are worthy of a traveling show—workwear worthy of crafters, carpenters. Models walked achingly slow—the circus is an eerie, haunted concept after all—robed in colors like golden-yellow, maroon, and green; so easy to imagine on a tightrope or unicycle. So prone to acrobatics. Striped pants, short-shorts, and ballet slippers for trapeze-flying...for human cannonballs ready to be launched.
Clowns, acrobats, animal tamers, performers, these roles had all existed for millennia. Fairs. Carnivals. Vaudeville. Ballet. Opera. The circus is all of these, smashed together just as the modern world was smashing together.
Philip Astley, the inventor of the modern circus, was an 18th Century British cavalry officer whose skill as a horseman was honed during the Seven Years War. Returning home, he started putting on trick riding shows. The greatest practitioners of the form utilized a circular performance space—a "ring"—so the centrifugal force would keep them glued to their horses.
Astley, ever the innovator, hired clowns to entertain the crowds between acrobatic rides. When this worked, he kept going. He added acrobats to leap and spin on the fringes. Jugglers who could keep balls in the air for an entire show. Tightrope walkers to balance above. Dogs that would dance on their hind legs. Astley performed for kings, courts, festivals, the rich and the poor. His shows are mentioned by name in the works of Austen, Dickens, and Joyce. As soon as Astley had success, he had competitors. They did not stay in one place.
The Americans added the circus tent, and then exotic animals. The trapeze came from France, where a young man named Jules Léotard started playing with suspended bars over his father's swimming pool. Léotard joined the Cirque Napoleon in 1859. The outfit he invented to fly through the air still bears his name.
The story of the circus is the story of great and brutal empires—Rome, Britain, France, Russia, the United States, China. Like fashion, the circus is primarily a visual art, a communication system unbounded by the borders of language. The circus tore through borders as it evolved, 19th century iterations shooting around the world in a way more familiar to the performers of today.
Taking inspiration from the circus allows a designer to resurrect looks from beyond what might be considered a normal historical time horizon, and get away with it. The circus preserves forms of fashion that otherwise only exist in the backgrounds of museum paintings. The outfits of clowns and acrobats reach back to Italian commedia dell'arte, and then even further back to medieval troupes and jesters.
For all of fashion's reliance on history, it is unusual for designs, particularly in menswear, to reach back further than a couple hundred years. Yet in a circus collection, a bright red tailcoat, renaissance tights, a tophat, none of these are out of place. The circus is one of the last places where pre-industrial costume and styling is kept alive in a context that supports it. And unlike the opera or ballet, the circus was and is intended for the masses, available to everyone, come one, come all.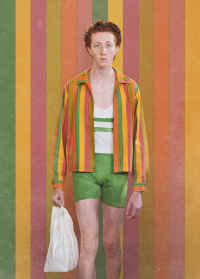 Vasilis Loizides SS19 line features outfits worthy of the most extreme showmen, like they might belong to a fantasy or future circus. But they are ultimately throwbacks to the past, vestiges of styles from so far back they read as that of another world. His F/W19 collection featured more literal circus-themed prints, lions and tigers and zebras and show horses. One top is constructed with two elephant heads which lurch out of the chest. There's a matching pair of pants where the elephants launch out of your shins.
The "modern" circus no longer exists. The way it treated its animals rightfully lead to its demise as consumer attitudes changed. But that legacy of extreme show-making, of being able to train or tame anything to make a buck, to survive, can sit on a piece of clothing like a manifesto. Like a plea to come and see. A wish to not be an imposter, to perform and get by.
Maxwell Neely-Cohen is a writer based in New York City. He is the author of the novel Echo of the Boom.
Text:

Maxwell Neely-Cohen

Date:

August 12, 2019