Palomo Spain Designs Menswear Fit for Queens
Designer Alejandro Palomo in Conversation with Michael the III
Interview:

Michael the III

Images/Photos Courtesy Of:

Palomo Spain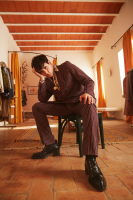 "What are you wearing?," I ask over the phone. Alejandro Gómez Palomo, the designer of the already iconic Palomo Spain, is in Madrid. It's raining. He answers in great detail, able to recall—as just one example—the exact season his Yves Saint Laurent denim jacket was produced: Spring/Summer 2007. Without pause, we head backwards to the late 1960s, to Woodstock, to the black-and-white photo used as a print, to the specific YSL collection Stefano Pilati brought out of the archive.
Palomo Spain is not the sort of clothing one wears to go unnoticed. It's bold even when it's elegant. It can be demure, but more often than not it's sexy. When the colors are muted, the silhouette is confident. If there's texture or pattern, you'll know it. It may shimmer at you flirtatiously. It could reveal your underwear. It will surprise you. Always, it's fascinating.
Alejandro tells me he developed a taste for fashion at a young age. In his hometown of Posadas, Spain, the skills that would later earn him a spot on the 2017 LVMH Prize shortlist were first used to make clothes for Barbies. This year, he costumed an Opéra National de Paris ballet. When we spoke, Alejandro was on a day off from filming the second season of Maestros de la Costura, a television fashion-competition for which he is a judge. At this year's Latin Grammy's, the most nominated female artist, Rosalía, wore Palomo Spain on stage. She also wore it to the EMAs, where Rita Ora wore Palomo Spain the year prior. Miley has worn his clothing. So has Harry Styles, Colton Haynes and Troye Sivan and the list goes on. But perhaps most significantly, it was a Palomo Spain garment that the world first saw swaddled around modern-day royalty: Beyoncé's twins.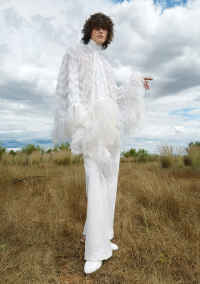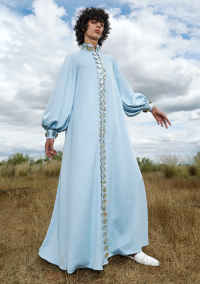 In his last collection "Wunderkammer," a model wears purple taffeta. The pants and sleeves are large. Plumage trims the silhouette and the model appears to be of another world, glowing. The designer cites this as one of his favourite designs. In "Hotel Palomo," there's a maid with a feather duster. The blue, collared shirt is tied to reveal midriff and a sun-kissed chest. A belt is slung around his waist, displaying keys of various sizes, one for every attended room of the day's very fashionable shift. A guest appears wearing a sheer gown. It might actually be a robe, but it takes cues from luxurious evening-wear. Where you cannot see flesh, beads are sewn into a pattern of flowers. Ostrich feathers punctuate his wrists, reacting to movement in slow-motion. It's the more sensual relative to the high-femme silhouette of J.Lo's 2000 Versace show-stopper.
But is the fashion masculine? Is it feminine? Does the answer change how you feel about it? On the subject of rules in fashion, Alejandro tells me, "We're completely free to put whatever the hell we feel like."
Michael the III
Alejandro Gómez Palomo
One of my favorite Palomo Spain pieces I've worn is from your Fall/Winter 2018 collection—the trousers with the flap on the butt. That button flap has a lot of sexuality.
Exactly. I always like to have that sophisticated kind of feel, but with this patch, it's a little bit funny, it's playful.
In interviews you've said you're not trying to play with gender—it's more of a natural thing for you.
That was never an intention. It is more tied with the freedom of men being able to dress whatever way they like, in whatever clothes they want to wear. We came from a time when everything was so restricted. It's not only fashion, but in general, now we can make some sort of unblocking of this prejudice; "This is for women, this is for men," you know?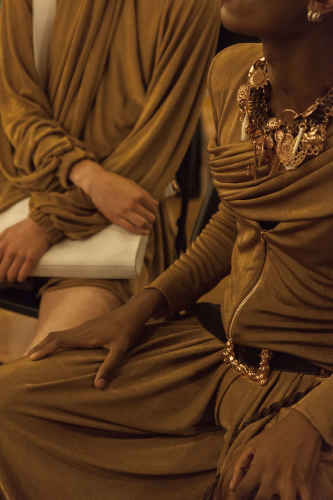 "I think men should be able to wear big incredible evening coats, or patterned suits, or whatever they want: a feather corset and big silk hat."
A while ago I was fantasizing—if I ever won an Academy Award for Best Disney Villain or something like that, what would I wear to the event? This was before your first collection and I realized, there really isn't much sexy or even very creative formalwear directed at men.
I was thinking it has a lot to do with the way "male" elegance and sensuality is allowed to be expressed.
We should all dress up, us as men as well. We don't need to be so constricted by wearing just a tuxedo, you know? I've never worn just a tuxedo for work, for the parties that I go to. I think men should be able to wear big incredible evening coats, or patterned suits, or whatever they want: a feather corset and big silk hat. I guess we'll see this moment come, little by little. I think we have seen it already, but it will still take a while.
You designed stage costumes for the singer Rosalía—how does custom work change the creative process?
It's so different, because for Rosalía you have to create something cut for movement. She's got to be comfortable. She is the kind of artist that's on stage and dancing a lot. The whole show is movement, so that's the first thing you need to consider. I have to understand what she's about; what she's talking about on the album. I want to know what she likes and what she feels, what she wants to wear, what color she thinks, what songs she's going to sing. It's an intricate, difficult process, but it's so beautiful and so satisfying when you see her shining on stage wearing one of my pieces. She's a strong woman which inspires me as well, but it's a completely different creative process.
You've said many times that your hometown is a major source of inspiration. You even have "Spain" in the name of the brand. For someone like myself living outside the country, what is very Spanish about your designs that we might not notice?
I think that's what brings Rosalia and myself together: the country where we're from, and not being afraid of showing it. I think we come from a time in Spain where we would leave the country without really shouting where we're from. Spanish designers go international, try to do something that looks a bit Parisian or Belgian or whatever, without really looking at what we have here and what makes us different from the rest. For me, it's very important to say, "This is the kind of fashion that's done in Spain. This is how we understand fashion here."
In different places in the world, there are different methods, and I think that's what makes fashion interesting. For me, it's always been a distinct point to do absolutely everything in Spain—manufacturing and producing everything here to have that kind of value. We work a lot with artisans and techniques that are typical from Spain, and I work with a team that's entirely people from my village. For me, it's a very beautiful way of expressing who you are and making yourself different from the rest.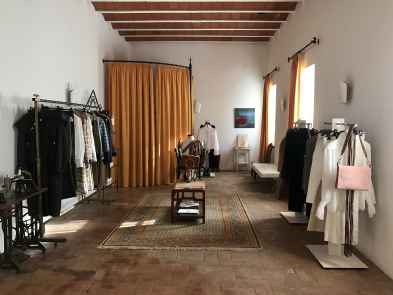 Did you always know that you had to leave your hometown though, in order to seek out what you wanted?
Yes. I always wanted to leave my hometown. Growing up there, I was so bored. I had nothing to see. I wanted to meet the world, I wanted to express myself and meet people. I think that I was like 14 or 15 when I said to my friends, "I want to study in London."
Sex seems like an integral part of your clothing. What do you find sexy about clothes?
I like collarbones to be shown. That's why I've been doing very big, kind of low, 17th century necklines from the very beginning. I find it really sexy to wear a little jacket, or a little corset that's a little bit feminine, but showing a part of the male body that is normally covered. I also think sexy is about an attitude. You can be wearing a tailored coat, completely covered, totally dressed and could be the sexiest if you have the right attitude.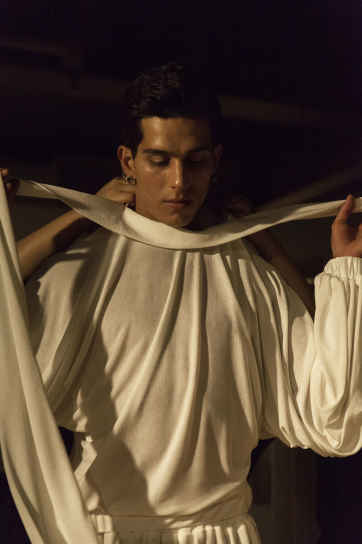 Let's say you were hosting a dinner party, and you could seat five people next to you, all wearing Palomo Spain of course, who would these people be?
I'd have Michael the III.
I would have Hamish Bowles. I would have Manolo Blahnik—he's the kind of fun person I'd like to have at a dinner party. Then we need two strong women. Madonna. I think I'd really want to know Madonna and I think she's a really incredible woman.
That's perfect. She is fascinated with Spain.
Yes, and it's the kind of strong woman that we—all gay guys—need. Then we need another woman, who will be a younger version of her. Can you think of someone you want to sit next to?
I would love to see Sophia Loren in your clothes.
That's just my own personal bias.
There's a very funny thing with my clothes—they are interesting for trendy boys into fashion and all that, but then classical ladies also like it and buy into it. It's a very funny combination. It's almost like the Palomo Girl is not the girlfriend of the Palomo Boy. She's more like the mother. You know what I mean? That kind of motherly figure.
Figures we idolize and look up to.


Will there ever be a minimal collection?
Well, I try to be minimal. I try. My last collection was my intentional attempt at minimalism. I think I can be minimalistic, except I like to use elements, you know? I like detail a lot and texture and fabric. I like clothes that you use and they fray and transform into something that's minimalistic, a very simple statement. I can try to be simple and elegant, but never really minimalistic.
When I first saw your collection, I was in awe. The only way to wear something like that is to try on womenswear, but it never fits. I imagine there's people of all genders who have had a similar (or stronger) reaction when putting on your clothes. It opens a new world of possibilities. Is there a sort of transformation you see in someone when they wear your designs?
Definitely, definitely. It changes their perception completely. You might think at the beginning that something's too risky for you, or you're not going to feel comfortable but the reaction that people have when they put on the clothes—it's quite beautiful. It's quite magical to watch. They are special clothes that will make you feel differently—uplifted, beautiful, and glamorous. It just completely changes the attitude towards life.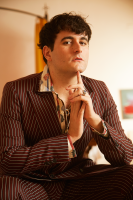 Michael the III is a writer and photographer from Montréal. His work has appeared in Gayletter, Document Journal, THEFINEPRINT and more.
Interview:

Michael the III

Images/Photos Courtesy Of:

Palomo Spain