The following piece is part of Earth to Fashion, a series of stories dedicated to sustainability in the fashion industry and beyond.
Fashion is feeling the pressure. These days, it's hard to find a brand or retailer that isn't throwing around the word "sustainable." Everyone is jumping on the ethical bandwagon, even if they can only conceive of it as a trend.
The apparel and footwear industries collectively account for 8.1% of the world's climate impacts—or as much as the entire European Union, according to some studies. Every year, 2 million tons of textile waste is produced, the equivalent of 61,000 blue whales. What are these fashion brands actually going to do about it? What are the alternatives, beyond ceasing production altogether?
Materials with a low environmental impact will play a crucial part in the development of a sustainable fashion industry. And despite common perception, organic cotton and recycled polyester aren't the only candidates. The fashion world is now teeming with alternatives with unusual provenances, from agricultural waste to yeast-grown proteins to skimmed-off pond scum.
Who needs a cow to make leather when pineapple leaves will do just as well? Why rely on petroleum rigs when there's a bounty of reclaimed plastic to tap (and divest precious ecosystems of)? Time-honored standbys like hemp can now be "rebooted" to look and feel contemporary, and cotton scraps given a luxury makeover with a little intervention. Here journalist and CFDA-approved one-woman sustainability resource, Jasmin Malik Chua takes us through just a few of the innovative materials we hope to be seeing a lot more of.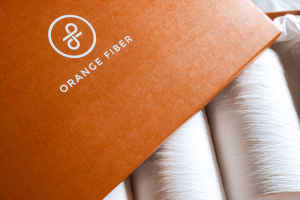 Orange Fiber is a silk-like textile produced using citrus byproducts. Its namesake company hails from Italy—Sicily, to be exact—where 700,000 tons of orange rinds and seeds are discarded after juice extraction every year. This bulk of citrus waste ("pastazzo") caught the eye of student Adriana Santonocito, and she was inspired to launch Orange Fibre. Santonocito, after tinkering at her university's labs, discovered that it was possible to extract cellulose from the rinds and then spin it into yarn. Together with classmate Enrica Arena, Santonocito pursued—and won—several grants and international awards, which have allowed them to scale up production. The company now operates out of a Sicillian juice factory, where they source their materials for free. In 2017, Salvatore Ferragamo, the nearly 100-year old Italian house released signature scarves made with Orange Fiber in place of the usual silk—an indication of how luxurious the alternative feels. Fast fashion giants have also taken notice, with H&M adding a collaboration with Orange Fibre to their Conscious Exclusive 2019 line.

Abandoned fishing nets, cast-off carpet, and other bits of discarded nylon are all grist for Aquafil's "magic box," which transforms waste on one end into ECONYL® fiber at the other. The Italian manufacturer has now linked up with a slate of boldface brands and retailers: to date, the 100% regenerated nylon has clad bags for Stella McCartney and Want Les Essentiels, and as of last month, Prada, who announced a sustainable line of their iconic nylon bags. The project is called Re-Nylon, and sees the brand committing to convert all Prada nylon bags into ECONYL® regenerated nylon by the end of 2021. 1017 Alyx 9SM's FW19 show also included garments produced from ECONYL®, with Scandinavian fishing line recycled to craft some of the collections more technical pieces. Besides creating healthier seas, Aquafil says that the production of every 10,000 tons of ECONYL® saves 70,000 barrels of crude oil and the equivalent of 62,900 tons of carbon dioxide. Even better, the fiber can be recycled almost infinitely without any decline or degradation in quality.

Hemp is a truly remarkable crop. It requires very little to grow and even less in the way of pesticides or fertilizer. But it also has a reputation for being crunchy—for good reason, since it has a look and feel not dissimilar to burlap. "Cottonized" hemp, which has been processed to be virtually indistinguishable from cotton, could, however, be a game-changer. Levi's employed cottonized hemp for a denim collection this past spring with Outerknown, the eco-conscious brand founded by champion surfer Kelly Slater. Because blending a product with 30% hemp (cottonized or otherwise) slashes its water footprint by a third, broadening the use of fiber could be a boon for an increasingly thirsty planet. Patagonia has also begun blending their hemp clothing with Tencel lyocell, working to provide a product that is as soft as cotton, more durable than linen, and yet much more environmentally friendly.

Is the future of footwear literally green? Bloom, a biomaterials firm from San Diego, is counting on it. The company harvests algae from ponds and lakes and turns it into the closed-cell foam known as ethylene-vinyl acetate, a.k.a. EVA, which is the cushy stuff you find in insoles and midsoles. Bloom has worked with several brands to replace petroleum-based EVA with its plant-based innovation, with the added benefit of unclogging aquatic ecosystems for fish and other wildlife. Replacing the insole and midsole of a single size 9 men's shoe with Bloom foam, the company says, returns 225 bottles of filtered water to the environment, and keeps 21 balloons worth of carbon dioxide from entering the atmosphere.

Refibra x Tencel takes good things—in this case, post-industrial recycled cotton and sustainably harvested wood pulp—and makes them even better. Refibra technology is used to convert scrap cotton into virgin Tencel lyocell, a natural fibre similar to rayon or modal. The solvents used to process the fibers are 99.7% captured and can be used nearly ad infinitum. Compared with cotton manufacturing, the process reduces water use by 95% and does not pollute the air or soil. To wit, Lenzing, the Austrian company that manufactures the textile, produces it using a closed-loop production cycle and has committed to increasing the composition of scrap cotton from 20% to 30% this year alone, which will help divert even more textile waste from the landfill.

Few would disagree that the giant patches of plastic bobbing in the ocean are nothing short of an environmental catastrophe. The Ellen MacArthur Foundation predicts that there will be more plastic bits in the sea than fish by 2050, unless something is done about it. A number of brands have risen to the challenge, the most prominent of which is adidas, who has been working with eco-creative organization Parley for the Oceans to recycle illegal deep-sea fishing nets, post-consumer plastic bottles and other man-made debris collected off the coasts. Earlier this month, the sportswear brand pledged to churn out 11 million pairs of sneakers using this intercepted plastic. It even has a line of athleisure/yoga-wear, produced in collaboration with Stella McCartney, derived from Parley Ocean Plastic. Helmut Lang, too, partnered with Parley for their SS19 collection, on a line of nylon jackets made from recycled plastics. Other companies making similar waves include Madrid's Ecoalf, which has been recovering plastic from the depths of the Mediterranean Sea, and Bionic Yarn, which transforms coastal and marine plastic into yarn. And while these recycled plastic fibres still produce, at the end of the day, more plastic clothes, it is one way to get more use out of the material we have already manufactured while we find a more sustainable alternative.
Bolt Threads, a biotechnology firm from San Francisco, has a "smart" alternative to animal-derived silk. Engineered using proteins derived from non-GMO yeast, the company's liquid silk fibers can be "programmed" to deliver any combination of softness, strength and pliability, then turned into fiber through a wet-spinning process. Unlike animal-derived silk, the resulting fabric is highly durable, even machine washable.
Bolt Threads has an ongoing patron in the form of Stella McCartney, who presented a bodysuit and a pair of parachute pants made from the textile at her SS19 runway show. In 2019, for her adidas x Stella McCartney line, she continues to be a proud partner of Bolt Threads, as well as revolutionary company Evrnu, which takes waste cotton and converts it into new, high-quality raw materials. A deal is also reportedly in the works between Bolt Threads and Patagonia, who has expressed interest in a fiber that can be tuned to be five times stronger than steel, and tougher than Kevlar.

Carmen Hijosa spent 15 years working in the leather industry before she decided to abandon it all over the toxic tanning chemicals and the environmental concerns. A trip to the Philippines, which has a bustling pineapple trade, offered her an alternative. Why not strip the leftover leaves—of which there are a copious amount post-harvest—of their chlorophyll and biomass, then felt the fibers together into a non-woven mesh not unlike cowhide itself? Soon Ananas Anam was formed. Since, the faux leather has taken off, and not just with niche brands. Hugo Boss created a men's sneaker out of Piñatex last summer, "designed to make a minimal impact on our planet, while also representing the impeccable design credentials that Boss Menswear is known for." Parisian vegan footwear label Rombaut showcased its animal-free Piñatex-incorporating designs in an SS19 "infomercial" starring Paz de la Huerta, and a pair of the brand's chrome over-the-knee boots made entirely from Piñatex are currently on view at the "Sustainable Thinking" exhibit at the Museo Salvatore Ferragamo in Florence. There is no doubt that the future of footwear and handbags is cruelty-free.
Jasmin Malik Chua is a journalist who specializes in the apparel industry's social and environmental impact.
Text:

Jasmin Malik Chua

Video:

Nathan Levasseur

Date:

July 26, 2019