Creative Director Shayne Oliver is Relaunching Hood by Air
Exclusive to SSENSE, The Designer Discusses The Return of His Cult-Favorite Brand
Interview:

Katja Horvat

Photography:

Paulo Sutch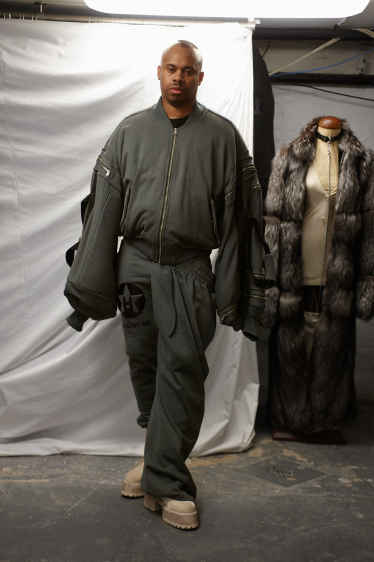 The following piece is part of our week devoted to Creative Directors.
In 2006, when designer Shayne Oliver founded Hood by Air, it was more than just a brand, it was a movement. A phenomenon galvanized by an ensemble of collaborators and New York club kids from the GHE20 G0TH1K scene. During its prime, Hood by Air—HBA for short—earned two of the most prestigious awards in fashion, the LVMH Special Jury Prize in 2014 and a CFDA award the following year. The brand grew to embody the mid-2000s zeitgeist—think gender neutral garments, hybrid XXL silhouettes, and big logos, seen everywhere. A$AP Rocky closed the FW13 show in a neoprene jacket with "HOOD BY AIR." on the back. Rihanna wore a pastel pink custom HBA look for her performance at the 2016 VMAs. HBA collaborated with Pornhub for SS17, sending photographer and artist Wolfgang Tillmans down their runway—Jaden Smith and Rick Ross sitting front row. With so much well-curated hype, it came as a surprise when, in April of that year, HBA announced it would be going on hiatus, effective immediately, in order to focus on personal projects.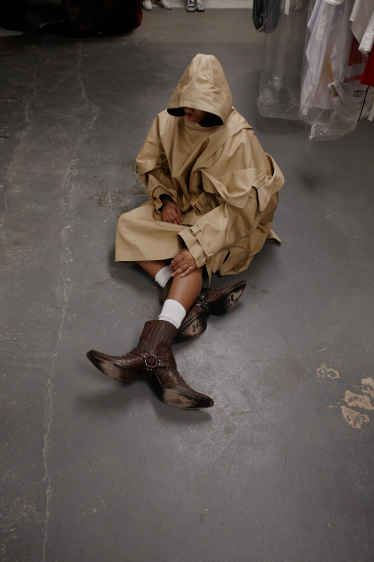 After a highly publicized collection as artist-in-residence for Helmut Lang in SS18, Oliver, now 30, and HBA are making a comeback. Today, it's all about extracting the essential meaning of the brand, the personalization, impact, and storytelling that made HBA so refreshing in the past. With the re-launch, Oliver will address his critical views on materialism and mass culture, offering potential solutions while proposing new models for consumerism.
Whether working under HBA, Helmut Lang, Longchamp, Diesel, or Colmar, Oliver's work is undeniably his, pulsing with themes of sexuality, humor, power, and alienation. He is vocal in the fashion community, unafraid to speak his mind. While misinterpreted provocation is never the intent, it does afford a level of freedom to his work. This past year, Oliver has been developing new ideas and models that he will debut in the upcoming months. Katja Horvat, a writer and art editor for HBA, sat down with Oliver at the Museum—his archive/bunker studio space—in New York City to discuss the relaunch for the very first time.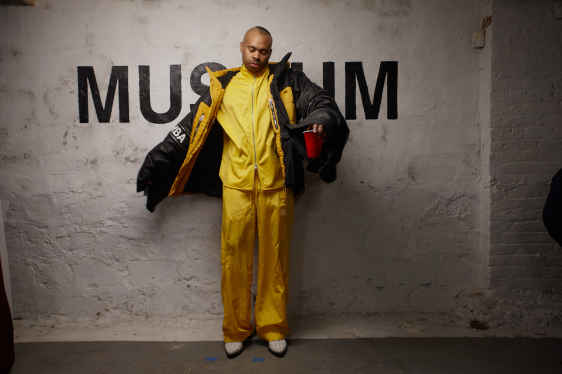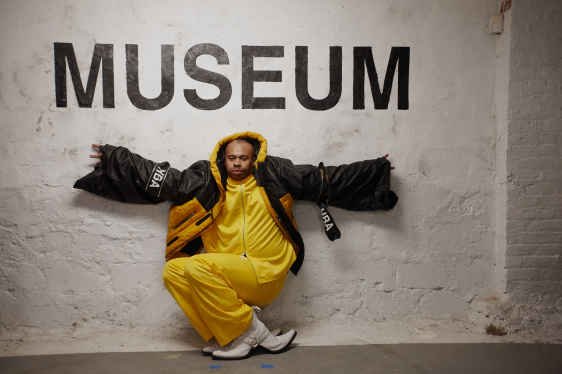 Katja Horvat
Shayne Oliver
Shayne, do you think you have the freedom to do what you want? My fellow Slovene, the philosopher Slavoj Žižek once said, "Nowadays, you can do anything that you want—anal, oral, fisting—but you need to be wearing gloves, condoms, protection."
This actually addresses one of the issues I faced with HBA [towards the end]. I stopped protecting my own ideas and my beliefs. I feel I had done what was needed to get my points across to the world, but to push it further, you must believe in it. So once that was lost, we all know what happened.
Even though HBA has been on hiatus for almost two years now, you still have a strong fan base. When people talk about you now, wear your clothes, and beg for your comeback, do you think they are yearning for your ideas or the actual clothing?
The ideas! For a while, the brand worked to make new archetypes of humans, of people we never understood or people that I wanted to meet—and many resonated with that. They still do.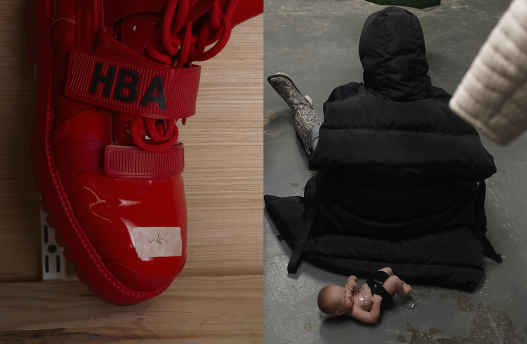 Do you think you have a responsibility to the public? Do you ever feel like you need to address specific issues just because you have the platform to be heard and seen?
I think that's how I felt before, because by putting out my own ideas and beliefs it brought people around me who wanted to do the same, and wanted to use me as a vessel to open that world for them. Collaborations often allow for people to come into that bravery and sense of self-discovery. But for that to work on both ends, I believe there needs to be a level of respect for the exchange of these ideas as well.
It seems like you figured out the respect and reciprocity, as you are bringing Hood by Air back. So from then to now, what has changed?
Hood by Air's fundamental ideas never have or will change, but I did change, though, and some people around me. There came a point, towards the end, when I was pushing forward just to push and out-do myself. I needed a minute to figure out that it's more about exposing the issues, and then also creating resolutions for them. The latter was somehow non-existent at the time, so I just felt the need to take time off, and to re-think my/our decisions.
Making space for the difficulty, then addressing it, is an essential component of any practice.
And it is not like we didn't do that before, we did try our best, but at a certain point, I/we just lost control. So now, instead of overdoing it, I am all about communication and explaining what am I trying to say with a specific item.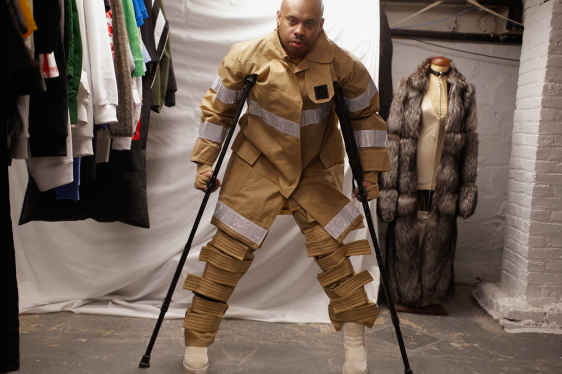 I am incredibly proud of everything we did in the past. We created a space for ourselves and many other brands. However, through the history of the brand, often, people did not fully understand what we were trying to say. So when you don't understand something, you put it in a box, and with us, we were in the wrong box more so than we were in the right one. So my aim now is to be fully understood, and if that means creating my own boxes in order to be understood, then let it be. I just want everything to be very clear and direct.
Do you think that after all these years of working in fashion you can still have breakthroughs?
Definitely! To me, the breakthrough comes from clarity and a conversation. If I chose to have the same conversation over and over again, then maybe not, but if I am starting a new one, then absolutely.
Is this HBA relaunch a type of breakthrough for you?
Actually, yes. Taking time off to re-think our decisions, proved to be the break we needed. Things are now more transparent than they've ever been, and that is all due to many conversations that have, and still are, happening.
To stop at such a high takes courage. I think that now, more than ever, we are all so replaceable, so it is very courageous to press pause.
I agree, and no one knows how our comeback will be received. We are all hoping for the best, but we also understand some time has passed.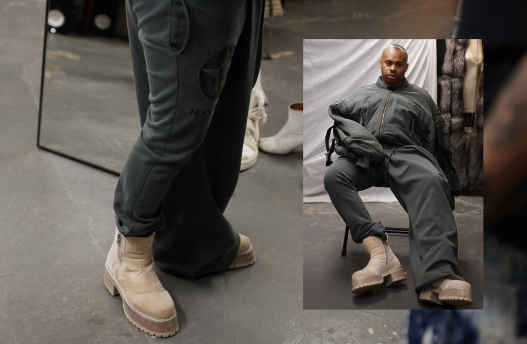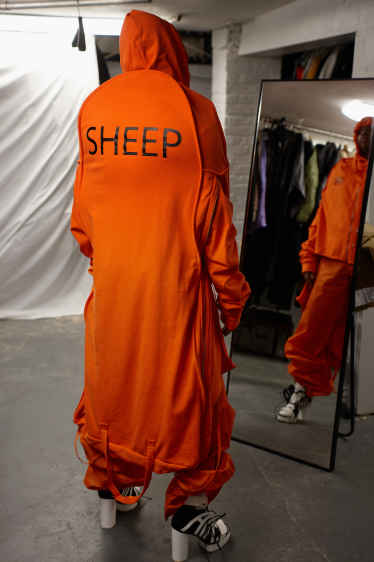 Do you ever feel people expect too much from you?
I don't know, to be honest. I've never thought of that as I've always been busy trying to surpass my own expectations.
So for whom is all this work for then? Yourself?
It is for the people that have come before me as my homage to them. For the people that will come after me. It's me creating the space for our different ideas to live in. And for everyone that is trying to speak their mind and address what is going on at this exact moment.
Will you move away from the fast-paced environment of fashion week?
Fashion schedules are ridiculous! And fashion weeks, at this point, are no longer for the people that need them. You look at younger designers, and they get overshadowed by people that garner the most success from fashion weeks but don't actually need it. Larger houses don't need them, yet they are the only ones who can get what they need from doing them. Through runways, these younger kids essentially just become mood boards for bigger corporations who have the capability to push out [their] ideas at a faster, more commercial, more developed rate. I don't feel the need to be in that conversation. I want to remove the brand from the conversation of just fashion in general, and allow it to exist outside of the fashion system, so people can really see I am not trying to prove anything or create a vocabulary for the fashion world.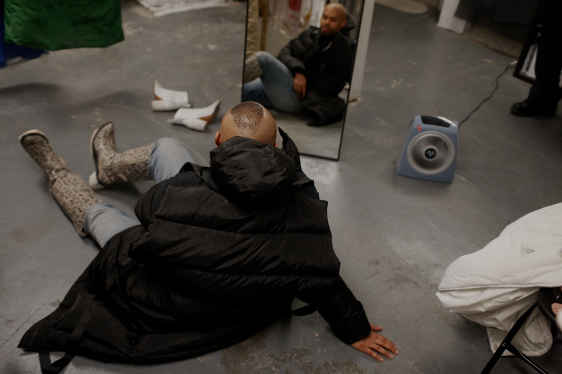 What in your opinion makes a brand successful—outside of fashion as well?
A voice. That sounds so corny to say, but you need to want to say something, and not just, "I am a designer, and this is what I think is cool." I think in order to be successful, you have to fill a void that is not being spoken to, either personal or one that lives globally.
I feel many young designers are afraid to work in that way, because at the end of the day it's a business, and you need a lot of money in order to have an active brand.
I mean, there are a lot of pieces to the puzzle here. And if we move away from the outside influences of buyers, investors, etc., I would say having your own store is a very important aspect when building an identity. A lot of "outspoken" brands have built their identity via their stores, as that allows them to channel their whole vision, let a consumer into their world, and give someone a full understanding of what the garments are all about. But as you said, it's a business and having a store these days, especially as a young designer, is such a privilege, and not many can actually pull it off. I hope that changes, and investors, or whoever, come through and help garnish younger talent.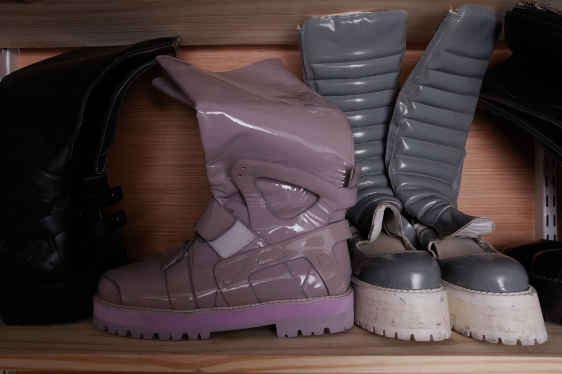 You talk about the importance of the store—will Hood by Air have one?
Not right away. With everything going on, a temporary retail store won't be the first thing we will do, but we will introduce new models inside our system that will offer contemporary retail experiences.
Can you imagine all of this going on without you? Would you ever leave the brand?
Yes and no. Yes to me going to another house, and just creating and working more—no to me leaving the brand. I never see myself leaving the Hood by Air group, as it's a part of who I am. But then again, I am my own designer too, and I do not want to limit myself just to Hood by Air. I see the brand as an extension of what I do, and in the long run, I see myself helming another brand.
There are many contradictions in your work. Would you say there is a certain beauty in pain?
Sometimes you have to go through a moment of pain to understand what you actually like. Sometimes you allow things to come into your life to hurt you, but once you realize you no longer want them there, it can be therapeutic to work through the pain.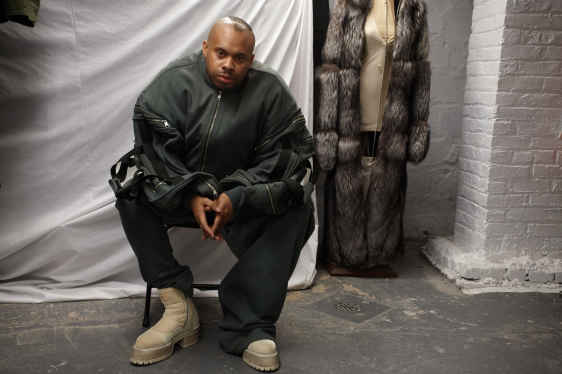 Katja Horvat is a freelance editor and writer living between New York, Berlin, and Ljubljana. She works as an art editor for Hood By Air, and her writing has appeared in 032c, i-D, Dazed and Confused, Interview Magazine, and more.
Interview:

Katja Horvat

Photography:

Paulo Sutch

Styling:

Andreas Aresti