Sarah Nicole Prickett Catalogs The Most Elusive, Palliative, And Hard To Swallow Hue

Briefly in Chopin's Fantaisie, the one in F Minor, a few wavy, tentative arpeggios resolve into a perfect fifth below a root triad. The notes — F C F Ab C — produce, when spelled out in hexadecimal code, a web color: #fcfabc. The coincidence works. You don't have to "have synaesthesia" to get it. Glenn Gould, who did not even like Chopin, nailed both the feeling of these arpeggios and the color at hand when he said that if he could be any key, he'd be F-minor: "It's rather dour, halfway between complex and stable, between upright and lascivious, between grey and highly tinted," said the pianist. "There is a certain obliqueness."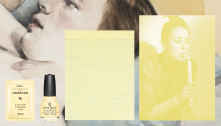 The oblique color looks like a typo, like it should autocorrect to a real color. A tint, technically, #fcfabc is less yellowed white (old) than whitened yellow (vintage, but pristine). Taste an underbaked soufflé, or a banana peel's inside. Saturated a little, it comes to resemble flowers of sulphur, which is not a plant but a finely powdered mineral said to beautify skin. Under no circumstances is it delicious.
I call it "pill yellow." My grandmother's aspirin was this yellow. My aunt's diazepam. My lowish dose of lisdexamfetamine, a subtle varietal of upper that I had to have after a friend, citing his psychiatrist, called it "the Rolls-Royce of amphetamines."
Pallid, and palliative. Like any pure yellow, literally rarer than gold in nature, it looks unreal. Sometimes you see it in the moon, huge and low in a dark denim sky. Sometimes in urine, when you drink enough water. Sometimes in a diamond.
Pastel at the brightest, it's the yellow of legal pads in courtroom dramas from the golden age of videotape, not the yellow of legal pads in real life. I have read that the color reduces the eye-straining contrast between paper and ink; that it encourages clarity of the mind and concentration; but also, that it can fatigue. Susan Sontag—incidentally, a noted taker of amphetamines—called the pads a "fetish of American writers," the idiom implying that a normal person, i.e. not a writer, would find the hue unappealing, hard to swallow.
"Like a bottle of fabric conditioner or an unsatisfying soup, pale yellow is something you have to tolerate and stomach rather than fall in love with," says an auto-care company's website in what purports to be a definitive listicle of the ugliest colors in automobile history. A similar listicle on the website Jalopnik says that "limp-wristed pale hues"—the homophobia!—"just look sad." Tell that to Evelyn Mulwray. She (Faye Dunaway) drives, in Roman Polanski's Chinatown (1974), a '30s Packard custom-painted to match her pallor of temperament. This is not a car with the nerve to go around looking happy.
I started seeing it more last year, albeit while looking for it. Raf Simons, in his F/W '18 show for Calvin Klein, paired pill yellow (shirts and turtlenecks) with either legal-pad yellow (pants) or safety orange (coats), while his team sent a sportif suit in the hue to Cate Blanchett, who wore it at Cannes. Sander Lak, described at Vogue.com as "first and foremost a colorist," produced whispery dresses in sulphuric silk and chiffon at Sies Marjan, and Simon Porte at Jacquemus showed some almost negligently draped garments in jaune pale. Simone Rocha went nuts with white-gold brocade. Monochrome looks, signalling a low-energy commitment, were at home in the Resort '19 shows: There was a Maryam Nassir Zadeh pantsuit, a "modern" (less tailored) version of something Hillary Clinton might have purchased at Barbara Jean in Little Rock, Arkansas when Bill was governor, as well as a Hellessy pantsuit. There were cowgirl jeans and blouses at Isabel Marant. Then, already for S/S '19: Swishy skirts and dusters at Acne Studios in a balletic collection, a double-breasted long jacket or down-to-business dress at Alyx, and a sick rubber coat—the very embodiment of urophilia—at new Chinese-expat brand Social Work. Two long dresses, one chintzy and sheer, the other daubed with sky blue and worn under a net of fine pearls, by Yuhan Wang in her all-pastel graduate collection at Central Saint Martins. (Wang's apt references: "indoor ladies, indoor paintings, some indoor furniture.") Kanye reissued the YEEZY 500 in #SUPERMOON, a vaporous citrine that is perhaps one of the best palest yellows of all time, and released an ad campaign boldly suggesting that the sneakers be worn with orange-tan skin and écru socks. Meanwhile at the Met Gala, the carpet, which Cardi B's ballgown best matched, was not red but appropriately giallolino.

Even Catherine, Duchess of Cambridge, held my interest for sixty seconds when she appeared, at the wedding of Meghan Markle and Prince Harry, to thwart etiquette in an Alexander McQueen coat that the chattering classes called "cream," even "ivory," and the palace called "primrose yellow." I remembered a teenage Patricia Highsmith story, summarized in Andrew Wilson's biography of her, Beautiful Shadow (2003), about an Englishman who buys a monochrome photograph of a jockey on a racehorse and has it painted with the primrose and white of the jockey's silks. His American wife takes offense to the colorization on the grounds that primroses in her mother's garden were pink. Eventually the picture is hung, but the man feels it necessary to tell every observing guest, "That's primrose. English primroses are yellow, you know." Concludes Wilson: "Obviously, the experience has left him somewhat disturbed." Does this color have some kind of problem? As an emoji, it's the two-fingered peace sign, the sign of breeziness and passive-aggression, used to indicate that everything's chill, that no one cares, or both.As a mood, it's the noon-day demon: acedia. But then acedia is so often misdiagnosed as the blues. As a drink at the bar, it's tequila soda.Dunaway wears it again in a new two-minute "movie" for Gucci. She plays a woman named Sylvie, a Beverly Hills housewife who lives in a pale yellow stucco house, wears a pallid straw hat, buys a pair of pale yellow clogs at the Gucci store on Rodeo Drive, and wears a pale yellow tracksuit to the tennis court. Everything looks like the videographer, Petra Collins, smeared margarine on the lens. I no longer want to write about this color. Luckily, during final edits, a video appears to me: Rihanna twirling on a cobblestoned street in Cuba, wearing a straw-gold dress of plissé voile by Thierry Colson, with a matching boater by Off-White. Rihanna, if anyone, can make it trend. But even on her, a pure and pale yellow looks wistful and somehow reissued, not quite like a "new shade."* * *What was said to be cool this summer was in fact yellow, but really yellow. Websites read by no one under 21 named it "Gen Z Yellow," which sounded stupid but accurate: Gen Z is the last generation, and yellow is the last color anyone wants to like. (I looked it up, and only five per cent of people say, as Patricia Highsmith did, that it's their favourite). Also, adults seemed not to understand it, and women's magazines illustrated the "trend" with "pieces" that, differing wildly in tone and intensity, did not go together. There was, however, a dominant hue that was bright and gold and that belonged to the key of Ab major, the relative key of F minor, the key in which Chopin's Fantasie pervertedly ends. Who wore it best? The model in "Young Girl Reading" (1769), a Fragonard classic.Fragonard's yellows, stabilized with a little cadmium orange, have endured where purer, paler chrome yellows have not. Georges Seurat mixed zinc chromate and lead white to effect the tinge of sunlight on grass, a color that John Ruskin, in Elements of Drawing (1857), called "a peculiar and somewhat dusty-looking yellow." It didn't last. Jealous, the real sunlight degraded the susceptible pigment, turned the grass on La Grande Jatte ugly. Van Gogh's sunflowers, Matisse's beach sand suffered like fates. These artists, say their paintings now, should have tried a little harder to be happy.But then nothing is ever really an artist's fault. Nature made yellow problematic, the color quickest to go negative—from optimistic or cautionary to merely false, from irrepressible to sickly—as it pales. What a color so near to light can reliably mean is unclear, and the pigment only follows from the meaning. When Hermione Roddick first appears in D.H. Lawrence's Women in Love (1920), she is "impressive … yet macabre," "repulsive," dressed as a bridesmaid in "silky, frail velvet … of a pale yellow color." Famously, Lawrence traced her character over that of his friend and patron, Lady Ottoline Morell, the garish aristocrat who presided over a de facto writer's retreat at Garsington Manor. "Is the sunlight ever normal at Garsington?" quipped Virginia Woolf in a letter. "No, I think even the sky is done up in pale yellow silk, and certainly the cabbages are scented." Woolf took those airs as material for "The New Dress," a 1924 story about vanity's perils, in which a silly woman, Mabel, is invited to a party at Mrs. Dalloway's and decides to wear something inspired by "an old fashion book of her mother's, a Paris fashion book of the time of the Empire." She wants to be "original." She wonders, why not "be herself?" There are several reasons why not. Arriving, Mabel shies from the hallway mirror, cannot "face the whole horror—the pale yellow, idiotically old-fashioned silk dress" that makes her feel alternately like "a dressmaker's dummy" and like a "fly shoved into the middle of [a] saucer [of milk]."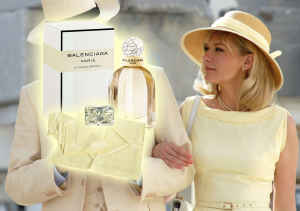 The color du jour in Empire times, as Katy Kelleher writes in her excellent color-history column at the Paris Review site, was known as jonquil—pure, light but not pallid, named after a strain of narcissus. What Kelleher calls "the color of sunshine and vanity, madness and domestic bliss" went out of fashion between the wars, returning but in flickers, never to its previous status, since. Anything soft and xanthous came to seem lazily retro. I was recently at the Chateau Marmont, trying to sleep on the sofa in a suite that was pallid from curtains to bath tile, and had been that way since 1929, and I was reading a book of Diana Vreeland's Vogue memos. Vreeland mentioned the color once in her nine-year tenure, to forecast a "yellow face"—not yellowface, but "a very made up" visage, comprising "a base that takes a long time to put on but has transparency and sheen and is blonde-toned," with "faint … golden eyebrows." Here, without its old traits, the color sounds like a euphemism.In Jamaica Kincaid's Lucy (1996), a girl from Antigua struggles to adjust to the overall pallor of life in some American city, and takes a jaundiced view of her upper-class employers, particularly the wife, Mariah, who loves her narcissi. "So Mariah is made to feel alive by some flowers bending in the breeze," thinks Lucy with winning contempt. "How does a person get to be that way?" Kincaid's ingenuity is such that her sharpest critique of wealthy white womanhood doubles as style advice: "She looked so beautiful standing there in the middle of the kitchen. The yellow light from the sun came in through the window and fell on the pale-yellow linoleum tiles of the floor, and on the walls of the kitchen, which were painted yet another shade of pale yellow, and Mariah, with her pale-yellow skin and yellow hair, stood still in this almost celestial light, and she looked blessed, no blemish or mark of any kind on her cheek or anywhere else, as if she had never quarreled with anyone over a man or over anything, had never had to leave anywhere for any reason other than that a feeling had come over her."I might, for a moment, desire to be this blessed. Pale yellow has a placebo effect. It doesn't last. Two seasons ago I bought a sweatshirt that appeared online to be the color of a French meringue and turned out to be gelblich. (Another reason the subtlest yellows have a hard time staying in fashion: they photograph even less reliably than they paint.) I didn't like it. Then I wore it all the time. Then I washed it unthinkingly with denim and towels, and alone among the items it came out splotched like with mold. I should have known the color was too sensitive for the machine, and of course, having been on clearance when I bought it, the sweatshirt had already disappeared from racks.
Sarah Nicole Prickett is a writer from Canada. She founded Adult Magazine.
Text:

Sarah Nicole Prickett