An Interview with Hillary Taymour of Collina Strada
The Designer on Building New York's Most Buzzed About Brand and Working Towards Sustainability
Interview:

Zoë Schlanger

Photography:

Jill Schweber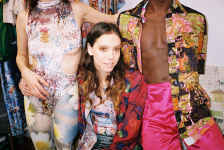 A tiny spotted Pomeranian wearing a Swarovski necklace trotted up to assess me at the open door to Hillary Taymour's studio in Chinatown, Manhattan. A rhinestone glinted from the patch of fur between his eyes. We politely regarded each other while we waited for Taymour, who appeared around the corner a minute later. "That's Powwow," she explained, "And that's his third-eye crystal."
Taymour is the designer behind Collina Strada, one of the most talked-about brands in New York right now. Each of her shows in recent seasons has drawn crowds, most recently for an outdoor Spring 2020 show that closed down a street near the East Village in September. The scene was in the spirit of a farmer's market, with piles of produce heaped around the set. The models, many of whom were Taymour's friends, carried fruits and flowers—and one infant—down the runway in tie-dye prints. A handful of models had translucent slivers of cucumbers pasted around their eyes. One had the rims of her nostrils painted in multi-colored concentric circles. Another carried an entire flowerpot of blooms. The show notes at each guests' seat included a list of "WAYS TO HELP ME," where "me" was the earth.
"Learn to compost," the show notes, written by Céline Semaan of Slow Factory, implored. "Repair your clothes, don't throw them away. Buy vintage or second hand, try a rental service."
That might sound like self-sabotage, coming from a fashion designer. But it fits the vibe. Taymour is careful not to say Collina Strada is a "sustainable brand," skirting the meaninglessness of the phrase in an era when so many major fast-fashion brands use it so lightly that it has come to mean nothing at all. But, she says, she's trying. Taymour uses mostly deadstock—leftover fabric from someone else's endeavor—plucked from a warehouse in L.A. If it isn't deadstock, it's often an alternative material; In her studio, she shows me a full-length dress made from rose silk, the product of spinning roses into cellulose. I touch it, it feels like cool butter.
In an era where the link between consumerism and environmental degradation has become undeniable, Taymour's approach strikes a chord. As seemingly everyone grasps at a way to make their lives less at odds with the project of keeping the planet habitable, Taymour is unabashedly on a journey to find that answer for herself. She knows when to admit defeat. "I'm actually at a loss of how to make sustainable t-shirts, because it doesn't exist and everyone who says they're doing it is lying," she says. But she hopes being honest about what can be made less harmful will bring some realism to the conversation about fashion's role in abetting the crisis. Plus, low-impact clothing can be really fun. Every piece in her Chinatown studio looks taken directly from a children's book, but more svelte, and on acid. "I'm a risk-taker," she says, shrugging.
We sat down at a work table strewn with papers and boxes and materials, and a pair of sneakers studded in silver rhinestones like the one on Powwow's forehead. Powwow perched serenely in Taymour's lap. Why, I wondered, did she name her dog after a North American indigenous ceremony? "Powwow just happened by chance," Taymour told me later, in an email. "It was supposed to be Powdered Doughnut, but that didn't suit him."
A stray page on the studio table had the word "reflower me" written in black marker over and over. Each of the four walls of the studio were lined in racks of bright clothes; A mannequin wore a long straight skirt, drawn over by Hillary with what looked like colored crayons. A puff of turquoise taffeta popped out of a rack beside a line of bright orange dresses printed with a wide cross-hatch. In this sea of refined psychedelia, we spoke about sourcing deadstock fabrics, working with natural fibers, and keeping it local.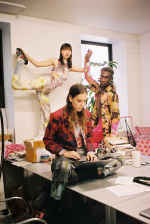 Zoë Schlanger
Collina Strada
What made you want to evoke a farmer's market in your show in September?
We have 60 years to be able to grow crops. So I really wanted people to think about where they get their food, and different alternatives of where to get food. To be more conscious. We have to start to be really thoughtful about what we're eating, how we're eating it, and where we're eating it from. We recycle everything. If we get plastic from the factory, we send all of it back.
Was that a choice, to be that local?
Absolutely. And to be able to pay fair wages, to be able to see who's working there. We've always produced locally, we've always tried to use the right resources. Even when I was using leather, we were only using vegetable-tanned leather. I don't want to make a ton of product that's gonna get thrown away or is not good for the environment. We don't use any synthetic fabric, except for deadstocks. And we're phasing out of that. I'm on the fence if I care if it's synthetic if it's deadstock, cause we're never going to use it again and at least it's getting used, and being put back into the world as something beautiful, instead of sitting on a roll somewhere in a warehouse for years. We're trying to go towards all organic fibers moving forward. Like this watercolor dress is made from rose silk. Say you're a farmer who farms roses—your demand is on Valentine's Day, Mother's Day, and holidays. But you have to continuously grow a consistent amount of roses, so there's a ton leftover. They break it down into cellulose, just like how you break down silk. So it's this really thin fiber and they weave it back. They also do an orange peel fiber one that I'm going to explore next season, and there's a milk fabric, made of milk. I'm actually at a loss for how to make sustainable t-shirts, because it doesn't exist and everyone who says they're doing it is lying. But that's our number one selling item.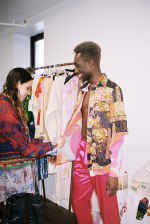 I read about mushroom-based fabric, and kombucha fabric...
I don't believe in the kombucha one, but I believe in the mushroom one for sure. Hermes is developing a huge thing with it. But right now it looks a little too rugged for me. Because my whole thing is like, you can be sustainable but you would never guess that dress is like, an eco-friendly made from scratch organic fiber eco-dyed dress made in New York City by hand for $600. Our aesthetic is so against the counterculture of sustainability, because it doesn't look sustainable. I'm trying to make it fun, party, loud, but still having a care for the environment.
You said your F/W19 show was launching a year of changing your own life to be more environmentally aware. How has the year gone?
There are certain places I love to eat, but they serve in plastic. When I go out, I'll bring my own from the studio, and come with jars to eat. My toothpaste is bulk tablets, and bulk mouthwash that you get at Package Free Shop, in Williamsburg. I use Plantioxidants for my skincare, and it's totally vegan, and he has this program where you send back the bottle when you're done with it and they reuse the bottles.
Has using deadstock, or using alternative materials changed your aesthetic?
Yeah, I think you start with fabric and then you design from there. Of course it's going to shift your perception a little bit. That [pointing to a skirt on a dress doll] is one of our best selling skirts, and I just drew all over it. You can create anything out of anything. There are definitely some things I can't make, which is frustrating. I want to make weird fabrics, but it's going to be all synthetic, so I can't do it anymore.
How do you find your deadstock?
It's in a scary place in L.A. It's where Reformation gets its stuff. It's like five floors.
Imagine being amongst towers of fabric that go up to the ceiling that you have to like, climb up. And no one's there. If I fall off a thing of fabric no one's going to find me.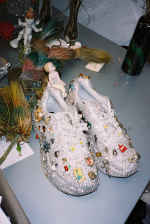 So you're in a huge warehouse full of a million fabrics. How do you choose?
If you're smart and you know about business, you would think through what sold and what people responded to last season. But I just pick what I like. I'm like, would I wear this? Would my friends wear this?
When did you start being interested in design?
When I was eight. We had a big house, and when one sister went to college, we all changed rooms. And my mom said, "Do you want to redo your room?" and I was like, "Yes, I need a week to think about it." And I brought her all these drawings, and was like, "So when you enter, it's a beach scene, and you have to walk up onto this plexiglass, and it's going to a platform, and there'll be sand underneath and lights coming through, and we're going to knock down this wall and put an aquarium in." And she's like, "I thought we'd get a bedspread and paint it yellow." I cried for two weeks. I couldn't talk to her. And then my parents were shocked when I didn't want to go to school for accounting.
Speaking of which, I understand you've also worked in interior design—is that still part of your life?
Yes, I like it. I think I'll go back to it when I have time. I did Shop LCD's store in Downtown L.A. But now that we're doing four collections there's no time.
How do you choose your models?
They're mostly my friends. Like, Crystal Renn. She does all my chart readings.
Can I hear about your chart?
I'm a Leo, Capricorn rising, Scorpio moon. I'm super emotional and I think that really reads in my chart. The last four shows people told me they cried. I was like, sweet, me too. I'm so emotional and a super honest human. I ask the models, How do you want to walk down the runway? Show me what you would do if you were in the bathroom alone. I think that translates to having a real and emotional show.
I saw you had an infant in your show.
That's ChiChi. ChiChi was in utero the show before. So ChiChi has been in two of my shows. I put kids in the show because they are the future, and that's why we care about what we're doing. It's about community, so think about everyone, not just yourself. That's why I also have older people in the show. I've had 80-year-old people walk my shows, I've had two 68-year-olds walk the show.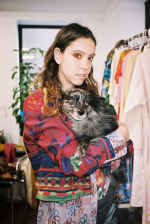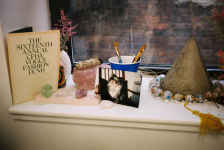 I saw that you had the youth environmental activist Xiuhtezcatl Martinez narrate your Fall 2019 show in February. He spoke very movingly about protecting the environment. What made you ask him to narrate it?
I've been following him since he was six years old. He gave a speech that went viral, as a six year old kid asking for help, and I started crying. He's one of the kids that are suing Trump for clean air. I was blessed to have him at the show.
His narration also meant people learned something at your show.
Knowledge is power. We're all always learning. It's very important to share knowledge.
How did you dress when you were a teenager?
I grew up in California, so I was very surf punk but very weird. I'll wear the same thing for days, I don't care. I did go through a phase where I wasn't dressing as loud, but I was in a toxic relationship.
Late 20s. You know, when you think you have to get married and do that whole thing. Now I just like to hang out and be with people that I can dress.
Do you feel like you can pick up on what someone should be wearing?
No, I just want them to dress like me. It's that Scorpio moon.
Zoë Schlanger is a writer and reporter living in Brooklyn. She covers climate change, pollution, and other environmental calamities.
Interview:

Zoë Schlanger

Photography:

Jill Schweber

Models:

Devonn Francis, Sasha Frolova

Date:

January 23, 2020