Supreme Skater Na-Kel Smith Is Rolling up the World
How the L.A.-Based Mid90s Star Is Taking Over All Terrains
Text:

Molly Lambert

Photography:

Jill Schweber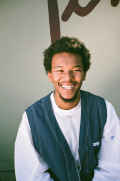 When I meet Na-Kel Smith on the Sunset Strip in Los Angeles, he's as lively and inextinguishable as the landmarks that surround us. The skater, musician, and actor has been riding an infinity loop of fun and frenzy lately—touring with Earl Sweatshirt between pro skating tours and creating his own music videos.
Smith, 25, is sponsored by Supreme, adidas, and Fucking Awesome, and his adventure-packed agenda is mirrored in his personal style; he greets me on the street wearing leopard print Hush Puppies, jeans, and a white Misfits shirt that says "MOMMY, CAN I GO OUT AND KILL TONIGHT?". A diamond "NAK" necklace (that's his nickname) hangs around his neck. His hair is half-bleached, his goatee is chaotic.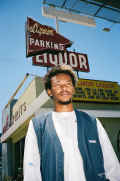 Smith's apartment is a prefab unit in a building above a strip of fast-casual restaurants proffering Buffalo wings and sandwiches. His girlfriend Dymond, a model, sports a Joker t-shirt and black bike-shorts as she welcomes us at the door. Inside, there's an altar of Smith's prized possessions—skateboards, a large poster of him wearing his signature adidas shoes that looks like a Renaissance painting, horror movie memorabilia including a Jason mask and a Chucky doll, and a gigantic pink teddy bear. The kitchen island is buried in packages from Supreme and adidas. There's a turtle named Franklin Bill swimming in a tank. Tiny Toon Adventures is playing on a monitor to a soundtrack of YG coming from the speakers in the second bedroom, that doubles as Smith's studio. Dymond sits down in the studio and starts breaking up weed on a plate.
Na-Kel grew up in South Central L.A. with his mom, and his family still lives in the area. While Smith has toured the world skating, California has always remained his residence of choice. "I've been in New York for a few weeks at a time. It's very fast-paced and I feel like being from L.A., it's important to know how to maneuver out there, but that's not where I want to put myself." He says his decision is pragmatic, which seems to be a common thread in his thinking —he taught himself music because he "wanted to learn how to make songs." "I wanted to learn what it was like to be in a movie, so I let myself have that experience."

Smith is referring to the major role he played in Jonah Hill's directorial debut Mid90s, exuding the same natural ability he brings to skating in his first acting foray. Although he is a charismatic highlight of the coming-of-age film, Smith isn't sure he wants to return to the big screen any time soon. "I remember when I was a kid, my mom took me to like, child modeling and acting. That shit was not for me," he says, laughing. "I didn't like auditioning. I understand it's a dog-eat-dog world out there, but it makes you feel really weird about yourself. You're like, 'let me go in here and do the best job I can,' but you're trying to do your best with something you don't feel." He elaborates, "That's why Mid90s was tight to me, cause when I read the script I felt that shit. I wanted to be in the movie." He was recommended by friends for the starring role of Ray, and Hill cast him. "I was like, it's so good I don't want them to get the wrong actors and make a trash movie. Every person really did their part, so it was awesome." Dymond opens the door to the outdoor patio where we are talking, and hands Smith the freshly rolled blunt, that he smokes through the rest of the interview.
Smith took six weeks off from skating to make Mid90s, and then shot the Supreme skate video, "Blessed." "Going from skating every day and using those muscles, and then turning around for that long and not doing tricks, my muscle memory was a little off. That shit was scary." Even after turning pro, he felt like he hadn't achieved his true potential, but he considers "Blessed" the best display of his full capacity as a skater. "I cared about the tricks and how they looked, even down to what I was wearing. That was the first time I looked at a skate video and was like 'Damn, I kind of look cool,'" he says, his Cheshire cat smile unfurling into a full-on grin.
He's also interested in directing. Smith has a tattoo of the poster image from the original Halloween tattooed on his arm. "I used to only watch horror movies during my teenage 'fuck the world' phase.'" His interests and influences in film and music come from his mom. She put her son onto bands like Slayer and took him to his first show—Slipknot at the Hollywood Palladium. "Our relationship is so crazy. It's what created me, the things I like, and the way I think about shit. Everything from when we bumped heads, to when we are the most connected, we're on the same page." He says as a teen he didn't always admit he liked his cool mom's taste. "I did reject it, but I was still taking my notes." He had to, because there were tests. "I'd have on a Black Sabbath shirt, she'd come in my room and say 'name five Black Sabbath albums.'" He doesn't want to talk too much about his film ideas but says, "I'll probably make a horror movie, or a really twisty movie. I like movies where you get hit with that curveball."
In the downtime from skating he's been working on his other passion: music. Smith's first album Twothousand Nakteen came out in January. He's been working on his beat-making, teaching himself Pro-Tools. Na-Kel has been associated with the Odd Future collective since its inception, since meeting them organically hanging out on Fairfax Avenue, L.A.'s Orthodox-Jewish-district-turned-streetwear mecca. He talks about the brief period in the 2000s when the street initially thrived as a youth scene for kids from all over L.A., making a place for themselves in a city that's famously hard to gather in. "I'd see everybody from the skate parks over on Fairfax, then it's a familiar face thing. You start getting to know people and you're like, I fuck with him, he's cool. And I feel like that's how it was with me too."
But that's changed a lot since the big streetwear brands moved onto Fairfax. "That whole shit had a very short-lived golden age. You can't even maneuver there now. The thing before is that it was kind of special. Because it was a big street, but it would be dead sometimes and you could slide in." He recalls saving coins up for the long bus rides to get from South Central to the Fairfax area. Often he'd get off the bus somewhere halfway and skate. The more often he went to Fairfax, the more people he knew, and soon he had friends who hooked him up with free skateboards and food. He laments the passing of the original Fairfax scene, which, like San Francisco's Haight-Ashbury in the 60s, flowered briefly only to become overrun with posers seeking it out. "It was such a good scene. Everybody had their little sections, but everybody fucked with everybody. If you were from Hollywood or the Valley or by the beach or in South Central or Inglewood or downtown, everybody just linked up."
"I want to bring the spirit and the scene back to L.A.," Smith says about his music. "I've been trying to create my own sound, to make some shit where I create a whole lane, you feel me?" He says he tends to like aggressive music, "because that's what skating feels like, it feels like fighting. It's not easy—especially if you make it look easy." He's making more emotional music lately and experimenting with singing. He was inspired by his friends Earl Sweatshirt and Tyler, The Creator, especially after Tyler dropped Igor earlier this year. "I was just excited, I was like damn, this hard." Na-Kel shares his friend Tyler's unwillingness to get boxed into any one genre or moment in time.
"I want to learn everything," he says talking about how he loves to master new disciplines. He compares it to a snowball effect, then clarifies that he means more like in the video game Katamari Damacy, where you play as a lint ball that rolls around picking up items constantly, starting with small things like hair brushes and getting bigger and bigger until you're rolling up mountains. "I feel like I never stop growing, because I'm growing into myself."
Molly Lambert is a writer from and in Los Angeles.
Text:

Molly Lambert

Photography:

Jill Schweber

Styling:

Juliann McCandless

Production:

Jermaine Kemp

Styling Assistant:

Emma Collins

Date:

August 09, 2019