Noma's David Zilber on the Future of Food
The Michelin-Starred Master of Fermentation Wants More for Microbes Than Just Trend Status
Text:

Rebecca Storm

Photography:

Rebecca Storm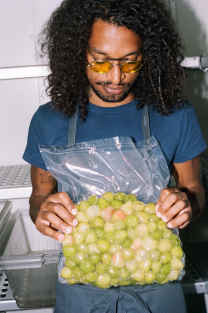 There's a scene in the 1982 version of Bladerunner, where Deckard is sitting at the piano in his apartment, looking at old photos. The camera pans to reveal hot-red neon signage diffusing through a misty window, Harrison Ford stands, a photo clenched between his teeth so that he can take a curiously future-fluted bottle of Johnnie Walker Black Label in one hand and a glass in the other. While the projected, synthesized world of 2019 filtered out many things unmistakably dated, the whisky was cast in a supporting role. Fermentation had a place in the far-off future.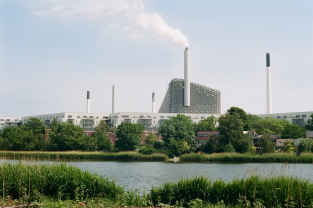 In real-life Copenhagen, in the sparse, between-seasons oak dining room at Noma, David Zilber and I are looking across the Stadsgraven canal at Amager Bakke (hill), a combined heat and power waste-to-energy plant that's fast-tracking the Danish city to become zero-carbon by 2025. Immense and sloping, it emits a stream of vapor from its chimney ("This whole thing feels very Bladerunner to me," says David). Sitting at an intersection of science, tech, and food, I've come here to talk with him about the future of one of the most ancient facets of life: fermentation.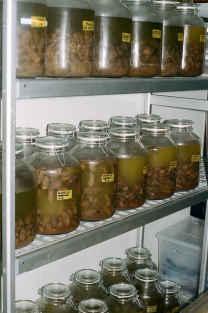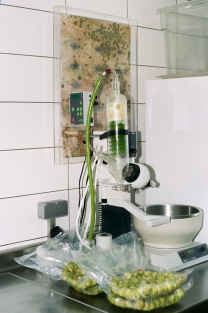 Toronto-born and Copenhagen-based, 34-year-old David Zilber runs the twice-Michelin-starred Noma Fermentation Lab. The restaurant's founder, Rene Redzepi, was recently dubbed "the most relevant chef of our time," and although Noma has been a household name since 2003, its new location has been operational for scarcely more than a year. Like the Amager plant across from it, the new Noma was designed by Bjarke Ingels Group, but to the untrained eye walking the rural road, the cluster of buildings might seem ambiguous. On the edge of the canal, there are greenhouses flanking a structure that resembles a bunker, and beyond that, a garden by influential Dutch garden designer Piet Oudolf, gradually interspersed with marshy grasses.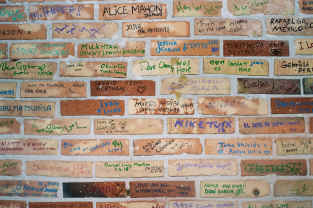 "Publish everything, don't keep any secrets."
Today, Redzepi is in the garden with the resident dog, Ponzu, filming butterflies with his phone. I see this video on Instagram the next day. Steps lead up onto the bunker's roof, where more planter boxes are located, but we pass through glass doors on its side instead. It's wall-to-ceiling wood (Danish oak), glass, and concrete. Small terrariums housing moss and geraniums are embedded in a wall (they become aquarium storage during seafood season), surrounded by shelves of preserves in large glass jars with labels like "deer brain" and "smoked pears & pine in quince aquavit." There is a wall of autographs, "Dave Chang is up there," waves Zilber at the scribbled bricks, "I'll sign it when I'm done here." As we move toward a kitchen, it smells vaguely of elderflower—dozens of interns are sorting through the frothy sprays of blossoms along a table—and fragrant trays of ripe strawberries are in some type of dehydrator. In the dining area under a roof made almost entirely of glass, an enormous scallop-shell-emblazoned piece of wood rests across a lone table. "Art from seafood season," says Zilber when he notices my pause.
David has done this before—the hosting, the tours, the patient answers to repetitive questions—likely many times recently, in the wake of the restaurant re-opening in its new location last year. His answers often sound scripted. Of course they do. Zilber is a master of his practice, asked routinely to define what he does. Fermentation is, in the simplest terms, "the transformation of one food into another, with the help of a microbe." A tired, albeit fascinating refrain for the world-renowned fermenter. Despite the interrogative redundancy, it's clear that Zilber shines when describing, unpacking for an audience the data he spends his days packing into containers; salted, air-tight, or temperature-controlled.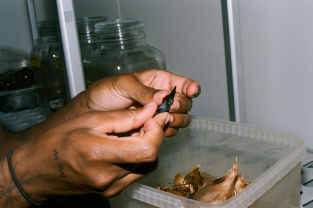 Fermentation, which might seem like a trend in popular culture and on social media, has existed for years—hundreds, if not thousands—prior. In the wake of patchwork, tie dye, and leather aprons for latte-making, tradition is trendy. "You have to remember, fermentation was the first technology humans had at their disposal for food preservation, beyond just drying things out," says Zilber. "It's not that it's experiencing a trend, it's experiencing an understanding. And the democratization of any technology makes it that much more powerful." This democratization, he says, was the main impetus for his book, The Noma Guide to Fermentation, co-authored with Redzepi. "When you take the power away from behind the walls, and put it into the hands of someone in a kitchen who understands, you hear more individual voices. And I think that's why fermentation seems like a trend, because everyone stops buying and starts making ferments themselves. They're proud of it, they'll take a picture and post it and share it, and all of a sudden it seems like homemade ferments are trending, but they're just being understood."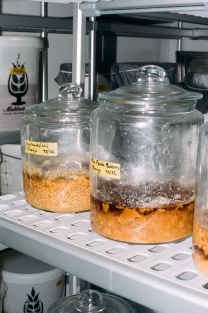 It's difficult to gloss over the fact that we're discussing the democratization of food outside of one of the most revered restaurants on earth—offering dishes like moulded green asparagus with a salad of wild herbs, or seabuckthorn and black currant butterfly, that straddle the line between traditional Scandinavian and avant-garde. Reservations for an entire season often fill up in mere hours, and the wine-and-food-paired tasting menu is about $580. "If someone gives you a soap box, try and use it for good. It is a contradiction—think of how much energy it takes to produce those twenty plates of food, to have a test kitchen of six people to make things completely unique. We could buy simulacrums of most of the things we produce in the lab and tweak it and it would still taste as good—buy soy sauce, buy miso, thin it out. But it means so much more that we're exploring, and the book is a fascinating example of that—publish everything, don't keep any secrets." In this way, Noma, at the behest of Zilber and Redzepi, flips the script on the idea of "the secret recipe," and transforms tradition into open-source code. I ask how Zilber feels, being acknowledged by the fashion industry, interviewed by a luxury ecommerce content platform. His style—today, J.W. Anderson powder pink pants, paint-splattered Margiela sneakers, an Études mock neck——tells me it's not something that is lost on him. "Luxury is created within the human mind and through human interactions, and what someone thinks is valuable today can change tomorrow," he says. "In times of need, having food around to eat will be very valuable—it will feel like a luxury."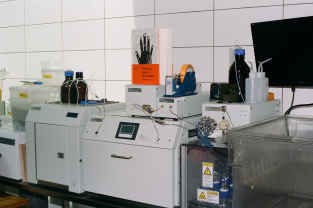 The human, or 21st century's, need to perfect and fine-tune is at once natural and misguided in the context of fermentation. Very specific, particular conditions are needed in order for things to go right, but how do you control an organism? "The most fascinating thing about microbes is that they domesticated themselves." Zilber considers the process of fermentation to be a "co-evolution" with microbes: "Both parties have to enter that pact together, and be useful to each other." From what I gather, it's the benefits of fermented foods for us. And for the microbes, we curate conditions in which they reproduce and thrive. In the miso room, glass jars upon jars of everything from "peaso," to wild boar koji, to trout roe garum, create a rainbow of marigold, umber and strawberry shortcake pink—each its own diverse colony of organisms.
I wonder where the human ends, and the microbe begins, but Zilber says we don't get to fix those limits. "There are microbes on your hand right now. If you were to go into the lab and mix a batch of strawberries, you would add your little say to how those strawberries tasted. And maybe none of us here are adept enough to taste that difference, but if you took it under the microscope, it would look different than someone else's." As much as the human tendency toward ownership bleeds into the practice of fermenting, "microbes are self-creating." And so is David—the very reason he finds himself at Noma, talking about ferments, is because several years ago, he cold-wrote a letter explaining why he'd be a good fit for the Noma team. A couple years after working in the kitchen, he took over the fermentation side of things, orchestrating perhaps the most significant upgrade of Noma's re-vamp, the nine temperature-controlled rooms of the fermentation lab. Self-creation is not limited to microbes.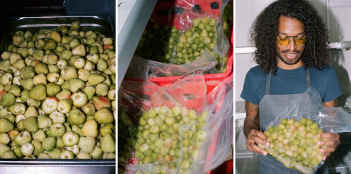 "For all of the industry's efforts to reign in the natural world, it exists outside of us, outside of our desires."
Today in the lab, it's prep for lacto-fermented young strawberries. Anemic and dull green, they're salted and then vacuum-sealed. It's easier to fully grasp fermentation as a trend, or as Zilber reminds me, an understanding, when you consider the ways in which it benefits us constitutionally. Kombucha has been praised for maintaining gut health, lacto-fermented vegetables as a source for probiotics, umeboshi as a quick hangover cure. Our bodies are hardwired to detect the flavors produced by fermentation because, "They keep you alive that much better. A fermented vegetable is more easily digestible and its nutrients more bioavailable because of the microbes that went to work for you." Soy sauce on noodles is that much better than just salt, because of the by-products of fermentation—amino acids, glutamic acid—that your body alternatively has to work hard to produce. "Fermented soybeans and rice are more nutritious than either of those two things separately or put together unfermented. Think about the synergistic effects, or bonuses of fermentation—it's perfect, it's cool." Because fermentation functions to preserve food, not only render it more nutritious, it's worth encouraging active participation. Increasingly, fermentation is an integral tool for mitigating food waste.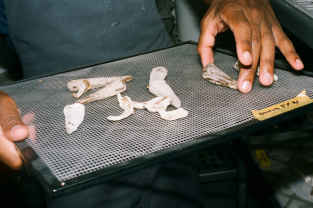 At the crux of advances in tech and industry is a subtext of anxiety—how fast can we go, and how do we stop if we need to? If tradition moves fast enough, does it become tech? We talk GMOs. Zilber explains, "You're just fundamentally bypassing checks and balances. Nature runs with an even keel, so when you start splicing organisms, changing pathways and allowing them to do things that they didn't normally do before, you are refining exposure to very large risks." Zilber shares an anecdote where he spoke with a geneticist farmer whose life's work has been modifying ubiquitous crops, with little market value to the United States—cassava, rice, sweet potato—for developing countries, to make them more disease-resistant and nutritious, potentially changing the lives of millions of people. For the most part, our attitudes toward GMOs have been informed by the industrial agricultural complex. "Every instance you've seen of GMOs has been put into the world by greedy corporations that have their own agendas, and might be employing an incredible technology, but doing it in a way that's less altruistic." Proof, maybe, that a technology is only as good as its application. Factory farming and GMOs implement particular methods to override the limitations of seasons, which is essentially what fermentation does—preserving and multiplying nutritional yield. I ask if fermentation can be the antithesis to the industrial agricultural complex, "It is, spiritually," says David. "For all of the industry's efforts to reign in the natural world, it exists outside of us, outside of our desires."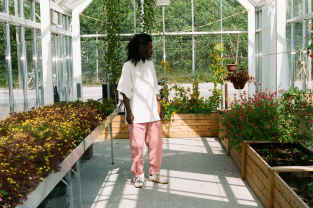 The tendency to label things—fermentation as a trend when it's more an understanding, GMOs as sinister when it's less about the technology and more about its application, how the viewer constructs an ideology around any given thing—becomes less about the thing itself, and more about the philosophies we ascribe to it. Experiences become about authorship—consider the hand in the strawberries orchestrating a particular society of microbes. As an active agent of culture, it's not just about what you take, but what you leave behind. Bladerunner envisioned a dystopian 2019, mass-consumption leading to a tired, exhausted world. We might not be able to see that reflected explicitly in our immediate presence, but we can feel it coming. Squinting across from me in the sun through yellow lenses, it's hard to ignore Zilber's giddy penchant for empiricism. "The entire concept of taste is completely Darwinian. All of your senses are fine-tuned to help you navigate the world. Your sense of taste, and to some extent, smell, are the only ones that are dedicated to figuring out what part of the world to put inside you."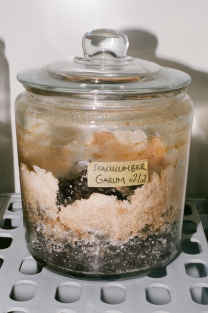 Rebecca Storm is a photographer and editor at SSENSE. She is also an editor at Editorial Magazine.
Text:

Rebecca Storm

Photography:

Rebecca Storm

Date:

July 31 2019