Creative Director Willo Perron Designs Alternate Dimensions (And Floating Ferraris For Drake)
From DIY to World Tours and Waterfalls, the Success Story of the Los Angeles-Based Visionary
Text:

Molly Lambert

Photography:

Sam Muller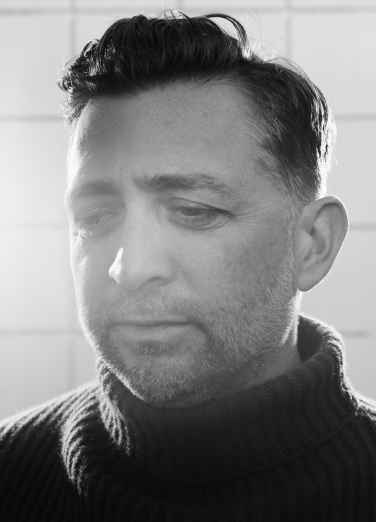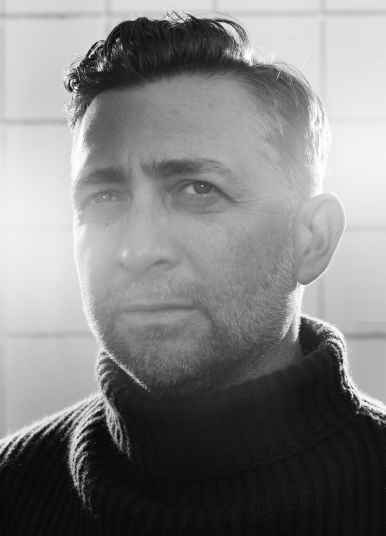 The following piece is part of our week devoted to Creative Directors.
Willo Perron is returning from a construction site when I meet him at his office in Silverlake. Originally from Montreal, the creative director has quietly shaped some of the largest moments in design of the last decade: he designed American Apparel's stores, put a flying car over a Drake crowd, and conceived an expansive, natural world-invoking set for Florence + The Machine. Most recently, Perron won a Grammy for his work on St. Vincent's Masseducation album. His list of clientele is as spanning and impressive as the depth of his role—from show direction and scenic design for Jay-Z and Rihanna tours, to the interior design of Stüssy stores and creative direction for PornHub. "This office is an extension of my interests," Perron declares. "If you threw a kitchen in here it would be perfect." Currently, he is supervising over 20 projects—Perron's a master multitasker—including "a theater, a music venue, a few retail stores." His firm has a division called "Space," which he refers to as the "interiors-slash-architecture-slash-furniture department." There are also divisions for print work, album packaging, and live shows. "I love furniture, I love architecture, I love music, I love graphic design and typography," he says. Coming up in Montreal's DIY scene, Perron began making flyers and promoting shows at local venues, eventually opening a clothing and record shop. He's always viewed his interest in design as "manifold." He says the ephemerality of designing flyers—"you'd see your flyers on the ground"—led him to album design, which has "more shelf life."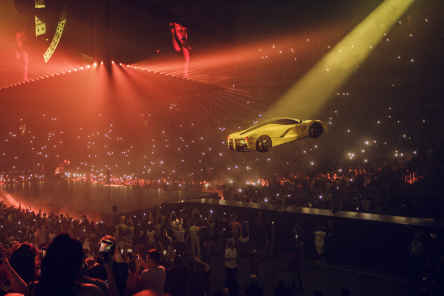 A fan of "what was called backpack rap," Perron ran a small Canadian label and had the record shop. He worked on a video for underground rap label Rawkus Records in 2001 which led to further work there. He designed for snowboard and skateboard companies. His biggest break, though, came in the early 2000s, when he designed the American Apparel stores' iconic minimalist aesthetic and helped the company build and open stores around the world "once a week" throughout the boom period (before its liquidation, the retailer ran over 280 stores with sales bringing in more than US$600 million). He had never done such a large-scale project before, and enjoyed the challenge. "It's two parts, the design of the store. Part one was total pragmatism, like being able to go from city to city or country to country and knowing that you can find slat wall." Of the slat wall and metal wall racks, Perron cited "Canal Street, almost discardable. That came from trying to be pragmatic." As for the second part—1980s Italian design—Perron says: "I found this book called High Tech, which was a postmodernist Italian movement. They used industrial goods. We all got really obsessed with it and it became kind of our Bible. If you look at this book and you look at the American Apparel retail, you're like, 'ah'."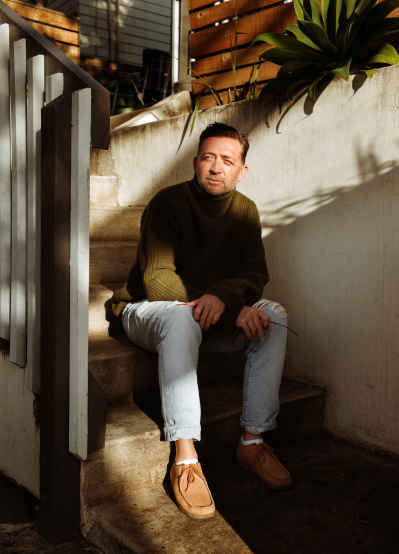 I ask Perron if 80s Italian design is where his own sensibility ultimately lies, mentioning the Italo Disco feeling of the flying car from the Drake show. He is thoughtful before answering, "That's a tough one. I like everything. I like hyper classical things. There's a part of me that's always going to love utilitarian modernism for its practicality, it just lasts and it's great." He laughs and continues, "But you know, we sit here on all of this Italian furniture…" gesturing to the large overstuffed Italian brown leather couch that is the centrepiece of his office. I tell him it's interesting that the American Apparel stores are now the makings of design coffee table books themselves. I tell him it's interesting how much time has to pass for people to become nostalgic for an old aesthetic.

Considering his job title, Perron doesn't come across as a control freak, but rather someone very interested in collaborating. "I think a big part of my process, or whatever the fuck you want to call it, is making sure there's a bunch of good people doing great work." He says it was once more like "Willo's show" with "a revolving door," but he didn't enjoy that nearly as much. "I like mistakes. I like people's opinions. I like arguing with people. You have to give people a voice and have people around that will push back and have their own ideas. There are filters—people that work here that I totally don't understand." Having constant exposure to different points of view matters deeply to Perron. His father was a jazz pianist, and the family environment provided an upbringing rife with "intellectual competitiveness where nobody will ever admit to competing." He and his brother continue this dynamic in their work together: "It's a great motivator to see him do well and vice versa."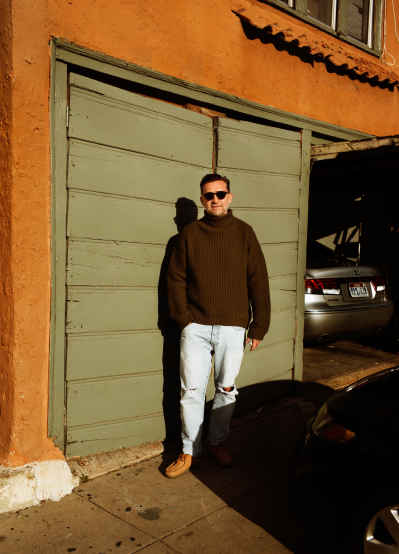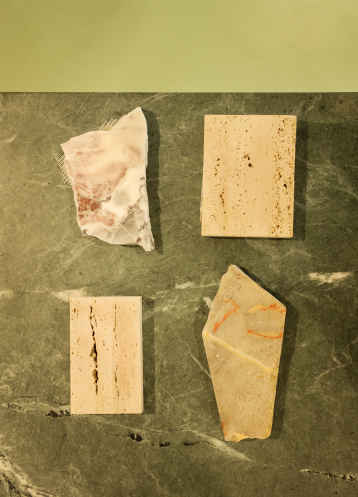 On the second floor of the office there's a miniature arena set. "There's a playfulness. It's a kid's thing, a model. Like you walk by this architecture firm in Paris and there are all these model buildings in the window and it's the best. I could stare at these little replicas all day long." Describing his work for arenas, and whether there's an overlying aesthetic that makes a Willo Perron production, he says, "I'm sure that if you really wanted to go into my aesthetic, you could probably find things that are really specific to me. But I think the blessing and real opportunity is going from doing The xx Tour, that's meant to be this really pure, kind of singular idea, to Florence, and making it big and explosive and not cheating by going to pyro or video or things that just don't feel like her. And then Drake, who is modern day opulence. It's grandiosity working with no restraints." At the core of Perron's work is a connection to space that to me feels psychedelic, he always aims for total immersion. He emphasizes that it took a long time to build his career, worrying that people today think they're going "to become a star overnight, and it sets them up for disappointment." Perron considers himself lucky to never have been typecast as one kind of designer, because as he puts it, "There's beauty in everything."
Molly Lambert is a writer from and in Los Angeles.
Text:

Molly Lambert

Photography:

Sam Muller